Sunday, 7 June 2020
What we're tracking on 7 June 2020
Good morning, friends, and welcome to a largely "good news" issue to start the workweek, corona notwithstanding. Why are we so chipper this morning?
We've reached a staff-level agreement with the IMF on USD 5.2 bn in fresh funding, as we note in this morning's Speed Round, below.
Cairo has brokered a breakthrough in the peace process between warring factions in Libya (again, more in Speed Round).
Data from the US and Canada suggest that economies are rebounding quicker than expected from covid-19 shutdowns.
And we're really chuffed that Egypt is pushing ahead of mandatory vaccination programs despite the pandemic (see Diplomacy + Foreign Trade, below). Toz, anti-vaxxers.
On the jobs reports: The US economy added 2.5 mn jobs in May after two months of mass unemployment, bringing total unemployment to 13.3% from 14.7%. Now, there's a good chance that problems with underlying data collection is partially at play here, but Canada also saw a substantial number of jobs created last month — to the tune of 289k positions vs. the loss of 500k jobs that many economists had projected. That's leading pundits to proclaim that the covid-recovery has begun.
Why are job reports in the US and Canada important to Egypt? Beyond being positive indicators for the global economy, it's where the jobs are coming from: "Job growth was concentrated in industries hit hardest early in the crisis, like leisure, hospitality and retail work. But manufacturing, health care and professional services added jobs as well, possibly signaling that the damage did not spread as deeply into the economy as many feared," the New York Times' Ben Casselman writes.
This is a shot in the arm for those among you who are optimistic about prospects for business in Egypt despite all the short-term pain caused by the lockdowns, as we reported in our Enterprise Reader Poll on Thursday.
Oh, and one more thing: Don't bet against the resilience of the consumer. Not in the US, and not in Egypt. Witness this graphic (below) from Bloomberg's Joe Weisenthal, who notes that there is "almost no difference in spending activity between lockdown states and non-lockdown ones" — part of what's getting economies through is that consumers keep on spending, even when they're locked down.
And consumers can expect lots of sales ahead with retailers globally sitting on piles and piles of unsold inventory, the Financial Times adds, asking whether the end of lockdown will see the sale of the century.
It's a big day for: The House of Representatives, which is back in session this morning with a very busy agenda that ranges from passage of the 2020-2021 state budget, the reconstitution of the upper house of parliament and a pile of other business-relevant bills. MPs are now in the home stretch preparing for summer vacation.
MPs will be wearing face masks in all sessions with six MPs having reported being infected with the virus that causes covid-19, Al Masry Al Youm reports. Rep. Hussein Ashmawi is the most recent. He's being treated at a hospital in Giza, according to Youm7.
The creation of a new Senate is the big draw today with a draft bill on the subject due to be presented this morning, according to Masrawy. The bill, which parliamentary majority bloc the Support Egypt Coalition has drafted, would — if passed — set up a 300-member Senate, one-third of whom would be appointed by the president. The bill would also see the election of the remaining two thirds split equally between a list system and an individual basis. MP and former journalist Moustafa Bakry wrote on social media on Friday that "most" lawmakers prefer a 50/50 split between individual and closed lists.
Background: Parliamentary elections are scheduled for the end of this year. Constitutional amendments approved last year will bring back the upper house of parliament, with the Senate set to replace what was previously known as the Shura Council, which was abolished in the 2014 constitution.
Also on lawmakers' agenda before they can go on summer break: Today should see MPs discussing the bills regulating the Sovereign Fund of Egypt and state-owned businesses. The final Banking Act needs to be passed. MPs will vote on the Central Depository Act and amendments to the Railway Act as well as discuss the bills regulating parking lots and amendments to both the Infectious Diseases Act and the Police Authority Act.
Key news triggers coming up:
Foreign reserves figures for May should be out early this week.
Inflation data for May will land on Wednesday, 10 June.
The Central Bank of Egypt will meet to review interest rates on Thursday, 25 June.
Founding members of the EastMed Gas Forum will meet this month to ink the Cairo-based energy organization's charter.
---
COVID-19 IN EGYPT-
The Health Ministry confirmed 32 new deaths from covid-19 yesterday, bringing the country's total death toll to 1,198. Egypt has now disclosed a total of 32,612 confirmed cases of covid-19, after the ministry reported 1,497 new infections yesterday, shy of the record 1,536 cases reported on 31 May. We now have a total of 9,603 confirmed cases that have since tested negative for the virus after being hospitalized or isolated, of whom 8,538 have fully recovered.
The Health Ministry has reduced the need for ventilators and increased recovery rates by using convalescent plasma therapy, Minister Hala Zayed said. The ministry is calling for recovered patients to donate plasma to assist its efforts.
Restaurants and cafes will likely open their doors this month if they comply with new preventative measures to curb the spread of covid-19. The Chamber of Tourism Establishments circulated a checklist outlining those measures to its members, but the official announcement of the regs and the timetable to reopen will be revealed by the government soon, the Tourism Ministry said in a statement. The measures include rearranging seating to be at least two meters apart and in four-person tables, ensuring distancing in places where lineups or crowding are likely, and the usual practices of deep cleaning, and screening and sanitizing customers at the doors. An existing ban on shisha will remain in place.
Measures will also be mandated at tourist sites and landmarks, including limiting the number of people indoors, the ministry said. Egypt is expected to soon reopen six museums and landmarks, including the Baron Palace, after an almost three-month hiatus, as it moves toward a phased reopening of national attractions, we noted last week.
The news comes as Egypt continues reaching out to traditional tourism partners to discuss restarting flights and tourism flows as lockdown measures ease. The Tourism Ministry is also planning to kick off promotional campaigns targeting travelers in western and central Europe in mid-June, the local press reports, citing unnamed industry sources.
Egyptian economy "solid" -El Said: Egypt's economic reform program has helped the economy to remain on a "solid" footing through the pandemic, Planning Minister Hala El Said said on Thursday (pdf). Despite the tourism, industrial and retail sectors suffering as a result of the government's preventative measures, the Planning Ministry still expects the economy to grow at a 4% clip during the current fiscal year, down from the pre-corona forecast of 5.8%. The IMF predicted in April that Egypt would be the only country in the region to avoid a recession this year.
The Madbouly government is studying ways to assist Egyptians who have returned home from jobs abroad, including help with job placements and starting new businesses.
The African Development Bank (AfDB) could provide more funding to back Egypt's battle against the pandemic, Country Manager Malinne Blomberg said, reports Al Mal. The lender last month approved a USD 500k emergency assistance grant to provide food relief and other forms of support to vulnerable communities.
CIB is waiving transfer fees on internet banking and hiking caps on transactions to encourage more customers to bank online. The move is designed to help curb footfall in branches amid the pandemic.
Public sector employees will receive their salaries starting 15 June over four days to avoid congestions at ATMs nationwide, the Finance Ministry said on Friday.
DONATIONS-
The National Bank of Egypt (NBE) is donating EGP 20 mn to Kasr El Ainy Hospital to support medical treatment for covid-19 patients, according to Masrawy.
AND THE REST OF THE WORLD-
Black Lives Matter protests are now a global phenomenon, according to the western press as people march in London, Paris, Toronto, Malbourne and beyond. Meanwhile, thousands across the United States continue to hit the streets in protest of racial inequality and police violence. The story leads the front pages of newspapers globally: Financial Times | WSJ | New York Times | CNBC | Business Insider.
US stocks continue to rally despite the widening of civil unrest. That's not surprising, the Wall Street Journal and Fortune magazine suggest.
That floor under oil prices is looking increasingly solid: "OPEC and its allies finalized on Saturday an extension of their record oil-production curbs through July," the Wall Street Journal reports this morning.
Qatar wants to end its riff with the rest of the Arab world. Qatar is "open to dialogue" on ending its longstanding isolation from Egypt and key Gulf countries, Qatar's Foreign Minister Sheikh Mohammed bin Abdulrahman Al-Thani told state mouthpiece Al Jazeera (watch, runtime: 24:58). Egypt, Saudi Arabia, the UAE, and Bahrain — which together unilaterally cut diplomatic ties with Qatar in 2017 — had previously presented a list of demands to end their embargo on Doha, which they imposed as the statelet continued to back Islamists across the region. Kuwait is pushing the thaw and the United States is angling for Saudi and the UAE to start by re-opening their airspace to Qatari aircraft.
Your regularly scheduled reminder that US elections are still happening this fall: Presidential hopeful Joe Biden — and the sole Democratic contender — formally earned the Democratic Party nomination on Friday after securing the required number of delegates, Reuters reports. Biden has yet to tap a running mate, but has vowed to select a woman, and is coming under pressure to choose a black candidate amid ongoing protests in the US over the on-camera murder of an unarmed black man.
Egyptian film selected for the (canceled) 2020 Cannes Film Festival: Egyptian director Ayten Amin's new feature film ''Souad' was selected as one of 56 films of the Cannes Film Festival's Official Selection for 2020 edition. This year's film festival has been cancelled due to covid-19, but the chosen films will receive an honorable mention award and may be screened in next year's festival.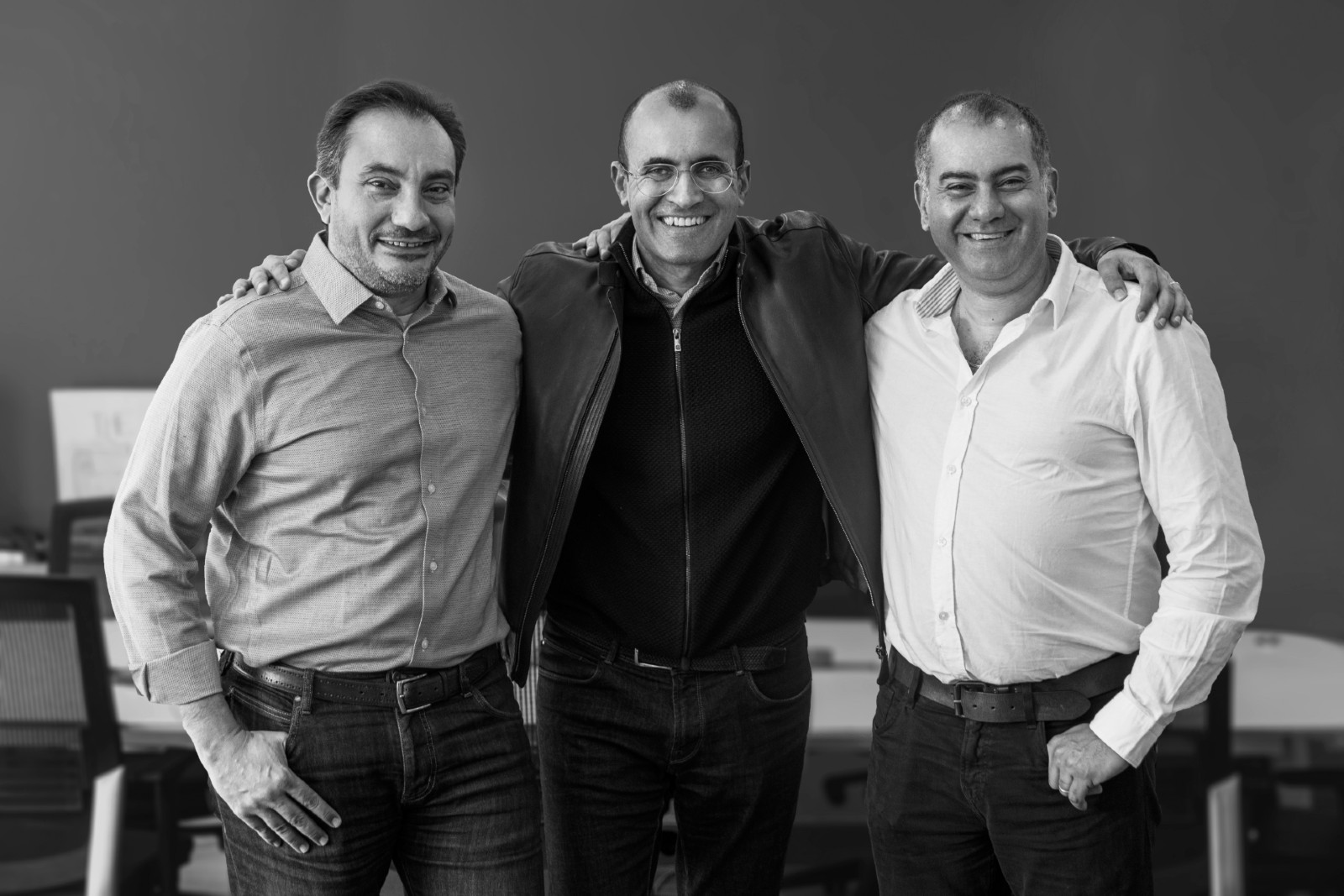 What does a VC look for in a startup — and what makes them walk away from investing? Tarek Assaad and Karim Hussein, two of Cairo-based Algebra Ventures' three managing partners, give us the lay of the land on how VC is done in this corner of the world in our latest episode of Making It.
Founded in 2015, Algebra is a USD 54 mn venture capital fund that focuses on early stage tech startups. The VC fund's portfolio covers fintech, e-commerce, transport, and online food ordering, among other industries. Assaad and Hussein relay their experience being one in a handful of pioneers paving the way for bigger investment tickets in the region.
Tap or click here to listen to the episode on: Our website | Apple Podcast | Google Podcast | Omny. We're also available on Spotify, but only for non-MENA accounts. Subscribe to Making It on your podcatcher of choice here.