Monday, 1 June 2020
What we're tracking on 1 June 2020
It's June, ladies and gentlemen — we are now in the last days of 1H. Since 2020 is the gift that keeps on giving, we're not gonna hold our collective breath on what the back half of the year looks like.
Egypt's nighttime curfew is now one hour shorter after Prime Minister Moustafa Madbouly announced yesterday it will end at 5am instead of 6am, according to a cabinet statement. The curfew will still begin at 8pm and will remain in place until mid-June, when it is next up for review.
Banks are shifting their opening hours back one hour and will open to customers from 8:30am to 2pm starting tomorrow, according to Masrawy. The move comes as the curfew rolled back an hour. Banks are open 9:30am to 3pm today. The Federation of Egyptian Banks continues to call for a return to a full eight-hour workday to help reduce footfall and congestion at banks.
REOPENING TODAY: Passport, work permit and visa sections at the Interior Ministry.
Could Egypt be resuming international flights by the first week of July? The Madbouly Cabinet is set to discuss this week potentially lifting the ban on international flights, and while no decision has yet been made, Cabinet spokesman Nader Saad said yesterday his (unofficial) expectation is that we could have commercial aircraft on the tarmac by the first week of July (watch, runtime: 8:05).
---
Are you ready for a little bit of inflation? It's coming in the form of higher electricity costs (with all of the usual knock-on effects) and higher food prices.
Your electricity bill is going up again next month: The Electricity Ministry and the Egyptian Electric Utility and Consumer Protection Agency (Egyptera) are finalizing the figures for the upcoming hike in electricity prices, which will be implemented as of the beginning of the new fiscal year on 1 July, Al Mal reports, citing unnamed ministry sources. The price increases will be "minor" and will differ for each consumption bracket, but will be capped at 10% for even the highest consumption tier, the sources say.
Factories won't be paying more, and the ministry is also mulling exempting the agriculture industry from price increases to help shield local farmers from the financial burden of the covid-19 pandemic.
We'll see the last increase in electricity prices in July 2021, by which time the Electricity Ministry will have fully lifted subsidies. The ministry had originally planned to reach this point by 2019, but extended the timeline under orders from President Abdel Fattah El Sisi.
Meanwhile, the Madbouly government expects food prices to continue rising through December as the pandemic puts pressure on global supply chains, according to a study by the National Planning Institute (pdf). The study lays out three possible scenarios for food inflation for the remainder of the year: The first would see it sustained at April levels, the second would see it rise 25% beyond that, and the third scenario would see food price inflation rising 50% from where it stood in April. The study doesn't make clear the factors that would lead us to each scenario playing out.
---
The markets today: Asia-Pacific shares have started the trading week comfortably in the green from China to Australia in early dealing this morning. Futures point to a lower open in most European markets, while Wall Street apparently doesn't mind a little bit of violence: Futures at dispatch time this morning show US shares opening in positive territory later today. The EGX30 climbed 1.1% yesterday and is now down 26.8% year-to-date.
Key news triggers coming up now that we're in the month of June:
PMI data for Egypt, Saudi Arabia and the UAE is due out on Wednesday, 3 June.
Foreign reserves figures for May should be out early next week.
Inflation data for May will land on Wednesday, 10 June.
The Central Bank of Egypt will meet to review interest rates on Thursday, 25 June.
Founding members of the EastMed Gas Forum will meet in June to ink the Cairo-based energy organization's charter.
COVID-19 IN EGYPT-
Egypt has now disclosed a total of 24,985 confirmed cases of covid-19 after the Health Ministry reported a new record high 1,536 new infections yesterday. The ministry also said that another 46 people had died from the virus, taking the death toll to 959. Yesterday's death toll is also a new record. We now have a total of 6,810 confirmed cases that have since tested negative for the virus after being hospitalized or isolated, of whom 6,037 have fully recovered. The Associated Press took note of yesterday's new record figures.
Family visits during Ramadan likely fueled the spread of the virus, presidential health advisor Mohamed Awad Tageldin said yesterday as the Health Ministry said (unsurprisingly) that the capital city has the largest number of covid patients in the country.
The House of Representatives is still due to reconvene next Sunday, 7 June, according to Masrawy. The news comes even as five MPs are now confirmed to have tested positive for the novel coronavirus that causes covid-19, according to House Secretary General Mahmoud Fawzi told reporters yesterday. At least one other MP is waiting for test results.
Five media personalities have tested also positive for the virus, including state-owned Channel One's Ilham Nimr; Reham El-Sahly and Aya Abdel Rahman from Extra News; Dalia Abu Emera from Al-Hayah; and Nagham FM host Amr Salah, according to Al Masry Al Youm.
An employee at Cairo's Tora prison has died of covid-19, according to a cabinet statement. Other employees in the prison have since been tested and his workspace was disinfected.
---
Hotels that reopened under a 25% occupancy cap are operating at near full capacity, a tourism ministry official told Reuters. The 78 establishments, mostly along the Red Sea, currently have a 20-22% occupancy rate, the official said, adding that another 173 hotels will hear this week on their applications to open. Hotels are only allowed to open after acquiring a health and safety certificate from the government that proves they will operate according to new rules designed to prevent the spread of the virus.
The hotels hope to be allowed to go to 50% capacity later this month even as a report in the domestic press suggests at least one Egyptian staying at an unnamed Hurghada hotel tested positive for the coronavirus after the property opened for the Eid El Fitr holiday, according to Alaa Aqel, head of the Red Sea Chamber of Hotels, who voiced concern that fears of a renewed outbreak at Egyptian resorts could persuade domestic tourists to stay at home.
Travco has indefinitely delayed opening four new hotels due to the travel restrictions currently in place, the local press reports. The new hotels, which cost the group some EGP 2.5 bn, are set to hold a combined 1.4k rooms upon completion.
---
Briefly noted:
The government will supply 30 mn low-cost cotton face masks per month to help people abide by new requirements to wear masks in closed public spaces, Trade and Industry Minister Nevine Gamea said yesterday.
More than 1 mn people are now using the Health Ministry's covid-19 app, Youm7 reports. The app provides users information on the nearest quarantine and medical facilities, tracks infected users' locations and delivers notices to users approaching locations with suspected cases. The app can be downloaded from the App store here and from the Google Play store here.
Somabay is naturally shifting its mindset to adapt to a new course of direction, paving the way for what's yet to come. A new perspective is just over the horizon.
ON THE GLOBAL FRONT-
Global coronavirus cases topped 6mn yesterday, according to the Johns Hopkins University's covid-19 tracker.
South Korea is re-imposing lockdown restrictions — closing hundreds of schools, museums and art galleries — after 177 new cases were reported towards the end of last week, Sky News reports.
India has said that it plans to loosen lockdown measures from 8 June despite the country recording a record daily rise in cases on Saturday, the BBC reports.
Saudi Arabia opened mosques for the first time in over two months but will still require worshippers to abide by strict guidelines while attending prayers, according to the Associated Press. The kingdom is phasing out its curfew by 21 June except in Mecca.
THE REST OF THE WORLD BEYOND COVID-
Our Twitter feed shows America is grappling with another night of violence nationwide as protesters clash with security forces following the on-camera murder of a black man at the hands of a four white police officers. It's still early given the time difference, but the New York Times and Washington Post are liveblogging as the night unfolds. It is the sixth night of nationwide protests and major cities from coast to coast are under curfew, including Los Angeles and Atlanta. The Wall Street Journal characterized the clashes in the past two days as the worst civil unrest the US has faced in decades.
Trump delays G7 after Germany snub, unilaterally vows to bring Russia back into the fold: The Donald has postponed the in-person G7 summit scheduled to take place in the US this month, a day after German Chancellor Angela Merkel refused to confirm whether she would attend. Describing the group as "outdated," Trump said that he would invite other developed countries — including Russia, India and South Korea — to join, according to Reuters.
Tensions to rise in the east Med as Turkey expands gas exploration ambitions: Turkish Petroleum could begin oil exploration in the eastern Meditteranean in three to four months under the unilateral border demarcation agreement Ankara signed with Libya's Tripoli-based government late last year, Turkish Energy Minister Fatih Dönmez said on Friday, according to Reuters. The agreement was condemned by Egypt and its Mediterranean allies, who are already locked in a diplomatic row with Turkey over its gas activities in disputed Cypriot waters.
Is the US stock market out of touch with reality? US stocks have rebounded on the back of business reopenings and hopes of a vaccine, the WSJ reports. The rally — largely driven tech stocks — has lifted the S&P 500 up 36% from March, reducing yearly losses to 5.8%. But Citi
thinks markets in the past two weeks have been "way ahead of reality." the FT reports. Promising stock performance in the short term is based on the assumption that markets will follow a V-shaped recovery, which the firm believes will not be so clear cut with likely greater difficulties to come in 2Q2020 ahead of an upturn.
The Fortune 500 list now has a record number of women chief executives: Thirty-seven companies on this year's Fortune 500 are led by women, up from 33 last year. Changes at the top saw women taking over leading positions from their male predecessors. Among the new faces: Sonia Syngal, who assumed the top role at clothing giant Gap in March, and Carole Tome, the incoming boss of package delivery company UPS.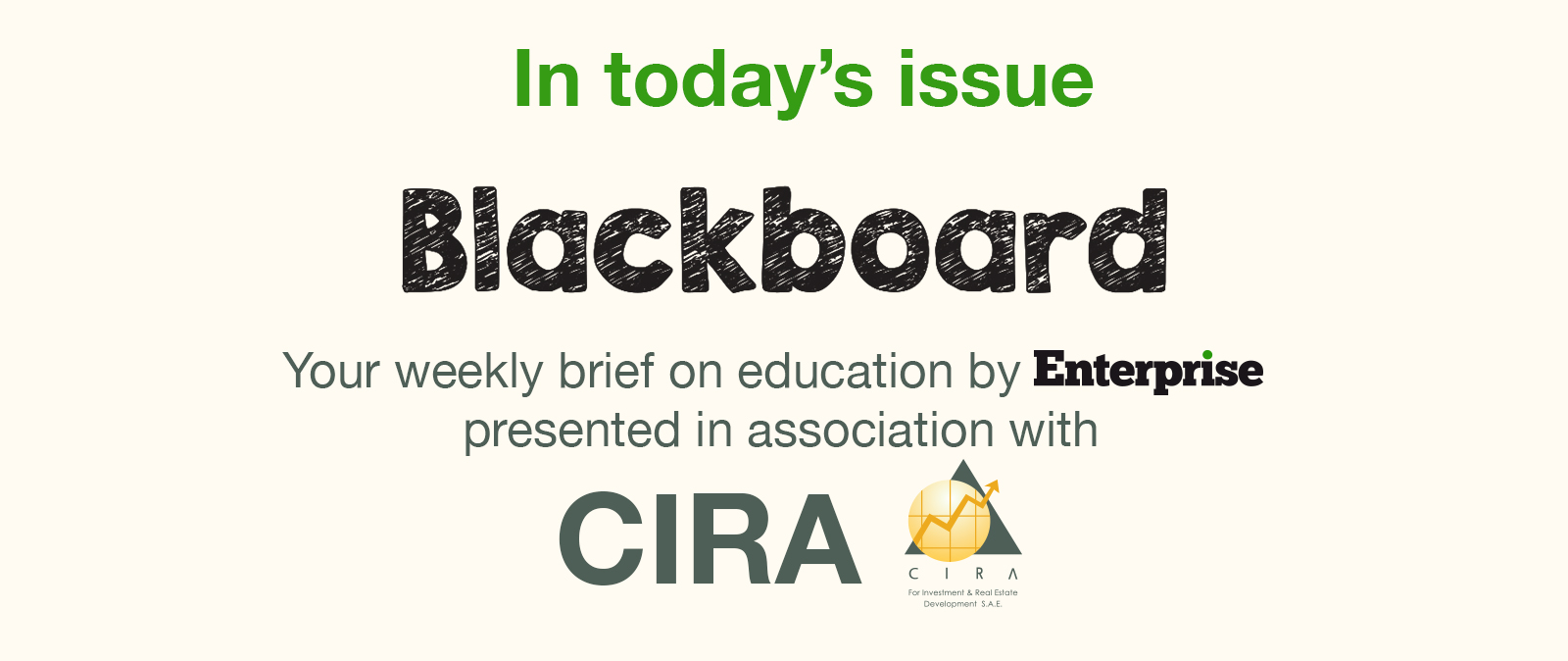 *** It's Blackboard day: We have our weekly look at the business of education in Egypt, from pre-K through the highest reaches of higher ed. Blackboard appears every Monday in Enterprise in the place of our traditional industry news roundups.
In today's issue: We sat down with the American University in Cairo's (AUC) President Francis Ricciardone and Provost Ehab Abdel Rahman for a conversation on how AUC is coping with the shift to online learning in the time of covid-19 — and how this is all affecting tuition fees and accessibility.