Thursday, 4 June 2020
What we're tracking on 4 June 2020
We have a little bit of good news this morning for a change. Okay, okay, some of it only qualifies as neutral, but given the circumstances we'll take it:
The covid-19 new case and death counts are down this morning. It's too early to call it a trend, but this is the third day in a row that the new case number has dropped, and we'll take it.
Job and salary cuts are not widespread — but you're also not investing, and you definitely want more freedom to WFH in better times. Such are the results of our covid-19 reader poll, which leads this morning's Speed Round.
The latest PMI reading suggests the private sector is weathering the worst of the storm: May figures show that while Egypt's non-oil private sector remained in contraction territory, business activity mounted a solid rebound from last month's record low. Saudi Arabia and the UAE were also largely in the same boat as lockdown restrictions began to ease, but companies there continued to cut staff and salaries. We have full coverage in our Speed Round below.
We won't find out until next week when the Madbouly government plans to begin lifting some lockdown measures, including the ban on inbound and outbound international flights and the closure of restaurants and houses of worship, according to a statement. Cabinet's covid-19 crisis management committee met yesterday to look over plans to prepare for the upcoming resumption of these activities, the statement says, without indicating an anticipated timeline. The most recent extension of lockdown measures is set to expire on Sunday, 14 June.
But we will see a phased reopening of tourist attractions and museums. The Tourism Ministry will "soon" reopen a total of six museums and tourist attractions including the National Museum of Egyptian Civilization and the Baron Palace after an almost three-month hiatus.
Markets today: Asian shares are mixed in early trading this morning, while futures point to European markets opening in the green later this morning. The same gauge suggests US shares will open in the red after the S&P, Dow and Nasdaq all posted gains yesterday despite ongoing nationwide protests against police brutality and racial inequality.
The EGX30 has so far closed in the green every day this week, adding to its streak by ending yesterday up 0.8% at the closing bell.
Oh, and Zoom? Definitely not interested in protecting your privacy: Only paid users will get access to an encrypted call feature now in development, the company's CEO told investors, noting that "[unpaid] users for sure we don't want to give that because we also want to work together with FBI, with local law enforcement in case some people use Zoom for a bad purpose."
---
COVID-19 IN EGYPT-
The Health Ministry confirmed 36 new deaths from covid-19 yesterday, bringing the country's total death toll to 1,088. Egypt has now disclosed a total of 28,615 confirmed cases of covid-19, with the ministry having reported 1,079 new infections yesterday — the third day in a row in which cases declined. We now have a total of 8,371 confirmed cases that have since tested negative for the virus after being hospitalized or isolated, of whom 7,350 have fully recovered.
More than 5.4k coronavirus patients are being treated at home homes and another 5.9k patients from university hospitals, according to a Cabinet statement. Remote treatment for cases displaying mild symptoms of the virus has become the ministry's standard protocol as it works to reduce the load on public healthcare infrastructure.
Citizens returning on repatriation flights are now being required to self-isolate at home, Hapi Journal reports. They had previously been sent to hotels serving as quarantine facilities.
Cabinet published yesterday an infographic of the geographic distribution of hospitals across the country that are currently treating covid-19 patients, as well as a list of the hospital names.
A handful of private sector labs have signaled they are prepared to provide PCR covid-19 testing if they get the go-ahead from the government, Al Mokhtabar Labs Chairman Moamena Kamel tells Al Mal. The Health Ministry has begun allowing private sector healthcare providers to treat patients infected with the virus but said that state-owned labs have enough testing capacity to cover the country's needs for now.
A total of 99 hotels are now open nationwide after the government gave another 14 properties in Red Sea, Alexandria, Cairo, Suez and Aswan the green light.
We're jumping on the drive-in cinema bandwagon: The Mall of Arabia plans to open what we think is Egypt's first drive-in theatre since the 1990s. Drive-ins are making a comback globally in the age of covid, CNBC reports.
Canada has donated USD 500k to the UNDP in Egypt to purchase covid-19 diagnostic equipment, according to an embassy statement.
Somabay is naturally shifting its mindset to adapt to a new course of direction, paving the way for what's yet to come. A new perspective is just over the horizon.
ON THE GLOBAL FRONT-
Italy has fully opened its international borders and scrapped its 14-day quarantine requirement for visitors, the Associated Press reports.
Iran is starting to see a second wave of virus infections, reporting 3,134 new cases on Wednesday, according to Bloomberg. The new outbreak marks the largest daily case count in the past two months and comes after the country began easing lockdown measures in April.
The United States plans to ban flights by Chinese airlines, complaining that Beijing hasn't yet "approved requests by U.S. airlines to resume flights after they were suspended amid the pandemic," the WSJ reports.
GLOBAL MACRO-
Russia, Saudi in look to extend oil production cuts: Saudi Arabia and Russia have reached a preliminary agreement to extend the record oil supply cuts agreed in April into next month, a source from OPEC+ said, according to Reuters. A final decision to keep the cuts in place depends on compliance from producers that haven't been fully on board, the source said. Brent crude rallied to above USD 40 a barrel in recent days in response to the likely extension.
Things are looking much worse for natural gas, which unlike oil lacks a price-setting cartel. Bloomberg suggests that natgas futures, faced with the same conditions that led to the oil glut and price crash, could be changing hands at negative prices in Europe, "but only in the very short term" due to oversupply.
Meanwhile, Europe's services PMI is signalling that the worst might be over, with the IHS Markit Eurozone Composite PMI (pdf) nearly doubling last month from April's record low. But similar to the bloc's manufacturing PMI figures that were out earlier this week, the EU's services sector is still deep in contraction territory amid a sustained slump in demand.
AND THE REST OF THE WORLD-
The police officer accused of murdering George Floyd on video is being charged with a more serious offense and three other officers who stood by and watched will be charged with aiding and abetting the murder, Reuters reports. The new charge — an escalation to second degree from the initial third degree murder charge against the now-former officer — can carry a sentence of up to 40 years.
Widespread protests of racial ineqality and police violence sparked by Floyd's murder are simmering in the US for a ninth day in New York City, San Francisco, Los Angeles, Washington, St. Louis and Portland. The gatherings were markedly less violent than in recent past, according to the NYT.
Former defense boss criticises uses of troops against protesters: Former US Defense Secretary Jim Mattis issued a statement earlier in the day condemning Trump for deploying the military against the protesters and helping foment divisions in the country.
The UK will give 3 mn Hong Kong residents the chance to seek refuge if China goes ahead with imposing a new security law on the island, said Prime Minister Boris Johnson, according to Bloomberg.
Warner Music raised USD 1.93 bn yesterday in the US's largest IPO this year. The listing "signals the renewed strength of US offerings" (uhm, sure) Bloomberg reported, saying investors saw the appeal in the company's emphasis on streaming revenue after the covid-induced market turmoil.
US citizens vs. surveillance capitalism: Google's California-based parent Alphabet is facing a potential USD 5 bn class action lawsuit in the US by claimants accusing the tech giant of illegally harvesting private data while users surf the web in 'private' mode, Reuters reports.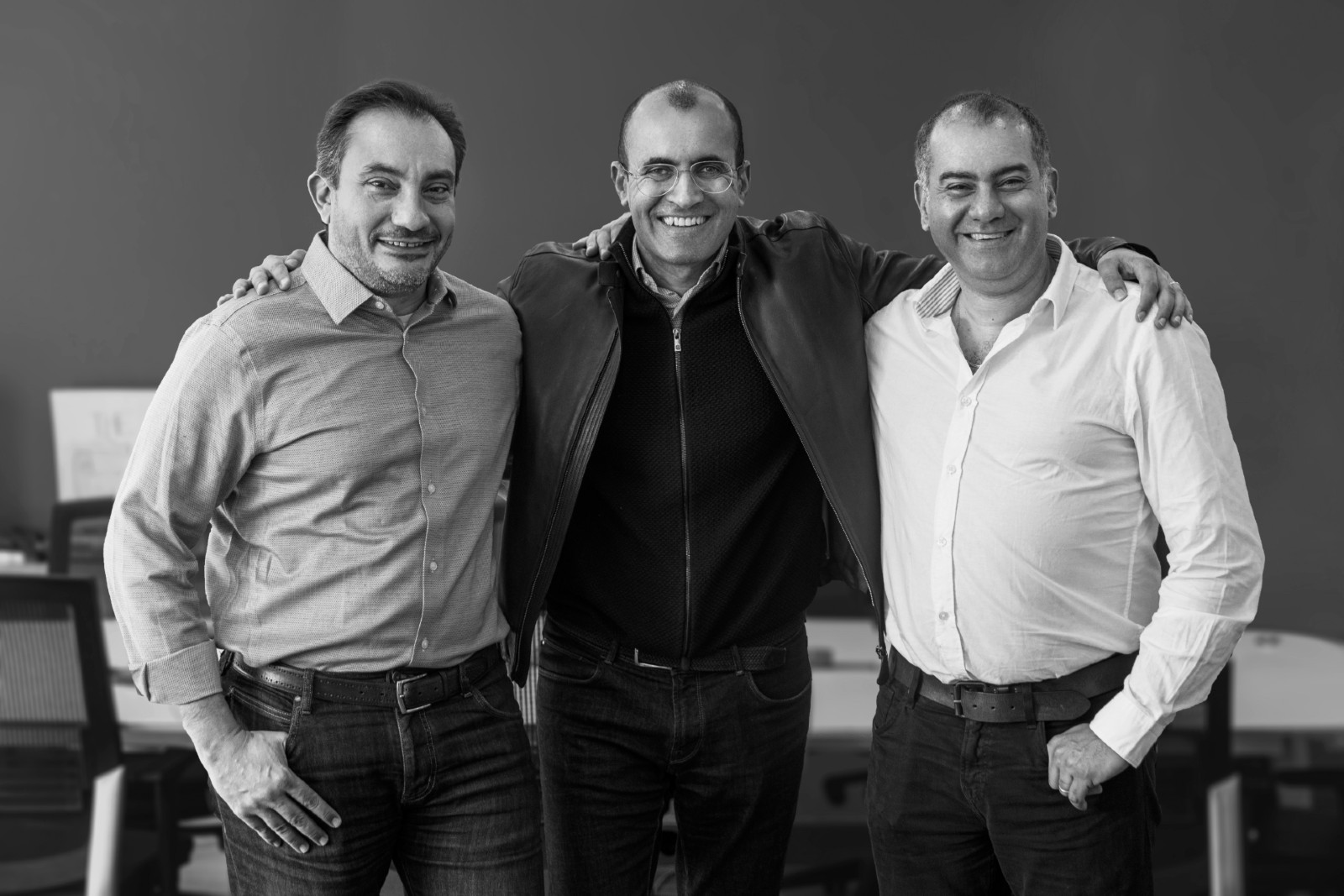 It's Making It Day: The second season of our podcast on building a great business in Egypt resumes today.
Our guests today are Tarek Assaad and Karim Hussein, two of the three managing partners of Algebra Ventures, the USD 54 mn Cairo-based venture capital fund and one of a handful of pioneers who are writing the book on how VC is done in this corner of the world.
Together with their friend and partner Ziad Mokhtar (who was unable to attend our recording session and help us test whether we could fit three guests plus a host into our two-person studio…), they've led investments in industries ranging from fintech to e-commerce, transportation, online food ordering and more. Some of their portfolio companies are already household names (Elmenus, Halan, Orcas) or well known in the business community (Trella). The list has grown since we sat down with Assaad and Hussein in December with the addition of Khazna last month, their first fintech investment.
In an interview recorded before covid-19 swept the globe, Assaad and Hussein give us a peek into what VCs look for in startups — and the red flags that make them walk away.
Tap or click here to listen to the episode on our website | Apple Podcast | Google Podcast | Omny. We're also available on Spotify, but only for non-MENA accounts. Subscribe to Making It on your podcatcher of choice here.