Monday, 19 September 2022
THIS MORNING: First in-person EFG Hermes One on One since 2019 kicks off
Good morning from Atlantis The Palm, our home for the week as we settle in for the first EFG Hermes One on One to take place in person since 2019 (Thank you, covid-19). We're expecting some 205 corporates from 33 countries to show up over the course of the week for face-to-face meetings with 655 institutional investors from 270 different institutions — making the One on One the world's premier frontier and emerging markets investor conference.
Corporates here cover every industry in F/EM you could imagine, including energy (huge, with COP27 slated for Sharm El Sheikh later this fall and COP28 next year in the UAE), consumer-driven sectors, banking, finance, healthcare, industrials, tech, telecommunications, utilities, real estate and more.
"We're excited to finally bring back the physical iteration of the One-on-One for the first time since the onset of covid-19 under the patronage of H.H. Sheikh Maktoum bin Mohammed bin Rashid Al Maktoum," our friend Karim Awad says this morning in a statement (pdf). Karim, group CEO of EFG Hermes Holding, says that the firm's role in serving as a conduit for investment is more important than ever as businesses and investors grapple with the aftermath of covid, ongoing supply chain snarls, and sharp inflationary pressure.
WHAT YOU CAN EXPECT TODAY- Tons of one-on-one meetings as well as group sit-downs with in-demand companies.
On the stage this morning: Helal Saeed Almarri, who wears many hats in Dubai including that of director general of the Department of Economy and Tourism. Almarri is also a member of the Executive Council of Dubai and chairman of the Dubai Financial Market, among other posts he holds. He'll be interviewed on stage at 11:50am Dubai time by our friend Simon Kitchen, head of strategy at EFG Hermes Research.
ALSO THIS MORNING- Attendees will be asked to vote in the Consensus for 2023, the largest (and only live) F/EM research poll. We'll have the results for you in tomorrow morning's EnterpriseAM.
---
WATCH THIS SPACE- Is a Capiter bailout in the cards? US-based Quona Capital wants to acquire 70-80% of crisis-stricken B2B e-commerce startup Capiter in efforts to reform and restructure the company, Al Mal reported yesterday, citing informed sources. Quona is a key investor in Capiter, having co-led its USD 33 mn series A round with MSA Capital last year. Representatives of Capiter did not respond to requests for comment when we reached out yesterday.
Capiter was the talk of the town this past week after social media exploded with allegations of financial impropriety (including embezzlement) at the company after the board fired the company's co-founders. Internal and external investigations are ongoing, while the news has sparked a wider conversation on what lies in store for the local startup scene as VC funding dries up on the back of rising borrowing costs and fears of a global slowdown.
PSA- Your commute around New Cairo may take a little longer for a few months: Authorities have shut several roads in New Cairo for two months due to the construction of the monorail, according to state news agency MENA. Baqi Zaki tunnel on southern Road 90, the Al Mushir ramp on Road 90 heading towards Maadi, and the entrance to the southern Road 90 coming from Maadi via the Ring Road are all affected.
HAPPENING TODAY-
Prime Minister Moustafa Madbouly is in the UK to attend the funeral of Queen Elizabeth II on behalf of President Abdel Fattah El Sisi. The prime minister attended a reception hosted by King Charles III and Queen Consort Camilla for world leaders at Buckingham Palace on the eve of the funeral yesterday.
The funeral is one of the big stories in the foreign press this morning: Reuters | AP | Washington Post | FT | BBC | The Guardian.
Shoukry in New York for UN General Assembly session: Foreign Minister Sameh Shoukry is in New York to participate in the high-level meetings ahead of the UN General Assembly session. The general debate for the 2022 session will take place from Tuesday, 20 September to Monday, 26 September.
Indian Defense Minister Rajnath Singh is in Cairo for a three-day visit focused on bolstering defense ties.
HAPPENING THIS WEEK-
The Central Bank of Egypt will meet to discuss interest rates on Thursday, and the signs are pointing towards a third hike of 2022. Six of seven analysts and economists surveyed in our regular poll expect the Monetary Policy Committee to raise rates as inflation rises and the EGP continues to weaken.
Make that seven of eight: HC Securities sees the central bank raising rates by 100 bps on Thursday and another 100 bps in the November meeting due to Egypt's deteriorating external position and expectations for inflation to accelerate in the coming months.
Intellectual property strategy coming this week: Egypt will launch its intellectual property strategy on Wednesday. World Intellectual Property Organization (WIPO) Director-General Daren Tang will make an appearance at a ceremony being put on to launch the program.
FURTHER AFIELD-
HSBC is hosting an energy transition webinar series next Tuesday-Thursday, 27-29 September. The series will look at the "latest climate analysis in relation to the global energy market and transition to net zero" in six different sessions covering energy security, what is required to ensure the success of COP27, financing and investment needs for the energy transition, and the scaling up of renewables in the region, among other topics. You can register for the series here.
Check out our full calendar on the web for a comprehensive listing of upcoming news events, national holidays and news triggers.
---
FACT CHECK- Al Baraka Bank denies plans to take over First Investment Development Company: The bank said reports that we picked up from local media yesterday of plans to acquire 100% of the company were "completely untrue" in a statement (pdf) sent to the bourse. First Investment Development Company also refuted the news in a separate statement (pdf), saying it is not in any official talks over a sale.
DATA POINT- The Suez Canal Authority (SCA) expects an additional USD 700 mn in annual revenues thanks to the 15% hike in transit fees for most vessels crossing the canal starting January 2023, SCA Chairman Osama Rabie told CNBC Arabia.
People will be able to pay government dues of EGP 4k and above at some 4k post office branches and 38 banks, after the cabinet reduced the existing EGP 10k minimum, according to a statement.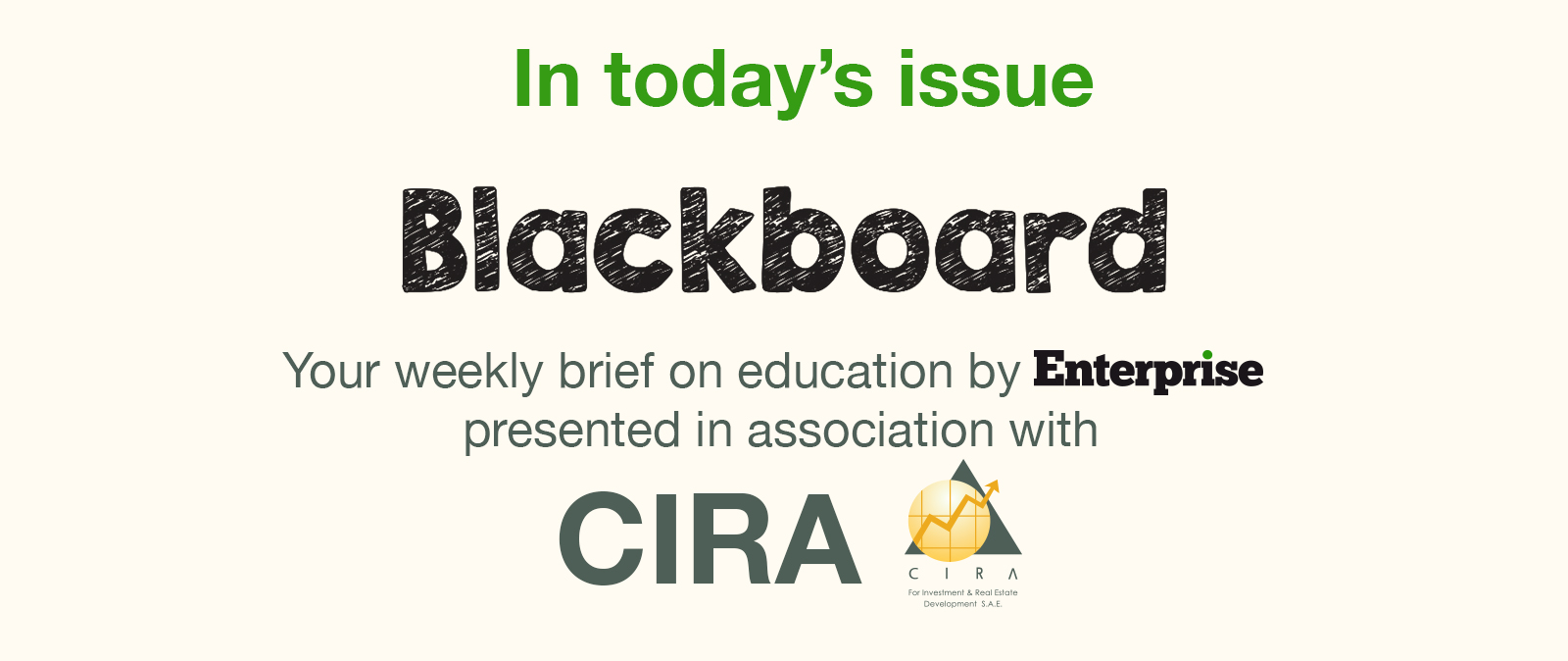 *** It's Blackboard day: We have our weekly look at the business of education in Egypt, from pre-K through the highest reaches of higher ed. Blackboard appears every Monday in Enterprise in the place of our traditional industry news roundups.
In today's issue: Corporates and organizations providing scholarships to Egyptian students pursuing undergraduate and graduate degrees locally or abroad typically require students to work here in Egypt for at least two years after graduation. We look at how these organizations implement the requirement, and whether students actually abide by this stipulation.