Sunday, 18 September 2022
THIS MORNING: It's interest rate week at home and abroad + Brimore to restructure, cut costs
Good morning, wonderful people, and happy Sunday. It's a travel day for many of our readers in Egypt and outside as they head to the EFG Hermes One on One in Dubai — the first time since the start of covid-19 that the world's premier frontier and emerging markets investor conference has taken place in person. We hope everyone attending is looking forward to it as much as we are.
IT'S A BIG DAY FOR: PLANET STARTUP, where the reckoning continues. Social commerce startup Brimore did the right thing and issued a statement (pdf) over the weekend saying that it would restructure and cut costs in a bid to reach profitability. The move comes as domestic economic growth slows — and as what was once a torrent of venture capital funding for startups has become a trickle. Brimore says it will tweak its business model, but stopped short of getting into what that means. The five-year-old company, which has backing from bold-name investors including Algebra, Endure and Fawry, also cited fallout from Russia's invasion of Ukraine as a factor in the challenges it now faces.
Keep an eye out for more M&A on Planet Startup: We noted last year that startups acquiring new startups had become a thing. Heading into 4Q and beyond, we expect to see acquisitions of young, tech-enabled businesses pick up. Some tech and tech-enabled businesses are going to struggle with cash burn now that venture capital has significantly dried up, creating willing sellers. Even those with plenty of runway will look at a deep-pocketed suitor in new light given current market conditions. And traditional businesses with no tech edge (and, too often, zero ability to manage devs) will look at depressed asset prices and think, "Hmm, why not."
You're also going to see startups take investment from traditional companies without fully selling themselves. Case in point: Source Beauty. The four-year-old online beauty platform with some 60k users has sold a majority stake to the Egyptian Company for Cosmetics (ECC). The transaction will see Source Beauty founder Lydia Schoonderbeek become ECC's chief creative officer while remaining CEO of Source Beauty, as we note in this morning's news well, below.
---
WATCH THIS SPACE- Are the leftists going to (try to) monkey with the backbone of the Sisi administration's privatization policy? Wafdist MP Ayman Mehasseb, the rapporteur for the National Dialogue's subcommittee on public investment and state ownership, is suggesting just that, saying in a meeting with journalists yesterday that the document outlining the sectors of the economy in which the state will and will not be involved "is not immune from change because it is not a constitution" and could be changed "without hesitation" because it "concerns public investment and state ownership priorities in the coming stages."
The catch: We're not entirely certain that members of the subcommittee have the authority to rewrite the document, which came out of very good thinking from the folks at the Planning Ministry. The state ownership policy is a cornerstone of President Abdel Fattah El Sisi's goal of attracting USD 10 bn in private-sector investment per year in each of the coming four years. The 11-party opposition Egyptian Civil Democratic Movement has recently called for debate on the state ownership policy as part of the ongoing dialogue process.
WELCOME TO INTEREST RATE WEEK-
It's interest rate week at home and abroad: The Central Bank of Egypt looks set to go through with its third rate hike of 2022 when it holds its policy meeting on Thursday. Six of seven analysts and economists we spoke to last week see the Monetary Policy Committee raising rates as inflation rises and the EGP continues to weaken. We have more on that in this morning's news well, below.
The Fed will announce its rate decision the day before: The Federal Reserve will hold its two-day policy meeting on Tuesday and Wednesday this week — and a third jumbo 75-bps hike looks all but certain following last week's disappointing inflation data.
Where does it stop? A Financial Times survey of economists sees the Fed raising rates beyond 4% and holding them there into 2024. Almost 70% of the 44 economists see rates rise to 4-5% while 20% think they'll need to go further before policymakers get a handle on inflation.
Expect more of this in the coming weeks as rates rise further: Expectations for a more hawkish Fed has led Goldman Sachs to downgrade its growth outlook for the US economy for next year, according to Bloomberg. The investment bank now sees the economy growing at a 1.1% clip in 2023, down from its previous 1.5% forecast. Its 2022 forecast was left unchanged at 0%.
---
WATCH THIS SPACE #1- Prime Minister Moustafa Madbouly held talks with representatives from the Qatar Investment Authority (QIA) and French hotel group Accor on potential investment in the hospitality and tourism sectors, cabinet said in a statement Saturday. This came a few days after President Abdel Fattah El Sisi and other cabinet ministers traveled to Qatar to discuss investments.
REMEMBER- Qatar has pledged to invest USD 5 bn in Egypt, joining Saudi Arabia and the UAE to help shield the country from the fallout from the war in Ukraine. Egypt and Qatar have reportedly been in talks for weeks over potential investments from Qatari firms and the QIA but nothing has yet been announced.
WATCH THIS SPACE #2- Al Baraka Bank is planning to make an offer to acquire 100% First Investment Development Company for EGP 5.30 per share, according to a document reportedly seen by Al Shorouk. Expect a disclosure to land on the EGX later today.
---
HAPPENING TODAY-
Shoukry in New York: Foreign Minister Sameh Shoukry is traveling to New York today to participate in the high-level meetings ahead of the UN General Assembly session, which starts tomorrow, the Foreign Ministry said in a statement yesterday.
Indian Defense Minister Rajnath Singh will land in Cairo today for a three-day visit focused on bolstering defense ties, " the minister wrote on social media.
Today is the deadline for investors to apply for funding under the Planning Ministry's Smart Green Governorates initiative. More detail here.
Egyptian Securities Federation registration: Brokerage firms, asset managers and financial advisors are required to register to join the Egyptian Securities Federation by today.
DATA POINTS-
#1- Remittances from Egyptians abroad fell 15% y-o-y in July to USD 2.38 bn, according to fresh central bank figures (pdf). Flows were down 15% m-o-m from USD 2.8 bn in June. Remittances hit a record high for the second year running in FY 2021-2022 as surging oil prices supported transfers coming from the Gulf. Remittances are a key source of hard currency for Egypt and the outlook is strong when you consider that most Egyptian expats work in the GCC, where pundits expect there will be an extra USD 1.3 tn in liquidity sloshing around over the next year.
#2- More than 1.4k exporters applied to join the fifth phase of the export subsidy program, according to a Finance Ministry statement. Exporters had until 15 September to apply to the program, which will pay out a total EGP 10 bn in overdue subsidies to exporters, with payments to be made on 1 October and 1 December. The program allows exporters to receive their subsidies in a single payment rather than in installments over four to five years, in return for a haircut.
#3- Cheaper travel on the LRT: Passes and individual tickets for the new Light Rail Train (LRT) are now up to 50% cheaper, the Transport Ministry said in a statement. All subscription prices have been cut by 50%, while the price of tickets for the line between Adly Mansour Central Station and the new administrative capital was reduced by 30-40%. Minibuses transporting travelers from suburbs to LRT stations are running without charge for two weeks, beginning yesterday. The discounts come ahead of the new academic year and as the government prepares to move ministries to the new capital.
ROAD TO COP27- The dilemma of climate finance: Climate financing represents a "dilemma", given a sizable gap between what is being offered and what is necessary to implement climate-related projects, Egypt's high-level climate champion Mahmoud Mohieldin said at the Egypt- and UN-led regional climate roundtable in Beirut Thursday. "It's necessary for Arab governments to link public budgets to sustainable development goals as public finance could be considered the cornerstone of financing development and climate action including adaptation measures," he said, adding that investments and partnerships should be used to finance projects rather than debt.
---
THE BIG STORY ABROAD- It's a mixed bag in the global front pages this morning: Reuters, the Associated Press and the New York Times are reporting the latest from Ukraine, Bloomberg is covering last week's turmoil in the financial markets (more on that in this morning's Planet Finance, below), and the Wall Street Journal is reporting on increasing competition among stablecoin players as interest rates rise.
CIRCLE YOUR CALENDAR-
HSBC is hosting an energy transition webinar series next Tuesday-Thursday, 27-29 September. The series will look at the "latest climate analysis in relation to the global energy market and transition to net zero" in six different sessions covering energy security, what is required to ensure the success of COP27, financing and investment needs for the energy transition, and the scaling up of renewables in the region, among other topics. You can register for the series here.
Intellectual property strategy coming this week: Egypt will launch its intellectual property strategy this Wednesday, Prime Minister Moustafa Madbouly said on Wednesday, according to a cabinet statement. World Intellectual Property Organization (WIPO) Director-General Daren Tang will make an appearance at a ceremony being put on to launch the program, the PM said.
Winter is coming: Shops will shift to winter hours on Friday, 30 September, Youm7 reports. Shops and malls will close one hour earlier at 10pm (11pm on Thursdays, Fridays and national holidays) while cafes and restaurants will shutter at midnight rather than 1am. The government first introduced seasonal retail opening hours in 2020.
Check out our full calendar on the web for a comprehensive listing of upcoming news events, national holidays and news triggers.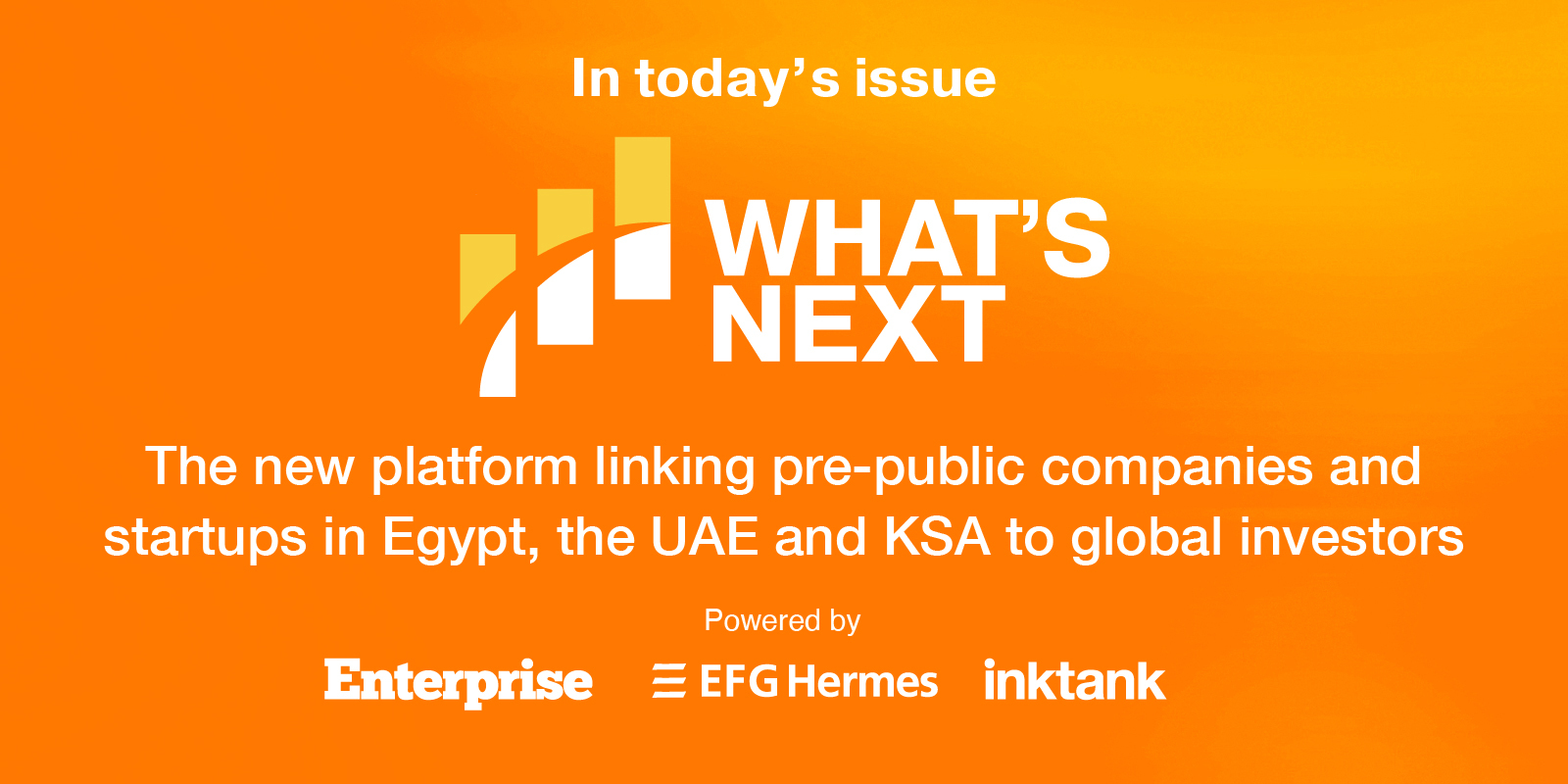 *** It's What's Next day: We have our weekly deep-dive into what makes and shapes pre-listed companies and startups in Egypt, the UAE and KSA, touching on investment trends, future sector insights and growth journeys.
In today's issue: A guest op-ed by Sara Enan, senior associate at VentureSouq, who shares her thoughts on the Capiter debacle and what it means for the local startup scene.