Monday, 20 June 2022
THIS MORNING: Could war in Ukraine drag on for years? + File your taxes
It's the unofficial legislation and policy issue, ladies and gentlemen, with debates in the House of Representatives over the budget and key legislation and public discussions on privatization begin.
MbS in town today: Diplomacy continues to feature heavily as well, especially as Saudi Crown Prince Mohamed bin Salman is in Cairo today for talks with President Abdel Fattah El Sisi. This is part of a three-day tour that will take the kingdom's de facto leader to Jordan and Turkey. On the agenda: the impact of Russia's war in Ukraine on the region and US President Joe Biden's visit to Riyadh next month.
Lebanon gas pact tomorrow? Egypt could sign a final agreement to export gas to Lebanon tomorrow, a step which would — assuming the US approves the arrangement — pave the way for gas shipments to begin later this year.
---
THE BIG STORY here at home- Some MPs are registering their criticism of the Finance Ministry's draft FY 2022-23 budget, saying it doesn't go far enough to combat rising debt service costs.
Budget discussions continue today in the House: MPs will discuss the government's FY 2022-2023 budget and socio-economic development plan for a second day today ahead of a possible vote tomorrow.
In brighter news, it's full steam ahead for the government's privatization strategy as it gauges the temperature in public consultations that kicked off yesterday with the agriculture sector.
THE BIG STORY ABROAD- It's bad news for French President Emmanuel Macron this morning, who has lost majority control of the National Assembly (the lower chamber in France's bicameral parliament) in a shock result following yesterday's elections. Both left and far-right candidates saw an upswing in popularity, leading to fears of an ever-more fragmented and divisive political landscape in the country. More from the BBC, Politico, the Financial Times, CNN, Reuters, and France24.
WHAT'S HAPPENING TODAY-
The Central Bank of Egypt's (CBE) first VC summit wraps up today at the Nile Ritz-Carlton in Cairo, according to a statement (pdf). Billed as Egypt's largest venture capital event, the two-day conference is in partnership with GIZ Egypt and German fund of funds AfricaGrow, and organized by accelerator Changelabs. It brings together some 400 participants — including VC experts, high-profile LPs and GPs, commercial banks, and officials — to talk VC funding for fintech and fintech-enabled firms.
The Egyptian Builders Forum takes place today at the JW Marriott Hotel Cairo. The event brings together business leaders, investors and policymakers involved in the construction and contracting sectors to discuss the industry in Egypt, the Middle East and Africa.
LATER THIS WEEK-
The Aswan Forum for Sustainable Peace and Development will kick off in Cairo tomorrow and runs until Wednesday.
It's interest rate week: The Central Bank of Egypt will meet on Thursday to discuss interest rates. A majority of analysts and economists we surveyed expect policymakers to leave rates unchanged, according to our customary poll.
---
DATA POINT- Almost 70k people have applied to take part in the upcoming national dialogue, El Watan reports. The state has invited more than 400 public figures to participate in the forum, set to kick off during the first week of July.
What national dialogue? Head to our explainer to learn more.
KUDOS- The IMF has given a nod to our climate change efforts, acknowledging last Thursday policies such as our National Climate Change Strategy and issuing the region's first sovereign green bonds. It also noted the increased role the private sector is having in our climate adaptation efforts.
CORRECTION- Apologies to Dr Mahmoud Mohieldin, whose title we goofed on yesterday. Mohieldin is the special envoy of the UN Secretary General and Executive Director at the International Monetary Fund, in addition to being the UN Climate Change High-Level Champion for Egypt. He is no longer the World Bank Group's senior vice president for the 2030 Development Agenda, as we incorrectly said yesterday. Apologies again to Dr Mohieldin, whose work we're very familiar with and are fans of at Enterprise. The story has since been corrected on our website.
More expensive cancer sticks cigarettes around the corner? Local tobacco maker Eastern Company will meet at the end of the month to discuss its prices amid rising production costs and raw materials shortages, CEO Hany Aman reportedly told Hapi Journal. Supply chain snags are posing problems for the company, which Aman said last month is facing shortages and shipping disruptions.
PSA- A friendly neighborhood reminder to FILE YOUR TAXES before 30 June to benefit from a potential partial waiver on late fees. Legislation being prepared by the Finance Ministry would waive a portion of interest payments and late fees on overdue income tax, VAT, stamp duty, and development fees. The bill got coverage last night from DMC's Al Youm (watch, runtime: 4:33) and Sada El Salad's Salet El Tahrir (watch, runtime: 5:48).
---
WAR WATCH- Ukraine war could last for "years," says Nato chief: Supplying Ukraine with additional arms is crucial if the country is to push Russian forces out of the country, which could potentially take "years," Nato Secretary-General Jens Stoltenberg said, according to Reuters.
But Ukrainian grain can't wait years for export: As Ukrainian farmers prepare for the new harvest, silos remain at near full capacity with last year's grain as Russia's blockade in the Black Sea leaves the country unable to export, the Wall Street Journal writes. Some 30 mn tons of grain are trapped inside the country, and with little capacity for the new harvest the government says it'll need another 10-15 mn tons of capacity once the harvest begins later this year.
The EU and US could lend a hand: The EU has offered to store Ukrainian grain while the US says it will build temporary silos on the Polish border.
And the EU is still hoping for a corridor to get grain past the Russian blockade: EU Foreign Ministers will discuss today at a meeting in Luxembourg how to move forward plans for a UN-backed corridor to get Ukrainian grain through blockaded Black Sea ports, Reuters reports, after talks between Russia and Turkey on the plan collapsed earlier this month. It's not yet clear whether the EU is considering offering military escorts for any ships that might navigate through the blockade.
CIRCLE YOUR CALENDAR-
The Big 5 Construct Egypt (pdf) construction industry exhibition runs from 25-27 June at the Egypt International Exhibition Center (EIEC) in Cairo.
Amcham AGM later this month: Our friends over at Amcham will hold their annual general meeting on Monday 27 June at the St. Regis Cairo Hotel. Finance Minister Mohamed Maait will address the gathering.
Check out our full calendar on the web for a comprehensive listing of upcoming news events, national holidays and news triggers.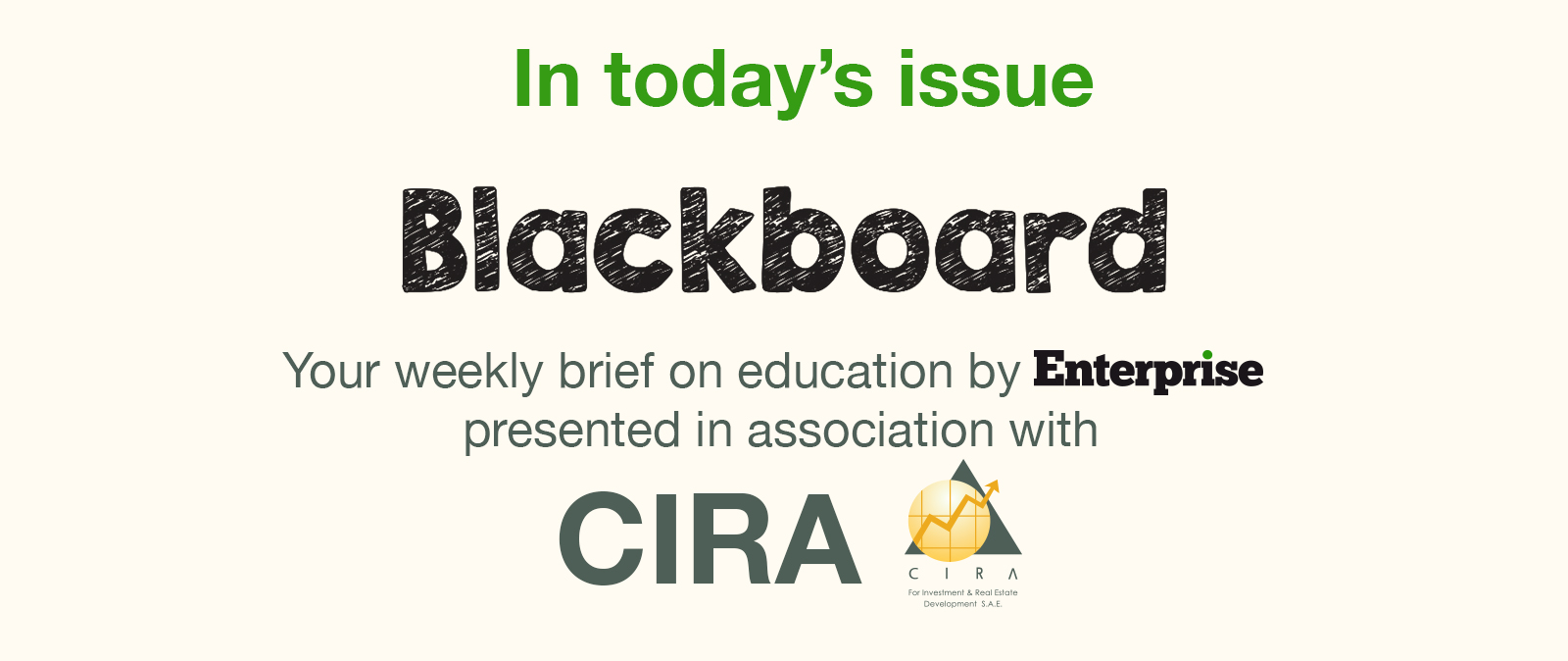 *** It's Blackboard day: We have our weekly look at the business of education in Egypt, from pre-K through the highest reaches of higher ed. Blackboard appears every Monday in Enterprise in the place of our traditional industry news roundups.
In today's issue: What are the key factors that will shape the future of MENA's K-12 education sector? The education sector is growing in importance across Egypt, KSA, and Dubai, and increasingly accounting for more of GDP. Rising population figures have made it essential to increase investments in K-12 education, with both the public and private sectors playing a role in making sure there are enough seats to accommodate new students. However, affordability when it comes to quality education remains a hurdle for the region.