Monday, 13 June 2022
THIS MORNING: USD 10 bn additional burden + Latvian FM in town + wheat can't get out of Ukraine and India isn't helping…oh, and the Fed.
Good morning, ladies and gentlemen, and welcome to another issue of the government and the private sector playing whack-a-mole with the impact of the Ukraine-Russia war.
THE BIG STORY TODAY- Finance Minister Mohamed Maait's estimate of a USD 10 bn extra burden from rising wheat and oil prices on the country next fiscal year is leading the local news.
More UAE investment news: Elsewhere, First Abu Dhabi Bank completed the merger of Bank Audi Egypt and rebrands its local operations to FABMisr, while our friends at Chimera become the latest to make a play for a controlling stake in Beltone Financial.
Investment roadshow continues: Finance Minister Mohamed Maait has invited South Korean companies to invest in our agriculture, industry, transportation, energy, and water sectors, according to a statement by the Finance Ministry. Maait laid out the government's privatization strategy in a meeting with South Korean companies' local representatives, saying that the government is ready to help remove obstacles for investors as part of efforts to lure USD 10 bn in foreign direct investment (FDI) annually.
Officials from our government have been meeting with foreign and Arab investors in the past few weeks under efforts to promote the country as an investment-friendly destination as the state doubles down on its privatization push.
Some good news from the senate: The Senate has approved the state's draft 2022-2023 sustainable development plan (pdf). It should now be on its way to the House of Representatives for final approval, Al Borsa reports.
WHAT'S HAPPENING TODAY-
Latvian FM + business delegation in town for talks: Latvian Foreign Minister Edgars Rinkēvičs is accompanying a business delegation to Cairo, which kicked off its three-day visit yesterday. The trip is aiming to "strengthen political and trade relations … particularly in digital and logistics sectors," Rinkēvičs wrote on social media Saturday. The minister held talks with President Abdel Fattah El Sisi and Foreign Minister Sameh Shoukry yesterday, which focused on the war in Ukraine, its impact on the global economy, and illegal immigration, in additon to deepening cooperation in IT, education and tourism, according to an Ittihadiya readout of the meeting.
Information and cyber security conference Caisec gets underway today at the Kempinski in New Cairo. The two-day event brings together industry decision makers, CEOs and CIOs from leading local and international tech companies, as well as government figures, including six ministers. Attendees will discuss cybersecurity issues including securing digital banking services, building critical infrastructure systems, and the role of artificial intelligence and machine learning.
MARKET WATCH-
Efforts to unlock Ukrainian grain seem to be facing hurdles: Ukraine is exporting grain via two routes through Poland and Romania but bottlenecks are slowing down the process, Ukrainian Deputy Foreign Minister Dmytro Senik told Reuters yesterday. Russia's blockade of the Black Sea ports has trapped some 30 mn tons of grain inside Ukraine, and forced Kyiv to turn to rail, road and river transport to get it out of the country. Senik did not disclose how much grain has been — or is set to be — transported through the two countries.
The problem: There's no simple or cheap way for Ukraine to export grain over land. Shipments need to be transferred to different trains at the Polish border — where there are few loading or storage facilities — because the country's Soviet-era railway network uses a different gauge to the rest of Europe. Taking the Romania route involves transporting shipments by rail to the Danube river where they are loaded onto barges and sent to the port of Constanta.
Things could get a bit easier in the coming weeks: Ukraine is currently talking to countries in the Baltic to add a third corridor, Senik said.
There's little chance of a breakthrough in the Black Sea: Neither Ukraine nor Russia appear likely to sign on to a UN- and Turkey-backed plan to reopen the port of Odessa and ease the global food crisis. Wary of a potential attack on its final coastal stronghold, Ukraine is refusing to demine the port, while Moscow is demanding a relaxation of sanctions before it allows ships to exit the Black Sea.
---
There's no one BIG STORY ABROAD this morning as the slow news day at home is mirrored in the pages of the international press. That said, everyone is paying attention to the passing of a bipartisan bill in the US meant to address gun violence by limiting access to some kinds of firearms. While modest in scope, the legislation is the first gun reform to get past US lawmakers in decades, despite years of calls for action on the back of successive school shootings. The impetus for this latest push was the murder of nineteen children and two adults at a Texas school last month. The Wall Street Journal, New York Times, Washington Post, AP, and Reuters have more.
FROM THE DEPT. OF D'UH- WTO head warns of "bumpy and rocky" road as high-level meeting enters its second day: More than 100 trade ministers are discussing whether to ease food export restrictions and waive covid vaccine patents at the four-day ministerial meeting of the World Trade Organization (WTO) in a potentially significant moment for the escalating global food crisis, and for accelerating the rollout of vaccines in the developing world.
Just a few landmines? "The road will be bumpy and rocky. There may be a few landmines on the way," the AP quotes WTO head Ngozi Okonjo-Iweala as saying yesterday.
The sticking points: G7 countries are pushing for an end to food export restrictions, clashing with India, which wants to maintain its ban on wheat exports to protect its population from food shortages and rapidly rising prices. India, along with South Africa, has also been one of the main proponents of scrapping patents on covid vaccines, a proposal which has been rejected by most western governments which have sided with the pharma industry.
HAPPENING THIS WEEK-
It could be a big week for our gas export ambitions: Hopes are high that Egypt can ink an agreement to increase exports to the EU when EU Commission President Ursula von der Leyen lands in Cairo for talks with President Abdel Fattah El Sisi. According to a draft document seen by Bloomberg earlier this month, the EU is expected to sign an MoU with Egypt and Israel that will see more Israeli gas shipped to Egypt's LNG facilities where it will be exported across the Mediterranean.
All eyes on the Fed: Further afield, the Federal Reserve will meet tomorrow and Wednesday to decide on interest rates amid US inflation accelerated to a fresh 40-year high in May. This has raised fears among traders that the Federal Reserve will turn even more hawkish when it meets this week.
The question now becomes by how much: will it be 50 bps or 75 bps? We have more on that in Planet Finance below.
Egypt is the guest of honor at this year's St. Petersburg International Economic Forum (SPIEF), which takes place on 15-18 June in the Russian city. Trade Minister Nevine Gamea will participate in several panels on Thursday, including a session on Egyptian-Russian relations where she'll be joined by SCZone VP Waleid Gamaleldien, the head of the Egyptian Exporters Associated Mohamed Kassem, and Tourism Ministry undersecretary Ahmed Youssef.
CIRCLE YOUR CALENDAR-
El Sisi, Amer attending Afreximbank annual meetings: The African Export-Import Bank's (Afreximbank) annual meetings start Wednesday at the new capital's St. Regis Almasa Hotel. President Abdel Fattah El Sisi, Central Bank of Egypt Governor Tarek Amer, and Afreximbank President Benedict Oramah will give keynote speeches at the event, which will focus primarily on implementing the Africa freetrade agreement that came into force in 2021.
There's a handful of conferences coming up:
Check out our full calendar on the web for a comprehensive listing of upcoming news events, national holidays and news triggers.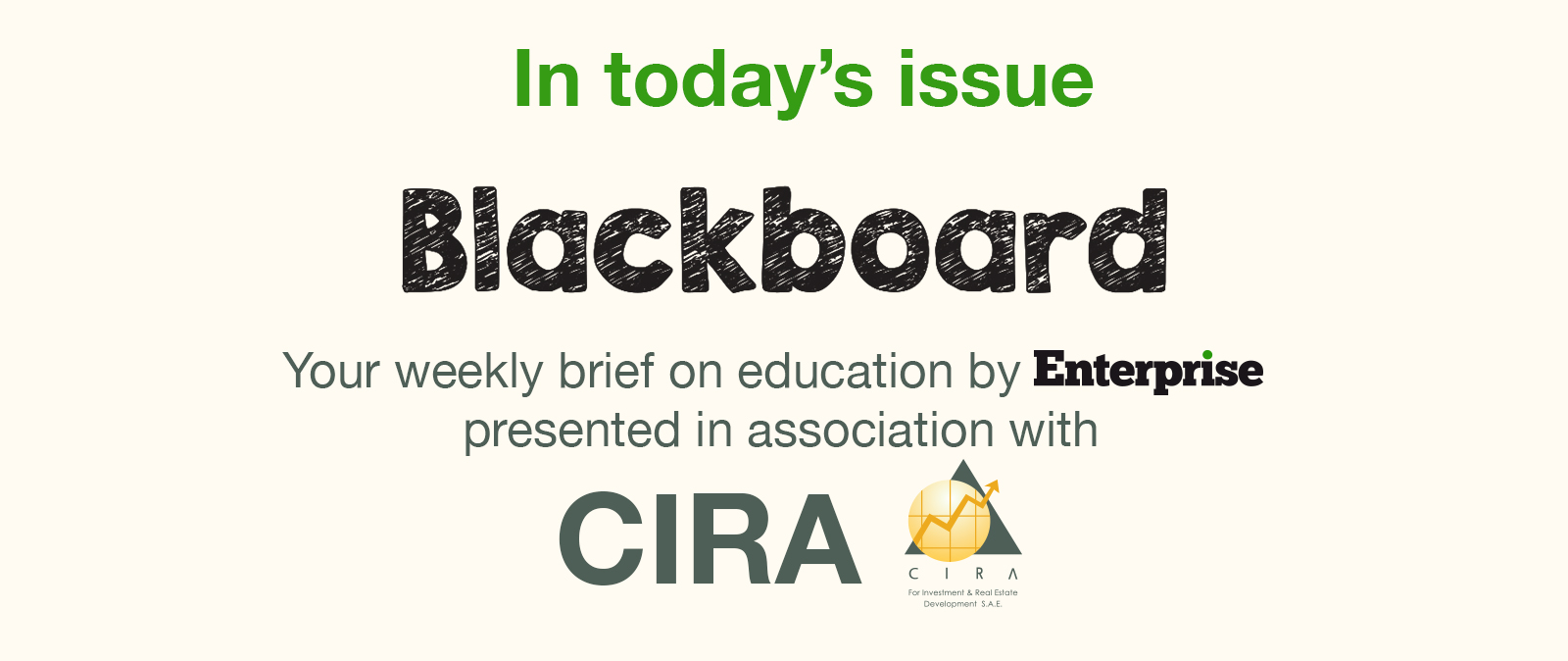 *** It's Blackboard day: We have our weekly look at the business of education in Egypt, from pre-K through the highest reaches of higher ed. Blackboard appears every Monday in Enterprise in the place of our traditional industry news roundups.
In today's issue: After a trial year appears to have not gone over well with students and universities, the Higher Education Ministry's Supreme Council for Private Universities has decided to overhaul its centralized admissions system for private and nonprofit universities. The system, which was launched last year, imposed a Tansik-style process (the same process used for public universities in Egypt) on private university admissions by allocating students to available seats based primarily on their grade points.