Sunday, 29 May 2022
THIS MORNING: Privatization strategy unveiled this week?; PM in Abu Dhabi; A terrible 2022 for emerging markets
Good morning, wonderful people, and welcome to yet another blockbuster morning for business news. It's a morning that we think sets up another very busy week, with the Madbouly government's privatization strategy and a possible investment pact with the UAE being the two most-anticipated developments on which we'll be keeping an eye. Let's start with that, shall we?
WATCH THIS SPACE #1- Are we going to see the government's privatization strategy in full this week? The Madbouly government is supposed to be publishing this week its state ownership policy, a document that outlines how it plans to withdraw from certain areas of the economy. An early version obtained by the press this month showed that the state is aiming to fully phase out its activities in as many as 79 industries — and gradually introduce more private sector involvement in another 45. The strategy comes as part of the government's plan to double the private sector's share of the economy over the next three years.
WATCH THIS SPACE #2- Prime Minister Moustafa Madbouly is in Abu Dhabi today to launch a new industrial partnership with the UAE and Jordan that should unlock fresh FDI according to a cabinet statement. We have more details on the PM's visit in the news well, below.
WATCH THIS SPACE #3- Taxpayers will get a partial waiver on late fees provided they pay their taxes before 30 June under legislation being drafted by the Finance Ministry, according to a cabinet statement. The bill would waive a portion of interest payments and late fees on overdue income tax, VAT, stamp duty, and development fees, it said.
This isn't the first time cabinet has forgiven late payment fees: A previous iteration of the bill in 2020 saw the state waive 100% of late fees if taxes were settled before a set deadline — and break on fees thereafter depending on whether the taxes were paid within 60, 120, or 180 days of the deadline.
PSA #1- EGX-listed companies have until Tuesday to file their 1Q 2022 earnings. The FRA extended its 45-days from end-of-quarter deadline because of Eid El Fitr.
PSA #2- Expect your American colleagues to be quiet today and tomorrow as they observe Memorial Day (which doubles as the unofficial "start of summer" in the US of A).
CLOSER TO HOME- We have one month to go before our next long weekend, which falls on Thursday, 30 June as we observe the anniversary of the 30 June Revolution.
PSA #3- AmCham's annual general meeting and luncheon with Transport Minister Kamel El Wazir has been postponed. The folks at AmCham hope to have a new date shortly.
PSA #4- People suffering from chronic illnesses will not be granted visas to perform the hajj this year to protect their health, Social Solidarity Minister Nevine El Kabbaj told MBC Masr (watch, runtime: 7:27) on Wednesday.
There are fewer visas to go around: Egypt has been allocated only a quarter of the hajj visas it got before the pandemic, El Kabbaj said.
WHAT'S HAPPENING TODAY-
IN THE HOUSE- The Senate will reconvene today to discuss the government's economic and social development plan for the coming fiscal year, Ahram Online reports. If approved by the Senate, the report will be referred to the House of Representatives.
ON THE COURT- El Gouna International Squash Open 2022 continues today and wraps this Friday, 3 June. The competition will feature some of Egypt's top seeds including world #1 Nouran Gohar and world #2 Ali Farag (who just took home the PSA squash championship cup). The prize pool for each of the men's and women's competitions is USD 180k.
HAPPENING THIS WEEK-
You can expect lots and lots of talk about sustainable development and COP27 as the Islamic Development Bank holds its 2022 annual meetings in Sharm El Sheikh. We'll be swinging by the gathering, so look for coverage later this week and early next.
WATCH THIS SPACE-
Monkeypox is not the new covid (yet) — but the government is covering its bases just in case. The Health Ministry wants to secure raw materials to manufacture monkeypox meds and import testing kits to detect the virus, Acting Health Minister Khaled Abdel Ghaffar told Ala Mas'ouleety last week (watch, runtime: 2:40:11).
WHO warns outbreak could be "peak of the iceberg": "We don't know if we are just seeing the peak of the iceberg [or] if there are many more cases that are undetected in communities," a senior World Health Organization official said during a briefing Friday, according to AFP. The global health body has so far detected almost 200 cases in countries in which it is rarely found including the US, Canada and Europe.
COVID WATCH-
Egypt saw an average of four new covid infections per day last week, down from five a week earlier, according to Health Ministry figures released yesterday. Egypt also saw an average two fatalities last week, the same as the week before. Almost 35.2 mn people are now fully vaccinated, and 3.4 mn have received their booster shots, according to the ministry.
THE BIG STORY ABROAD-
Ukraine steps up calls for heavy weapons as Russia makes gains in the east: The tide seems to be turning in favor of Russian forces in the battle for eastern Ukraine after Moscow yesterday seized control of a strategic town, bringing them closer to taking full control of Luhansk province. US and UK officials indicated over the weekend that they would meet Ukraine's demands for heavy weaponry and long-range missiles to fend off the Russian attack — a move that Russian state TV anchors warned would provoke a "harsh response" from Moscow, potentially drawing it closer towards direct conflict with Nato.
Fresh calls for peace talks: During a three-way phone conversation yesterday, Russian president Vladimir Putin told Emmanuel Macron and Olaf Scholz that Moscow is willing to restart peace talks with Ukraine but warned Western governments against sending any more weapons into Ukraine. Reuters, the Associated Press, the Wall Street Journal, and the New York Times have the latest on the conflict.
MARKET WATCH-
Emerging-market bonds are seeing their worst losses in around 30 years, as investors flee risk assets on growth concerns, rising interest rates, and the conflict in Ukraine, according to the Financial Times. The JPMorgan EMBI Global Diversified index is down 15% year-to-date, making it the worst start to a year since 1994.
Around USD 36 bn have exited EM bond funds since the start of 2022, data from EPFR showed, and equity flows have also turned negative this month. David Hauner, head of EM strategy and economics at Bank of America Global Research, told FT that the situation could get worse. "The big story is that we have so much inflation in the world and monetary policymakers continue to be surprised by how high it is," he said. "That means more monetary tightening and central banks will continue until something breaks, the economy or the market."
US equities broke their epic weekly loss streak on Friday, Bloomberg writes. The S&P 500 climbed 6% over the week, its best rally since 2020. "I think this is the beginning of that long-awaited relief rally," one investment strategist told CNBC.
But don't hold your breath: The bears don't seem in a mood to go back into hibernation: The only thing that's predictable right now in the markets is volatility — and analysts are divided over whether last week's good news means we've bottomed out, or that stocks are simply still in see-saw mode.
CIRCLE YOUR CALENDAR-
Public consultations on non-bank financial services: Public consultations on the second phase of the Financial Regulatory Authority's (FRA) strategy to develop the non-banking financial services sector will begin on Monday, the regulator said in a statement (pdf) yesterday. The FRA has identified six key priorities for the four-year strategy including boosting use of fintech, accelerating digital transformation, achieving financial inclusion, and improving risk management.
State to launch new regulatory reform guide this week: State regulatory reform body ERRADA will on Tuesday launch a new guide on reforms to improve our investment climate, according to a Planning Ministry statement. ERRADA is launching the guide in cooperation with the ministry, the OECD's governance improvement program, and the EU.
Central Bank of Egypt Governor Tarek Amer is set to chair the World Bank and International Monetary Fund's Annual Meetings, which will be held in person in Washington, DC. The meetings have been held virtually since the start of the pandemic. Amer will give the opening speeches at both meetings alongside the head of each of the two lenders and will chair the board meetings of the World Bank, the IMF, and the European Bank for Reconstruction and Development, the central bank said in a statement. The meetings will be held on 10-16 October.
It's official: We're hosting next year's African Development Bank (AfDB) annual meeting. The meeting will be held in Sharm El Sheikh from 22-26 May, 2023, the bank said yesterday.
Check out our full calendar on the web for a comprehensive listing of upcoming news events, national holidays and news triggers.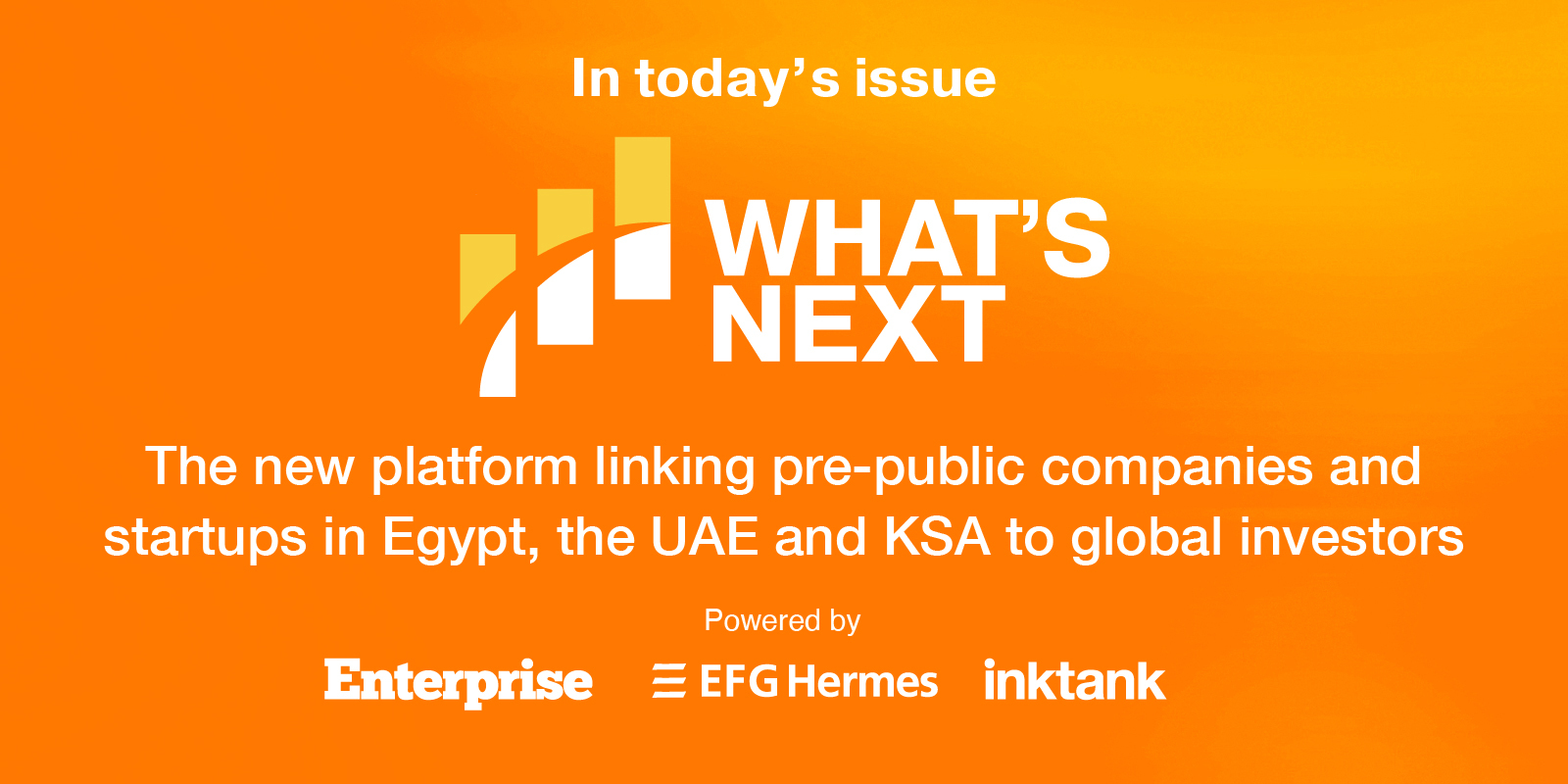 *** It's What's Next day: We have our weekly deep-dive into what makes and shapes pre-listed companies and startups in Egypt, the UAE and KSA, touching on investment trends, future sector insights and growth journeys.
In today's issue: Last week, we made our way to Lagos, Nigeria, where we spent five days accompanying Egyptian entrepreneurship stakeholders on an exploration tour of the country that has raised the largest amount of startup funding last year. Here's what we found out.