Sunday, 19 June 2022
THIS MORNING: It's rate week + a big week for diplomacy
It's shaping up to be a big week for visits from neighbors + all things diplomacy, ladies and gentlemen. We may well host a summit with Bahrain and Jordan today after President Abdel Fattah El Sisi met with Bahrain's king over the weekend. Saudi Crown Prince Mohammed bin Salman could land in Egypt Monday; and we may sign a long-awaited agreement to send our gas to Lebanon the day after that. In other words, this looks to be the start of a flurry of friendly activity in the neighborhood as the KSA gears up to welcome US President Joe Biden to this neck of the woods next month.
Staying with diplomacy, we've started receiving funding from the ITFC: The International Islamic Trade Finance Corporation (ITFC) has started dispersing the USD 3 bn credit extension agreed earlier this month, which will help us finance our food and energy imports, ITFC head Hani Sonbol said during the Afreximbank annual meetings over the weekend, according to Reuters. The ITFC recently raised the ceiling for its financing agreement with Egypt to USD 6 bn from USD 3 bn to help us meet our food and energy needs.
And there's more support in the pipeline: Sonbol said that the corporation will sign another financing agreement with Egypt as soon as this one is over, without disclosing a timeframe. "We are here to support," he said.
---
PSA #1: Goodbye (hopefully forever), covid entry paperwork: The government has lifted all covid-related entry restrictions for both Egyptian nationals and foreigners traveling to Egypt, according to a cabinet statement. Travelers to Egypt had been required to present a vaccination certificate or a negative PCR test taken at least 72 hours before departure. The decision came into effect on Friday, sources from the health ministry confirmed to Enterprise. Abdel Fattah Al Assi, Assistant Minister of Tourism and Antiquities, told Ala Mas'ouleety (watch, runtime: 13:17) that the disinfection of hotel facilities would continue despite the lifting of restrictions.
PSA #2- You can't get into the KSA on your Shengen / UK / US visa until after Hajj. Saudi Arabia has suspended until July 9 a rule allowing Egyptians with valid Schengen, US or UK travel visas to get tourist visas on arrival when visiting Saudi, EgyptAir announced in a statement, based on instructions from Saudi Arabia's General Authority of Civil Aviation.
THE BIG STORY here at home: Most of the analysts we surveyed in our regular interest rate poll think the Central Bank of Egypt (CBE) will leave rates just as they are when its monetary policy committee meets this Thursday.
Meanwhile, our imports of Russian wheat rose in recent months despite the disruptions brought on by the war in Ukraine.
THE BIG STORY ABROAD is trouble in BTC-land: The business press is taking some (understandable) pleasure in splashing the latest tumult in the crypto markets across the front pages this morning. The meltdown in BTC that took a turn for the worse last week continued yesterday, as the flagship digital currency plunged below the USD 20k threshold to approach its lowest since the end of 2020. The digital token had fallen more than 5% in 24 hours to around USD 19,354 just after midnight local time, marking a record-breaking 12th consecutive daily decline, and at one point sank as low as USD 17.6k.
And it wasn't just BTC: Ether fell below USD 1k yesterday to trade as low as USD 880.93. The crypto crash comes amid pressure on a wide range of what are considered riskier assets (including many types of equities), as global policy — led by the US Fed — tightens to tame surging inflation.
The crypto winter is getting ink from the Financial Times, Bloomberg, CNBC, and Reuters.
WHAT'S HAPPENING TODAY-
Look out for a tripartite summit between Egypt, Jordan and Bahrain today, Kelma Akhira's Lamees El Hadidi said last night (watch, runtime: 1:06). Jordan's King Abdullah will land in Egypt today ahead of the summit, according to Lamees. Bahrain's King Hamad bin Isa Al Khalifa is already in Egypt, arriving yesterday in Sharm El Sheikh where he held talks with President Abdel Fattah El Sisi (watch, runtime: 3:04).
On the El Sisi-Al Khalifa talks: The pair discussed upping economic and political coordination, according to an Ittihadiya statement. They also welcomed an upcoming summit hosted by Saudi Arabia between the US, GCC countries, Egypt, Jordan, and Iraq in July (prompted by US President Joe Biden's visit to the KSA).
MbS to land in Egypt on Monday: Saudi Crown Prince Mohammed bin Salman will visit Egypt on Monday as part of a three-day tour that will also take in Jordan and Turkey, Saudi newspaper Okaz reported. Two diplomatic sources told Reuters yesterday that the Crown Prince will meet President Abdel Fattah El Sisi for talks on the impact of the crisis in Ukraine in the region and preparations related to Biden's trip to Saudi Arabia in July.
And then on to Turkey: President Recep Tayyip Erdogan told reporters on Friday that MbS will visit Turkey on Wednesday, AFP reported, in the biggest sign so far that the two countries are looking to bridge the rift between them. Ankara is expected to lobby for Saudi funding to shore up its finances amid soaring inflation, the newswire reports.
A final agreement to ship natural gas from Egypt to Lebanon via the Arab Gas Pipeline could be signed this Tuesday, Lebanese Energy Minister Walid Fayad told Reuters. Under a US-backed plan hatched last year to mitigate Lebanon's acute energy crisis, Egypt would ship 60-65 mn cbf / d of natural gas to the north of the country via a pipeline that transits Jordan and Syria.
We could still be waiting several weeks before we can turn on the spigot: The US still needs to determine whether the plan would violate its sanctions on Syria that penalize countries from doing business with the Assad government. US energy envoy Amos Hochstein said last week that Washington was waiting on Egypt and Lebanon to come to a final agreement before assessing whether it breaches the sanctions.
HAPPENING THIS WEEK-
IT'S BUDGET WEEK IN THE HOUSE- MPs will begin discussing the draft 2022-2023 budget and the development plan in the House of Representatives today. Representatives will debate for three days with a final vote likely coming on Tuesday, House Budget and Planning Committee Chairman Fakhri El Fiqi said last week.
---
The Road to COP27: As the clock ticks down towards the all-important COP27 climate conference, Narrative PR is hosting a series of web talks with the organizers, leaders and policymakers shaping the agenda in Sharm El Sheikh this November.
Up first: Mahmoud Mohieldin, the special envoy of the UN Secretary General, executive director at the IMF, the UN Climate Change High-Level Champion for Egypt and one of the leading figures building support for COP27's agenda. His role, as he tells it, is to rally support and the participation of leading financial institutions, NGOs, universities, and civil society groups.
The voice of the global South: Part of why it was important for Egypt to host this year's conference is to stress the issues of developing nations — who despite being among the least contributors to climate change, are asked to take on costs beyond their fiscal means, he notes.
COP of implementation: Ultimately, we have strayed collectively from the goals set out in the Paris Climate Accords, with financing pledges going unmet and targets going unfulfilled. This COP27 will focus on reversing that, Mohieldin said.
You can watch his brief explainer on the road to COP27 here (watch, runtime: 06:50).
CORRECTED ON 19 June 2022
Dr Mahmoud Moheildin is is the special envoy of the UN Secretary General and Executive Director at the International Monetary Fund, in addition to being the UN Climate Change High-Level Champion for Egypt. He is no longer the World Bank Group's senior vice president for the 2030 Development Agenda, as a previous version of the story incorrectly stated.
SMART POLICY- We have joined the Global Methane Pledge: That's according to President Abdel Fattah El Sisi, who made the announcement during a virtual address to the Major Economies Forum on Energy and Climate Leaders at the weekend, according to Ittihadiya. The pledge commits Egypt to reduce methane emissions by at least 30% of 2020 levels by the end of the decade. Egypt declined to sign onto the pledge at last year's COP26 in Glasgow.
MARKET WATCH-
Rising interest rates trigger the worst week for global stocks since March 2020: Global stocks suffered their worst week since the covid-induced market crash last week as investors worried about the impact of rising interest rates on the global economy, according to the Financial Times. The FTSE All-World index lost 5.6% during the five-day period, its heaviest weekly loss since March 2020. This came during a week where central banks around the world doubled down on their missions to quell soaring inflation, with the US Federal Reserve accelerating its tightening cycle with a 75-bps rate hike, a further 25-bps increase in the UK, and the Swiss central bank raising rates for the first time since 2007.
Gas rationing could soon be the new reality for Europe: More EU countries are mulling government controls for gas consumption and distribution as Russia continues cutting gas supplies to the continent, Bloomberg reports. Italy could trigger an emergency gas rationing plan as soon as next week if Russian oil giant Gazprom — which cut its supplies to the country by about 15% last week — does not restore its supplies.
And that's bad news for climate goals: The plan could see Italy move to dirtier fossil fuels like coal to shore up its supplies and limit industrial consumption. Gazprom has also cut flows through the key Nord Stream pipeline by 60%, hitting Germany's gas supply due to what it said was a malfunction at one of the pumping stations.
---
WTO meeting concludes with at least some agreements on global trade: Over a hundred trade ministers reached agreements on fisheries, vaccine manufacturing and food security at the World Trade Organization after days of tough negotiations, Bloomberg reports. The agreements included an accord to limit subsidies for illegal and unregulated fishing; and waivers of some intellectual property protections to allow developing countries to produce and export covid-19 vaccines — though the move was criticized by many for leaving out other crucial medical tools like tests and treatment, and doing little to help healthcare industries in developing countries. Finally, officials agreed to do more to plug food shortages in developing countries, though they made little concrete headway on reversing a recent wave of food protectionism.
CIRCLE YOUR CALENDAR-
The government's fuel pricing committee will meet in the first week of July, before Eid, to decide on prices at the pump, Oil Minister Tarek El Molla confirmed to Kelma Akhira (watch, runtime: 2:13). The committee's last quarterly meeting saw it raise fuel prices by around 3% amid a rise in global prices triggered by the war in Ukraine.
The pricing mechanism for gas for households and factories is not tied to global prices, El Molla said (watch, runtime: 6:40). We're not likely to see any price increases on household gas in the immediate future, El Molla predicted.
Amcham AGM this week: Our friends over at Amcham will hold their annual general meeting on Monday 27 June at the St. Regis Cairo Hotel. Finance Minister Mohamed Maait will address the gathering.
Conferences coming up this week and next:
Check out our full calendar on the web for a comprehensive listing of upcoming news events, national holidays and news triggers.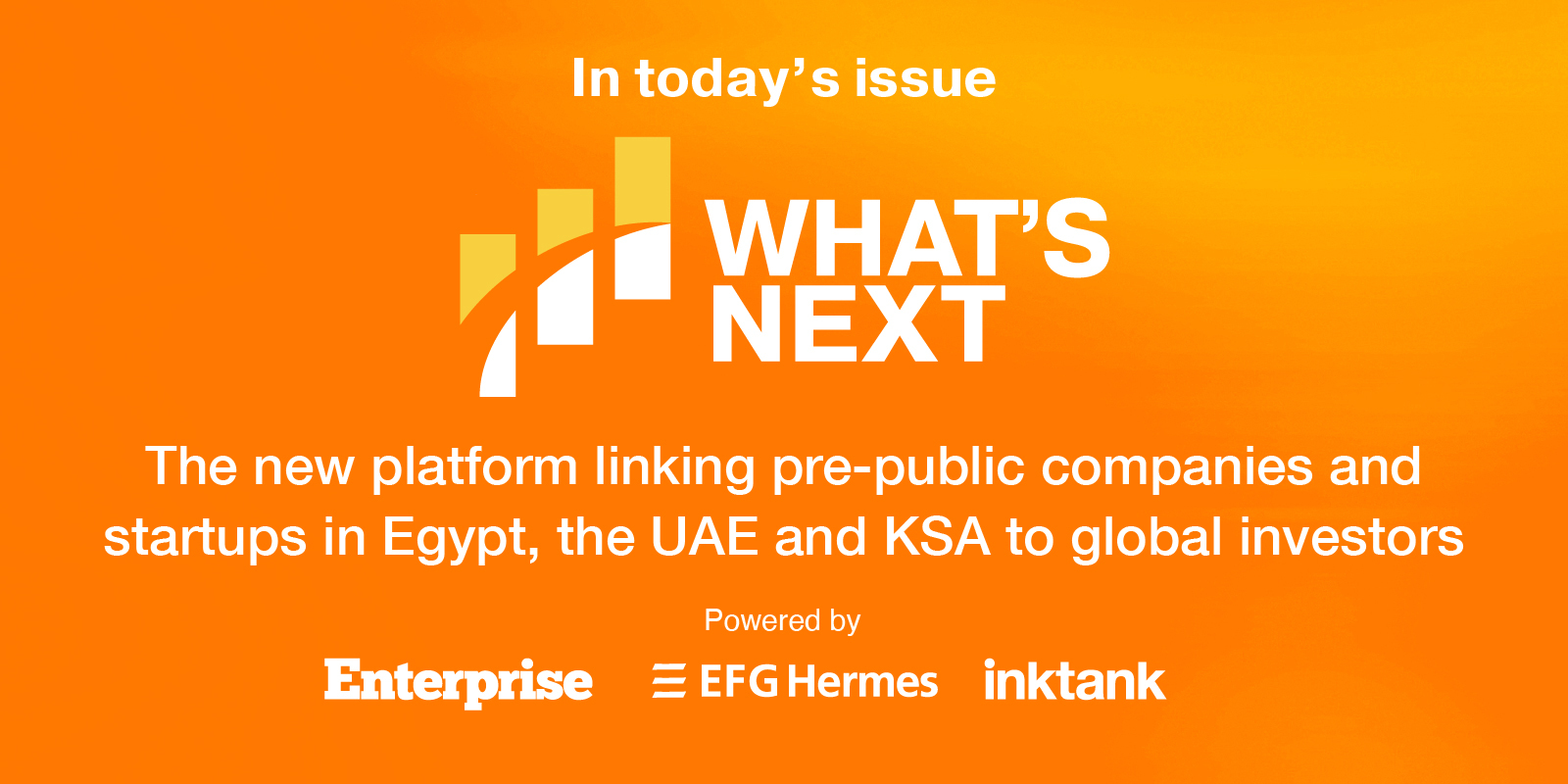 *** It's What's Next day: We have our weekly deep-dive into what makes and shapes pre-listed companies and startups in Egypt, the UAE and KSA, touching on investment trends, future sector insights and growth journeys.
In today's issue: Are local startups about to see down rounds coming their way? Less than halfway into 2022, startups are finding themselves in a radically different environment than where they were this time last year: VCs are now tightening their belts as interest rates rise, tech assets sell off, and valuations come back down to earth. As a result, some startups are facing the very real prospect of down round financing and falling valuations. But what would down rounds really look like for local startups, and should they tread cautiously?