Sunday, 2 January 2022
THIS MORNING: The inaugural EnterpriseAM of 2022; Private sector minimum wage, EGX capital gains tax in effect; More schools close due to bad weather;
Good morning, wonderful people, and welcome to our first EnterpriseAM of 2022. We hope you had a fantastic New Year's weekend and are looking forward to the new year as much as we are.
PSA #1- We're waiting for word from on high about whether or not this Thursday, 6 January, will be a national holiday in celebration of Coptic Christmas, which falls on Friday. We expect it will be and hopefully we'll soon see notes from cabinet / the central bank / the stock market in our inboxes.
PSA #2- Schools will be closed in the Red Sea cities of Sharm El Sheikh, Hurghada and Safaga today as well as in Assiut, Al Masry Al Youm reports. The torrential rain, thunderstorms, strong winds, hail and even snow seen in some parts of the country over the weekend are expected to ease today, with conditions stabilizing nationwide by Monday, according to the Egyptian Meteorological Authority (pdf). School was out in five governorates yesterday, including Alexandria. Three people were killed and 13 injured in weather-related accidents on Friday, Ahram Gate reported, citing a Health Ministry's spokesperson.
There's a chance of a few sprinkles this afternoon in Cairo with a daytime high of 19°C, falling to 11°C overnight. Expect typical winter weather for the rest of the week, with highs in the 18-19°C band through next Sunday and the lows falling to single digits overnight.
PSA #3- You only have a few days left to take our annual reader poll — and join us for breakfast. Every year, we ask our readers to weigh in on what you expect for the year ahead in our Enterprise Reader Poll. Take a few minutes to give us your take on the outlook for your business and industry, whether you're planning fresh investments and new hires, and how your business fared in the year past. We'll share the results with the entire community next week to help shape your view of the year — and will invite eight of you to break bread with us. Another dozen of you who complete the poll will also get special Enterprise mugs to enjoy your morning beverage of choice.
PSA #4- Did you get jabbed with Sinopharm or Sinovac? Mabrouk — Canada now recognizes you as fully vaccinated if you have had two jabs at least 14 days before travel. The Great White North joins the UK and US in recognizing the vaccines.
WHAT'S HAPPENING TODAY-
Employees at private sector companies will now be paid a minimum wage of EGP 2.4k a month after a new rule came into effect on 1 January.
Well, some of them will: Thousands of companies have been given a six-week grace period from paying the minimum wage after requesting exemption on the basis that they cannot afford to up salary expenditure. Firms that have applied for exemption will not have to comply with the new wage requirements until at least mid-February, while the government takes a decision on whether to exempt them.
SMART POLICY- No company is getting a permanent exemption from paying the new minimum wage, Magdi El Badawy, member of the National Council for Wages (NCW), said yesterday (watch, runtime: 8:00). Temporary exemptions lasting three months will be given to firms that cannot afford to meet the requirements, which will be reviewed by the NCW at the end of the period, he said.
Also now in effect: the EGX capital gains tax. As of today's trading session, resident investors will face a 10% capital gains tax on EGX transactions. The tax will be imposed on net portfolio earnings at the end of the tax year after deducting brokerage fees. Foreign investors are not subject to the tax.
The EGX30 closed up 10.2% YTD as of the final trading day of the year. The EGX lagged our regional competitors in 20201: The Nasdaq Dubai was up 21.4% at the end of the year; the ADX closed up 26.1%; and Saudi's Tadawul climbed 29.8%.
THE BIG STORY ABROAD (other than the fact that it's now 2022) is a tie between two record-breakers: The omicron variant, which led Australia and New York on Saturday to set fresh records for new daily covid cases. The silver lining: Research out of South Africa suggests the variant is significantly less deadly than was the delta version of the virus.
ALSO- Stock markets had a bumper year in 2021.
CIRCLE YOUR CALENDAR-
It's the start of a new month. The key news triggers to keep your eye on:
PMI: Purchasing managers' index figures for December for Egypt, Saudi Arabia, and Qatar will be released on Tuesday, 4 January. Figures for the UAE will be released on Wednesday, 5 January.
Foreign reserves: December's foreign reserves figures will be announced before the week is out.
Inflation: Inflation figures for December will be released on Monday, 10 January.
Interest rates: The Central Bank of Egypt (CBE) will hold its first policy meeting of 2022 later this month. The CBE hasn't yet published its meeting schedule for the year so we're still waiting on an exact date.
PSA #5- The Taxman would very much like it if you were to soon file your 2021 tax returns: The deadline for submission for individuals is 31 March, while the deadline for companies with January-December fiscal years is 30 April.
OPEC+ is meeting this Tuesday, 4 January. The cartel agreed in December to continue ramping up oil production despite concerns that the spread of the omicron variant could hit energy demand. Pundits see it sticking to its planned monthly production increases at this week's meeting.
Expect progress in El Nasr Auto's EV talks this month: That was the message delivered to Al Borsa by CEO Hani El Khouly over the weekend. The newspaper quotes him as saying the company will make an announcement at the end of the month on its talks with foreign auto firms to begin assembling electric vehicles in Egypt. El Nasr is now talking to seven international companies, El Khouly said. The talks come after negotiations with Chinese auto firm Dongfeng collapsed in November.
Check out our full calendar on the web for a comprehensive listing of upcoming news events, national holidays and news triggers.
---
IN CASE YOU MISSED IT- Check out our look back at 2021. We published last week our annual roundups of the top business, finance and policy stories of the year. Finance nerds, VC types and folks building businesses and Planet Startup will want to pay close attention. Also- This morning's What's Next vertical covers fundraising by startups in 2021.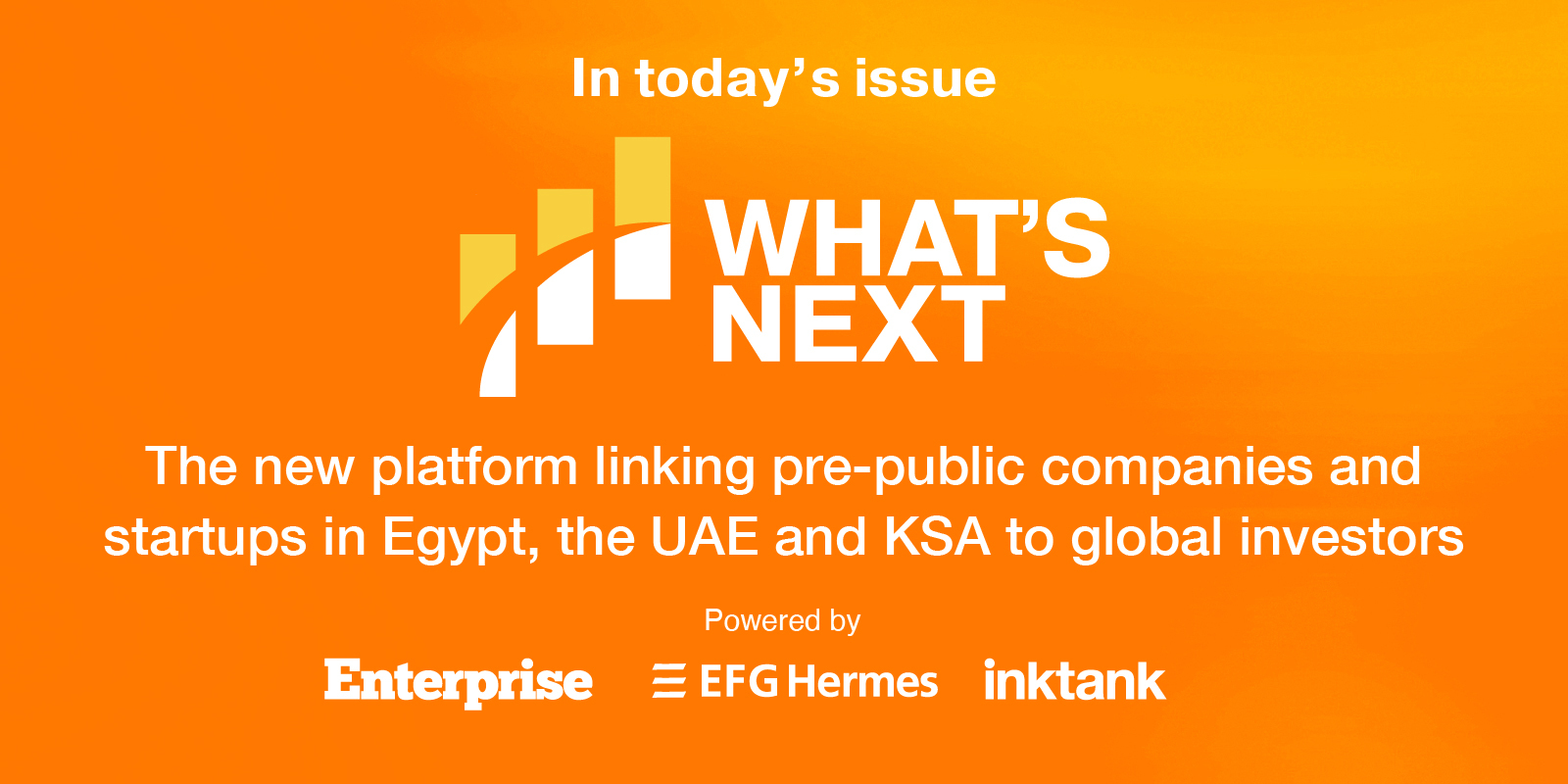 *** It's What's Next day: We have our weekly deep-dive into what makes and shapes pre-listed companies and startups in Egypt, the UAE and KSA, touching on investment trends, future sector insights and growth journeys.
In today's issue: We take a look at what our internal trackers tell us about Egypt's 2021 startup investment rounds in terms of size, types of investors, and sectors. What we can say up front is that fintech and e-commerce are tying for the top position in terms of number of transactions, and international investors are more interested in Egypt than ever before.