Tuesday, 15 November 2022
THIS MORNING: Four days to find an agreement
Good morning, friends, and happy hump day. There are just four days left of COP27 and it's looking tense in Sharm as negotiators look for a way to reach an agreement that will cut emissions and mobilize tons of capital for climate finance. COP27 President Sameh Shoukry reiterated yesterday his plea for a "meaningful" climate agreement. "It is now up to us all here to rise to the occasion and respond to the demands and calls from our communities around the world. We will accept no less than meaningful outcomes at COP27," he told the summit. "Time is not on our side and the world is watching. Let us come together and deliver now."
Are we inching toward an agreement on loss-and-damage? The UN published a draft text (pdf) for a potential pact on loss and damage financing, giving us a first glimpse of what a global agreement on climate financing could look like. Reuters cautions that the text could change significantly before the end of the summit, and landing an agreement won't be easy: US climate envoy John Kerry put it bluntly last week, telling the conference that "it's just not happening."
Egypt still has hope: Egypt wants to get all countries on board with a "cover text" by Friday, Shoukry said yesterday. This will set out agreed targets and commitments and provide a framework for negotiations to continue at next year's COP28.
"'This could be the COP where we lose 1.5°C," warned COP26 chief Alok Sharma, as "anxiety grows over a push from some countries to weaken the text" particularly as regards loss and damage, the Guardian reports.
** Need to go deeper on what happened yesterday? Enterprise Climate has got your back.
HAPPENING TODAY IN SHARM-
It's Energy Day at the summit, featuring sessions on renewable energy, energy efficiency, and energy transformation focusing on a just transition in the energy sector. Green hydrogen is expected to step into the spotlight as a potential energy source for the future. High-level officials and energy transition champions will kick off the day with a series of opening remarks setting the stage for the "energy trilemma" the world is facing.
Another green hydrogen agreement today? Masdar, Hassan Allam Utilities and Infinity are expected to sign a MoU with the government for a USD 2 bn, 2-GW green hydrogen project at the conference today.
BACKGROUND- Masdar and HAU announced plans to establish green hydrogen plants in Egypt back in April. Hassan Allam Holding CEO Amr Allam said last month that the two companies will invest USD 10 bn in the project, which is expected to produce up to 480k tons of green hydrogen a year.
That might not be the only one: We can expect more green hydrogen MoUs signed between Egypt and investment partners to materialize into contracts "in the coming hours and days," Egypt climate czar Mahmoud Mohieldin told Masaa DMC in an interview last night (watch, runtime: 21:23).
HAPPENING TODAY ABROAD-
The G20 summit is underway: G20 leaders are in Indonesia for the 2022 G20 summit which is taking place in Bali today and tomorrow. The Financial Times is reporting that countries will sign on to a communique today rejecting an "era of war," though it appears that some members declined to condemn Russia for its invasion of Ukraine.
The diplomacy started a day early yesterday when US President Joe Biden and Chinese Premier Xi Jinping met for the first time since Biden became president last year. Though the two failed to see eye-to-eye over Taiwan, the reaction in the press is broadly positive, with global media declaring that the meeting has helped to cool tensions between the rivals and lowered fears over a new Cold War. The story is dominating the foreign press this morning: Reuters | AP | Bloomberg | WSJ NYT | CNBC.
As the summit begins, the IMF is back with more gloomy economic forecasts: In a blog post yesterday, IMF economist Tryggvi Gudmundsson said the global economic outlook is "gloomier" than even a month ago, when it cut its global growth forecast to 2.7% from 2.9%. Economic indicators including PMI readings show a growing number of G20 countries across both advanced and emerging economies slipping into contraction territory — even as high inflation calls for continued monetary and fiscal tightening, he wrote.
Wishful thinking? The IMF calls for "careful policy action and joint multilateral efforts" to help the world move toward "stronger and more inclusive growth" — in what could be a tall order for the G20 summit, which convenes amid heightened geopolitical tensions between major powers as war continues in Ukraine and China-US relations see strain.
The good news for the global economy? A US recession isn't necessarily a foregone conclusion. Morgan Stanley analysts are now forecasting the US economy to dodge a recession next year thanks to a strong jobs market, according to a series of reports picked up by Reuters. The EU and the UK? They're not likely to be so lucky, with the investment bank predicting recessions next year.
THE BIG STORIES ABROAD-
KSA's Public Investment Fund has signed up as anchor investor for global asset manager BlackRock's USD 620 bn (Saudi-focused) MENA infrastructure fund, according to a statement. BlackRock will set up a "dedicated infrastructure investment team" in Riyadh if the non-binding MoU becomes reality.
What does the BlackRock fund like? Energy, power, utilities, water, environment, transportation, telecommunications and social infrastructure. While the fund will invest across the region, Saudi will be its center of gravity.
WATCH THIS SPACE- Among the things happening internationally this week that you'll want to keep an eye on:
Agent Orange Former US President Donald Trump is expected to announce tonight that he will mount a campaign to retake the White House.
After 50 years away, Nasa is looking to go back to the moon on Wednesday with the launch of Artemis.
We're less than a week away from the kickoff at the World Cup in Qatar, with things getting underway on Sunday, 20 November as the hosts face Ecuador.
SIGNS OF THE TIMES-
#1- Amazon is the latest to announce mass layoffs: E-commerce giant Amazon could fire as many as 10k workers, Wall Street Journal reported yesterday, citing a person familiar with the matter.
That sounds like a lot, but it would account for less than 1% of e-commerce giant's global workforce, which was estimated at over 1.5 mn people at the end of September.
Amazon is just the latest global tech giant to announce cuts: Facebook parent Meta, Twitter and Microsoft Corp have all in the past month said they would cut back on staff in response to challenging economic conditions.
#2- Welcome to the multi-metaverse: Recent job listings by Apple indicate that the firm could be working on its own metaverse-esque virtual environment, Bloomberg writes. Just don't expect Apple to ever use that term…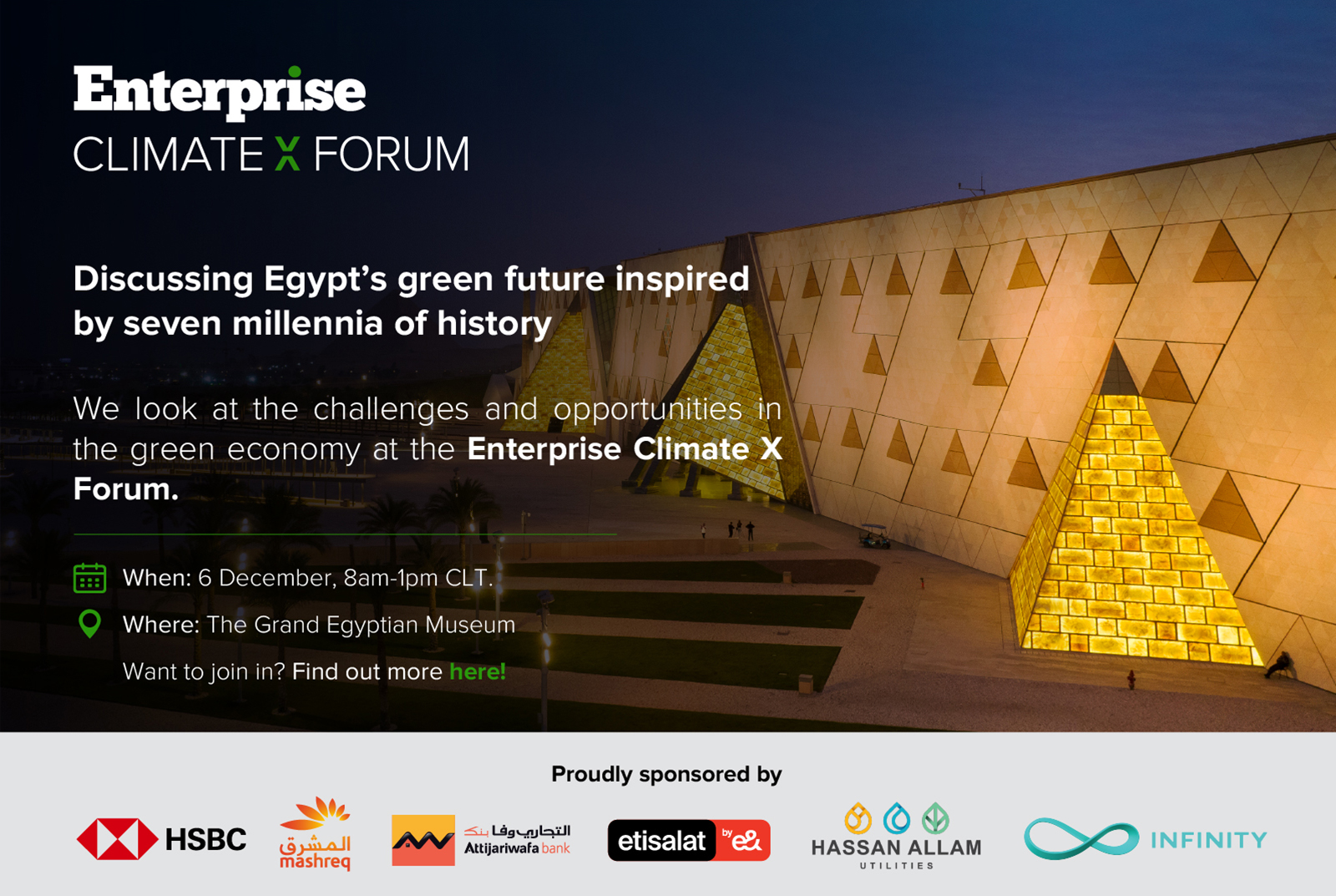 From Sharm to the Grand Egyptian Museum — the business community will move the talk about a green transition ahead at the Enterprise Climate X Forum, which takes place at the Grand Egyptian Museum on Tuesday, 6 December 2022. We can think of no better place to discuss the world's most important industry than in a world-class museum that stands as a testament to our nation's ability to persevere (and innovate) for seven millennia. And it seems you can't either, judging by the responses and statements of support we've been getting.
What's the Enterprise Climate X Forum? It's our first industry-specific conference, where CEOs, top execs, investors, bankers and development finance folks have the chance to talk about how to build a climate-centered business — and how to make sure your business continues to have access to the funds it needs to grow. You can learn more on our conference website here.
Some of the biggest names in business and finance are on board — are you? If you're a C-suite exec, business owner, climate professional, DFI staff, investor or banker, please email us at climatexrsvp@enterprisemea.com to signal your interest, letting us know your name, title and where you work.
8 BN PEOPLE ON EARTH TODAY
7,999,999,999 becomes 8,000,000,000 today: The world's population has hit 8 bn today, only 11 years after reaching 7 bn, according to the UN. Improvements in public health, medicine, hygiene and nutrition have caused the global population to surge in the 20th century, with the number of people on the planet doubling over the past 48 years.
The rate of growth could start to taper: The UN expects us to pass the 9 bn milestone in around 15 years (c.2037) while the 10 bn mark might not be surpassed until the end of the century.
Unfortunately, Egypt will be exempt from the global slowdown: Egypt is among eight nations where more than half of the projected increase in the world's population up to 2050 will be concentrated, according to UN forecasts released last month. Egypt's population has now surpassed 104 mn, rising by more than 1 mn this year alone, and is expected to near 160 mn by 2050
MARKET WATCH-
OPEC has cut its oil demand estimates again as it implements production cuts it says are intended to balance the markets, citing a slowdown in global growth and ongoing covid lockdowns in China, Bloomberg reports. The oil cartel reduced its forecast for the amount of petroleum it needs to supply in 4Q 2022 by 520k barrels per day, following a similar cut last month. The move brings OPEC's demand forecasts in line with the 2 mn bpd supply cut it made last month, which drew criticism from US President Joe Biden, who had been pushing for help to boost supply. Brent crude futures are trading at around USD 93 a barrel this morning, having retreated from peaks of above USD 120 per barrel following Russia's invasion of Ukraine.