Tuesday, 23 August 2022
THIS MORNING: Regional summit continues in New Alamein today + The stock sell-off is back
Happy hump day, wonderful people.
WATCH THIS SPACE- The search process for a new head of the EGX has been remarkably quiet. Vice-chairman Ahmed El Sheikh has been running the show since President Abdel Fattah El Sisi tapped longtime chairman Mohamed Farid to run the Financial Regulatory Authority earlier this month. There has been no meaningful chatter in the domestic press about who might take over and multiple sources we reached out to had no information or declined to comment. The chairman of the EGX is appointed by the prime minister.
FROM THE DEPT. OF GOOD NEWS- Global golf is coming to Egypt this fall: The Asian Tour has expanded its international series, adding stops in Egypt and Morocco in what is the tour's first entry to North Africa, a statement by organizers read. Each event will have a generous purse of USD 1.5 mn on offer.
The first "International Series Egypt," as it will be known, runs 10-13 November at Madinaty Golf Club, the statement said, describing the event as one that is "set to be the largest golf event ever staged in the country." The golf nerds here among us are delighted — and even those of us with little interest in swatting a tiny white spheroid with a weighted stick think it is exactly the type of boost our tourism industry needs.
MORNING RECOMMENDATION- Westworld, season four. Season one was phenomenal. Two was very good. Three was … serviceable, at best? The fourth installment sees all major characters back as the show returns to form and lives up to season one's promise. Catch the trailer here. You can stream all eight episodes on OSN+ or go check out iTunes if you need something to sink your teeth into in between episodes of House of Dragons.
MORNING KUDOS #1- Kashat celebrates a milestone: Our friends at Kashat, the region's first nano-financial services provider, gave out loan #100k on Thursday, taking the company into six figures two years after its launch, the company said on its LinkedIn page.
MORNING KUDOS #2- Zamalek were named Egyptian Premier League champions for the second year running last night after second-placed Pyramids suffered a 1-0 defeat against Future. The White Knights take the title with three games to spare and marks their 14th league victory — a milestone they'll likely celebrate on the field tonight when they face Ittihad at 8pm.
Zamalek are heading to Doha next month: The victory in the league means the team will have the honor of inaugurating Qatar's Lusail stadium ahead of the World Cup in November in a game against Saudi league champions Al Hilal on 9 September.
WHAT'S HAPPENING TODAY-
Leaders of Egypt, the UAE, Jordan, Bahrain and Iraq will meet today in New Alamein for a second and final day. Organizers released few details following an initial meeting of the leaders from the five countries yesterday, with Ittihadiya saying only that they discussed bilateral relations and cooperation.
Policymakers are positioning the gathering as a regional love-fest in stark contrast to the disarray in global politics, playing up cooperation on everything from the economy to defense and development. We have more on the tone in Last Night's Talk Shows, below.
Remember: Four of the five countries involved are spearheading a new regional industrial partnership. Egypt, the UAE, Jordan and Bahrain are collaborating on a new regional industrial strategy that will see the four countries embark on joint industrial projects in strategic sectors to strengthen supply chains and increase production. It is unclear whether Iraq could be announced as the fifth member of the partnership during the summit, but keep your eyes peeled for updates later today or tomorrow morning.
ALSO IN FOREIGN AFFAIRS- A delegation of Turkish businessmen and manufacturers is due in town today to talk investment and cooperation, Al Mal reports. The delegation includes investors in sectors including agricultural equipment, automotive components, textiles and garments, food and beverage, consumer goods, and building materials.
AND- The Madbouly government will hold consultations with construction players on its privatization strategy today. The government is holding workshops and consultations with stakeholders from different industries every Sunday, Tuesday, and Thursday on its privatization plans. You can find more details on the schedule of the meetings here.
HAPPENING TOMORROW-
CBE Governor Hassan Abdalla will reportedly meet with senior bankers, his first such meeting since being appointed last week. Abdalla tapped to run the bank last Thursday after Tarek Amer stepped down unexpectedly the day before.
THIS WEEK AND THE NEXT-
B Investments has just under a week to respond to Adnoc's bid for TotalEnergies Egypt: Private equity outfit B Investments has until next Monday, 29 August, to decide whether or not it wants to preempt Adnoc Distribution's bid to acquire 50% of TotalEnergies Egypt. Adnoc agreed last month to buy the stake in a USD 203 mn transaction, which would see it acquire the entirety of B Investments' c.15.4% stake in the fuel distributor and a 34.6% stake from Total Energies Marketing Afrique.
WATCH THIS SPACE- The SCZone will sign yet more MoUs on green fuel with international partners "within days," a statement by the zone read. The SCZone has so far signed nine MoUs with international companies under efforts to turn the zone into a hub for green energy, the statement said, as part of a huge push ahead of COP27 in November. By our count, major global companies have signed some USD 18 bn worth of preliminary agreements for green ammonia and hydrogen projects in Ain Sokhna this year, as authorities look to capture growing global interest in the so-called transition fuels ahead of the summit.
Egypt warns nationals in Ukraine to take cover this week: The Egyptian embassy in Kyiv told Egyptians in Ukraine to exercise caution over the next week and take shelter if sirens are heard, it said in a statement yesterday. The warning comes after Ukrainian President Volodymyr Zelensky warned that Russia could "do something particularly cruel" as Ukraine celebrates its independence on Tuesday.
PSA– Your deadline to catch a 65% break off late payment fines for your taxes is coming up on 31 August. The waiver applies to late payment fees for customs tariffs, income, real estate, and sales taxes, VAT, and stamp duties among others. The remaining 35% of your due payments will need to be paid before next March.
THE BIG STORY ABROAD-
The global financial press is freaking out about global markets after Wall Street suffered its biggest single-day loss since mid-June yesterday. The benchmark S&P 500 index fell 2.1% and the tech-heavy Nasdaq tumbled 2.5%, spelling the end of an impressive recent rally that has lifted stocks out of bear market territory.
Fear of Jackson Hole is driving the sell-off: Investors are anticipating Federal Reserve Chairman Jerome Powell to talk tough on inflation and double-down on aggressive interest rate hikes when he speaks at the annual gathering of central bankers at Jackson Hole later this week. (Bloomberg | FT | WSJ | CNBC)
It's a sea of red in Asia this morning as the selloff carries over into Tuesday. Stock futures currently have Wall Street opening marginally in the green later today while European shares will fall at the opening bell.
Also getting significant coverage: Ford became the latest company to announce mass lay-offs yesterday. The auto giant will cut 3k jobs this week in a major restructure as it looks to finance its bn-USD plan to transition to electric vehicles and compete with Tesla. (Wall Street Journal | Bloomberg | Reuters | TechCrunch)
HEADING INTO COP27…
Got a green project? A new government initiative could help it secure investor funding at COP27. The Planning Ministry yesterday launched its "smart green projects" initiative, which will map green projects nationwide, giving them a platform to raise investments at the November climate summit, according to a ministry statement. Eligible projects must use technological solutions to address environmental issues and will be chosen based on their feasibility, scalability and impact, with a separate category for projects that are women-led or promote women's participation in the green economy, according to the initiative criteria.
An executive committee that includes Egypt climate czar Mahmoud Mohieldin will whittle the applicants down to a final list of 18 projects to be presented for funding at COP27. You can apply to make the cut here.
CIRCLE YOUR CALENDAR-
Next week's National Dialogue board meeting has been postponed to the first week of September after several members fell ill, Cairo24 reports. Board member Negad El Borai confirmed the postponement on social media, but did not say what triggered it. Cairo24's source claims the meeting could now be held on 3 September. The meeting was set to see the board's members choose the rapporteurs for all of the committees and subcommittees of the social, political and economic tracks, and prepare the agenda and topics of discussion for the dialogue.
The Union of Arab Banks is organizing a forum on money laundering and terrorism financing in Sharm El Sheikh from 1-3 September. Participating institutions include the Central Bank of Egypt and the Federation of Egyptian Banks, among others.
Check out our full calendar on the web for a comprehensive listing of upcoming news events, national holidays and news triggers.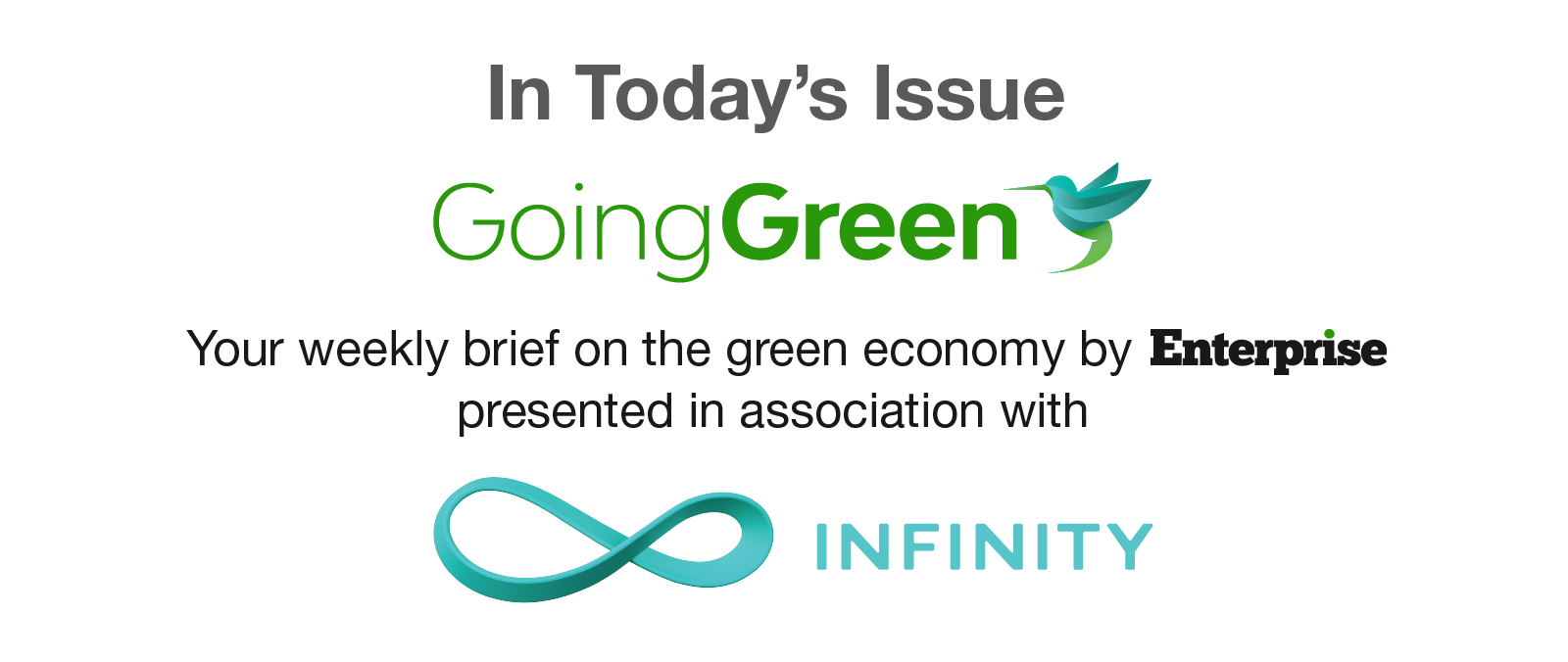 *** It's Going Green day — your weekly briefing of all things green in Egypt: Enterprise's green economy vertical focuses each Tuesday on the business of renewable energy and sustainable practices in Egypt, everything from solar and wind energy through to water, waste management, sustainable building practices and how you can make your business greener, whatever the sector.
In today's issue: With COP27 around the corner, Egypt is working with the UN to drum up investor interest in climate projects for developing nations — including for projects here at home. We take a look at the projects highlighted for climate finance so far as part of the pre-COP roadshow meant to attract funding where it's needed most.