Monday, 8 August 2022
THIS MORNING: Mohamed Farid named new FRA chief; The EGX rally continued for a fourth day yesterday
Good morning, friends. We're going to start this morning's edition with a brief report from:
THE DEPT. OF GOOD NEWS- We have a new head of the Financial Regulatory Authority (FRA). EGX boss Mohamed Farid has been appointed as acting chairman of the FRA for one year, the exchange announced yesterday. He succeeds Mohamed Omran, who stepped down after five years at the helm of the market regulator.
Why this matters: Farid is a business-friendly public servant who has shown a cool head and keen understanding of what the business community needs if it is going to invest. Whether selling foreign investors on Egyptian equities, streamlining regulation, introducing new instruments, or leading a drive to get more retail investors to participate in the market with long-term views, Farid has shown that he simply "gets it." Appointed in August 2017 — he was Omran's successor at the EGX, too — Farid has broad experience: He was vice-chairman of the EGX during the nasty period spanning July 2010 through October 2011, was a staffer in Mahmoud Mohieldin's office during the golden era of the Ministry of Investment, was a consultant to the World Bank and taught at AUC and AAST. He also knows the stress of what it means to have to meet payroll every month: Farid founded and ran his own consultancy before returning to government service to lead the EGX.
Who's going to run the EGX? Prime Minister Moustafa Madbouly is expected to select a new head of the EGX to succeed Farid soon. The decision was published in the Official Gazette (pdf) yesterday.
** Need some distractions to get you through that horribly boring 11am meeting? We've got you covered:
FOOD FOR THOUGHT- Think inflation is bad here in Omm El Donia? Try 90%, the New York Times suggests, writing that "a tour through Argentina reveals that years of inflation can give rise to a truly bizarre economy."
Near and dear to our hearts: The life of a person who wakes up really, really early.
"Extreme larks" get up naturally when some people have hardly gone to bed, the Atlantic writes. It's nice to know we are not alone…
#1- The EGX extended its rally for a fourth day yesterday, building on the substantial gains on Thursday which saw the bourse have its best day since March. The benchmark EGX 30 gained another 0.8% during yesterday's trading session to close at its highest level since the first week of June. It has now gained almost 17% since its recent low less than five weeks ago and is now down 15.3% year-to-date. Trading volumes were strong again yesterday, coming in at EGP 1.9 bn (or around 59% above the trailing 90-day average).
#2- Are oil prices finally starting to slip? Oil prices closed last week at their lowest level since Russia invaded Ukraine in February as recession fears build. Brent lost 11% during the week to close at USD 94.92 a barrel while US crude fell 8% to USD 89.01.
Don't bet on it: Global supply remains tight and will likely get tighter this winter as the EU's embargo on Russian seaborne oil comes into play on 5 December. Supply will come under further pressure if the G7 agrees to try and cap the price of Russian oil, which the group hopes to put into practice before the EU oil ban comes into effect. The price? Oil at USD 130 a barrel, according to Bank of America.
#3- More volatility in US equities in the cards as earnings estimates cut: Wall Street could be in a fresh spell of volatility as analysts cut corporate earnings expectations, according to the Wall Street Journal. The combination of falling 3Q earnings-per-share estimates and the rising valuations in recent weeks could be setting up the market for a fall, the piece argues.
THE BIG STORY ABROAD-
Dominating the global front pages this morning: The US Senate passed a sweeping USD 430 bn climate, tax and health bill in a major victory for the Biden administration. The news comes after days of heated debate between Democratic and Republican lawmakers. The bill is being dubbed the Inflation Reduction Act; it aims to raise taxes on large, profitable companies, allocate hundreds of bns of USD on programs aimed at reducing carbon emissions, and hopes to reduce the federal deficit over time, in turn bringing down inflation, which has reached 40-year highs this year. The Senate passed the bill with a 51-50 party line vote that saw Vice President Kamala Harris cast the tie-breaking ballot. The bill will now head to the House on Friday, where it is expected to be passed by the Democratic majority. (AP | Reuters | NYT | Washington Post | Bloomberg | FT | WSJ)
HAPPENING THIS WEEK-
We have two more rounds of public consultations on the government's state ownership policy coming up this week:
Higher education players will voice their thoughts on the privatization strategy tomorrow, 9 August.
Experts and think tanks will hold another round of talks on Thursday, 11 August.
Remember: The government holds workshops every Sunday, Tuesday, and Thursday to see how its plans will affect specific industries. You can find more details on the schedule of the meetings here.
Inflation data for July should land on Wednesday, 10 August.
CIRCLE YOUR CALENDAR-
Ghazl El Mahalla IPO: The retail portion of Ghazl El Mahalla's mini-IPO will wrap next Sunday, 14 August.
MNHD shareholders have the final word on SODIC takeover bid: Madinet Nasr Housing and Development will hold a general assembly meeting on Tuesday, 16 August, to decide whether to allow SODIC to conduct due diligence ahead of a potential takeover.
Interest rates: The Central Bank of Egypt will meet to discuss interest rates next Thursday, 18 August.
National Dialogue: The board of trustees overseeing the National Dialogue will hold its next meeting on 27 August. On the agenda: Choosing the rapporteurs for all of the committees and subcommittees of the social, political and economic tracks, and preparing the agenda and topics of discussion for the dialogue.
Check out our full calendar on the web for a comprehensive listing of upcoming news events, national holidays and news triggers.
MORNING MUST READ-
Missed this week's Inside Industry? In our weekly vertical exploring all things industry and manufacturing, we looked at what the printing and packaging industry had to say about the state ownership policy document, the biggest issues facing the industry today, and what stakeholders see as viable solutions for these hurdles moving forward.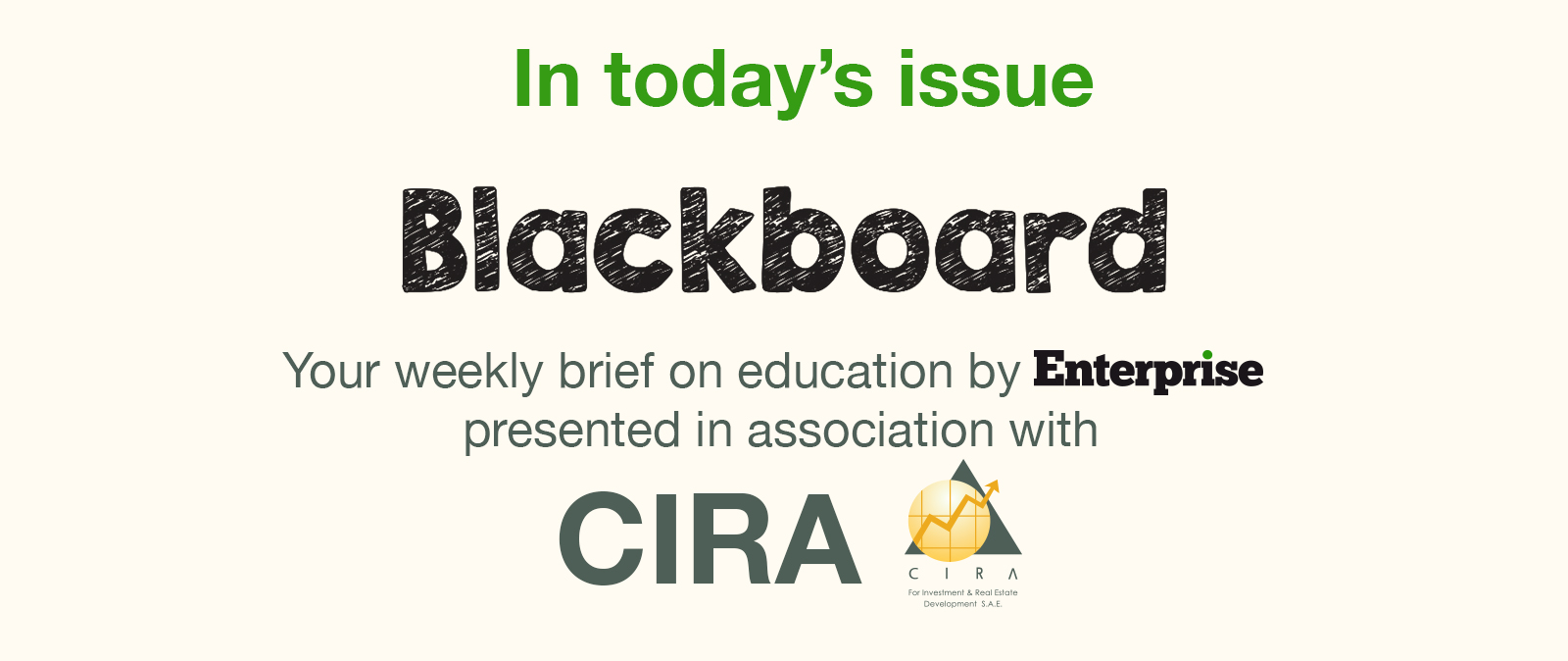 *** It's Blackboard day: We have our weekly look at the business of education in Egypt, from pre-K through the highest reaches of higher ed. Blackboard appears every Monday in Enterprise in the place of our traditional industry news roundups.
In today's issue: Previously, we've looked at the skills that private sector companies want to see in fresh graduates and heard from company representatives about how well they think local universities prepare fresh grads for the world of work. Today, we speak to representatives in a range of sectors about what they'd like to see higher education institutions do to prepare graduates to address labor market needs. Their answers span work that can be done within the universities, making work experience a mandatory part of degree programs, and amending some aspects of Egypt's higher education framework.