Wednesday, 6 July 2022
THIS MORNING: It's PMI day + We all have a week off next week to celebrate Eid
It's not that bad of a slog heading into the weekend, ladies and gentlemen. Especially with the M&A news we have in store.
Countdown to the Big Eid — and it really is big this year: The central bank (pdf) and the Manpower Ministry brought us good news yesterday, announcing that banks and the private sector will be off from Sunday 10 July to Thursday 14 July in observance of Eid Al Adha. This follows the cabinet, which said on Monday that the public sector will take the full week off.
It's official: This fiscal year's state budget is the law of the land. President Abdel Fattah El Sisi has ratified the budget for the new fiscal year, which will see government spending rise 12% to EGP 2.07 tn. The budget was published in the Official Gazette.
The House is on its summer recess from today: MPs spent yesterday scrambling to get as many bills approved as possible before heading for their annual two-month break in Sahel. We have more on yesterday's legislative business in the newswell, below.
THE BIG STORIES at home are led with news that Madinet Nasr Housing and Development is officially the target of a takeover bid launched by SODIC, whose new Emirati owners are eager to consolidate their new position in the Egyptian real estate market. The Aldar Properties / ADQ-owned company is offering to buy MNHD for EGP 3.20 – 3.40 a share in an all-cash transaction, valuing the company by as much as EGP 6.36 bn.
We also got good news on the macro front: The Egyptian economy grew by 6.2% last year, Planning Minister Hala El Said said yesterday, above the 5.4% target in the state budget and in line with recent forecasts.
Also on the econ front: Remittances from Egyptian expats rose 24% y-o-y in April to USD 3.1 bn, according to central bank figures (pdf) released yesterday. On a monthly basis, remittances saw a marginal decline from USD 3.3 bn in March. The bulk of remittances are sent from Egyptians working in the Gulf, making them sensitive to oil fluctuations. The rise in inflows in March and April coincided with a surge in oil prices, which reached their highest levels since 2008 on the back of Russia's invasion of Ukraine. Remittances came in at USD 8 bn in 3Q2021-2022.
We're on track to at least match last fiscal year's record: Inflows reached a record USD 31.4 bn in FY 2020-2021. Egypt is one of the largest recipients of remittances in the world, and they have become an increasingly important source of foreign currency, particularly following the hit to tourist revenues caused by the covid-19 pandemic. The World Bank has forecast remittances to rise 8% in 2022, from USD 32.2 bn in the previous calendar year. This would put the figure at around USD 34.8 bn.
WHAT'S HAPPENING TODAY-
It's PMI day: We'll find out this morning how Egypt's non-oil private sector performed in June when S&P Global drops the latest purchasing managers' index (PMI). It seems like a distant memory the last time we reported growth in activity (for that, we'd need to go back to November 2020) but contraction in the sector has accelerated over the past three months on the back of the war in the Ukraine, which has fuelled a pick-up in inflation and undermined confidence in the direction of the economy. The PMI will be released at 6:15 CLT, just after we hit 'send' on this morning's issue.
The Saudi + Emirati figures are in: Private sector activity in both countries continued to grow in June despite rising inflationary pressures. Higher prices failed to dent demand in Saudi, which saw its private sector grow at its fastest pace since September, while the UAE continued to see solid growth even as prices rose at their quickest rate in 11 years. Check out the releases here: Saudi Arabia (pdf) | UAE (pdf).
Flat6Labs is hosting its investor-startup mixer at the Four Seasons Hotel Cairo at The First Residence today. The event brings together Flat6Labs' startups and prominent investors.
AFTER EID-
Egypt and the UAE will sign an agreement to establish a huge 10 GW wind plant following the Eid Al Adha holiday, cabinet said yesterday. The statement offered little information on the project but said that the details have already been worked out and a formal agreement will be signed after the break. This came during a visit to Cairo by UAE Industry and Advanced Technology Minister Sultan Al Jaber, who met President Abdel Fattah El Sisi and Prime Minister Moustafa Madbouly to discuss investment.
Officials from Egypt, the UAE and Jordan will hold talks in Cairo later this month to discuss the new industrial partnership agreed in May, cabinet said. Abu Dhabi sovereign wealth fund ADQ will invest USD 10 bn in industrial projects under the initiative, which will see the three countries collaborate to boost manufacturing and exports.
National Dialogue meetings to resume 19 July: The board overseeing the National Dialogue will hold its second meeting on 19 July, during which it will discuss the agenda and form subcommittees. Board members met for the first time yesterday: For more on this, head to Last Night's Talk Shows.
Three stories are dominating the global front pages this morning:
Oil whipsawed: The financial press are focused on yesterday's events in the oil markets, which saw prices plunge on recession fears (more on that, below). (Bloomberg | WSJ)
BoJo No-Go? British Prime Minister Boris Johnson is clinging to power after two senior cabinet ministers resigned yesterday following a string of scandals. (Reuters | AP | FT | Bloomberg)
MARKET WATCH-
Oil prices saw their biggest single-day drop in four months yesterday as fears of a global economic downturn fuelled a sell-off in commodities markets, according to the Financial Times. Brent crude fell 9.5% during the day to close at USD 102.77 a barrel — it's lowest since early May — while US crude ended below USD 100 after falling 8.2%.
Prices rebounded this morning: US crude was back above USD 100 early this morning and Brent was up 1% as traders continued to weigh the impact of recession against the possibility of further supply shocks caused by the energy war between Russia and the West.
Saudi Arabia has hiked the price of its key crude to Asian markets to a near record amid tight supply and rising demand, Reuters and Bloomberg report. Aramco will sell a barrel of its Arab Light crude to Asia for USD 2.80 more than in June to put prices USD 9.30 above the benchmark — in line with analysts' expectations. The record high premium of USD 9.35 a barrel was set in May.
Where does oil go from here? Forecasts are all over the place. Citigroup is now saying that crude could fall to as low as USD 65 a barrel by the end of the year and USD 45 by the end of 2023 if economies go into recession, Bloomberg reports. JPMorgan, on the other hand, warned earlier this week that prices could reach a "stratospheric" level of USD 380 if Russia slashes flows to Europe.
Recession fears in Europe helped send the EUR to a two-decade low against the greenback yesterday, Reuters reports. The currency fell almost 1.8% to USD 1.0236, on the back of fears of economic turmoil in the eurozone spurred by rising energy prices and sagging business confidence. The USD, conversely, continues to gain strength on the back of the US Fed's rate hikes and the greenback's reputation as a safe-haven currency.
In the UK, the economic outlook has "deteriorated materially." That's according to a report from the Bank of England, which places the blame for economic struggles on Moscow's shoulders (though doesn't mention Western sanctions that have fuelled volatility in the commodities markets). "Prices of essential goods such as food and energy have risen sharply in the UK and globally, and the outlook for growth has worsened. This is largely a result of Russia's illegal invasion of Ukraine," the report said.
CIRCLE YOUR CALENDAR-
The fuel pricing committee could meet this week to review fuel prices for the third quarter.
Other news triggers to keep an eye on this month:
Foreign reserves: Foreign reserves figures will be out sometime this week.
Inflation: Inflation data for June will likely land as early as this week.
Check out our full calendar on the web for a comprehensive listing of upcoming news events, national holidays and news triggers.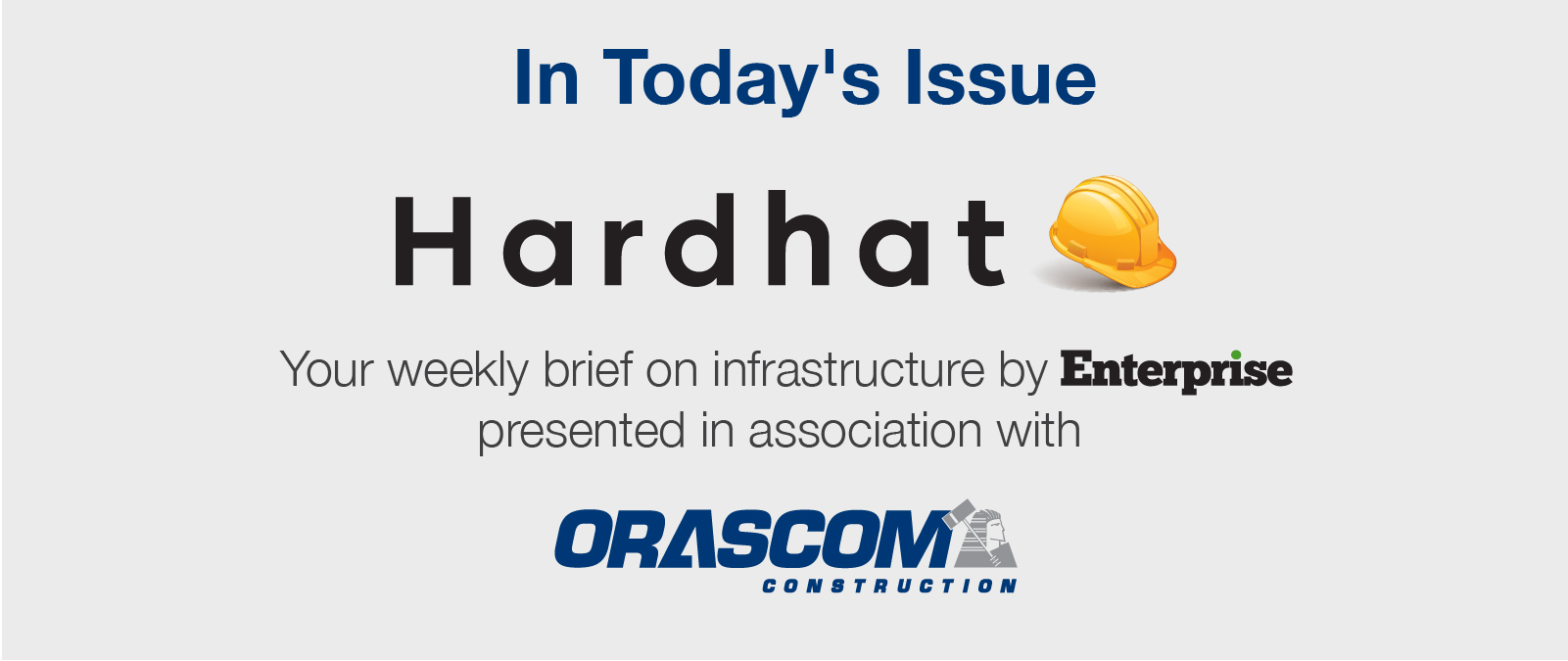 *** It's Hardhat day — your weekly briefing of all things infrastructure in Egypt: Enterprise's industry vertical focuses each Wednesday on infrastructure, covering everything from energy, water, transportation, and urban development, as well as social infrastructure such as health and education.
In today's issue: Avid readers will know that we've all become supply chain experts in recent years. The pandemic marked the start of years-long logistics snarls that have stymied global trade and been partly responsible for a commodities crunch that has fed into high inflation worldwide. We take a look at a new World Bank and S&P Global port performance index to find out how global ports are faring with the change, including ours.