Tuesday, 14 June 2022
THIS MORNING: Global markets tank ahead of Fed meeting; Covid curbs are back in the UAE
What a read we have in store for you today, ladies and gentlemen. We got it all: privatization, subsidies, a report on capital markets, M&A news and potentially some good news on the tourism front. All this to say the news does not stop just because our kids are on summer breaks.
THE BIG STORY TODAY- The government's privatization plans got a massive shot in the arm yesterday, with the Madbouly cabinet releasing a draft plan for how the state plans to move forward on that crucial policy front. Public consultation with business and economic leaders have taken place and will continue to do so to give the private sector a say in the plan.
THE BIG STORY ABROAD- The Federal Reserve is starting today what might be its most important meeting since March 2020 as last week's terrible US inflation data sparks fears of a huge rate hike this week and triggers turmoil in the global markets. A growing consensus now expects the Fed to go ahead with a huge 75-bps rate hike tomorrow, inflaming concerns that the central bank is about to tip the US economy into recession and causing one of the worst days in the financial markets since the covid crash in March 2020.
Here's a snapshot of what took place in the markets yesterday:
Yields are screaming recession: A huge sell-off in the US bond market pushed yields to levels not seen since 2011 and caused a key part of the curve to invert — an event that is viewed by many analysts as a reliable indicator of a coming recession. (Read our mini-explainer on this for more)
US stocks are in a bear market: The S&P 500 fell almost 4%, capping the index's worst four-day run since March 2020 and leaving it down almost 22% from its recent peak.
So much for that inflation hedge: BTC experienced a crash of epic proportions, plummeting more than 18% to lows not seen since December 2020 and prompting crypto exchange Binance and lender Celsius to suspend withdrawals.
De-FAANGed: The index of mega-cap tech stocks (Think: Facebook, Apple, Alphabet etc.) plunged 6.5% to hit its lowest level since September 2020. The tech-dominated Nasdaq also fell to a 21-month low, tumbling 4.7% during the session and leaving it down almost 33% from its recent peak.
This is global: Global stocks included on the FTSE Global All Cap Index fell 3.7% to the lowest level since October 2020.
50 basis points might now be the minimum: A 75-bps increase is now the base case for most of Wall Street, who are expecting the Fed to take decisive action to curb inflation, which unexpectedly rose to a fresh 40-year high in May. Everyone from Goldman and JPMorgan to Barclays and Jefferies are making the call, and the market is now pricing in rates to rise by 175 bps by September, suggesting one 75-bps increase and two 50-bps hikes. Others see a slight chance of an even larger 100-bps rise.
Why this matters to us: This is all going to have implications for what our own central bank does when it meets next week. We'll be talking to analysts in the coming days about what this means for monetary policy at home ahead of our customary interest rate poll, which will drop next week before the 23 June policy meeting.
The sell-off is continuing in Asia this morning, with most of the region's indexes firmly in the red by the time we hit 'send'. The futures markets point to a mixed open in Europe, while stocks in the US are currently on course to open in the green.
One thing that isn't in the green this morning: BTC is continuing to plunge towards USD 20k this morning and was down 13.6% on the previous 24 hours ahead of dispatch time.
Unsurprisingly, this is the big story everywhere this morning: Reuters | Associated Press | Bloomberg | FT | WSJ | CNBC.
---
Closer to home, covid cases in the UAE are once again on the rise, and the government is tightening restrictions, Taher Al Ameri, spokesperson of the UAE's National Emergency Crisis and Disasters Management Authority said, according to state news agency WAM reports. New rules on indoor mask-wearing and fines for violators are now in force following a rise in hospitalizations caused by a recent uptick in cases, which" increased by over 100% in one week." The Gulf state's "green pass" system, which indicates vaccination and infection status, will be only valid for 14 days starting tomorrow, instead of the previous 30.
Riyadh is doing the opposite: Saudi Arabia has lifted almost all covid-related precautionary and preventive measures after achieving a high vaccination rate, the Interior Ministry said in a statement yesterday. Restrictions lifted include ending mask requirements.
WHAT'S HAPPENING TODAY-
We're expecting EU Commission President Ursula von der Leyen to arrive in Cairo later this week to discuss the new three-way energy partnership that could see us exporting Israeli natural gas across the Mediterranean. Von der Leyen is currently on a two-day visit to Israel where she will meet with Prime Minister Naftali Bennett to discuss energy cooperation.
A delegation of Latvian business representatives continue their visit in Egypt today: The trip is aiming to "strengthen political and trade relations … particularly in digital and logistics sectors," and is being accompanied by the country's foreign minister, Edgars Rinkēvičs, who held talks with President Abdel Fattah El Sisi and Foreign Minister Sameh Shoukry on Sunday.
CIRCLE YOUR CALENDAR-
El Sisi, Amer attending Afreximbank annual meetings: The African Export-Import Bank's (Afreximbank) annual meetings start tomorrow at the new capital's St. Regis Almasa Hotel. President Abdel Fattah El Sisi, Central Bank of Egypt Governor Tarek Amer, and Afreximbank President Benedict Oramah will give keynote speeches at the event, which will focus primarily on implementing the Africa freetrade agreement that came into force in 2021.
There's a handful of conferences coming up:
Check out our full calendar on the web for a comprehensive listing of upcoming news events, national holidays and news triggers.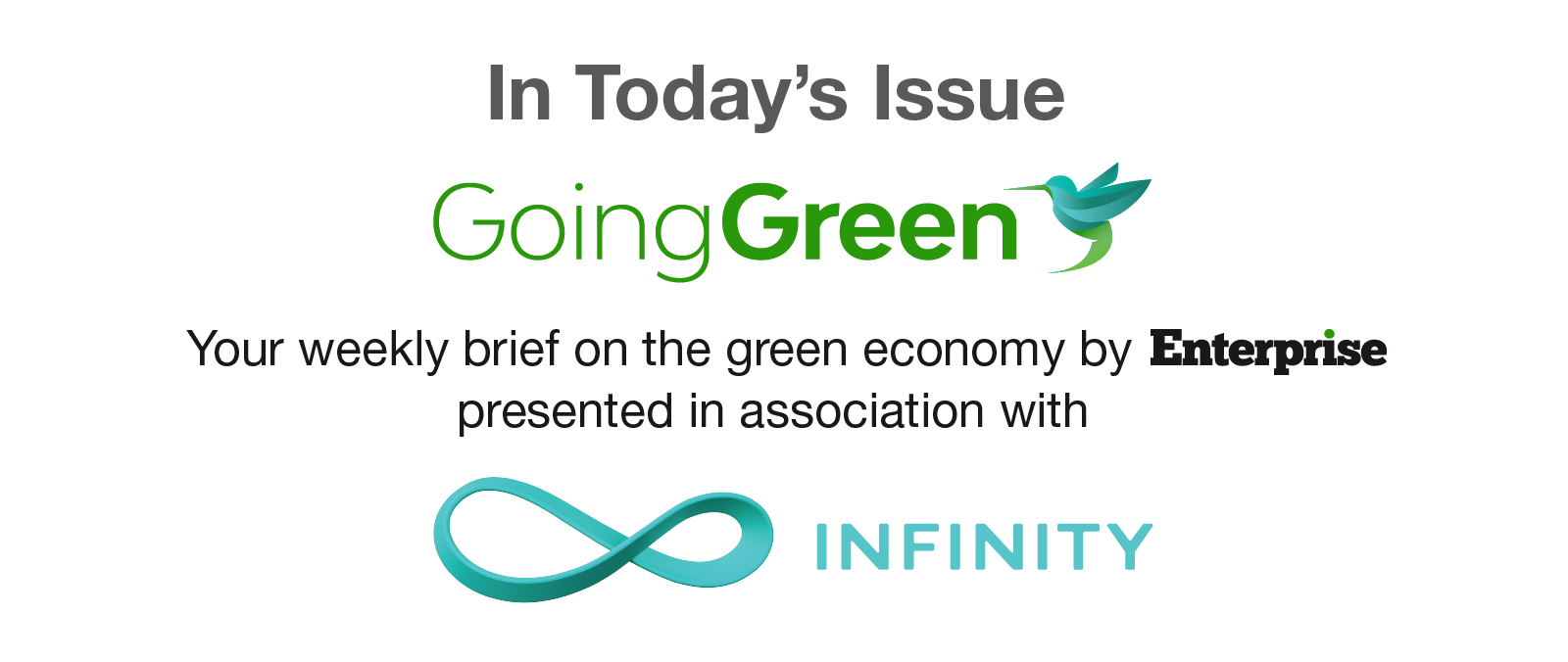 *** It's Going Green day — your weekly briefing of all things green in Egypt: Enterprise's green economy vertical focuses each Tuesday on the business of renewable energy and sustainable practices in Egypt, everything from solar and wind energy through to water, waste management, sustainable building practices and how you can make your business greener, whatever the sector.
In today's issue: The MENA region is falling short when it comes to VC climate funding. The Middle East and North Africa (MENA) is one of the regions most exposed to the effects of climate change. Yet, when it comes to financing the type of innovation that might help to limit — or at the very least adapt to — its consequences, the region falls far behind, according to a recent report.
***
WE'RE LOOKING FOR SMART, TALENTED PEOPLE to help us build some very cool new things.
Today, we run two daily publications, five weekly industry verticals, a monthly newsletter designed to make our readers feel just a bit smarter.
We have tons more in the pipeline — come help us build new publications. We offer the chance to work in a fast-paced newsroom on a broad range of topics and in a variety of formats. Our goal is simple: To create value for our growing community of >199k readers by telling stories that matter.
We're looking for editors who want to run publications and teams, editors to help reporters craft stories and talented reporters. Egyptian and foreign nationals alike are welcome to apply. So are job-switchers: If you're an equities analyst tired of the rat race, we're a great place to come work.
Apply directly to jobs@enterprisemea.com and mention Patrick in your subject line.
Or hit this link for more information. It's worth it — trust us.
***