Sunday, 12 June 2022
THIS MORNING: The heatwave's gonna break + a big week for our energy ambitions
Good morning, ladies and gentlemen, and get ready for what should be an interesting week ahead. We hope you spent a restful weekend by the beach (and the AC) as some international schools have begun their summer breaks.
Summer should give us a slight break today after a sweltering weekend, as yesterday's scorching highs of 43°C give way to a cooler 35°C in the capital today, according to the Egyptian Meteorological Authority (EMA). Our favorite weather app is more or less backing up the EMA forecast.
THE BIG STORY here at home is the latest inflation reading, which saw consumer prices rise at their fastest annual pace since May 2019, driven once again by rising food prices. The silver lining: Prices didn't rise quite as much as analysts were expecting and even slowed on a monthly basis, with some analysts saying inflation could peak by summer.
BUT THAT'S NOT ALL- We may be going out with our first (and long awaited) future flow securitization transaction, courtesy of our friends at CIRA. We have more in the newswell below.
There's no one BIG STORY ABROAD dominating the front pages of the foreign press this morning — though macro matters continue to preoccupy the business papers as US price pressures see petrol at the pump soar past a record USD 5 a gallon (see this from the Wall Street Journal and this from the Financial Times.) We have more on the battle US monetary policymakers are waging against inflation, and its impact on the markets, below.
RELEVANT TO THE REGION- US President Joe Biden has admitted for the first time that he may be making a visit to Saudi Arabia later this summer (though he hasn't yet made his mind up for sure), Bloomberg reports. If Uncle Joe does visit, he'll have more than just oil on his agenda and would plan a "larger meeting" on regional security, Biden told reporters yesterday.
Why do we care? Axios has reported that the Biden administration is working with Israel, Saudi Arabia and Egypt to finalize the transfer of Tiran and Sanafir islands from Egypt to Saudi Arabia, a move that it believes could lead to a normalization of ties between Riyadh and Tel Aviv.
WHAT'S HAPPENING TODAY-
Subscription for the retail portion of Ghazl El Mahalla FC's IPO kicks off today: The club is selling 98 mn shares to the public at EGP 1.02 apiece. Subscription will be open until 1 July at the latest but could close early after the first ten days, according to a disclosure (pdf) on Thursday. Investors buying in must purchase between 1k and 2 mn shares each, the statement said.
Ghazl El Mahalla wants to raise EGP 135 mn in the sale: The club hopes to raise EGP 98 mn from the retail offering, after having already received EGP 37 mn from institutional investors in the private placement back in November. In total, the IPO will see the club sell a 67.5% stake to investors.
HAPPENING THIS WEEK-
It could be a big week for our gas export ambitions: Hopes will be high this week that Egypt can ink an agreement to increase exports to the EU when EU Commission President Ursula von der Leyen lands in Cairo for talks with President Abdel Fattah El Sisi. According to a draft document seen by Bloomberg earlier this month, the EU is expected to sign an MoU with Egypt and Israel that will see more Israeli gas shipped to Egypt's LNG facilities where it will be exported across the Mediterranean. The pact could also see the three sides work to curb methane gas emissions, the business newswire reported.
The EU could help fund new infrastructure: More details on the potential MoU were reported by Reuters over the weekend, which got its hands on a draft document that is set to be sent out to European governments for approval. According to the plan, the EU could help to finance new infrastructure, provided it's not in breach of its rules to end investment in fossil fuels. The newswire provided few details beyond saying that the EU could also fund projects that reduce emissions and decarbonize natural gas.
More details: The agreement between the three sides would last for nine years, and offer Egypt the ability to purchase some of the additional gas sent by Israel.
Also on the agenda: European support to combat food insecurity in the Middle East will also be a topic of conversation between the two leaders, von der Leyen told the EU parliament on Wednesday. The EU is preparing to disburse EUR 100 mn in funding for Egypt to expand wheat storage capacity and support small farmers.
BY THE BY- It's not just Europe who are keen on our plans to become a regional new energy player. British Ambassador to Cairo Gareth Bayley called Egypt "an emerging renewable energy power" last week, according to Ahram Online, and said that more than 10 British firms want in on our ambitious green hydrogen plans.
---
It's also an important week for global efforts to prevent the food crisis from escalating. Trade ministers will gather today through Wednesday in Geneva for a World Trade Organization (WTO) conference, where the focus will be on stemming the recent wave of food protectionism that has seen more than two dozen countries place export restrictions on food and fertilizer, according to Bloomberg.
India is threatening to block a proposal backed by more than 50 countries to address the protectionism crisis, asking for certain provisions to be watered down, according to Bloomberg. In May, India placed restrictions on wheat exports, piling pressure on food supply chains that has seen prices spiral to their highest levels on record. We've also extended our own ban on wheat exports — though we could still do trade with India in a potential wheat-for-fertilizer pact that has drawn criticism from some other nations.
We'll be advocating for net-importing + developing countries at the meeting: Egypt has submitted a draft resolution to the WTO on the issue on behalf of Arab and African nations and less developed countries, a Foreign Ministry statement read. The resolution aims to provide "practical solutions to support farmers and producers" and boost local grain and other crop production, the statement read, without going into more details.
MARKET WATCH-
Red-hot US inflation data raises fears of huge Fed rate hike; tanks stocks: US stocks suffered their worst weekly loss since January after inflation unexpectedly accelerated to a fresh 40-year high in May, raising fears among traders that the Federal Reserve will turn even more hawkish when it meets this week. The S&P 500 fell 2.9% and the tech-heavy Nasdaq tumbled more than 3.6% in response to the inflation data on Friday, which showed that consumer prices rose to 8.6% last month, its highest rate since November 1981.
All eyes on the Fed: Traders now see a 50% chance that the Federal Reserve will raise interest rates by 75 bps when it meets on Tuesday and Wednesday this week. Policymakers were broadly expected to go ahead with a second 50-bps increase but the poor data has increased the likelihood they will go aggressive to try and put a ceiling over the worst bout of inflation in a generation.
Over in Europe, the ECB is giving the markets flashbacks of 2011: European shares dived and bond yields jumped on Friday after the European Central Bank (ECB) indicated it would move to raise interest rates next month, reviving memories of the eurozone debt crisis early last decade. Borrowing costs for Italy and Greece — two of the bloc's most heavily indebted Mediterranean economies — have spiked in recent days as investors worry about the sustainability of their debts after the central bank begins to raise rates. The Financial Times has more.
CIRCLE YOUR CALENDAR-
There's a handful of conferences coming up:
Check out our full calendar on the web for a comprehensive listing of upcoming news events, national holidays and news triggers.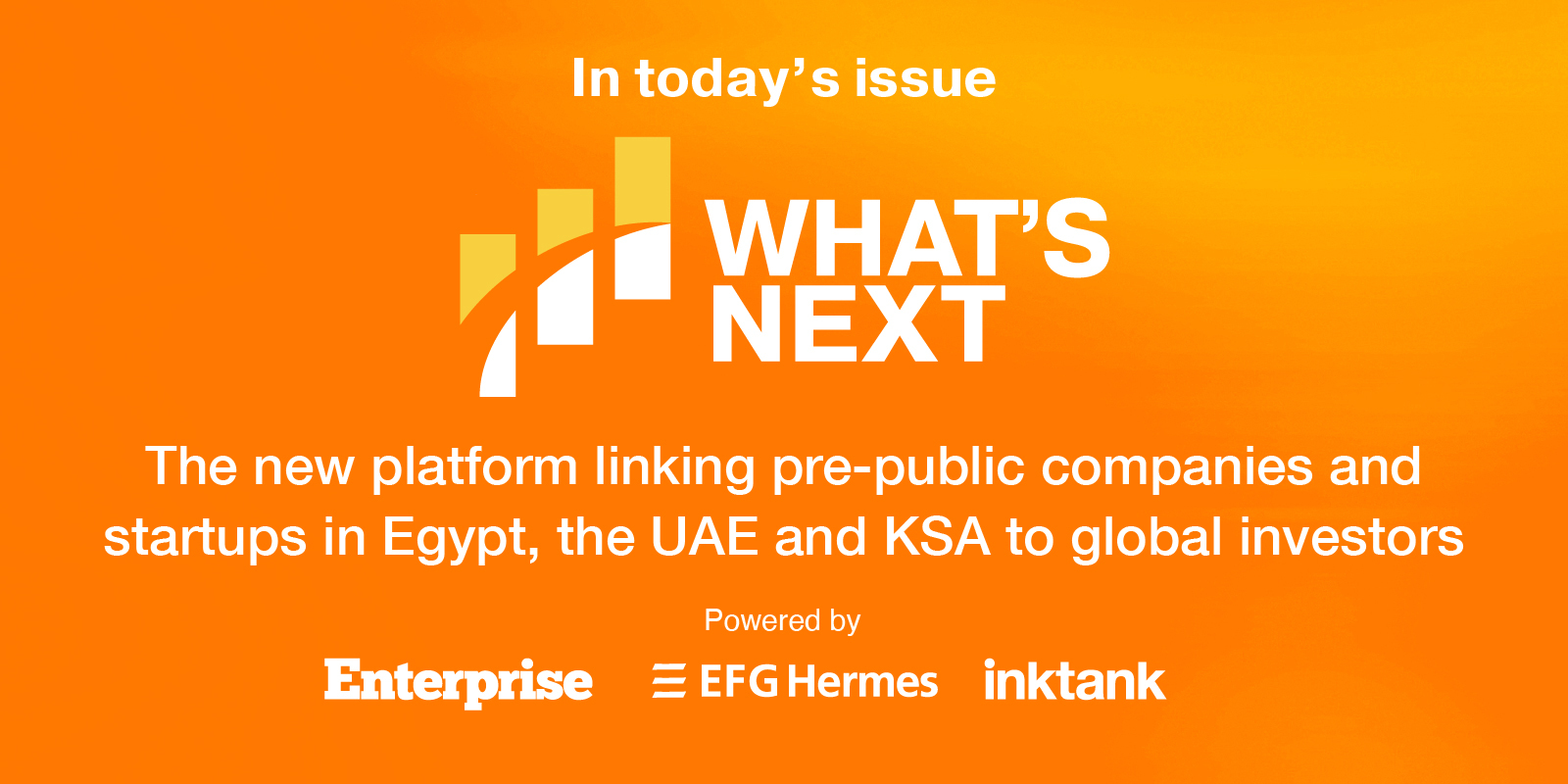 *** It's What's Next day: We have our weekly deep-dive into what makes and shapes pre-listed companies and startups in Egypt, the UAE and KSA, touching on investment trends, future sector insights and growth journeys.
In today's issue: After looking at how Nigeria attracted USD 1.8 bn in startup funding in 2021, and what could be next for StartupLand over there, we now take you on a tour of a few startups we've either personally met or heard about during our trip to Lagos a few weeks ago.