Monday, 20 September 2021
THIS MORNING: EGP EKH shares hit the EGX; Property IDs coming later this year; El Sisi to address UN tomorrow?
Good morning, ladies and gents— Before we get down to business, a reminder:
EGP-denominated shares in Egypt-Kuwait Holding (EKH) began trading on the EGX yesterday, the company said in a press release (pdf). More than two-thirds (68%) of all investors holding EGX-listed shares opted to convert their holdings from USD into EGP during a three-month window over the summer, meaning that their combined 461.3 mn shares, worth USD 540 mn (EGP 8.4 bn), will now trade in local currency. Dividends will continue to be paid out in USD, in a move that the company hopes will incentivize trading and widen its shareholder base.
Strong demand a vote of confidence in EKH, says CEO: The strong take-up is "a testament to the public's trust in EKH" and its share performance, and reflects "growing confidence" in the Egyptian economy, EKH CEO Sherif El Zayat said. EKH's share price has risen almost 250% over the past five years, easily outperforming the EGX which has risen almost 36% over the same period. EKH is looking to build on its success in recent years, with a planned USD 300 mn in investments in the pipeline for this year and next.
Property ID numbers will make their debut before the end of this year, according to Communications Minister Amr Talaat, who told Al Arabiya that some properties in Port Said will have the numbers attached to their electricity bills later this year before a nationwide rollout in 2022.
Why am I getting a property ID? The identification system is being introduced as part of recent building code reforms designed to crack down on wildcat construction and the buying and selling of illegal property.
WHAT'S HAPPENING TODAY-
EFG Hermes' fourth Virtual Investor Conference continues today, running through to 21 September with the theme of "After Reflation — FEMs in 2022."
Foreign Minister Sameh Shoukry is in New York for the UN General Assembly's general debate, which kicks off tomorrow and finishes on 27 September. Shoukry will attend the assembly, and hold talks with other foreign ministers and UN officials.
It's looking like President Abdel Fattah El Sisi will address the assembly on Tuesday afternoon, according to a tentative schedule being carried by the National and WIO News, though there's still no word on whether he is heading to New York for the event. At least 83 world leaders are expected to attend in person, despite being encouraged by the UN to send in pre-recorded videos of their speeches instead.
THE BIG STORIES ABROAD- The diplomatic spat between France and the so-called Aukus axis is still front page news in the global press this morning. French officials are lashing out with barbed comments against longtime allies the US, Australia and the UK, after being incensed by Australia's move to renege on a 2016 promise to buy USD 50 bn worth of French-made submarines in favor of a new trilateral pact for nuclear-powered subs with its Anglophone friends. Reuters and the BBC both report that France has pulled out of upcoming defence talks with the UK, while US media say that the Biden administration is keen to talk to French President Emmanuel Macron to defuse the crisis, which yesterday saw France's foreign minister accuse the three countries of "duplicity" and "contempt."
There's plenty of talk about soaring natural gas prices in the front pages of the global business press this morning: The Financial Times is warning of the implications for European inflation, the Wall Street Journal is getting concerned about what will happen in the US this winter, while an imminent demise of many small British gas suppliers is headline news in the UK.
The 2021 Emmys was still underway in LA as of dispatch. Stay tuned for this afternoon's EnterprisePM for coverage.
*** IN CASE YOU MISSED IT-
EGX updates price closing mechanism: The EGX appears to have raised the ceiling over which a new closing price would need to be determined, in a new decision by the bourse issued yesterday (pdf).
Fears of Evergrande contagion continue: Investors expect indebted Chinese giant Evergrande to default on its interest payments this Thursday, potentially leading to collapse of the country's second-largest real estate firm, which has accrued some USD 300 bn in debt.
The Myers-Briggs Personality Type Indicator: Quackery or instruction manual?
CIRCLE YOUR CALENDAR-
IMF + EBRD webinar: Public Enterprises Minister Hisham Tawfik will speak during a webinar hosted by the IMF and the European Bank for Reconstruction and Development (EBRD) on Wednesday, 22 September at 3pm CLT. The gathering is running under title of "State-owned enterprises in the Middle East, North Africa and Central Asia," with Tawfik set to speak on the role of the state in the economy alongside five other panelists including the IMF's Middle East and Central Asia head Jihad Azour and the EBRD's head of external relations Alan Rousso. Check out the agenda here.
The Cityscape real estate investment conference gets underway this week at the Egypt International Exhibition Center. The event runs from Wednesday, 22 September through Saturday.
The Federal Reserve meets to review interest rates on 21-22 September. Pressure has been building on the Fed to take a more hawkish stance to combat inflation by bringing its stimulus programme to a (premature?) end and start raising interest rates earlier than planned. But a slight slowdown in US consumer price inflation last month could give the Fed a breather and relieve pressure for a policy change.
Check out our full calendar on the web for a comprehensive listing of upcoming news events, national holidays and news triggers.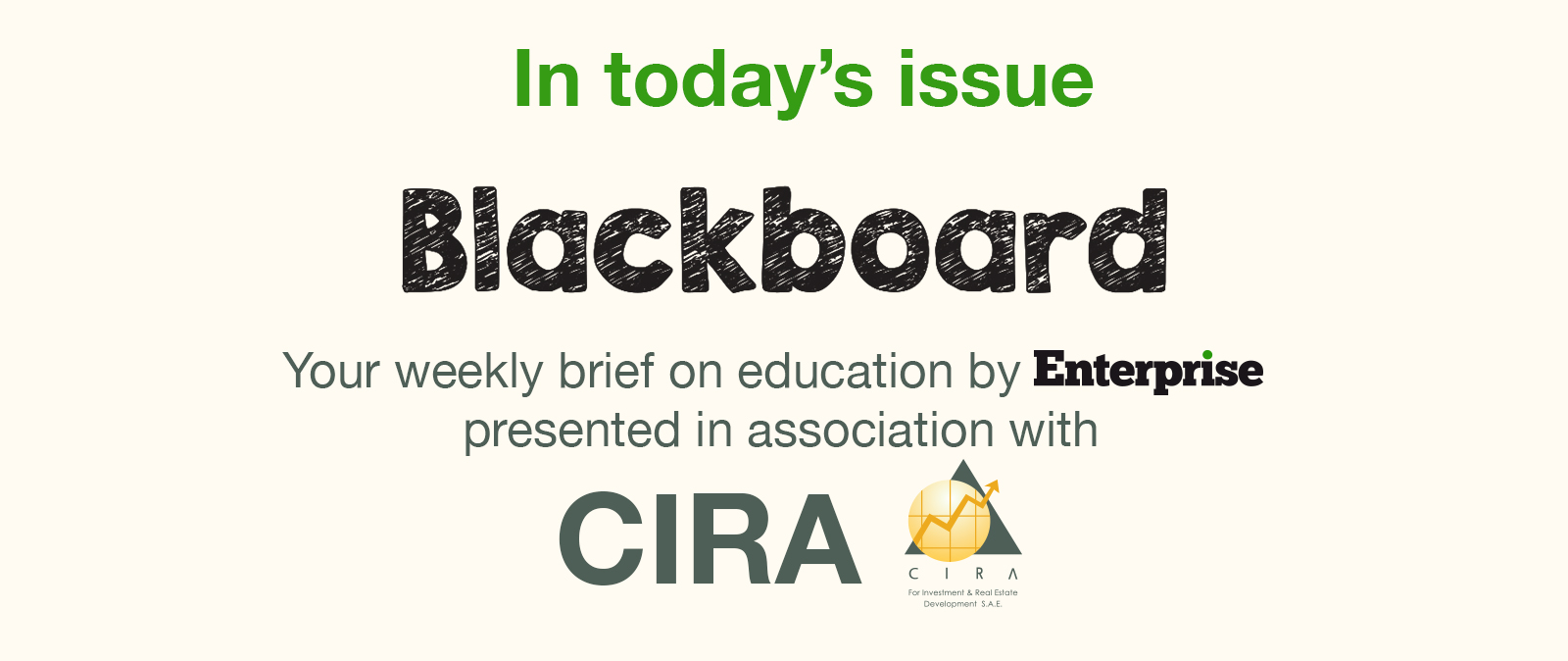 *** It's Blackboard day: We have our weekly look at the business of education in Egypt, from pre-K through the highest reaches of higher ed. Blackboard appears every Monday in Enterprise in the place of our traditional industry news roundups.
In today's issue: Boosting science, technology, engineering and mathematics (STEM) education has become a top priority for Egypt. Effective STEM education is all about using complex math and science concepts to solve real-world problems, with innovation being a key part of the process. Today, we take a look at some of the most innovative STEM education programs we've encountered in Egypt — many of which are programs or competitions that aim to make STEM learning fun for pre-university students.