Monday, 13 September 2021
THIS MORNING: Jitters in US markets hit Middle East stocks; EFG Hermes' fourth Virtual Investor Conference kicks off today; DiDi to launch in Egypt this week.
Good morning, wonderful people, and welcome to a very busy — and very hot — Monday. We're looking at a daytime high of 40°C today with a chance of high humidity. It should be fleeting, though: Our favourite weather app shows the mercury cooling back down to a more seasonal 33°C by Wednesday.
Two PSA's before we get underway this morning:
PSA #1- Please don't be a glasshole. Remember Google Glass, the "smart" glasses that allowed wearers to surreptitiously take photos? They've mercifully faded away, but Facebook is in the game now with glasses that allow you to (with a simple piece of tape) secretly snap photos and short videos of people around you. Wired and the New York Times have more.
PSA #2- Is Facebook a glitch in the Matrix? Or is it maybe the Matrix itself? And does it really matter when the first trailer for Matrix Resurrections has just been released (watch, runtime: 2:52). Keanu Reeves and Carrie-Anne Moss are back as Neo and Trinity while Neil Patrick Harris plays Neo's therapist. There's no sign of Lawrence Fishburne reprising his role as Morpheus.
Meanwhile: Daniil Medvedev claimed his first grand slam title yesterday after beating world no.1 Novak Djokovic in straight sets in the US Open tennis final. Medvedev's victory ends Djokovic's quest to become the first person in more than a generation to claim a calendar-year grand slam — the winning of the US, Australian and French Opens alongside Wimbledon in the same year. You can catch match highlights here (watch, runtime: 2:54).
WHAT'S HAPPENING TODAY-
EFG Hermes' fourth Virtual Investor Conference kicks off today and runs through to 21 September with the theme of "After Reflation — FEMs in 2022."
Environment minister speaks at AmCham: Environment Minister Yasmine Fouad will give a speech on strategies for generating green, private sector-led growth at AmCham's virtual monthly event tomorrow. Register here.
Ride-hailing app DiDi is launching in Egypt today, Al Arabiya reports. The Chinese company will launch in Alexandria before expanding to other areas of the country.
It's day four of the CIB Egyptian Squash Open today: There are eight matches on today as the bottom half of the men's and women's round three draws are decided. You can find the schedule here.
Sahara Expo: The five-day agricultural conference continues at the Egypt International Exhibition Center. The event wraps up on Wednesday.
THE BIG STORY ABROAD-
ARE WE LOOKING AT A FALL CORRECTION? The Wall Street Journal is the latest in the global financial press to warn that all is not well in the US equity markets, picking up this morning on the growing number of analysts predicting a bumpy autumn ahead. Strategists at big firms from Morgan Stanley to Citigroup, Deutsche Bank and Bank of America have all published notes detailing the risks in the current US stock market, as inflationary pressures raise the risk that the Federal Reserve could soon taper its stimulus program.
We covered this in more depth in yesterday's EnterprisePM, and we have more on yesterday's market activity below.
Democrats want to trim the Biden tax hike: Democratic lawmakers in the House want to reduce the Biden administration's proposed corporate tax hike, according to the Financial Times, which obtained a copy of the tax plan. Under the proposals, the corporate tax rate would rise from 20% to 26.5%, short of the 28% rate suggested by Biden. The Wall Street Journal and the Washington Post also have the story.
And lastly: The FBI has released a previously classified, yet inconclusive internal memo on its investigations into alleged Saudi government involvement in the 9/11 attacks, Bloomberg says. The document reveals links between the terrorists and one of Saudi Arabia's US diplomats but does not draw any conclusions on the allegations, which have long been insisted by family members of some of the victims of the attack.
FOR TOMORROW-
Tomorrow is the final day that shareholders in EK Holding can apply to convert the trading currency of their shares from USD to EGP. Since 15 June, shareholders have been able to apply through their custodians to switch the currency of their shares to EGP — but will still be able to collect their dividends in USD. The EGX will announce after 14 September the EGP rate at which the shares will be converted.
The UN General Assembly starts tomorrow in New York and runs through to 30 September. The general debate will take place from 20-28 September. Leaders from at least 83 countries are expected to attend in person — in contrast to last year, when the meeting was almost 100% virtual. There's no word yet on whether President Abdel Fattah El Sisi will attend in person or virtually.
iSheep rejoice: Apple is holding a virtual event on Tuesday where we can expect a new iPhone, new AirPods and probably a new watch. Apple has scheduled the event for 7pm CLT and shows it running for two hours. You can stream it here.
THIS WEEK-
It's interest rate week and 10 analysts we polled expect the central bank to leave rates on hold for a seventh consecutive meeting when CBE's Monetary Policy Committee meets on Thursday. Analyst pointed to the uptick in inflation and the pressure to maintain foreign inflows into Egyptian debt.
Israeli PM Naftali Bennett could be on his way to Cairo this week if Axios' Barak Ravid is to be believed. The Israeli journalist reported last week that Bennett could hold talks with President Abdel Fattal El Sisi this week, in what would be his first official visit to Egypt — and the first of any Israeli PM since Benjamin Netanyahu visited Hosni Mubarak just a few weeks before the 2011 revolution.
Check out our full calendar on the web for a comprehensive listing of upcoming news events, national holidays and news triggers.
MARKET WATCH- Jitters in the US stock market reverberated in Middle East equities yesterday: Saudi Arabia took the brunt of decline yesterday, with the Tadawul dropping 0.7%, though oil stocks saved the Saudi index from further losses, according to Bloomberg. Markets in Dubai, Bahrain, Kuwait, Tel Aviv and Egypt were all in the red at close on Sunday, while Oman's index was the only equities market in the region to end higher, gaining 0.1%.
US stocks had their worst week since June last week as higher-than-expected producer inflation data spooked investors.
There may be more where that came from later this week when the latest US consumer prices data is released tomorrow and retail sales figures land on Thursday, CNBC reports. Annual consumer prices are expected to have risen by 5.3% in August, a slight deceleration from July, while economists see monthly prices growing 0.4%.
This week's inflation data will have a huge say in what happens next week when the Federal Reserve meets to discuss interest rates. If inflation exceeds that expectation, pressure will ramp up on the Fed to take a more hawkish stance on tapering in its September meeting. "If the CPI is hotter than expected, it could make the difference between a September announcement for tapering or waiting to November," one industry player told the broadcaster. The two-day Fed meeting takes place on 21-22 September.
---
***IN CASE YOU MISSED IT-
Shippers get biggest paydays since 2008: The global demand for vessels is soaring along with the earnings of the shipping industry as the demand for goods bounces back but supply chains continue to be hampered by covid-19.
Wall Street banks get nervy on stocks: Some analysts are beginning to think that US equities peaked, after stocks last week saw their worst performance since June.
On the tube: Nine perfect strangers is a star-studded psychological thriller that asks: What can broken people offer each other?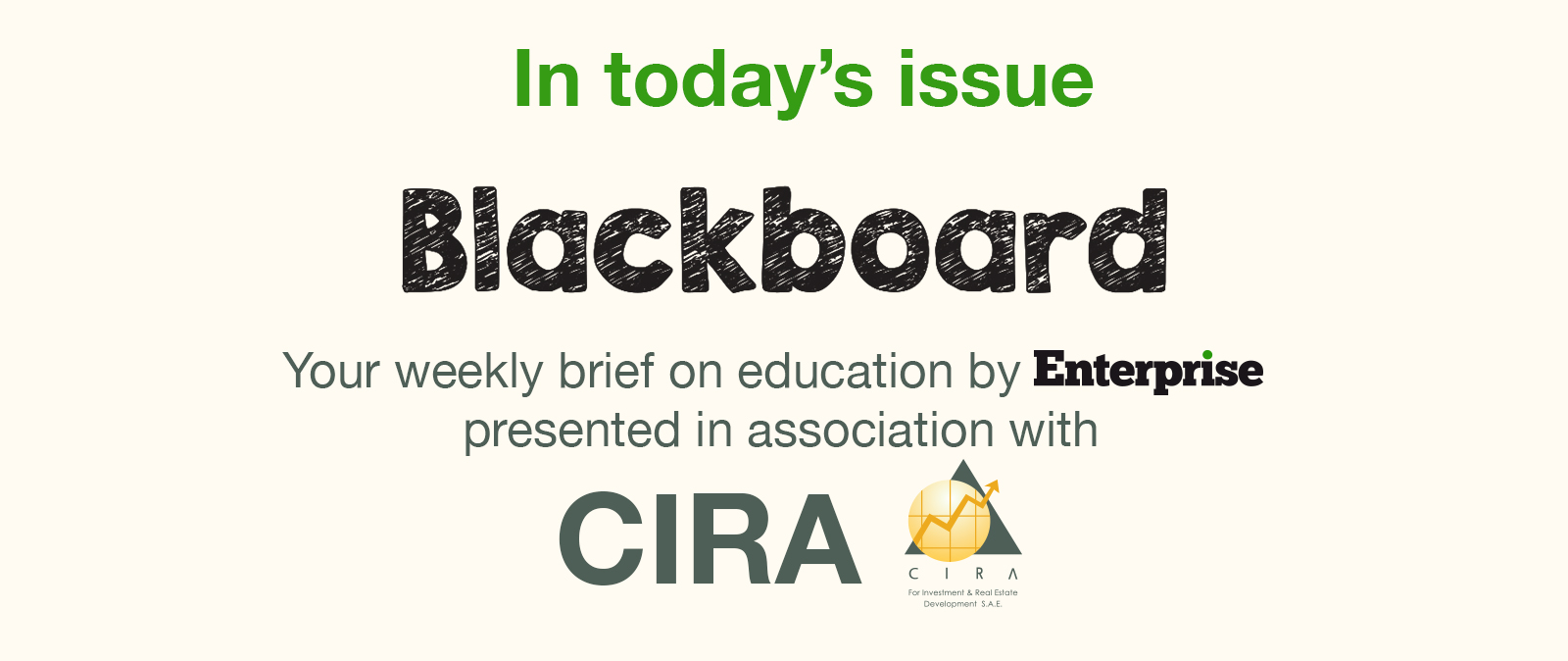 *** It's Blackboard day: We have our weekly look at the business of education in Egypt, from pre-K through the highest reaches of higher ed. Blackboard appears every Monday in Enterprise in the place of our traditional industry news roundups.
In today's issue: Last month, we explored the challenges faced by private K-12 school operators when expanding outside of Cairo and Alexandria, which included lower income levels and the lack of availability of land. The situation is a little different for private university education. We look into how the nature of the business coupled with greater support from the government on land and red tape makes university expansion in governorates more possible.