Wednesday, 15 September 2021
THIS MORNING: A whole lotta M&A; Interest rate day tomorrow; UNSC GERD statement imminent? US inflation slows in August.
Good morning, ladies and gents-
We've got a whole lotta M&A for you this morning: From Aldar and ADQ finally showing their hand with their SODIC takeover bid, to Elsewedy Electric's takeover of a local cablemaker, to ADQ finalizing its acquisition of a 75% stake in Atyab owner Ismailia Agricultural and Industrial Investments, we have an epic M&A Watch just down below.
Dominating the conversation internationally: It looks like the Biden administration is about to confiscate some of our aid due to human rights conversation. More on this in the Politics section, below.
WHAT'S HAPPENING TODAY-
EFG Hermes' fourth Virtual Investor Conference continues today, running through to 21 September with the theme of "After Reflation — FEMs in 2022."
It's day six of the CIB Egyptian Squash Open: The bottom half of the women's and men's quarter-finals will be played today, before the semis kick off tomorrow. The final will be played on Friday 17 September. You can find the schedule here.
It's the final day of the Sahara Expo: The five-day agricultural conference is being held at the Egypt International Exhibition Center.
THIS WEEK-
Tomorrow is interest rate day here in Egypt and all 10 analysts we polled expect the central bank to leave rates on hold for a seventh consecutive meeting when it meets on Thursday. Analysts pointed to the uptick in inflation and the pressure to maintain foreign inflows into Egyptian debt.
The UN Security Council is preparing to issue an imminent statement on the dispute over the Grand Ethiopian Renaissance Dam (GERD), Al Shorouk reports, citing informed sources.
But by the sounds of it, it won't contain anything particularly groundbreaking: Sources say that the statement calls on Egypt, Ethiopia and Sudan to return to African Union-led negotiations and finalize a binding agreement on the filling and operation of Ethiopia's hydropower mega-project on the Blue Nile.
This is exactly what the council said in July when world powers took a neutral position on the conflict and backed the AU process, despite concerted lobbying by Egypt and Sudan for a stronger stance against Ethiopia, which recently completed the second filling of the dam's reservoir in July. GERD talks have been gridlocked in recent months after Sudan and Egypt lost faith in the AU as a mediator and called for new players to be brought in to mediate the process. Ethiopia has refused and wants to continue with the current format.
The Egyptian-Libyan Higher Committee is set to meet for the first time since 2009 on Thursday. A statement from the Libyan ministry of economy and trade says that the committee meeting is scheduled for Thursday 16 September in Cairo. Meanwhile, Egypt's International Cooperation Ministry announced the start of preparatory sub-committee talks ahead of the session. The committee was revived this spring following the restoration of official ties between Egypt and Libya.
Check out our full calendar on the web for a comprehensive listing of upcoming news events, national holidays and news triggers.
MARKET WATCH-
Fed gets a breather as US inflation slows: US consumer prices rose at a slower rate in August, fresh data from the Bureau of Labor Statistics showed yesterday. In line with expectations, annual CPI inflation slowed to 5.3% last month from 5.4% in June and July, in an indication that the recent upward trend has peaked.
Sighs of relief were likely heard over at the US Federal Reserve at the softest increase in CPI in seven months ahead of its September meeting. Pressure had been building on the Fed to take a more hawkish stance to combat inflation by accelerating the taper of its bond-buying stimulus in order to start raising interest rates next year.
That said, prices are still rising, with some analysts pointing out that one month of cooler CPI figures will not put inflationary worries to bed. "The 'is it transitory debate' is far from over but at least, this more moderate gain in consumer prices will give the Fed some breathing room next week," one senior economist told Bloomberg. "But not for long."
*** IN CASE YOU MISSED IT-
Apple releases emergency iPhone update: The company pushed out the software update after they uncovered a "zero-click" ransomware attack that runs through iMessage.
Are we creeping towards a continuous working week? The downside to our WFH experiment may be increased working hours and blurred boundaries between paid work and personal life.
Meet our analyst of the week: Aya Samy, senior investment analyst at Misr Capital.
---
Apple unveiled a few new updates to some of its flagship products in its "California Streaming" event yesterday. Here's what the company's rolling out as the holiday season approaches:
A new iPhone: The new iPhone 13 models held few surprises, as the company announced performance updates to the iconic smartphone in lieu of groundbreaking new design features. The iPhone 13, which will cost at least USD 699 (and USD 999 for the iPhone 13 pro), looks basically the same as the iPhone 12 but boasts a chip that Apple says is 50% faster than competitors, a higher-quality camera, and a smaller cutout at the top of the display screen.
The 9th generation iPad: The updated iPad comes with the new A13 bionic chip, which Apple says is 20% faster than the older A12.
A bigger watch: The seventh generation of Apple's smart watch boasts a bigger screen, faster charging and new colours.
What we didn't get: There was no update on AirPods, nothing on Macs or Macbooks, nor on the anticipated addition of satellite capabilities to the iPhone.
You can rewatch Tim Cook's keynote here (watch, runtime: 1:18:46).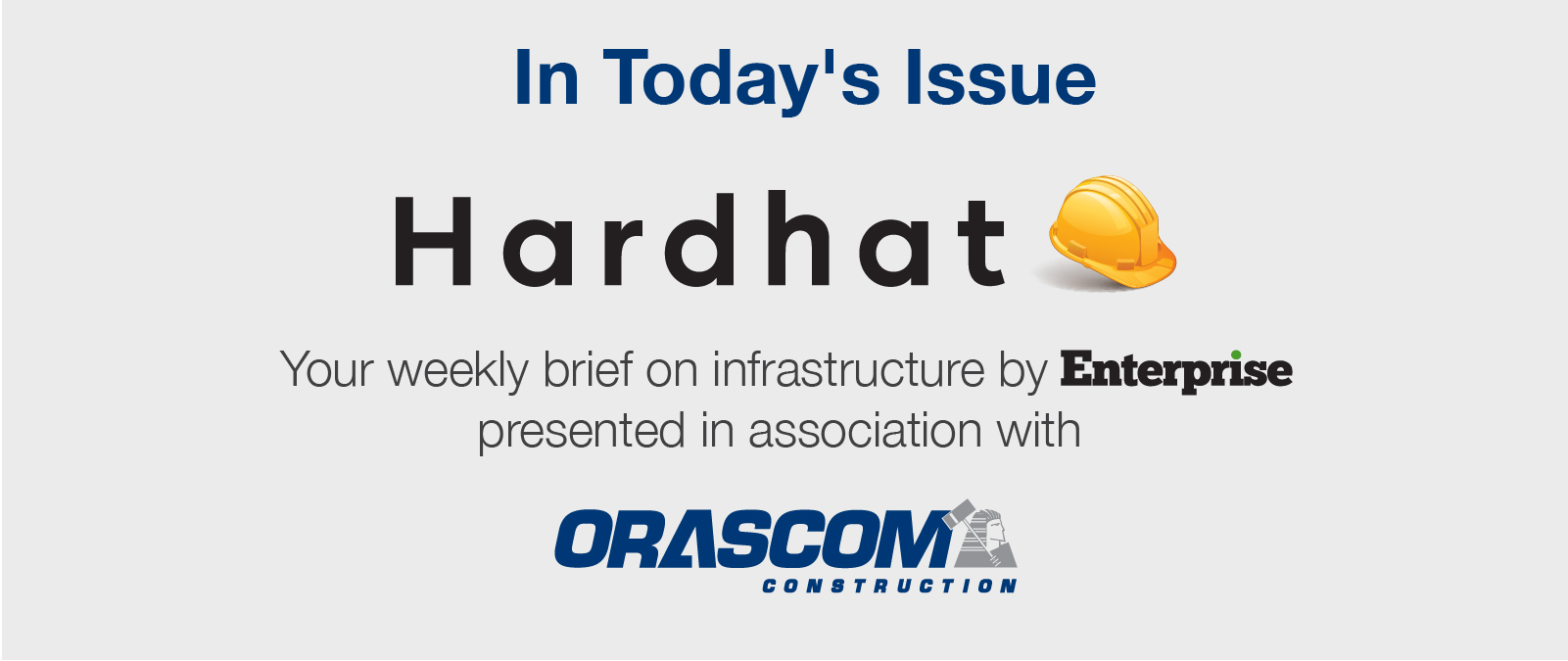 *** It's Hardhat day — your weekly briefing of all things infrastructure in Egypt: Enterprise's industry vertical focuses each Wednesday on infrastructure, covering everything from energy, water, transportation, and urban development, to social infrastructure such as health and education.
In today's issue: Following five years of falling demand, local consumption of cement is finally starting to pick up and prices are rising. But with increasing input prices squeezing margins and the jury still out on the effectiveness of the new supply cuts, the sector remains under pressure.