Monday, 16 November 2020
What we're tracking on 16 November
Good morning, friends. We have a ton of investment news for you this morning and a welcome development on the unemployment front. The investment news is particularly encouraging, suggesting to us that for all of our collective grumping and hand-wringing, lots of you — Egyptian and foreigner alike — see opportunity in 2021.
Meanwhile: Plenty of listed companies took earnings to market yesterday, shooting buzzer-beaters on the last day of the season for 3Q. And the pro-government Mostaqbal Watan party swept the second round of the parliamentary elections. We have the rundown on all this and more in this morning's Speed Round, below.
Have we mentioned, lately, how much we love writing to all of you each morning? It is an honour for us that so many of you choose to start your day with Enterprise. Thank you, everyone.
*** HOW HAS BLENDED LEARNING BEEN TREATING YOU SO FAR? Tell us what you think. We've put together a quick survey asking parents and students how things are going on the blended front. We'll have the results in an upcoming issue of Blackboard. And as is our custom, we'll draw the names of three respondents who will receive an Enterprise mug and a bag of our favourite coffee from our friends at 30 North.
Tap or click here to take the survey. It's quick and painless, we promise.
---
The Health Ministry reported 220 new covid-19 infections yesterday, down from 228 the day before. Egypt has now disclosed a total of 110,767 confirmed cases of covid-19. The ministry also reported 11 new deaths, bringing the country's total death toll to 6,453. We now have a total of 101,046 confirmed cases that have fully recovered.
Egypt has welcomed over 500k tourists since international flights resumed on 1 July and none have been infected with covid-19, Tourism Minister Khaled El Enany told Ahmed Moussa on Sada El Balad TV on Saturday (watch, runtime: 4:04). Some 3-4k tourists have visited Egypt each day, with arrivals from Eastern Europe partially making up for the absence of visitors from Western Europe, he said.
Emirates airline is taking up the challenge of trying to transport covid-19 vaccines that have a cold chain requirement, such as Pfizer and BioNTech's vaccine candidate which must be stored at around -70°C. Emirates President Tim Clark told CNBC that the airline has freezers capable of storing the vaccine and is designing containers to transport it on its planes.
The world's largest trade bloc is now a thing: 15 Asia-Pacific nations yesterday signed the Regional Comprehensive Economic Partnership (RCEP), which covers almost a third of the world's population and GDP. The pact will gradually reduce import tariffs on more than 65% of goods, and standardize rules governing e-commerce, intellectual property and financial services. RCEP needs to be ratified by at least six Asean nations and three non-Asean states before it comes into force. You can find the details of the agreement here (pdf).
The Greater East Asia Co-Prosperity Sphere, Mark II? RCEP could strengthen China's commercial ties with its neighbours and cement its position as the region's (world's?) economic powerhouse, Reuters suggests. The agreement brings rivals China, Japan and South Korea within the same trading partnership for the first time ever in what Beijing described as a "historic breakthrough." The US is notable in its absence in both the RCEP and the parallel Trans-Pacific Partnership, which was abandoned by Trump in 2017. Washington now finds itself on the outside of two largest trade groups on earth centered on the world's fastest-growing region.
---
GOOD NEWS FOR EGYPT- Yield-hungry investors are piling back into long-term EM debt following months of risk aversion caused by the pandemic, according to Bloomberg. Several factors are influencing the renewed appeal of these bonds. Chief among them are more US policy certainty following the projected Biden win and nearing prospects of a vaccine.
This pivot toward long-term bonds comes as EM governments have been primarily relying on short-term financing, with lenders unwilling to take on long-term positions. It could prove very helpful for EM governments, who could benefit from longer-tenor debt as they're faced with nearly USD 3 tn-worth of local-currency debt due to mature next year.
This will be music to Egypt's ears, whose debt diversification strategy aims to shift the country's borrowing towards longer-tenor debt to drive down its annual debt servicing bill.
Paradoxically, gold prices could continue their bull run into next year. That's according to Goldman Sachs analysts, who wrote in a note last week that heightened inflation expectations driven by post-covid fiscal stimulus, a weakening greenback and increasing demand for the precious metal in emerging economies will likely send prices higher through 2021.
Meanwhile, Bloomberg's magic 8-ball is spewing out the words "China" and "emerging markets." In 2035, China is projected to overtake the US as the world's largest economy and strongest voice on the political arena, Bloomberg Economics forecasts in a piece interestingly titled An Economist's Guide to the World in 2050. The rise of China, and perhaps a future India, could see emerging markets overtaking the developed world's contribution to global GDP by 2042. If you are the proponent of economics as tea-leaf reading, you'll get a kick out of this read.
WATCH THIS SPACE- The guys who took down Dubai's NMC Health have some choice words for the investment fad of the year: SPACs. Shortseller Muddy Waters has denounced blank-check companies as a "present-day money grab" in a report explaining why they shorted healthcare company MultiPlan, which went public this year via a SPAC. The popularity of the acquisition vehicles has skyrocketed this year, accounting for around half the money publicly raised in the US, the Financial Times says. Find out more about SPACs in our explainer here.
The world's super-rich are prepping their bug-out plans and superlux shelters for the end of the world. From expensive tailored medical services, specialist real estate agents and private hideaways, those who can afford it are coughing up for personal services to protect themselves against epidemics and the increasingly disastrous effects of climate change, the Financial Times reports. Global Rescue, an evacuation response company on the US West Coast, has signed up more clients in the past five months than in the company's entire 16-year history, as prepping goes mainstream among the elite.
---
TRUMP NON-TRANSITION- The Donald is continuing to deny that he lost the US election, despite briefly admitting that Joe Biden won the vote. "He only won in the eyes of the FAKE NEWS MEDIA. I concede NOTHING! We have a long way to go. This was a RIGGED ELECTION!" he raged on Twitter, a few hours after writing that "He won because the Election was Rigged [sic]."
SpaceX successfully launched its second crew into space yesterday: Three Americans and one Japanese astronaut were on board the craft destined for the International Space Station in what the Associated Press describes as the "first full-fledged taxi flight for NASA by a private company."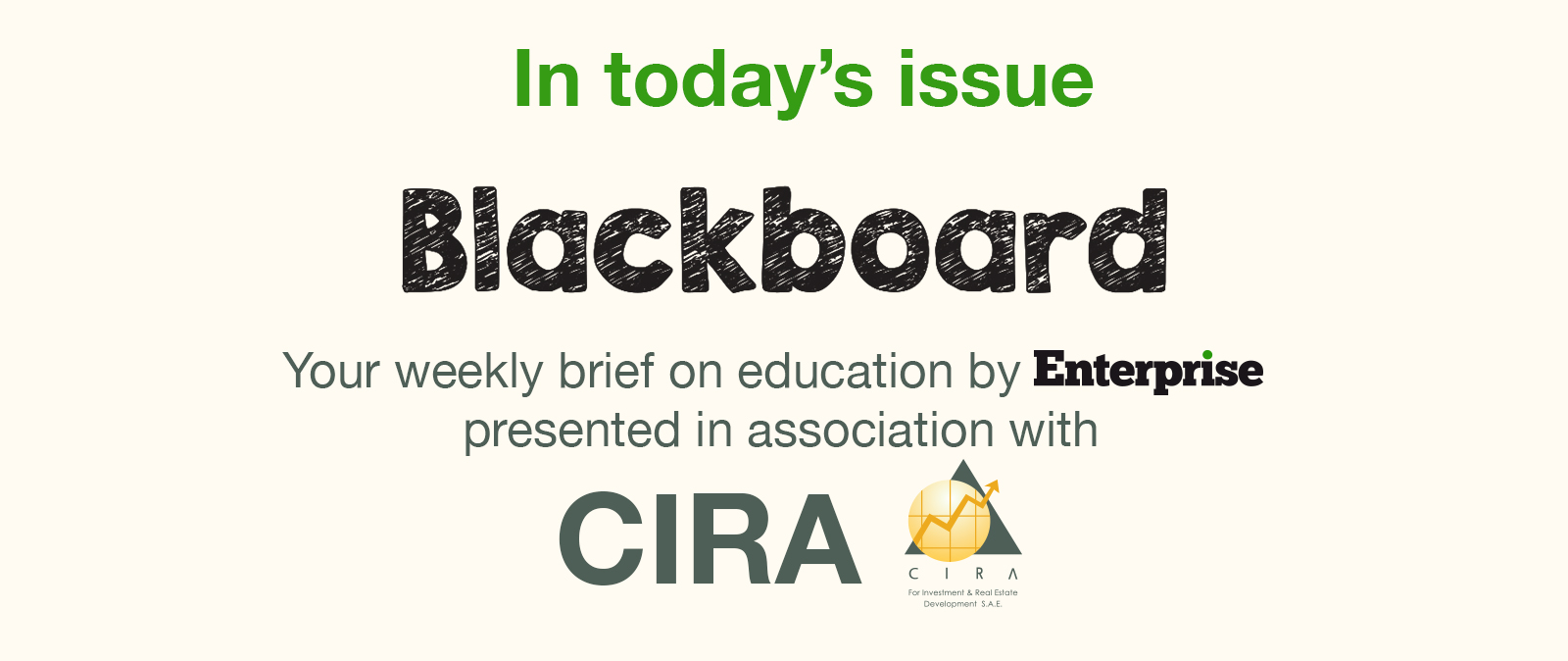 *** It's Blackboard day: We have our weekly look at the business of education in Egypt, from pre-K through the highest reaches of higher ed. Blackboard appears every Monday in Enterprise in the place of our traditional industry news roundups.
In today's issue: Following up on our look last month at education loans for the K-12 students, we look at whether Egypt's banking sector can do more to help university students.