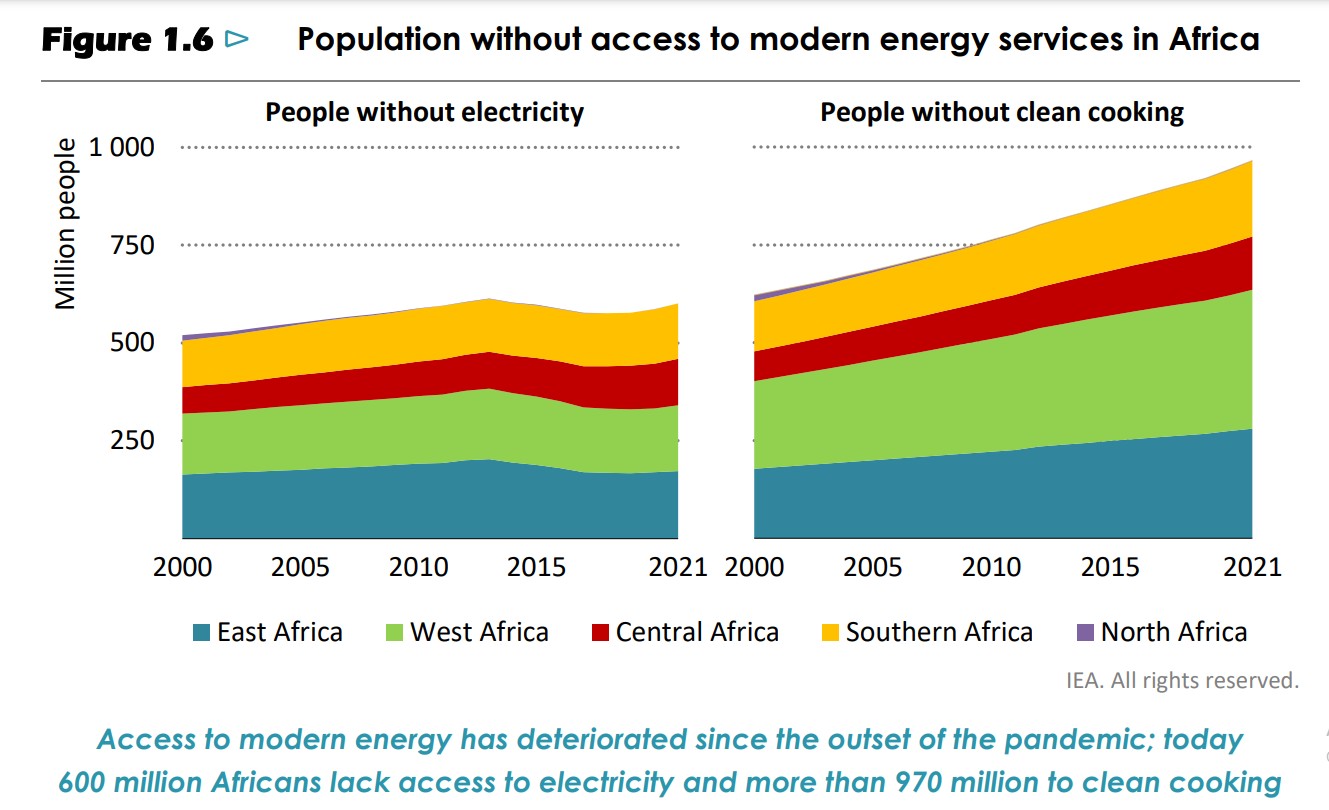 What does Africa need to do to ensure universal access to energy by 2030 while still meeting climate goals? That's the question posed by a recent report (pdf) from Paris-based multilateral energy organization the International Energy Agency (IEA). The report imagines what the continent's energy mix will look like by the end of the decade in a so-called Sustainable Africa Scenario (SAS). In this scenario, African countries manage to grow their energy use, expand electricity access to everyone, and still achieve their Nationally Determined Contributions (NDCs) — emissions reduction targets pledged as part of the landmark global Paris Agreement on addressing climate change. (Remember: We just released our updated NDCs ahead of hosting COP27 this November.)
Some African countries still have a long way to go on "modern energy access:" Some 600 mn Africans — c. 43% of the continent's total population — lacked access to electricity in 2021. The vast majority of those (some 590 mn people) live in sub-Saharan Africa. Meanwhile, nearly three in four people in Africa lack access to clean cooking fuels.
We've already secured universal modern energy access here at home: All Egyptians have had access to electricity and clean cooking fuels since at least 2016, according to World Bank data. We're still working on expanding the coverage of our grid.
But that doesn't mean we've got it all figured out: Energy access is just the first step — and we still have a long way to go on upping the renewable sources in our energy mix, improving efficiency, and winding down major electricity subsidies that could pressure state finances, the IEA report notes. Here are the report's key points on what a sustainable energy sector could look like for us by 2030:
#1- Renewables like solar will account for most new capacity. Africa currently hosts 60% of potential solar resources but only 1% of PV solar capacity globally, according to the IEA. By 2030, solar power should lead the continent's energy mix, while renewables (including solar, wind, geothermal, and hydropower) will account for more than 80% of new power generation capacity. Solar and wind power combined will make up 27% of overall power generation — eight times their present proportion in the continent's energy mix.
We're already leading the way on wind + solar: African solar PV generation peaked in 2019 on the back of the completion of our mega 1.65 GW Benban park, the IEA notes. By some measures, Egypt generates more wind and solar power than any other Arabic-speaking country, and our installed renewable capacity is set to rise by 68% or 4 GW in the coming five years (despite a road bump during the pandemic, when the government set limits on renewables generation to address our overcapacity issue). Meanwhile, African countries including Algeria and Morocco are building wind and solar capacity fast — so fast their capacity could eclipse ours by the end of the decade.
Phasing out coal will also be key to reaching the continent's sustainable energy goals — something we have yet to do. Our latest NDCs do pledge to accelerate "the scale-up of on-grid renewable energy by reducing coal capacity in the generation mix," including by expanding residential renewables generation with more rooftop PV panels and encouraging the use of LED lighting.
More African interconnection could allow us to solve our electricity glut: Electric grids that are heavily dependent on renewables need to be able to handle more variability (peaks and troughs in the level of generation due to weather conditions), the IEA notes. Strengthening domestic grid infrastructure is therefore key, as is linking the grids of neighboring countries, it says. Sharing more energy with our African neighbors could offer us a way to continue developing renewables despite our oversupply issue — and the government is already eyeing expanding regional interconnection projects (like those underway with Sudan, Greece, Cyprus, and Saudi Arabia) as well as shifting to a smart grid to improve efficiency.
#2- Now is the moment to capitalize on natgas: Egypt and Nigeria are set to drive a 15% expansion in natural gas production on the continent this decade, before output starts to fall from the mid-2020s as global demand drops off on the back of the transition away from fossil fuels, the IEA says. If African countries are able to position themselves as Europe's replacement for even 20% of the gas it used to get from Russia, demand for African gas would increase by one-third by the end of this decade, the IEA says. But Africa's ability to exploit its natural gas will hinge on its ability to attract investors fast to develop its resources, it adds, before other countries move in to fill the gap.
We don't need to be told twice: We've been striking agreements left, right, and center on ramping up the exploitation of our natural gas and getting more of it exported to Europe. We're cutting down on domestic electricity consumption to bump up exports to Europe and secure some extra FX liquidity, and we're also boosting production capacity. The IEA report namechecks talks with Eni to ramp up gas imports from Egypt to Italy and the rest of Europe. We've also struck a landmark agreement that will see Israel send more gas to Egypt's LNG facilities before exporting it on tankers to European shores.
#3- Green hydrogen is about to become competitive: Falling hydrogen production costs could mean that the continent will be able to deliver green hydrogen to the EU at "internationally competitive price points" by 2030. As the report acknowledges, we're leading the continent when it comes to this nascent sector: The Madbouly government has signed more than USD 10 bn of preliminary agreements for projects with international partners, and is expected to announce more at COP27.
The price tag for a sustainably powered Africa? Securing modern energy access for all Africans by 2030 would require only USD 25 bn of investment a year — the equivalent of 1% of global energy investment or constructing one large liquefied natural gas (LNG) terminal, according to the IEA. But to do that while also achieving all the other sustainability goals in the SAS would take USD 190 bn annually from 2026 until 2030.
That means we need more finance: "Multilateral development banks must make increasing financial flows to Africa an absolute priority" by upping concessional finance, helping to double domestic financial markets, and using innovative financing methods like carbon credits (something we're already exploring), the IEA says. Debt burdens in some African countries remain an investment risk, it adds.
---
Your top green economy stories for the week:
Prime Minister Moustafa Madbouly has chosen a panel to oversee smart and green projects nationwide as part of an initiative that aims to connect national projects with financing institutions ahead of COP27.
Each governorate and major city will establish a central park under the plan to plant 100 mn trees.