Thursday, 17 November 2022
We're almost at the COP finish line
Good afternoon, wonderful people, and welcome to the slowest newsday in our living memories — which no longer extend to before the pre-COP27 era. We hope you're gently winding down into the weekend like we are.
REMEMBER- Tomorrow is the last day of COP (unless the conference is extended in order for delegates to reach the agreement that has so far eluded them.)
THE BIG STORY TODAY
The International Cooperation Ministry has signed nine cooperation agreements with Germany worth a combined EUR 160 mn, according to a ministry statement. Signed on the sidelines of COP27, the agreements include grants and loans for projects in waste management, irrigation and water conservation, education, infrastructure, public administration and digital transformation, and to boost competition in the private sector.
THE BIG STORY ABROAD
Good news for global grain markets: Russia has agreed to extend the UN- and Turkey-brokered pact to allow the export of Ukrainian grain through the Black Sea amid the Russia-Ukraine war, UN Secretary-General António Guterres said in a statement. The agreement — which was briefly halted by Russia earlier this month following a drone attack on its Black Sea fleet — had been set to expire on Saturday, 19 November. It's not yet clear if the extension of the agreement was secured on the same terms or new ones, or for how long it will run.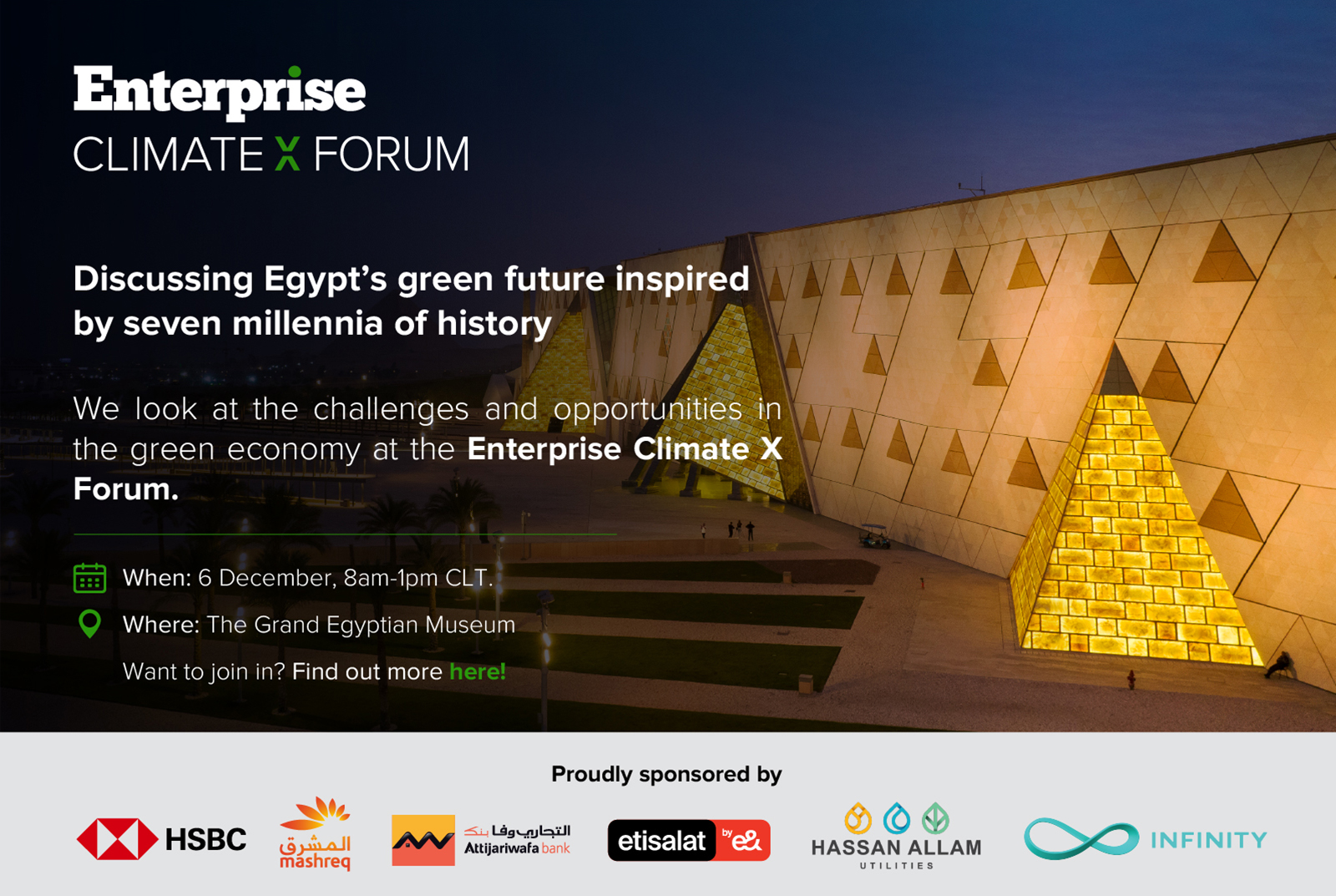 From Sharm to the Grand Egyptian Museum — the business community will move the talk about a green transition ahead at the Enterprise Climate X Forum, which takes place at the Grand Egyptian Museum on Tuesday, 6 December 2022. We can think of no better place to discuss the world's most important industry than in a world-class museum that stands as a testament to our nation's ability to persevere (and innovate) for seven millennia. And it seems you can't either, judging by the responses and statements of support we've been getting.
What's the Enterprise Climate X Forum? It's our first industry-specific conference, where CEOs, top execs, investors, bankers and development finance folks have the chance to talk about how to build a climate-centered business — and how to make sure your business continues to have access to the funds it needs to grow. You can learn more on our conference website here.
Some of the biggest names in business and finance are on board — are you? If you're a C-suite exec, business owner, climate professional, DFI staff, investor or banker, please email us at climatexrsvp@enterprisemea.com to signal your interest, letting us know your name, title and where you work.
** CATCH UP QUICK on the top stories from today's EnterpriseAM:
Infinity, Hassan Allam Utilities and Masdar signed a framework agreement for a 2 GW green hydrogen plant that will be built in the Suez Canal Economic Zone and is set to be operational by 2026.
Initial agreements for green hydrogen and wind power projects worth up to USD 119 bn were inked during COP27. We don't have a clear breakdown on how they will be financed yet since the projects are still in the early stages of development.
East Port Said port is getting bigger: A consortium made up of Sky Investments and Reliance Logistics will establish a USD 65 mn multi-purpose terminal at East Port Said port under a contract signed with the Suez Canal Economic Zone.
???? CIRCLE YOUR CALENDAR-
Good news for Upper Egypt startups: Applications open today for Uplift4UpperEgypt — a startup program run by Orascom's Gemini Enterprises Africa, in partnership with the Sawiris Foundation, aimed at businesses in Upper Egypt, according to Al Mal.
If you're self-employed, you have to register in the Tax Authority's e-invoice system by 15 December. This includes self-employed doctors, engineers, lawyers, and artists, the Egyptian Tax Authority said in a statement. Only e-invoices will be considered for VAT deduction or refunds as of 1 April, 2023.
What e-invoicing system? In late 2020, the Tax Authority launched a pilot program for B2B e-invoicing with 134 companies, before expanding the system to all large taxpayers in July 2021. All B2B and B2C invoices across the country should be fully automated by December. We have a primer on the system, its purpose, the timeline of implementation along with a list of phase one companies here.
Check out our full calendar on the web for a comprehensive listing of upcoming news events, national holidays and news triggers.
☀️ TOMORROW'S WEATHER- The mercury will rise to 25-27°C on Friday and Saturday, with nighttime lows in the 15-16°C range over the weekend, according to our favorite weather app.