Wednesday, 2 November 2022
THIS MORNING: EGP at 24.24 + Mubadala Energy to set up a regional HQ in Egypt
Good morning, wonderful people, and welcome to another very brisk news day. We have a bit of everything this morning, from M&A to investments in energy, and the imminent release of some goods from customs.
Also today: It's PMI and Fed day (as we note below) and the second-to-last business day before COP27 kicks off — there will be plenty for us to think about together over the next 48 hours before the news storm that is COP begins.
---
MORE OF THIS, PLEASE Mubadala Energy is going to set up a regional headquarters in Cairo, CEO Mansoor Al Hamed told Oil Minister Tarek El Molla. Mubadala Energy (formerly known as Mubadala Petroleum) also wants to invest in our renewables and LNG sectors, the Oil Ministry said.
In context: Mubadala's move underscores the success of the Oil Ministry's consistent, focused effort to transform Egypt into an energy hub for the Eastern Med. The Oil Ministry understands long-term planning horizons and has for years helped lead the charge to turn us into a significant exporter of LNG (ours and more from Israel). Together with the Electricity Ministry, officials are now aiming higher, positioning us as the region's premier energy hub by adding electricity to the mix (we have excess generation capacity and links in place or coming to Europe, Jordan, Sudan and Saudi Arabia, among others) and getting into the burgeoning green hydrogen and green ammonia markets.
Other industries should follow suit. Our rents, abundance of talent and land, and geographic location make Egypt an ideal base for regional and multinational countries that want to export to (or otherwise do business in) any two of Southeastern Europe, the GCC and Africa. It's almost like — if we thought about it and were focused — we could become a magnet for FDI and exports…
---
EGP WATCH- The EGP edged slightly lower against the greenback yesterday, slipping another 0.2% to close the day at 24.2417, according to central bank figures. The currency has now fallen 22.6% since the central bank moved to what it called a "durably flexible" exchange rate last Thursday, and is down 53.6% since the initial devaluation in March.
PSA #1- The always-on-point Charlie Robertson is doing a talk on his new book, The Time Traveling Economist tomorrow (Thursday, 3 November) at 5pm CLT. The chat will "outline what has held Egypt back in the 20th century and why we should expect a boom time for the economy from about 2025-30 onwards," Charlie says. The talk is being hosted by the Egyptian Private Equity Association's Sara Badran and you can sign up here.
PSA #2- There is no rain in the Cairo forecast for today after the surprise showers yesterday in the capital city. Look for a high today of 26°C in Cairo and Alex (29°C in El Gouna) and an overnight lwow of around 14°C.
HAPPENING TODAY-
It's PMI day: We'll know how Egypt's private sector fared in October tomorrow when S&P Global releases the latest purchasing managers' index at 6:15 CLT. A 22-month contraction in private sector activity didn't show signs of abating in September as high inflation continued to weigh on demand and output.
The Arab League summit wraps in Algeria: President Abdel Fattah El Sisi is among the attendees at the regional summit, which will be the first since the start of the covid-19 pandemic two years ago. Attendance isn't exactly strong this year, with a third of Arab leaders absent from the gathering for various reasons, while a diplomatic spat between the hosts and Morocco mean that the chances of any diplomatic breakthroughs are slim.
Yesterday: El Sisi discussed COP27 with UN Secretary-General Antonio Guterres on the sidelines of the summit, according to an Ittihadiya readout that was otherwise short on details.
Adipec 2022 continues in Abu Dhabi: Expect more headlines today from Oil Minister Tarek El Molla who is in the Emirati capital for the oil and gas expo. Highlights from day two of the conference:
Egypt plans to hold new international tenders for oil and gas exploration before the end of the year, El Molla told Al Arabiya (watch, runtime: 1:55). The tenders will cover exploration blocks in the Mediterranean, Western Desert and the Eastern Desert, he said. Egypt will also hold an international tender for minerals other than gold in the Eastern Desert before the end of the year, he revealed.
Egypt to export Libyan gas? Libya's National Oil Corporation is considering building new gas pipelines to Damietta — home to one of Egypt's two LNG facilities — and Greece, Chairman Farhat bin Qadara told CNBC Arabia.
IN THE HOUSE-
Simplifying property registration in new cities: MPs could take a final vote today on amendments that will simplify the real estate registry and notarization process in new urban communities. Under the changes, owners of property and plots of land in new cities won't be required to interact with the real estate registry and notarization offices and will only need to submit registration paperwork to the New Urban Communities Authority (NUCA). The move is aimed at creating a more attractive environment for private investment in new cities, said Ibrahim El Heneidy, who chairs the House Constitutional and Legislative Affairs Committee. MPs gave preliminary approval to the bill yesterday.
Local Development Minister Hesham Amna will be in the hot seat today, answering MPs' questions on the growing rate of illegal construction, the proliferation of garbage in the streets, and what the government is doing to prepare for what meteorologists suggest could be heavy rainfall and floods this winter.
It's Fed day: The US Federal Reserve is expected to announce its fourth consecutive 75-bps interest rate hike at the end of its two-day policy meeting later today. Recent data has shown that inflation continued apace in September despite the central bank raising rates by 300 bps over the past seven months, all but guaranteeing another hawkish move today. A 75-bps hike would raise the central bank's target range to 3.75-4% — its highest level since early 2008.
How long will the Fed keep this up? Analysts are again warning about the possibility of a US recession, which will only get more severe the longer the Fed tries to fight inflation with aggressive rate hikes. The Financial Times has the story.
The Bank of England is expected to follow suit tomorrow in what Bloomberg says would be its largest rate-hike since 1989.
The BOE is the canary in the coalmine: The BOE yesterday became the first major central bank to begin unwinding its massive GBP 830 bn bond portfolio built up via quantitative easing since 2008. The central bank sold GBP 750 mn worth of bonds yesterday in an auction that was more than 3x oversubscribed, Bloomberg reported. "Tightening monetary policy through the interest-rate channel is tried and tested," Paul Hollingsworth, chief European economist at BNP Paribas, told the news outlet. "With [quantitative tightening], central banks are entering uncharted waters — the risks of unintended consequences are clearly higher."
REMEMBER- There's no interest rate meeting here at home this week after the Central Bank of Egypt raised rates by 200 bps at an extraordinary meeting last Thursday.
COUNTDOWN TO COP (4 days to go)-
Compensation to emerging economies for climate loss and damage looks increasingly on track to be the #1 topic of discussion at COP27, Enterprise Climate reports this morning.
G20 nations are backsliding on climate pledges: Financing out of G20 countries for fossil fuels rose 16% in 2021 to USD 693 bn, delivering a setback to global climate pledges, according to a Bloomberg report. This is the highest amount of annual financing since 2014. Such financing "distorted prices, encouraged potentially wasteful use and production of fossil fuels, and resulted in investment into long-lived, emission-intensive equipment and infrastructure," the report's analysts said.
GFANZ wants G20 nations to do better with their climate ambitions: The Glasgow Financial Alliance for Net Zero (GFANZ) has called on G20 policymakers to set more ambitious climate targets and to publish more detailed decarbonization strategies, according to Reuters. Current targets set by G20 countries are not enough to meet global climate goals.
Our friends at the UAE's Mashreq Bank are now sponsors of COP27 after the bank signed an MoU with Egypt's COP Presidency, according to a statement (pdf). Mashreq will take part in panel discussions on Finance Day (9 November) and Energy Day (15 November). It will also hold separate discussions with customers and partners on the ground to provide guidance and advice for those exploring sustainable financing, the statement adds. The bank has facilitated the provision of some USD 11.7 bn in sustainable finance across the GCC, Africa, Turkey and India in the past two years, according to the statement.
What they said: Group CEO Ahmed Abdelaal noted that beyond the clear need to "protect people and planet," Mashreq sees "the transition to a low carbon and resilient economy as a real opportunity to double our commitment to sustainable finance and invest in sectors that will drive economic growth and create the jobs of tomorrow."
Mashreq joins a roster of corporate backers of COP27 that includes our friends at: Al Mansour Automotive, Infinity Power, Orascom Construction, Hassan Allam Holding, SODIC, Google, and Coca-Cola, among others.
---
THE BIG STORIES ABROAD-
A familiar face is on the verge of winning power in Israel: Former prime minister Benjamin Netanyahu is on track to return to power according to exit polls from yesterday's general election that gave his right-wing coalition a slender majority in the Knesset. Netanyahu, whose bid for the premiership comes despite him being on trial on corruption charges, looked on course to take 61 or 62 seats in the 120-seat legislature. It's Israel's fifth election in four years. (Associated Press | Reuters | Bloomberg | WSJ).
Musk's shake-up at Twitter is getting attention in the business press: Twitter's new CEO says the company will offer a USD 8 per month premium subscription service, allowing users to obtain the coveted "blue tick" verification, increase engagement with posts and reduce ads. (WSJ | FT)
Erdogan is trying to save the Ukraine grain pact: Turkish President Recep Tayyib Erdogan told Russian counterpart Vladimir Putin that he was working to "to solve the problems with all parties" and save the landmark agreement that has enabled Ukraine to export mns of tones of grain, according to the Financial Times reported. Russia pulled out of the UN- and Turkey-brokered agreement last week following a drone attack on its Black Sea fleet in Crimea, which it blamed on Ukraine. Though ships are continuing to set sail through the Black Sea, global wheat prices have soared and traders say that grain deliveries to Ukraine's ports are slowing.
Keep calm and carry on: Our wheat supply may be "temporarily affected" by Russia's exit from the UN-brokered grain pact with Ukraine, but the country can "adjust," Supply Minister Ali El Moselhy reportedly told Reuters yesterday. Global wheat supply is sufficient to cover the world's needs, he added.
CLARIFICATION- We wrote in Monday's edition of EnterpriseAM that importers, exporters and customs agents had until 1 November to register to join the Finance Ministry's digital customs system Nafeza before they can no longer clear goods out of customs at seaports. In fact, yesterday was the deadline by which shippers were encouraged to have registered to receive an e-signature in order to process transactions through the Nafeza system, sources at the Finance Ministry told Enterprise.
CIRCLE YOUR CALENDAR-
Key news triggers coming up over the next week:
Foreign reserves figures for October will be released next week.
Inflation: Capmas and the central bank will release October's inflation figures on Thursday, 10 November.
SPX to open for international flights next month: Sphinx International Airport will begin operating international flights to several European and Arab countries starting 1 December, state-owned Al Akhbar Al Yom reported yesterday. The airport is opening to domestic flights this month and yesterday received the first flight operated by Air Cairo from Sharm El Sheikh, Al Ahram reported.
Check out our full calendar on the web for a comprehensive listing of upcoming news events, national holidays and news triggers.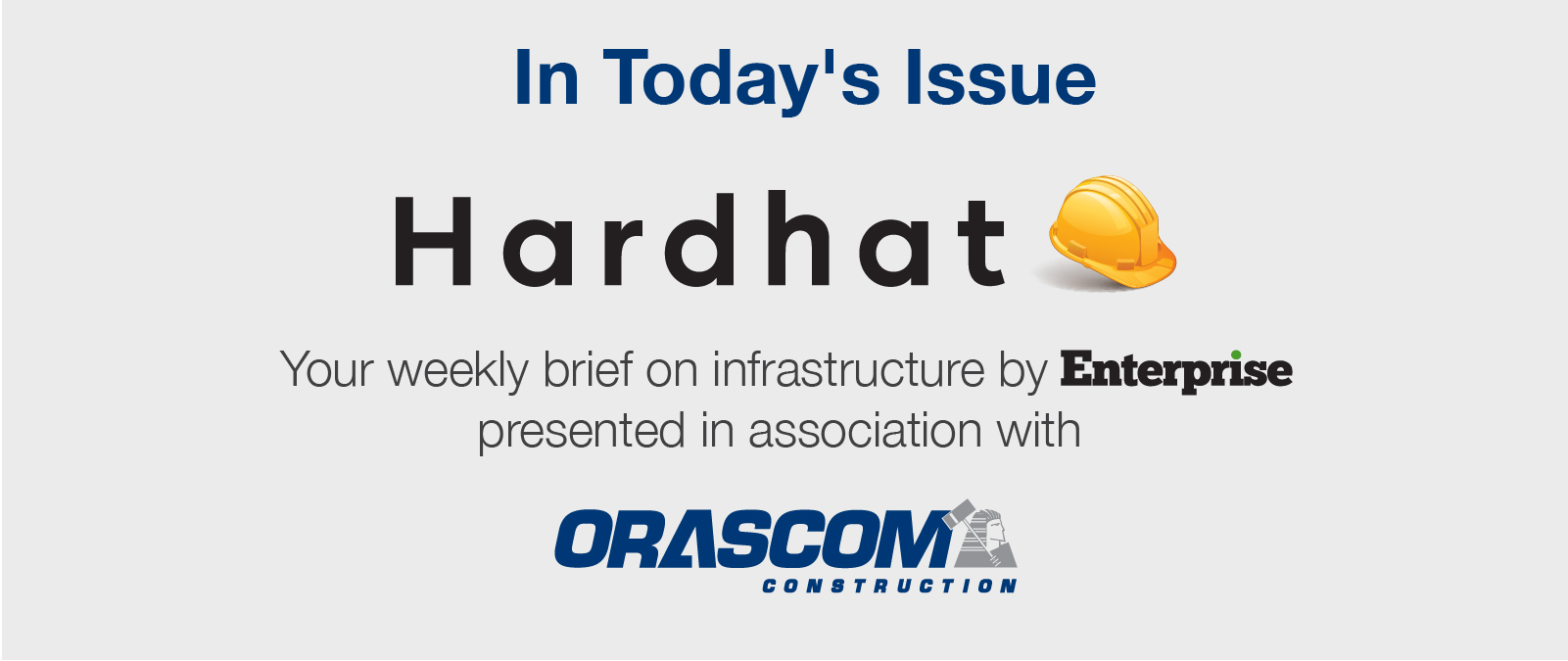 *** It's Hardhat day — your weekly briefing of all things infrastructure in Egypt: Enterprise's industry vertical focuses each Wednesday on infrastructure, covering everything from energy, water, transportation, and urban development, as well as social infrastructure such as health and education.
In today's issue: How our plans to build a new commercial maritime fleet are faring: Earlier this year, the government began working on boosting the country's commercial maritime fleet to increase the number of vessels sailing under the country's flag. Transport Minister Kamel El Wazir held meetings in September with the maritime transport sector and private shipping companies, and recently pitched Belgian companies on investing in Egypt's commercial maritime fleet. Although the government is pushing forward with the plan, it could meet some headwinds from a projected fall in freight rates and higher costs of shipbuilding and shipyards development at ports, industry sources told Enterprise.