Tuesday, 2 August 2022
THIS MORNING: FDI up in 3Q 2021-2022 + US-China relations could hit a new low today after Pelosi confirms she's heading to Taiwan
Happy hump day, wonderful people. It's a busy news day today — and just a little bit tense as we warily look eastward to see what comes of US House of Representatives Speaker Nancy Pelosi's visit to Taiwan. Beijing is furious at the prospect of Pelosi visiting Taipei to meet with Taiwan's president.
THE BIG STORY HERE AT HOME is Finance Minister Mohamed Maait shooting down the notion that we're seeking USD 15 bn in financing from the IMF. We have the rundown on all of this and more, below.
DATA POINT #1- Net FDI inflows to Egypt almost tripled to USD 4.1 bn in the three months ending 31 March, up from USD 1.4 bn in the same period last year, which corresponds to the third quarter of the state's fiscal year. That marks the strongest single quarter of FDI inflows since 2018, according to central bank data picked up by the local press yesterday.
Where is the BOP? We're still waiting for the central bank to publish full balance of payments figures for 3Q 2021-2022, which will give us a look at how the spillover effects from the war in Ukraine has affected the flow of goods, services and capital in and out of the country.
DATA POINT #2- We're reproducing (a little) slower than we used to be: Egypt succeeded in lowering the birth rate to 21.2 per 1k in 2021, down from 30.2 per 1k in 2015, Education and Acting Health Minister Khaled Abdul Ghaffar said in a speech to mark national population day.
HAPPENING TODAY-
The Madbouly government's public consultations on its state ownership policy continue today, with a workshop for representatives from the textiles sector. Every Sunday, Tuesday, and Thursday see workshops on how privatization plans will affect specific industries. You can find more details on the schedule of the meetings here.
Egypt and the UN will today convene the first in a series of regional climate roundtables in the lead-up to COP27 in November. African climate negotiators are in Addis Ababa, Ethiopia for the next three days to discuss climate financing mechanisms. COP27 President Sameh Shoukry, Mark Carney, UN climate envoy and co-chair of the Glasgow Financial Alliance for Net Zero, and UN Deputy Secretary-General Amina Mohamed will be among those in attendance.
TOMORROW-
Our friends at Chimera should find out tomorrow how much of Beltone Financial they have acquired via a mandatory tender offer. Shareholders have until Wednesday, 3 August, to subscribe to Chimera Investment's MTO for the financial services firm. The Abu Dhabi-based outfit has already locked in a 56% stake in Beltone after Orascom Financial last week agreed to sell its shares. Chimera is offering to pay EGP 1.485 per share for up to 90% of Beltone, valuing it at around EGP 690 mn.
PMI figures are out tomorrow: We'll get an idea of how the private sector fared in July when S&P Global releases its latest purchasing managers' index (PMI) tomorrow. The index fell to its lowest level in two years in June as surging inflation hit demand and output.
National Dialogue board will talk about the economy: The board of trustees overseeing preparations for the National Dialogue will meet tomorrow to discuss the economic agenda.
THE BIG STORY ABROAD-
BECAUSE ONE GLOBAL POLITICAL CRISIS JUST ISN'T ENOUGH… Washington and Beijing appear to be on a collision course after sources confirmed yesterday that House Speaker Nancy Pelosi will travel to Taipei on Tuesday and will reportedly meet with Taiwan's president, defying warnings from China that her visit could provoke a military response. Beijing said yesterday that its military will "not sit idly by" if Pelosi visits the island and its president, Xi Jinping, last week warned Joe Biden not to "play with fire" and said that China would "resolutely" defend its territorial claims over Taiwan. Beijing, which claims Taiwan as part of China, has been holding military exercises in the South China Sea this week ahead of Pelosi's trip to the region.
Asian markets are down sharply this morning — traders aren't welcoming the news any more than is the editorial board of the Financial Times, which is calling Pelosi's visit "ill-conceived and ill-timed". The salmon-coloured paper urged both sides to show restraint if the visit does prompt a furious reaction from Beijing. Markets in Europe look set to come under selling pressure at the opening bell, and futures also suggest Wall Street and Bay Street will open lower today.
The news is everywhere in the foreign press: Bloomberg | Reuters | Financial Times | CNBC | WSJ | NYT | Washington Post.
ALSO GETTING PLAY in the global business press this morning: The US securities regulator has charged (pdf) 11 people with allegedly operating a huge crypto pyramid scheme that fraudulently raised USD 300 mn from investors. Reuters, CNBC and the Financial Times have more.
IN NON-BUSINESS NEWS- A US drone strike has killed Ayman El Zawahiri, a top leader of Al Qaeda, US President Joe Biden announced overnight. The story is getting prominent billing on the front pages from the New York Times to the Wall Street Journal and beyond. The terrorist leader, 71, was an Egyptian national.
---
ICYMI #1- Ukraine is officially a wheat exporter again… A vessel left the port of Odesa for Lebanon yesterday, becoming the first ship to carry grain out of Ukraine via the Black Sea since Russia invaded the country in February. The ship is carrying 26k tons of corn and is expected to arrive at the inspection location in Turkey's territorial waters tomorrow before taking its cargo to Lebanon.
…but things aren't back to normal just yet: Ukrainian exports are still in a "trial period," with a limit of three ships a day traversing the new safe-passage corridors established as part of the country's pact with Russia and Turkey, Ukraine's Infrastructure Minister Oleksandr Kubrakov told Bloomberg TV yesterday (watch, runtime: 4:53). "It's important for us to make it clear that this route is safe, and then we'll start increasing the number of vessels," Kubrakov said.
Exports could rise to as much as 3 mn tons a month in the next four to six weeks if all goes well, Kubrakov added.
ICYMI #2- The women's Euro 2022 wrapped on Sunday night: England won their first major tournament with a 2-1 victory against Germany at Wembley. The tournament hosts were drawn 1-1- with the eight-time champions heading into extra time — and got the deciding goal with 10 minutes left on the clock when substitute Chloe Kelly scored at close range. The BBC has the highlights here (watch, runtime: 3:50).
---
** CORRECTION- Toyota has sold a 50% stake in the Egyptian Offshore Drilling Company: In an article last week, we reproduced an error in the domestic press that claimed Toyota had sold a 30% stake in the company to EGAS; the story cited Shawkat Elmaraghy, the managing director of transaction broker Prime Securities. We got on the phone with Elmaraghy yesterday, who confirmed information published in an Oil Ministry statement yesterday that Toyota had actually sold half of the company. EGAS now owns 85% of Egyptian Offshore Drilling Company, while Ganope (South Valley Egyptian Petroleum Holding Company) holds the remaining 15%.
CIRCLE YOUR CALENDAR-
We're on the lookout for a number of key macro figures this week and next:
Foreign reserves figures for July will likely be released at the end of this week or the beginning of the next;
Inflation data for July will land on Wednesday, 10 August.
The Central Bank of Egypt will meet to discuss interest rates on Thursday, 18 August.
Check out our full calendar on the web for a comprehensive listing of upcoming news events, national holidays and news triggers.
***
WE'RE LOOKING FOR A SMART, TALENTED HEAD OF PEOPLE to help us develop and deliver a comprehensive people strategy to help grow Enterprise and our sister company, Inktank Communications. Attracting and retaining top talent is the lifeblood of our business — are you the right person to help us do it?
WHO YOU ARE- Our Head of People is responsible for aligning HR practices with business objectives and works alongside some very smart people, including our C-level and leadership teams, to design and develop HR strategies and monitor their effectiveness. Candidates should have at least 10 years of experience in human resources, with extensive knowledge of key HR disciplines including performance and talent. We are looking for someone who isn't afraid to challenge, innovate, experiment, and move at a fast pace — not to mention creating some very cool new things to drive people engagement and improve a high-performance culture.
INTERESTED IN APPLYING? To apply for the Head of People, drop us a line at jobs@enterprisemea.com and mention "Noha" in your subject line — she's our outgoing Head of People and the first person who's going to be reading your application. Please send a solid cover letter telling us a bit about who you are and why you're a good fit for our team. We want to see your CV, but the most important thing is a cover letter that makes us want to pick up the phone and give you a call.
***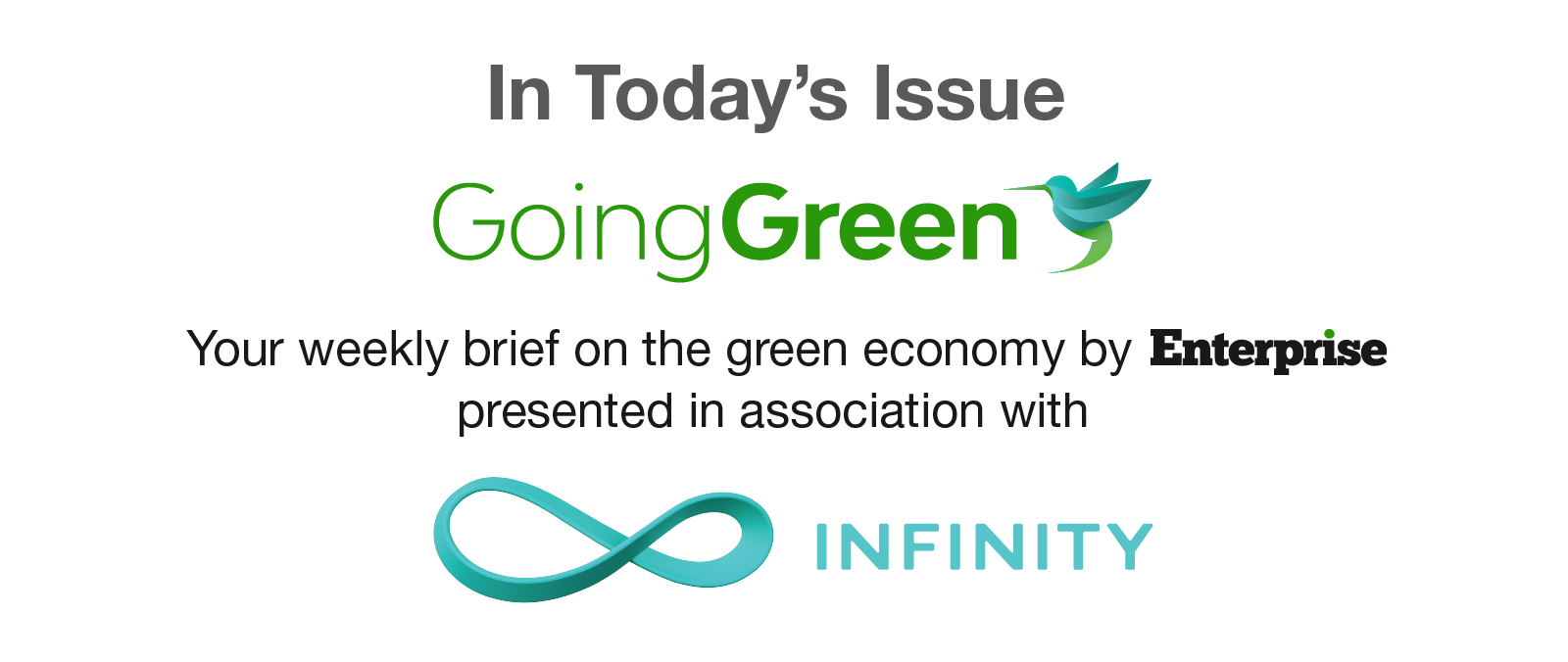 *** It's Going Green day — your weekly briefing of all things green in Egypt: Enterprise's green economy vertical focuses each Tuesday on the business of renewable energy and sustainable practices in Egypt, everything from solar and wind energy through to water, waste management, sustainable building practices and how you can make your business greener, whatever the sector.
In today's issue: Could there be a wellspring of untapped energy beneath our feet? We've been a pioneer for the region on harnessing wind and solar energy, and we're now forging the way on green hydrogen — but there's been little attempt to date to map and tap Egypt's geothermal potential. In this week's Gong Green, we take a look at whether thermal springs in places like the Gulf of Suez could be a viable source of renewable energy.