Sunday, 31 July 2022
THIS MORNING: A busy first week of the new month: Beltone-Chimera, PMI and the National Dialogue
Good morning, wonderful people, and welcome to the last day of July — and with it, the first glimpse of summer's end. A handful of schools reopen in August. And with the year now about 60% complete, lots of us are kickstarting 2023 planning.
This morning's Calendar section on the web includes key fall and 2023 events, including our calendar of national holidays to help you plan.
MORNING MUST READ- As we start looking towards autumn, how long should we expect the global food crisis to continue? Wheat prices have plunged almost 40% since May as Russian grains have come back to the market, recession fears have grown, and — as of last week — the market has awaited the return of Ukrainian wheat. But, as the Financial Times reminds us, falling prices don't mean that we're out of the woods yet.
Are we looking at a particularly hungry 2023? Analysts say that many of the food price shock's aggravating factors are yet to dissipate and that the worst days may not yet be behind us. Experts are particularly worried about the likelihood of soaring energy costs this winter and what that might mean for the production of fertilizers. "If we don't sort out [the issue with] agricultural inputs — in particular fertilizers — then the crisis of affordability will turn into a crisis of availability come next year," Arif Husain, chief economist at the UN World Food Programme, told the newspaper.
WHAT'S HAPPENING THIS WEEK-
We'll find out how much of Beltone Financial will be acquired by Chimera this week: Shareholders have until Wednesday, 3 August, to subscribe to Chimera Investment's mandatory tender offer for the financial services firm. The Abu Dhabi-based investment firm has already acquired a 56% stake in Beltone after Orascom Financial last week agreed to sell its shares. Chimera is offering to pay EGP 1.485 per share for up to 90% of Beltone, valuing it at around EGP 690 mn.
PMI out on Wednesday: We'll get an idea of how the private sector fared in July when S&P Global releases its latest purchasing managers' index (PMI) on Wednesday. The index fell to its lowest level in two years in June as surging inflation hit demand and output.
The National Dialogue board will talk about the economy this week: The board of trustees overseeing preparations for the National Dialogue will meet Wednesday to discuss the economic agenda. We have more on last week's meeting in Last Night's Talk Shows, below.
LATER THIS MONTH-
Foreign reserves figures for July will likely be released at the end of this week or the beginning of the next;
Inflation data for July will land on Wednesday, 10 August.
Interest rates: The Central Bank of Egypt will meet to discuss interest rates on 18 August.
WATCH THIS SPACE #1- We might send inspectors to check on the Egypt-bound wheat in Ukrainian ports, head of the Agriculture Ministry's quarantine authority, Ahmed El Attar, told Reuters. This comes shortly after the General Authority for Supply Commodities (GASC) pulled the plug on contracts for 240k tons of stranded Ukrainian wheat booked earlier this year. The four cargoes were booked for February and March delivery but never set sail due to the Russian invasion in February.
Wheat could begin shipping very soon: The first exports of grain from Ukraine since the UN-brokered wheat pact was signed may already be on their way, after Ukrainian President Volodymyr Zelenskiy said on Telegram he expected the first grain shipments to resume sometime over the past weekend. "We are ready to export Ukrainian grain. We are waiting for signals from our partners about the start of transportation," Zelenskiy said after visiting one of the ports near Odesa.
THE BIG STORY ABROAD-
Biden hasn't gotten over covid after all: US President Joe Biden tested positive for covid-19 after earlier testing negative in what's being called a "rebound case," which can happen with patients who take the antiviral drug Paxlovid, according to a letter from Biden's physician to the White House (pdf). Biden, who had tested positive for covid-19 last week, will return to isolation. (Associated Press | Reuters | FT | Bloomberg | WSJ | CNBC)
ALSO FROM AMREEKA- The Biden administration scored some rare (and particularly huge) legislative victories last week ⁠— and the bills could have far-reaching global implications.
#1- Biden's climate agenda is back on track: After the Supreme Court looked to have delivered the administration's climate ambitions a serious setback last month (and with it America's legitimacy as a global leader on climate change), Democratic lawmakers last week have managed to agree on a USD 739 bn investment bill, which if it makes it through the Senate would unlock almost USD 370 bn in climate and green energy funding over the next decade. The bill, hailed by Biden as "the most significant" US climate legislation in history, would channel bns of USD into supporting wind and solar generation, and clean energy use in manufacturing. For more: Associated Press | FT | The Guardian.
#2- The US is trying to maintain its competitive edge in the global semiconductor arms race: Legislation that will see USD 280 bn invested in the US semiconductor industry received backing from both sides of the House last week and will be signed into law by Biden in the coming days. The bill aims to boost the country's manufacturing capacity and will deploy more than USD 50 bn in direct financial assistance to build new semiconductor foundries. America's flagship chip maker, Intel, has fallen behind its Asian rivals TSMC and Samsung in recent years and is now playing catch up to remain at the cutting edge of semiconductor technology and manufacturing — all at the same moment that China is making surprisingly fast advances on new chip manufacturing processes. For more: Reuters | CNN | WSJ.
WATCH THIS SPACE #2- Tensions between the US and China are rising amid expectations that US House Speaker Nancy Pelosi will visit Taiwan in the coming days. In a two-hour call last week that touched on a wide range of issues, Chinese Premier Xi Jinping warned Joe Biden not to "play with fire" and said that Beijing would "resolutely" defend its territorial claims over Taiwan. Pelosi's visit threatens to upend the US' long-standing One China policy that does not explicitly recognize Taipei's independence. "It's a very dangerous moment. I think few people actually realize how dangerous this is," one political analyst told the Guardian. Politico says the trip was due to kick off Saturday or Sunday — and adds that Pelosi won't confirm her itinerary (including that potential stop in Taiwan) for "security reasons." (CNN | Politico | NPR)
---
MARKET WATCH-
2022 is turning out to be one of the worst years on record for emerging markets: Emerging-market assets are now on their longest-ever losing streak after seeing net outflows for the fifth consecutive month in July, according to the Financial Times. Foreign investors have pulled USD 10.5 bn from EM stocks and bonds this month, extending a five-month run that has seen USD 38 bn leave the asset class since March, according to data from the Institute of International Finance. JPMorgan data shows that some USD 30 bn has fled EM foreign-currency bond funds this year.
A record number of EMs and developing economies are at risk of default: Tightening financial conditions and surging food and energy costs are heaping pressure onto developing economies' finances, pushing a record number towards default. Yields on bonds issued by more than 20 emerging- and frontier-market countries — including Egypt — are now trading 10% higher than US treasuries, a warning sign that indicates a rising risk of default.
EM policymakers can't rely on a dovish Fed to pull them out of a tailspin: "The Fed's position seems to be very different from that in previous cycles," one economist told the salmon-colored paper. "It is more willing to risk a US recession and to risk destabilizing financial markets in order to bring inflation down."
COVID WATCH-
Almost 77% of citizens eligible for a covid shot have received both doses of a vaccine, according to a cabinet statement released last week. Official figures show that more than 38.3 mn citizens are now fully vaccinated while almost 6.9 mn have received booster shots.
CIRCLE YOUR CALENDAR-
High-speed rail: Coming in November? The first phase of a 660km high-speed rail line that will ultimately link Ain Sokhna to Marsa Matrouh will be inaugurated on 7 November, a cabinet statement read, saying the inauguration was ordered by President Abdel Fattah El Sisi. The government is currently in talks with Siemens to provide the first trains for the line by November instead of in mid-2023, as was originally planned. The Siemens, Orascom Construction and Arab Contractors consortium has already begun to install tracks, systems and power cables for the line.
This appears to be unfolding much faster than we had expected: Construction and testing on the first line was set to be completed during the second half of 2024. Work on the second and third lines is expected to begin sometime this summer, with all of the lines — running roughly 1.3k km across the country — expected to be finished within four years.
Check out our full calendar on the web for a comprehensive listing of upcoming news events, national holidays and news triggers.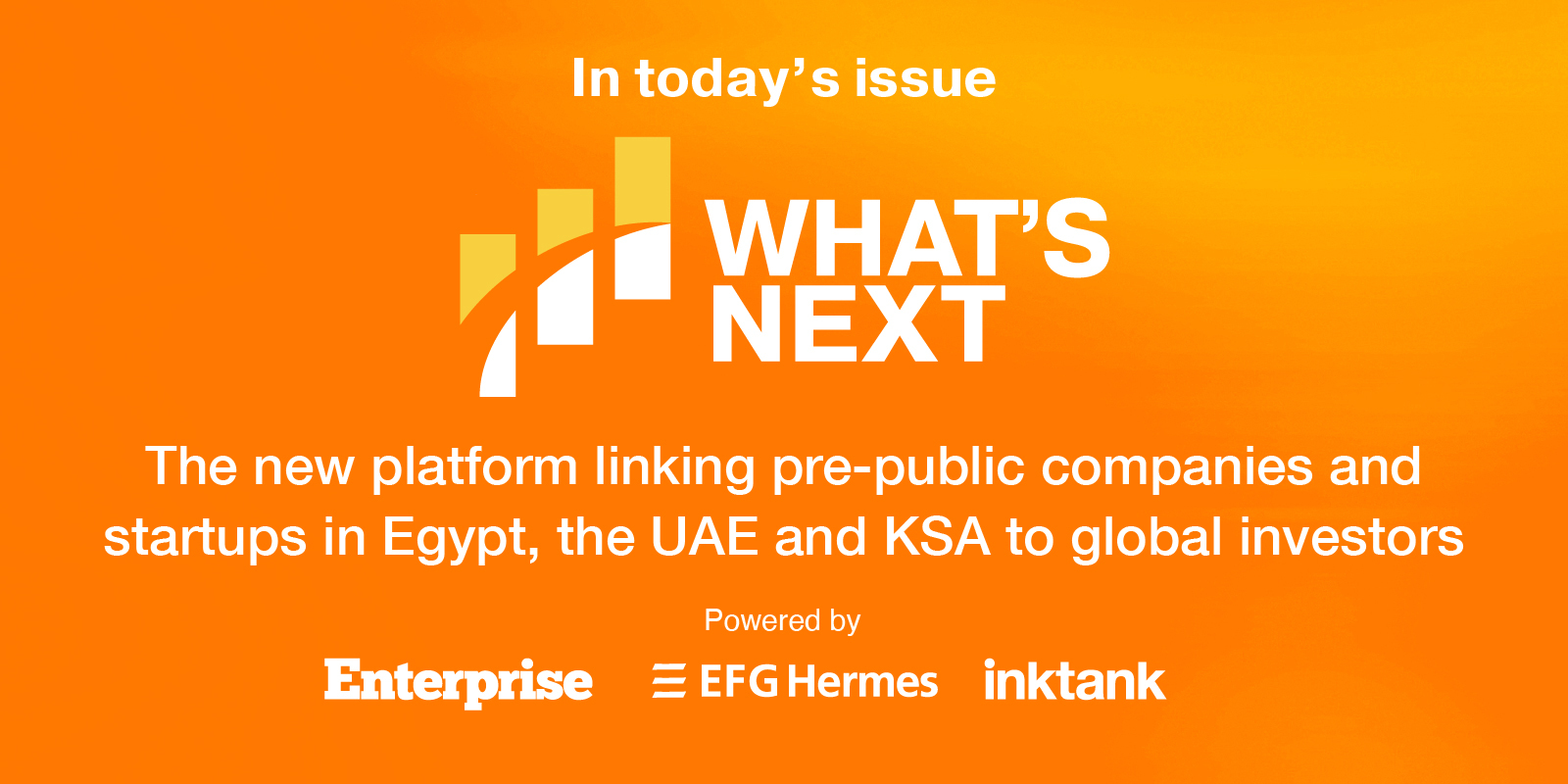 *** It's What's Next day: We have our weekly deep-dive into what makes and shapes pre-listed companies and startups in Egypt, the UAE and KSA, touching on investment trends, future sector insights and growth journeys.
In today's issue: Will family office involvement in VC become the next investment trend to land in the MENA region? In recent years, family offices (FOs) have boosted their venture capital exposure and their strategies are growing more sophisticated, turning them into a powerful, albeit quiet, part of the venture capital world, according to a new report (pdf) by Silicon Valley Bank and Campden Wealth. The number of ventures in which family offices participate has been rising steadily: In 2021, 5% of all worldwide venture transactions included FOs — more than double what it was a decade ago, the data shows.