Monday, 25 July 2022
THIS MORNING: Orascom Financial to decide on Chimera's Beltone bid today + Metro and train fares are going up
Good morning, wonderful people, and welcome to a reasonably quiet (but not dull) Monday morning. It feels a little bit like the summer news slowdown — a feature of both the Western and Egyptian news cycle — may be approaching as more and more people in the northern hemisphere head to the beach.
What news we have is meaty: Russia's foreign minister was in town yesterday trying to reassure us on wheat supplies — and we have plenty of M&A, debt market, and infrastructure news. All of that (and more) below.
PSA #1- Metro and train fares are getting more expensive starting August, Transport Minister Kamel El Wazir told El Hekaya (watch, runtime: 4:45) last night. El Wazir said the ministry hasn't decided how big the price hikes will be, but suggested that Metro fares will likely rise by EGP 1-2.
All means of public transport have gotten more expensive recently: Taxis, microbuses and buses across the country raised prices by 5-7% in response to the rising cost of fuel. Private companies including Uber and Swvl have followed suit.
PSA #2- Egypt has not yet recorded any cases of monkeypox amid a global outbreak that has spread to 72 countries, including Arab nations (among them the UAE), presidential health advisor Mohamed Awad Tageldin told Kelma Akhira's Lamees El Hadidi (watch, runtime: 3:55). The World Health Organization declared the outbreak a global health emergency over the weekend. Monkeypox is a rarely fatal, milder cousin of smallpox and is largely being transmitted as an STD.
THE BIG STORY ABROAD-
There's no single story dominating the global front pages this morning: Reuters leads with the Russia-Ukraine grain agreement (more on this in this morning's Diplomacy section, below) and the Financial Times has the latest on the race to become the UK's next prime minister. A report in Axios, meanwhile, suggests that Agent Orange's political clout is on the wane ahead of a potential 2024 run as the Murdoch empire turns against him — and as GOP rival Ron DeSantis gains in the polls.
FANCY SOMETHING A BIT MORE … SALACIOUS? Tesla and Space X boss Elon Musk and Google co-founder Sergey Brin are no longer besties after Elon allegedly slept with Brin's wife, triggering a divorce, the Wall Street Journal reports. The front page story is getting plenty of pickup on social media.
WHAT'S HAPPENING TODAY-
OFH's board will weigh in on Chimera's bid to acquire Beltone: Orascom Financial Holding's (OFH) board of directors will meet today to decide on Abu Dhabi investment firm Chimera Investments' bid to acquire up to 90% of Beltone Financial, CEO Nils Bachtler previously confirmed to Enterprise. OFH is the majority shareholder in Beltone Financial. Our friends at Chimera Investments submitted a bid in June at EGP 1.485 per share, valuing the company at around EGP 690 mn. The Financial Regulatory Authority gave regulatory approval to Chimera's offer last week.
US Special Envoy for the Horn of Africa Mike Hammer is talking GERD in Cairo today: Hammer will a diplomatic resolution to the long-running crisis over the Grand Ethiopian Renaissance Dam (GERD), according to a statement from the US embassy. This is Hammer's first stop of a three-stop tour that will also take him to the UAE and Ethiopia. Egyptian experts have claimed in recent days that satellite images show that Addis Ababa has started the third round of filling the dam.
Hammer arrives in Cairo one day after Russian Foreign Minister Sergei Lavrov was in town to talk grain and, in the words of Deutsche Welle, "break Russia's diplomatic isolation." We have chapter and verse on the visit in this morning's Diplomacy section, below.
Contracts for Dekheila Port dry bulk terminal will be signed today: The Alexandria Port Authority will sign today an agreement with a consortium of the Egyptian Group for Multipurpose Terminals, the Arab Group for Supply Chains, Gharably Integrated Engineering Company (GIECO) and Saudi conglomerate Ajlan & Bros for a dry bulk terminal at the Dekheila Port, according to the Transport Ministry.
HAPPENING TOMORROW-
The Federal Reserve starts its two-day policy meeting tomorrow, and the consensus is that policymakers will go ahead with a second-consecutive 75-bps rate hike as it battles to get inflation under control. US inflation reached a fresh 40-year high in June, increasing pressure on the Fed to raise rates despite warnings that it could push the economy into recession. The Fed meets after the European Central Bank raised rates last week for the first time in 11 years.
Watch this space: The Central Bank of Egypt's Monetary Policy Committee will have plenty of time to digest whatever the Fed does next — the MPC next meets to review rates on Thursday, 18 August.
The IMF's updated World Economic Outlook is out tomorrow: The Fund has warned that it will "substantially" downgrade its 2022 global growth forecast as the war in Ukraine, surging global inflation and rising interest rates weigh on the global economy.
MORNING MUST READ-
Missed this week's Inside Industry? In our weekly vertical exploring all things industry and manufacturing, we looked at a step-by-step guide on how to open up a factory in Egypt, starting from land allocation and all the way through maintaining operating licenses.
CIRCLE YOUR CALENDAR-
Your next national holiday is not likely to be before October when we observe Armed Forces Day. The Madbouly cabinet announced yesterday that Saturday will be a national holiday in observance of Islamic New Year, meaning it is highly unlikely we'll be downing tools for a weekday replacement day. 6 October will, in turn, be our last holiday until New Year's Day 2023.
THIS IS WHAT THE FUTURE LOOKS LIKE: With holidays tied to the lunar calendar coming up 10 days earlier each year, we're going to be frontloading our holiday schedule in the first half of the year for some time to come… It'll be interesting to see how we all space out our vacation days in response.
Leaders from across Africa are scheduled to convene in Washington for the US-Africa Leaders Summit from 13-15 December. The summit will bring together leaders to discuss pressing matters including food security and climate change, according to a White House statement.
Check out our full calendar on the web for a comprehensive listing of upcoming news events, national holidays and news triggers.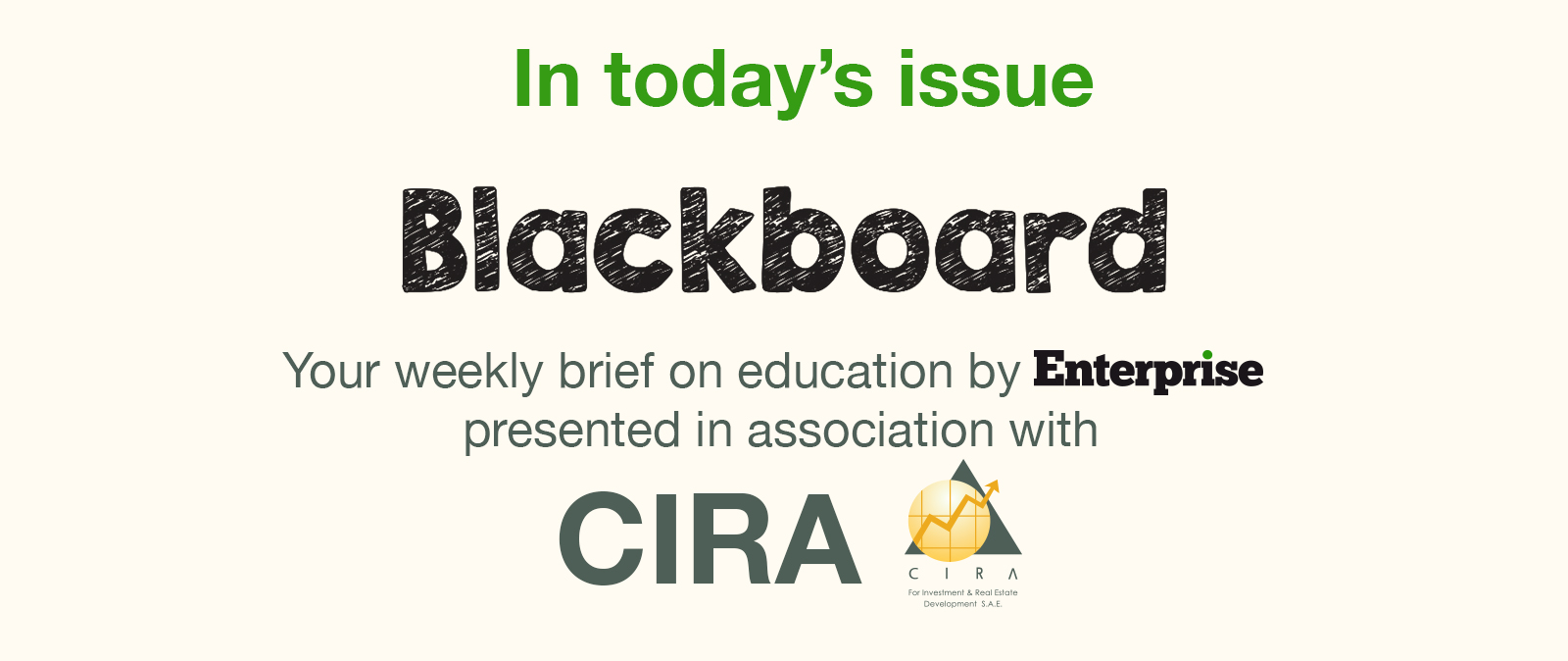 *** It's Blackboard day: We have our weekly look at the business of education in Egypt, from pre-K through the highest reaches of higher ed. Blackboard appears every Monday in Enterprise in the place of our traditional industry news roundups.
In today's issue: When hiring fresh grads, Egypt's private sector companies might look for a range of specific technical skills, but all want individuals with broadly similar work attitudes, we reported last week. So just how are Egypt's fresh graduates being provided with the employment skills they need? Sources from law firms, startups, and companies in a range of industries tell us that while several Egyptian universities do a good job of preparing fresh grads to enter the workplace, many companies also need to take steps to fill in gaps themselves.