Sunday, 24 July 2022
THIS MORNING: Lavrov in town today; WHO declares monkeypox a global health emergency
Call us Mark Mobius Stans. We don't care: In life, it is very rare to meet actual living legends that started a field you're in. It is even rarer when that person actually remembers you. So you can pretty much imagine that it was birthday, Christmas, and New Years all rolled into one when we found an autographed copy of Manga Mark Mobius – An Illustrated Biography of the Father of Emerging Markets Funds waiting for us at the office.
For those who don't know who he is, the title says it all. As the investment guru at the helm of Templeton Emerging Markets Group for over a quarter of a century, Mark Mobius effectively opened the eyes of the world's largest financial institutions to emerging markets and almost single-handedly made it the asset class it is today. Many in our part of the world and beyond owe USD bns (and at this point USD tns) in investments and the development of our capital markets to him. His work continues as the founding partner of Mobius Capital Partners.
But don't take it from us. Do yourself a favor and pick up a copy. Afterall, how many businessmen get manga biographies (well, Carlos Ghosn, but we won't get into that).
---
WHAT'S HAPPENING TODAY-
Egypt, the UAE and Jordan are discussing their new industrial partnership in Cairo: Emirati and Jordanian officials are continuing high-level talks on the joint industrial partnership in Cairo today, the Trade Ministry said Thursday. The talks started yesterday and wrap tomorrow.
What industrial partnership? The three countries agreed in May to partner on a joint industrial strategy to support economic growth, increase industrial production, and strengthen regional supply chains. Abu Dhabi wealth fund ADQ has committed to investing USD 10 bn in industrial projects in the three countries.
On the agenda: The meetings will look into agreements on several projects in various sectors, including agriculture, food, fertilizers and pharma, according to the statement.
Russian Foreign Minister Sergey Lavrov will meet several Egyptian officials in Cairo later today, Bloomberg Asharq reports, citing sources in the know. Lavrov is also set to meet Arab League Secretary General Ahmed Aboul Gheit and several representatives of the league's member states. The visit comes as part of the minister's African tour that includes Ethiopia, Uganda and the Democratic Republic of the Congo.
The government's public consultations on its state ownership policy continue today with healthcare players having their say. Pharma industry representatives are also up next this Tuesday. Every Sunday, Tuesday, and Thursday see workshops on how privatization plans will affect specific industries. You can find more details on the schedule of the meetings here.
THIS WEEK-
The IMF drops its updated World Economic Outlook on Tuesday — and don't expect good news. The Fund has warned that it will "substantially" downgrade its 2022 global growth forecast as a litany of headwinds — from the war in Ukraine and soaring food and energy costs, to rising interest rates and a slowdown in China — bear down on the global economy.
It's Fed week: Expect the Federal Reserve to go ahead with another 75-bps rate hike when it meets later this week. Policymakers meet to discuss interest rates on Tuesday and Wednesday and analysts are expecting the central bank to keep its foot down on the tightening cycle as it battles to get inflation under control. Inflation reached a fresh 40-year high in June, increasing pressure on the Fed to raise rates despite warnings that it could push the economy into recession.
Recession warnings are flashing red: Private sector activity in the US hit a 26-month low in June and contracted for the first time since June 2020, according to the flash PMI (pdf) out Thursday. Activity in the manufacturing and services sectors both contracted during the month, indicating a "worrying deterioration" in the economy amid surging inflation and weakening demand.
All eyes are on preliminary GDP figures out at the end of the week, which the Atlanta Fed is expecting to indicate that the US economy contracted for the second consecutive quarter in 2Q, putting it in a technical recession. In preparation for a disappointing figure, Biden administration officials are briefing that two quarters of negative growth doesn't necessarily indicate a recession, and some economists are arguing that we shouldn't be paying too much attention to the GDP figures. Should we treat the figures seriously? Axios and Reuters have more on the debate.
This fall, we're gathering an exclusive group of CEOs, C-suite officers, finance folks and more to talk about how we'll finance green projects in Egypt in the wake of COP27. The idea is to keep the conversation going post-COP and dive into the nitty gritty of the financing tools, laws, projects, problems and ideas that will be necessary to drive a fundamental shift in our economy.
Want to learn more? Drop us a line. Whether you're interested in attending or want to discuss how to put your brand front and center, reach out to us on climatex@enterprisemea.com.
Stay tuned for more details…
---
THE BIG STORY ABROAD-
Russia appears to have broken the wheat export pact with Ukraine just hours after signing it: Ukraine has accused Russia of firing missiles at the Ukrainian port city of Odesa, less than 24 hours after signing a landmark accord with Ukraine on Thursday that is hoped to pave the way for Ukraine to resume exporting grain from its Black Sea ports. Under the agreement, Russia committed not to attacking ports involved with grain exports. The airstrikes were described by Ukraine's Foreign Ministry as a "spit in the face" to the UN and Turkey, which brokered the agreement. Turkey's defense minister said yesterday that Moscow denied responsibility for the attack. We have more on the agreement in this morning's news well, below. (Reuters | AP | FT | Bloomberg | WSJ | CNBC)
Is it officially time to worry about monkeypox? The WHO thinks so: The World Health Organization (WHO) has declared monkeypox a global health emergency and issued a number of recommendations aimed at stopping the spread of the virus, which has spread to 72 countries. The organization has so far recorded 14.5k monkeypox cases, five of which were fatal. The last time the group issued its highest alert was January 2020 at the beginning of the covid-19 outbreak. (AP | Reuters | Bloomberg | NYT | FT | WSJ | CNBC)
SIGNS OF THE TIMES-
#1- Global fintech funding is falling fast: Fintech funding fell by a third q-o-q and 46% y-o-y in 2Q 2022 to USD 20.4 bn, its lowest level since 4Q 2020, according to figures from CB Insights. Blockbuster funding rounds of more than USD 100 mn fell 45% q-o-q while M&As in the sector saw their largest quarterly drop in years.
#2- A common African digital currency? The Bank of Central African States is looking into launching a common digital currency to be used among its six member states: Cameroon, Gabon, Chad, the Republic of Congo, Equatorial Guinea and the Central African Republic, Bloomberg reports. This comes as several African nations — including Nigeria — adopt digital currencies, and shortly after the bank publicly voiced its disapproval of the Central African Republic adopting BTC as a legal tender.
CIRCLE YOUR CALENDAR-
Leaders from across Africa are scheduled to convene in Washington for the US-Africa Leaders Summit from 13-15 December. The summit will bring together leaders to discuss pressing matters including food security and climate change, according to a White House statement.
Check out our full calendar on the web for a comprehensive listing of upcoming news events, national holidays and news triggers.
---
CORRECTION- We incorrectly stated in an article on Thursday that Averroes Ventures acquired local sportswear brand Magma. Mohamed El Sewedy, who was already a partner and investor at Magma, acquired the firm. We've since updated the story on our website.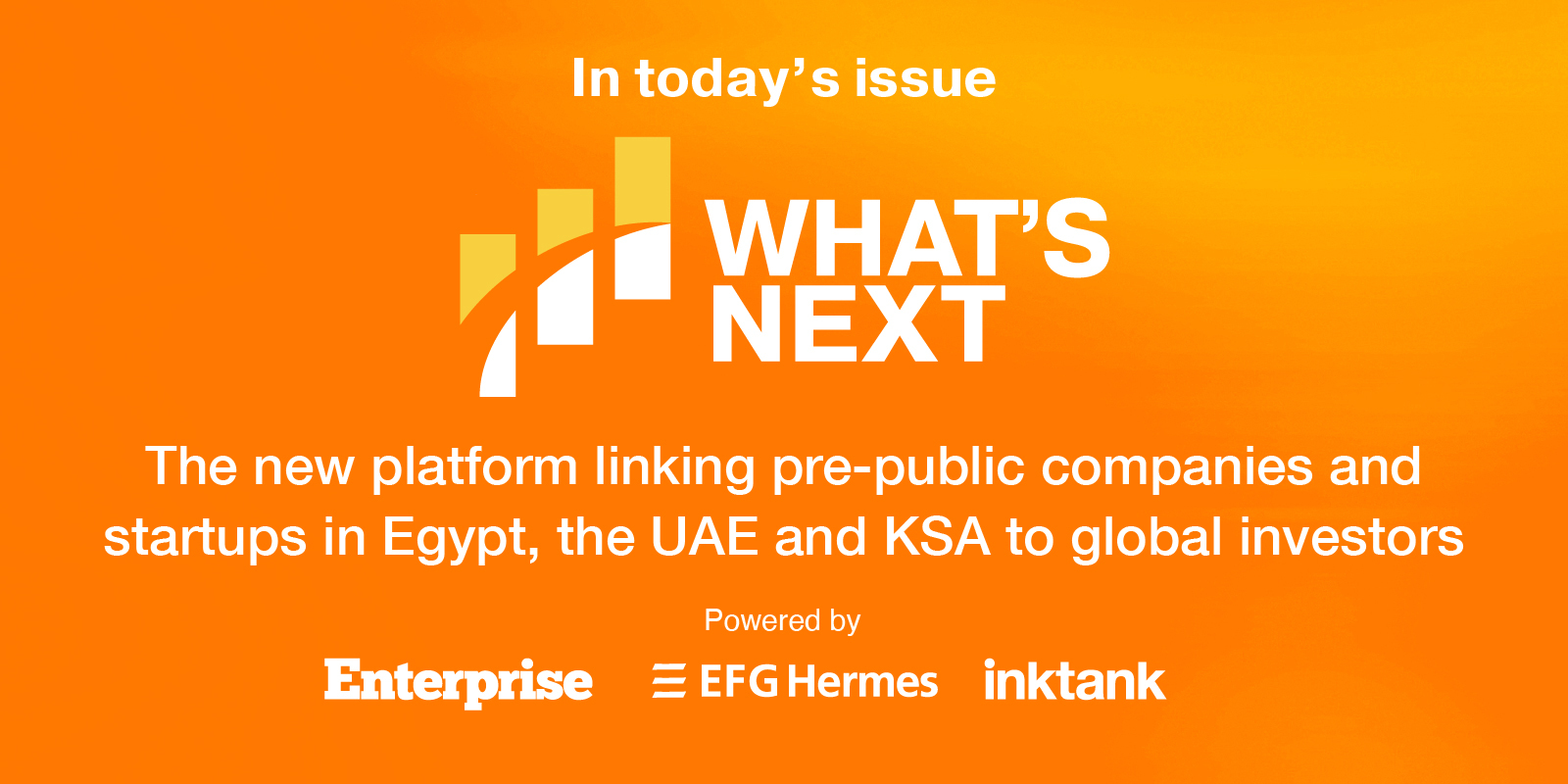 *** It's What's Next day: We have our weekly deep-dive into what makes and shapes pre-listed companies and startups in Egypt, the UAE and KSA, touching on investment trends, future sector insights and growth journeys.
In today's issue: As global funding for startups dry up in the midst of global macro turbulence, VCs everywhere have been warning startups to be more prudent about their spending. Egypt's VCs are no different. Today, we speak with insiders who give us their two cents on how startups at home should go about their belt-tightening.