Monday, 27 December 2021
THIS MORNING: CBE extends pandemic fee cuts, tourism support measures + Anghami, Swvl in a race to see who SPACs first
Good morning, friends, and welcome to the final business week of 2021. We hope Santa Claus found you — and that Christmas was wonderful for all of our readers who observe.
We have an incredibly packed issue this morning so we're going to jump right in after quickly reminding you all that EnterprisePM is on hiatus this week.
PSA #1- We're getting another six-month holiday on fees for inter-bank EGP transfers, ATM withdrawals and point-of-sale transactions, according to a Central Bank of Egypt (CBE) statement (pdf). The measures also extend the waiver on fees for contactless payment cards, mobile wallets, and e-payments until the end of June 2022, while the CBE will also continue to cover the cost of withdrawal fees for pensioners. The measures were introduced during the first wave of the pandemic in March 2020 and were most recently extended until the end of 2021.
PSA #2- Banks can continue holding board meetings online: Exemptions to central bank rules regarding minimum attendance levels at bank board meetings and allowing boards to hold their meetings online or by conference call have also been extended for another year, according to a separate CBE circular (pdf). The FRA has yet to say whether it will extend similar measures.
PSA #3- Measures brought in to aid the tourism industry amid the pandemic have also been extended for another year until 31 December, 2022, according to another central bank circular (pdf). Tourism companies can continue to request a repayment freeze of up to three years on debt, while employees of tourism companies can still ask for a six-month holiday on personal loans. Employees who have taken out loans as part of a 2015 initiative to support tourism workers also remain eligible for a payment moratorium.
PSA #4- We're not holding our breath for a long weekend to mark New Year's, as New Year's Day falls on a Saturday, making it unclear whether we'll have the following Sunday off. The central bank, stock market and cabinet have all been silent.
PSA #5- New Year's weekend could be very wet in the capital city, with our favourite weather app calling for up to 5 mm of rain on Thursday, 10-15 mm on Friday, showers on Saturday and another c.10 mm of rain on Sunday. The rain could start even earlier in Alexandria, where there's a chance of showers on Tuesday ahead of an equally rainy weekend.
---
***WANT TO HAVE BREAKFAST WITH US? Every year, we ask our readers to weigh in on what you expect for the year ahead in our Enterprise Reader Poll. Take a few minutes to give us your take on the outlook for your business and industry, whether you're planning fresh investments and new hires, and how your business fared in the year past. We'll share the results with the entire community in early January to help you shape your view of the year — and will invite eight of you to break bread with us. Another dozen of you who complete the poll will also get special Enterprise mugs to enjoy your morning beverage of choice.
WHAT'S HAPPENING TODAY-
It's a big week for infrastructure in Upper Egypt: President Abdel Fattah El Sisi is set to inaugurate this morning a new power transformer station in Esna, south of Luxor, as part of a string of official openings of major development projects in Upper Egypt throughout the week, Al Shorouk reports.
FOR TOMORROW-
The Unified Budget Act is up for discussion at the House of Representatives tomorrow, according to parliament's schedule. The legislation would require the government to be more transparent in how it plans public finances, forcing it to present an annual medium-term budgetary and fiscal strategy to the House and set spending limits for each ministry.
Also at the House: Education Minister Tarek Shawki will be in the building to respond to dozens of MPs' inquiries about his decision to merge the science and math specializations in Thanaweya Amma into one pathway.
MARKET WATCH-
Anghami + Swvl SPACs are in a race to see who SPACs first in MENA: The two firms are both expecting their SPAC mergers to complete in the second half of January. Whoever makes it there first will become the first Middle Eastern tech company to be publicly traded on the tech-heavy US Nasdaq.
Anghami expects to close its merger with Nasdaq-listed blank-check firm Vistas Media Acquisition Company next month, the company announced in a statement. The streaming platform's merger — which has an implied enterprise value of around USD 220 mn — is set to be approved at a special stockholders meeting on 19 January, after the US Securities and Exchange Commission greenlit the related paperwork.
Meanwhile, mass transportation startup Swvl will also complete its merger late next month, Al Mal quotes company CEO Mostafa Kandil as having said. Swvl will offer 35% of its shares on the Nasdaq through a merger with US SPAC Queen's Gambit Growth Capital, having reached an agreement with the SPAC worth roughly USD 345 mn and valuing Swvl at around USD 1.5 bn.
** SPEAKING OF VENTURE CAPITAL: Flat6Labs publishes 10-year impact report: Cairo-headquartered startup accelerator Flat6Labs has helped create more than 4k direct jobs through more than 300 investments in startups across Egypt and the wider region, the firm said in its 10-year-anniversary impact report. The accelerator has grown its footprint across the MENA region since being founded in 2011 by our friends at Sawari Ventures, expanding to Saudi Arabia, the UAE, Tunisia, Lebanon, Bahrain, and Jordan. Watch Flat6Labs' founders talk about the report and the past 10 years for the accelerator in a fireside chat to launch the report here (runtime: 40:05). The report was prepared with the assistance of the nice people at Inktank, our parent company.
CIRCLE YOUR CALENDAR-
CGT + private sector minimum wage coming into effect: The capital gains tax on EGX transactions and national minimum wage for private sector workers will each come into effect as of this Saturday, 1 January. Both have been met with significant resistance from the business community. The government introduced a package of sweeteners to cushion the impact of the 10% tax on EGX trades, while the National Council for Wages gave thousands of companies a six-week reprieve from the new minimum wage while it reviews their requests for exemptions or postponements.
Look out for an announcement on the second round of the state's gold + minerals bid: The Oil Ministry will early next year announce the results of the second round of its exploration tender, an official source told El Watan.
Check out our full calendar on the web for a comprehensive listing of upcoming news events, national holidays and news triggers.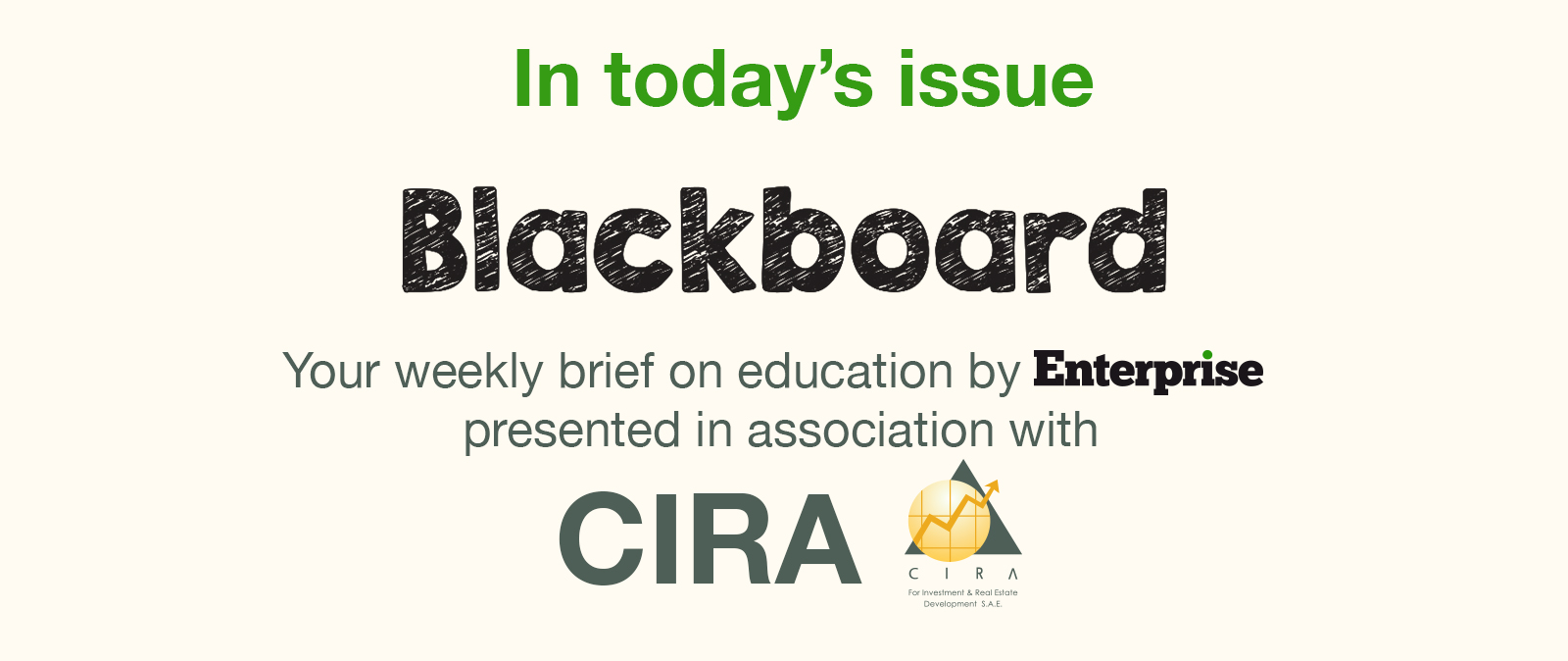 *** It's Blackboard day: We have our weekly look at the business of education in Egypt, from pre-K through the highest reaches of higher ed. Blackboard appears every Monday in Enterprise in the place of our traditional industry news roundups.
In today's issue: We look at a handful of this year's book releases that dive into trends in education. These books look at the future of education and what schools will look like down the road, how to best prepare students for the job market of the future, and their thoughts on tech-enabled learning.