Tuesday, 26 October 2021
THIS MORNING: US to accept Sinopharm jabs, Prince Charles to visit Egypt
Good morning, friends. We kick off hump day with a Good News Edition of Enterprise, starting with word that President Abdel Fattah El Sisi will not seek to extend the state of emergency that has been in place since 2017. We have full coverage in the news well, below.
ALSO FROM THE DEPT. OF VERY GOOD NEWS- Your Sinopharm jab will soon be able to get you in the US: The United States will allow all international travellers from any destination who have received any of the seven WHO recognized vaccines to enter the country starting 8 November, Reuters reports. A presidential order signed by Joe Biden yesterday said the country would "adopt an air travel policy that relies primarily on vaccination."
Canada, everyone else in the European Union: Wouldn't you nice people like to follow suit?
You'll even be able to travel if you're unvaccinated: Travellers from countries in which less than 10% of the population has been vaccinated — including Egypt — are exempt from the new rules, but must test negative for covid-19 one day before flying. Children under 18 are also exempt.
Prince in Egypt: British royal family members Prince Charles and the Duchess of Cornwall will visit Cairo on November 18-19, according to a statement. The pair will be formally welcomed by President Abdel Fattah El Sisi in Cairo before traveling to Alexandria on the second day of their visit. The Queen's eldest son will focus on environmental issues during the trip, including Egypt's nomination to host the UN's COP27 climate conference next year, the statement read. Before arriving in Cairo, the two will spend three days in Jordan to mark the country's centenary.
---
SIGN OF THE TIMES #1- Egypt has a walk-on role in the Facebook Files, with the Associated Press reporting that two years ago, Apple threatened to ban Facebook from its app store "over concerns about the platform being used as a tool to trade and sell maids in the Mideast." While most of the "material" on the platform originated in Saudi Arabia, "about a quarter" of it came from Egypt, the newswire reports.
Speaking of Apple: The first reviews of the new 14" and 16" MacBook Pros powered by the M1 Max and M1 Pro chips are starting to trickle out. Verge boss Nilay Patel is clearly impressed in this first impressions review (read or watch, runtime: 6:05) and Jon Gruber over a Daring Fireball serves up enthusiasm and nuance in equal measure. Both are must-reads for our fellow iSheep and normals alike. All we can say is: Thank God for ports.
PSA- Are you freaked out over the prospect of hyperinflation? Brewing energy and supply chain / logistics crises are driving up prices, and the chattering class is losing its mind. What if the risk is deflation, not inflation? Read on:
THE SMARTEST THING YOU'LL READ TODAY is over on Cathie Wood's Twitter, where she trenchantly suggests Jack Dorsey's crystal ball is busted. Wood is the carefully followed CEO and CIO of asset manager Ark Invest. Responding to Twitter and Square CEO Jack Dorsey's claim that "hyperinflation is going to to change everything. It's happening," Wood retorts that our future is much more likely to be about deflation. She points to both trends both secular (technologically enabled innovation thanks to things like AI and What wood calls "creative destruction") and cyclical (businesses have over-ordered — and rise of ESG is pushing the world away from oil, no matter what). Do yourself a favour and read the thread in full. It's time well-spent.
SIGN OF THE TIMES #2- Tesla has joined the USD 1 tn club, after its market value surged yesterday, making it the second-fastest company after Facebook to reach the milestone, Bloomberg reports. The electric car maker's shares surged following news that Tesla's Model 3 was the top selling car in Europe last month. Car rental giant Hertz Global has also placed a record order of 100k vehicles, amid the global surge in demand for electric vehicles. Tesla joins Apple, Microsoft, Alphabet, and Amazon — all of which have a market cap of over USD 1 tn.
Elon is now personally worth more than Exxon Mobil, according to Bloomberg's bn'aires index.
THE BIG STORY ABROAD-
At least seven protesters have been killed and 140 injured in clashes between civilians and the military following the latter's takeover of the country. Sudan's military forces arrested key civilian ministers and members of the transitional sovereign council in the early hours of Monday morning, before announcing a state of emergency and the dissolution of both the council and the government in what was seen as a major blow to the country's political transition. The story is getting wide attention globally: Reuters | Associated Press | Bloomberg | Financial Times.
The Madbouly government announced the creation of a special operations room and dedicated email to receive inquiries from Egyptians in Sudan, while EgyptAir cancelled its afternoon flight to Khartoum yesterday. Foreign Minister Sameh Shoukry yesterday underscored the need to maintain stability in Sudan in a phone call with US Special Envoy for the Horn of Africa Jeffrey Feltman.
CLOSER TO HOME- Turkish President Recep Tayyip Erdogan appeared to walk back his order to expel 10 Western ambassadors, saying in a televised statement, "our intention was never to cause a crisis," according to Bloomberg. Erdogan made the move after the expulsion demand prompted the TRY to tumble and almost cost the country key partnerships with the west.
HAPPENING TODAY-
The European Investment Bank (EIB) will hold a seminar on financing water infrastructure (pdf) today at the Nile Ritz Carlton.
A webinar on sustainable transport featuring keynote speeches by EU ambassador to Egypt Christian Berger and Public Enterprises Minister Hisham Tawfik will take place this morning at 10am. Register here.
HAPPENING THIS WEEK-
It's interest rate week: The Central Bank of Egypt will meet this Thursday to discuss interest rates. All 12 analysts polled by Enterprise see the central bank leaving rates on hold for another meeting, citing the need to maintain portfolio inflows and uncertainty over inflation.
And then it's the Fed's turn: The US Federal Reserve will meet to review interest rates on 2-3 November (Tuesday-Wednesday next week). The Fed is widely expected to keep interest rates steady in order to start tapering its asset purchases this month, though inflationary pressures are causing unease among some officials over the timeline, the Wall Street Journal reports. The longer the US can put off a rate hike, the better, as lower US interest rates relieve pressure on EM treasuries and maintain the appeal of our carry trade. One analyst we polled suggests that investors in Egyptian debt have already priced in a Fed rate hike.
CIRCLE YOUR CALENDAR-
We're looking forward to reading Justo a Tiempo, a memoir penned by our friend ​​Maria Laura Sanchez Puerta (Morning Routine) about her family's battle against cancer. Sanchez Puerta, who is the World Bank's human development program leader in Egypt, is launching her memoir on Sunday, 7 November at Osana in Maadi. Argentinian Ambassador Eduardo Varela and Cairo University Professor Rasha Abboudy will also be speaking at the event.
SPOOKY — it's almost the end of October. Here are dates for some key news triggers next month:
PMI: November's purchasing managers' indexes for Egypt, Saudi Arabia and the UAE will land on Wednesday, November 3.
Foreign reserves: October's foreign reserves figures will be out sometime during the first week of November.
Inflation: Inflation figures for October will be released on Wednesday, 10 November.
Women entrepreneurs have until 6 November to apply to a new accelerator program launched by NGO Nahdet El Mahrousa offering up to EGP 200k in grants, mentorship, and other business support. Founders and social enterprise leaders working in ICT, creative industries, or on projects that support gender equality are eligible to apply. The program, Rabeha, was launched in partnership with UN Women Egypt, the Egyptian National Council for Women, Global Affairs Canada, and other partners. You can apply here.
It's another busy week for conferences, exhibitions, and other business events in Egypt:
The two-day Intelligent Cities Exhibition & Conference takes place tomorrow and Thursday, 27 and 28 October.
The Middle East Angel Investment Network's Angel's Oasis retreat runs from tomorrow through Friday in El Gouna, with separate pricing for in-person and virtual attendance.
Grassroots community leaders aged 25-38 have until tomorrow to apply for the US State Department-backed Community Solutions Program. Applications can be submitted here.
Check out our full calendar on the web for a comprehensive listing of upcoming news events, national holidays and news triggers.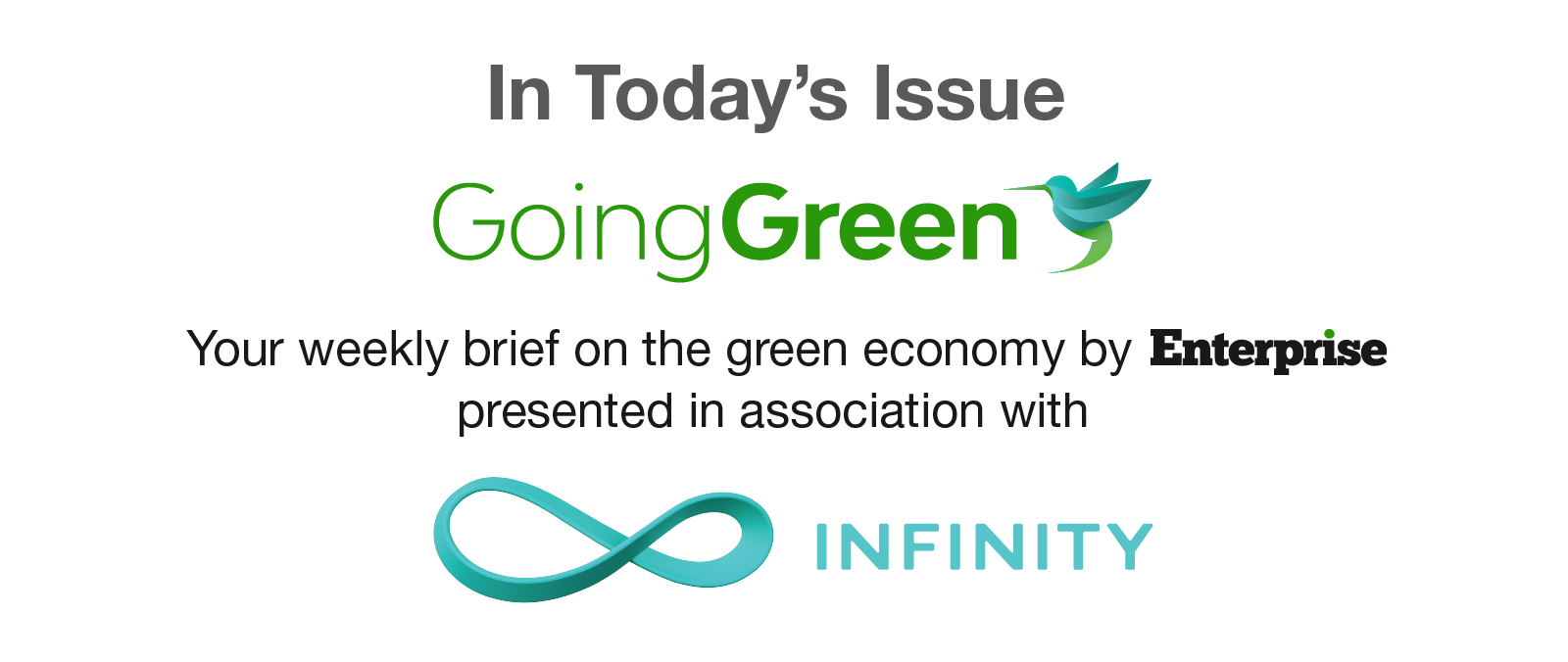 *** It's Going Green day — your weekly briefing of all things green in Egypt: Enterprise's green economy vertical focuses each Tuesday on the business of renewable energy and sustainable practices in Egypt, everything from solar and wind energy through to water, waste management, sustainable building practices and how you can make your business greener, whatever the sector.
In today's issue: In Egypt and around the world, a growing number of people are turning to veganism as a way to reduce their personal carbon footprint and do their part for the environment. Meat and dairy products are widely known to be major culprits in the emission of greenhouse gases, but plant-based and vegan products can also have an outsized impact on the environment — whether because of their water consumption or because of how supply chains are set up, and the process of getting products from farm to table. We look at how environmentally friendly going vegan actually is.