Monday, 25 October 2021
THIS MORNING: Dallal to be installed as AUC president today, gov't to make Maadi more accessible in pilot program
Good morning, friends — we hope you're caffeinated and looking forward to a great day.
AUC will install Ahmed Dallal as its new president today in a ceremony you can watch online here starting 3pm CLT. Good for AUC for choosing Dallal, a polymath and accomplished academic leader with wide regional experience. He becomes the first Arab president of the storied university. But this is also a reminder to us all that no Egyptian has ever held that role. It beggars the imagination that in more than 100 years, no Egyptian (by heritage or citizenship) has ever had the credentials to be named AUC's leader. Food for thought for AUC's board when Dallal retires or moves on after what we hope will be a very successful run leading an important national institution.
SMART POLICY- A more accessible Cairo on the horizon: Officials are working on converting Cairo's main streets to improve accessibility for persons with disabilities, starting with 28 streets right here in the People's Democratic Republic of Maadi (which happens to be home to Enterprise World Headquarters), according to a Local Development Ministry statement. The statement did not detail whether the improvements would focus on accommodating persons with physical disabilities — such as widening sidewalks and installing ramps to make them more wheelchair friendly — or whether they might include other measures, such as tactile markings for the visually impaired.
MORE GOOD NEWS- Mo Salah became the highest-scoring African player in the Premier League's history, after overtaking Didier Drogba with a goal against Manchester United last night that was the opening salvo for a hat-trick (watch, runtime: 1:29). The Egyptian king now has 107 goals to his name in the UK's top flight, three ahead of Drogba.
MEANWHILE- The government would really like us (as in all 100 mn of us) to offer up names for the new administrative capital. Feeling creative? Throw in a suggested logo and slogan. You have until 18 November to make your submission at a purpose-built website.
THE BIG STORY ABROAD this morning? It's a mixed bag. The Financial Times' big read is a look at how "tensions" are rising over Saudi Arabia's flexing of its economic muscles to strong-arm international companies into basing their regional HQs in the kingdom. The Wall Street Journal, meanwhile, suggests that ESG be damned, the surge in energy stocks is "testing investors who long avoided shares of fossil-fuel producers but are now missing out on the year's top trade."
The latest sign that the China Evergrande story is fizzling out: The embattled property developer has both made good on a debt payment (however late) and reportedly resumed work on projects in southern China, Reuters notes.
Could Evergrande kill the supercycle? Growing financial problems in China's real estate market could put paid to speculation of a new global commodities supercycle, some emerging-market analysts tell the FT. Talk of a new supercycle has been a running theme for much of this year as metal prices surged to record highs, but an end to China's construction boom, which has long driven growth in commodity-exporting countries, could put an end to the bull run, spelling trouble for exporters like Brazil and South Africa. "This points to a reversal in the bullish commodity price outlook that has favoured some emerging markets," said one EM economist.
CLOSER TO HOME- Something is going on in Sudan, where four ministers have been arrested by "unidentified Sudanese military forces," Reuters reports in a very short piece that cites as its source Alhadath TV.
SIGN OF THE TIMES- Our fellow iSheep are going to be waiting a while for their new toys. While iPhone 13 pre-orders are now open at most Apple resellers in Cairo, shipping times for new MacBook Pros and Apple Watches on the other side of the Atlantic are now slipping into late-November through mid-December. Look for reviews starting this week as pre-orders ship.
MARKET WATCH- The TRY keeps tumbling: The currency took yet another hit after Turkish President Recep Tayyip Erdogan said on Saturday he wants to kick out the ambassadors of 10 nations including the US, Canada, France, and Germany, according to Bloomberg. The TRY had already been battered by Erdogan once again sacking central bank officials, and took another blow after the central bank cut rates by 200 bps — instead of the anticipated 100 bps — last Thursday, in keeping with Erdogan's "unorthodox" monetary policy views.
CIRCLE YOUR CALENDAR-
Women entrepreneurs have until 6 November to apply to a new accelerator program launched by NGO Nahdet El Mahrousa offering up to EGP 200k in grants, mentorship, and other business support. Founders and social enterprise leaders working in ICT, creative industries, or on projects that support gender equality are eligible to apply. The program, Rabeha, was launched in partnership with UN Women Egypt, the Egyptian National Council for Women, Global Affairs Canada, and other partners. You can apply here.
It's another busy week for conferences, exhibitions, and other business events in Egypt:
Check out our full calendar on the web for a comprehensive listing of upcoming news events, national holidays and news triggers.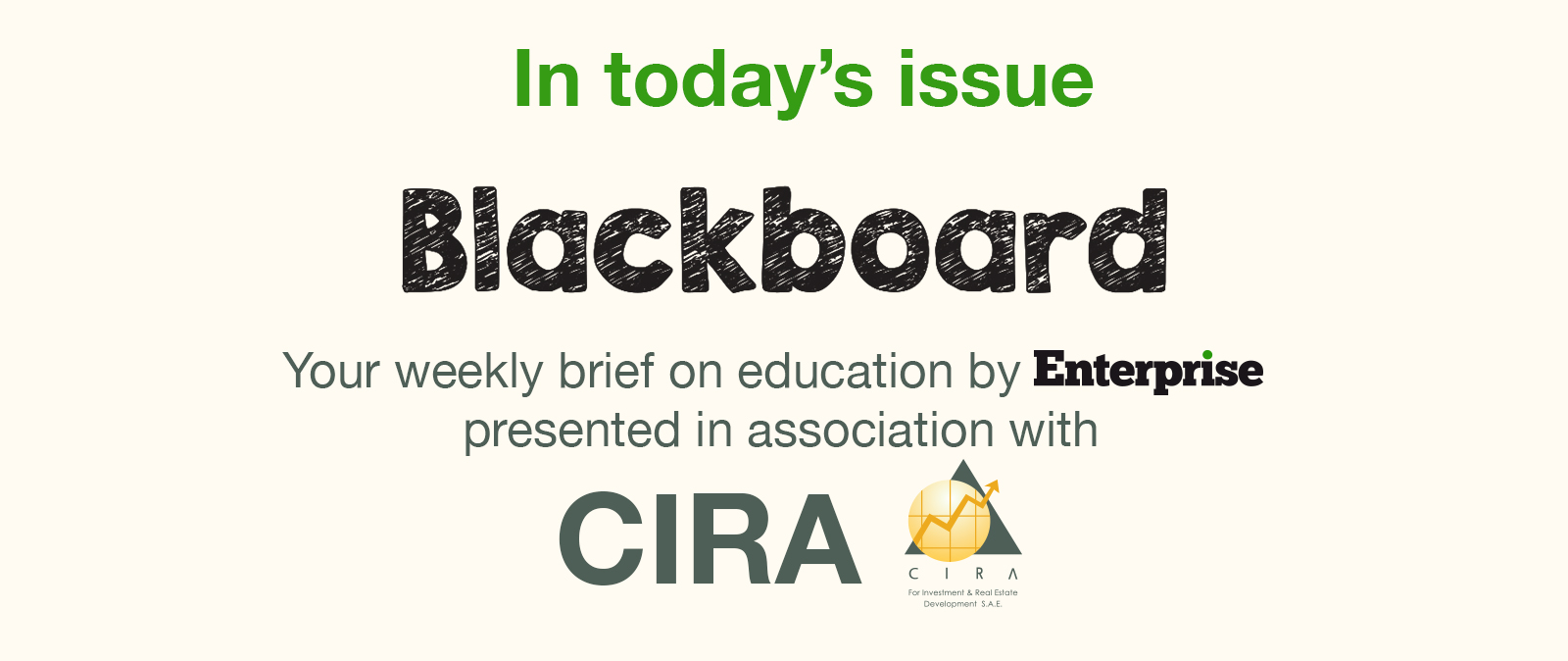 ** It's Blackboard day: We have our weekly look at the business of education in Egypt, from pre-K through the highest reaches of higher ed. Blackboard appears every Monday in Enterprise in the place of our traditional industry news roundups.
In today's issue: A recently-published World Bank paper is calling for global post-secondary education reform, proposing a policy framework focused on five principles — diversifying education systems; investment in new technologies, equity in access and financing; efficiency in using resources; and resilience in service delivery — to boost overall systemic resilience. We look at what Egypt's been doing in each of these key areas.