Monday, 6 July 2020
What we're tracking on 6 July 2020
News from the House of Representatives dominates headlines today as MPs push through a ream of legislation in their customary last-minute dash to the start of summer recess. At the top of the list yesterday: A 1% surtax on all gross salaries of more than EGP 2k per month that should go into effect this month. House Speaker Ali Abdel Aal has yet to declare when summer vacation starts, so look for a busy week ahead.
It's PMI day, with the gauge due out here at 6:15am, a few minutes after our traditional dispatch time. The contraction in Egypt's non-oil private sector was slightly less catastrophic in May, recovering somewhat from the all-time lows seen in April — the first full month under lockdown restrictions. The hope is that the contraction will have eased further in June as the government started to unwind the lockdown.
The Saudi and Emirati PMIs were out yesterday, and the news was mixed. Business activity in KSA (pdf) fell at a faster pace in June than it did the month before amid a "sustained lack of customer demand." In the Emirates (pdf), business activity "rose solidly" in June as demand came back after the lockdown. The one warning sign in the UAE: Cost-cutting is spurring more job cuts.
News triggers coming up over the next few days include foreign reserves figures for June, which should be out sometime this week, and inflation data for last month, which is due on Thursday.
---
COVID-19 IN EGYPT-
The Health Ministry confirmed 63 new deaths from covid-19 yesterday, bringing the country's total death toll to 3,343. Egypt has now disclosed a total of 75,253 confirmed cases of covid-19, after the ministry reported 1,218 new infections. We now have a total of 20,726 cases who have fully recovered.
It's too early to call this a trend, but both the death and new infection figures are the lowest the nation has seen in weeks.
Famed actress Ragaa El Gedawy passed away yesterday after complications linked to covid-19, her daughter confirmed. The 82-year-old was receiving medical treatment for over a month. She was an icon of the small screen whose long, storied career also saw her take turns on the catwalk, the theatre, film — and as a frequent co-host with late night screamer Amr Adib. A one-time model and former Miss Egypt contestant, El Gedawy made her big-screen debut in 1958 with a turn in Ghariba. Adib lauded his friend in a segment last night (watch, runtime: 9:12).
Information Minister Osama Heikal and his family have fully recovered from covid-19, according to Al Shorouk. Heikal went back to work yesterday after self-isolating at home for two weeks. The minister had previously said he was isolating as a precaution, but confirmed yesterday in a talk with Sayed Aly that he had contracted the virus (watch, runtime: 1:04:08).
Hotels in the Red Sea governorate could bounce back to their normal occupancy rates by March or April of next year, Chairman of the Egyptian Hotels Association in the Red Sea Alaa Akel told Reuters Arabic. Akel expects all 252 hotels in the governorate to receive by October or November the health and safety certificates that allows them to operate under reduced capacity requirements.
Who's visiting: Tourist arrivals this month will likely come largely from Ukraine, Kazakhstan and Belgium, while Italian and German tourism should pick up towards the end of the summer season, he said.
EFA pushes premier league start date: The Egyptian Football Association (EFA) has decided to push the resumption of the Egyptian Premier League by two weeks to 7 August. Sports Minister Ashraf Sobhi said last month that professional footballers would resume league matches on 25 July. The return to the field hasn't been smooth sailing for the EFA, with several players getting infected with covid-19 and Zamalek FC preemptively pulling out of the league. Our take here: Diehard Zamalkawi need not freak out. Mortada Mansour said as recently as yesterday that the club was "discussing" the situation with Sobhi. Zamalek will be on the field when the season begins.
DONATIONS-
Egypt is ready to provide covid-19 medical aid, preventative supplies and technical support to Iraq, Health Minister Hala Zayed said during a meeting with the Iraqi Ambassador Ahmed Nayef yesterday.
Tetra Pak Egypt and UNICEF are providing enough personal protective equipment for 1.05k frontline workers for one month, according to a Tetra Pak statement.
ON THE GLOBAL FRONT-
The UAE is drastically shrinking the size of its government as it looks for ways to bolster finances that have been battered by the covid-19 pandemic. Half of all federal agencies will be merged and three ministers have been appointed specifically to oversee the economy in moves designed to form a more "agile" government, Prime Minister Sheikh Mohammed bin Rashid al-Maktoum announced yesterday. The Financial Times and Bloomberg both have the story.
Spain is now resorting to local lockdowns in Catalonia and Galicia in response to a spike in cases. Almost 300k people are now back under lockdown in areas of the two provinces, a month after the government eased its draconian restrictions on movement and reopened swathes of the economy.
Goldman downgrades US growth forecasts: Goldman Sachs economists now expect the US economy to shrink 4.6% this year after revising downwards 3Q growth projections, Bloomberg says. The economists forecast the economy to grow 25% quarter-on-quarter in 3Q, down from their previous projection of 33%. This would mean that the economy contracts 4.6% this year, rather than 4.2% as previously expected.
Germany could see its economy gradually recover from the pandemic fallout starting October, making a rebound of over 5% a possibility in 2021, Economy Minister Peter Altmaier said, according to Reuters.
The World Bank has pulled the plug on its second round of so-called 'pandemic' bonds amid criticism that it was too slow to pay out aid, the Financial Times reports. The bank launched the first iteration of its pandemic bond program three years ago in response to the 2014 Ebola outbreak in Africa, which aimed to channel private-sector funds to the low-income countries battling the disease. It was thought to be planning a second issuance to provide emergency assistance in response to the covid-19 pandemic, but a spokesperson told the salmon-colored paper that there are now "no plans" for a new round. The original program has come under criticism after paying out far too late to be of any assistance to stricken countries, with one global health expert calling it an "awful scheme" that the bank should "draw a line under."
GLOBAL MACRO-
The global refining industry is faced with "catastrophic" margins, Bloomberg reports, as recovering oil prices have done nothing to offset slumping demand. "A refinery's economics are ultimately simple: it thrives on the price difference between crude oil and fuels like gasoline, earning a profit that's known in the industry as a cracking margin," the business information service notes. Crude oil prices are back from predictions earlier in the crisis that they could hit single-digits, but demand from businesses and consumers for refined products still stinks. The outlook: Consolidation could be the name of the game for the industry — particularly if there's another round of covid-19 shutdowns.
Molecules of freedom suffer setback after Dominion Energy bails on gas pipeline, sells natgas assets to Berkshire Hathaway: Dominion Energy — one of the largest utilities in the US — announced yesterday that it will sell its entire gas pipeline and storage portfolio to Warren Buffett's Berkshire Hathaway for USD 4 bn, and cancel its Atlantic gas pipeline due to delays and "cost uncertainty." Berkshire will acquire more than 7.7k miles of gas pipelines and 900 bcf of gas storage, as well as USD 5.7 bn of debt, in a transaction with an enterprise value of USD 9.7 bn. Bloomberg, Reuters and the Associated Press have the story.
Low cost air travel is "economically and ecologically irresponsible," Lufthansa CEO Carsten Spohr said in response to airlines marking down ticket prices to stimulate demand, Bloomberg reports.
AND THE REST OF THE WORLD-
A Libyan airbase belonging to Turkish-backed forces was yesterday struck by "foreign jets" allied to the eastern military commander Khalifa Haftar, the Associated Press reports, citing Tripoli-based Libyan officials. The Al Watiya airbase was recently recaptured by the Tripoli-based government in May and is considered to be the most important airbase in western Libya. Haftar's forces are backed by Egypt, the UAE, Russia and France, while Turkey and Qatar support the Tripoli government.
Rapper Kanye West is joining this year's US presidential race. No, we're not joking. If he goes through with it, West's last-minute bid would require him to qualify for ballot access across 50 states and the District of Columbia, and form an independent political organization in a matter of months, according to Bloomberg. West also wouldn't be on the ballot in a number of key states whose filing deadlines for independent candidates have already passed, such as Texas, New York and North Carolina. A cynic might draw a link between the announcement and the expectation that the pop culture fixture has a new album due out this year.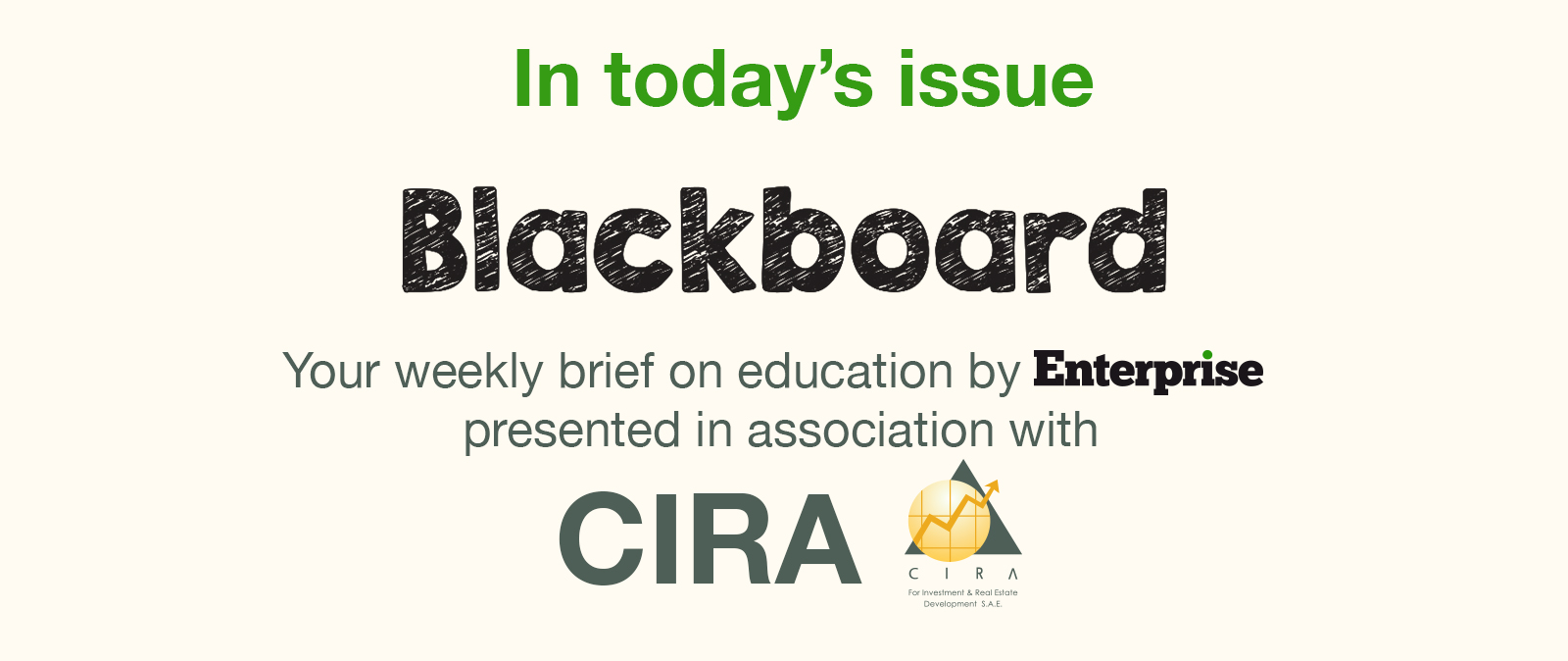 *** It's Blackboard day: We have our weekly look at the business of education in Egypt, from pre-K through the highest reaches of higher ed. Blackboard appears every Monday in Enterprise in the place of our traditional industry news roundups.
In today's issue: You told us what you thought about e-learning. We took that feedback to schools — specifically to CIRA CEO Mohamed El Kalla, American International School Director Kapono Ciotti, and GEMS Egypt CEO Ahmed Wahby. They spoke with us on what they are doing to develop their online learning systems for the 2020-21 academic year and how much of your feedback will be taken into account. Spoiler: That will not include tuition cuts or refunds.