Wednesday, 25 March 2020
What we're tracking on 25 March 2020
The biggest news of the day: A daily curfew from 7pm-6am goes into effect this evening for at least two weeks. The Madbouly government has also extended both the closure of schools and universities and the suspension of international flights, and has shut all but a handful of government services. We have chapter and verse on everything you need to know in this morning's Speed Round, below.
PSA- You're going to hear a lot about social distancing measures being "worse than the disease" in the days ahead, including from The Donald, who wants the US open for business by Easter. And there may prove to be smarter ways to do it. But in the meantime, it's the best the world can muster. Doubt it? Read this thread by Tom Inglesby of Johns Hopkins.
COVID 19 IN EGYPT-
The Health Ministry yesterday reported thirty-six new cases of covid-19, all but one of them Egyptian citizens, taking the overall total to 402. A woman from Alexandria, aged 54, became the latest victim of the outbreak, bringing the country's death toll to 20. Twelve people — nine Egyptians and three foreigners — were discharged from hospital, meaning 80 people have now made full recoveries.
Cleopatra Hospitals and medical diagnostics outfit IDH have laid out how they're handling covid-19, as has snackmaker Edita. Give them a read to see how they're protecting patients and consumers from the virus that's preoccupying us all — they're both reassuring to read as consumers and models of what to do if you're in a critical industry. Read (pdf): Cleopatra Hospitals | IDH (which owns diagnostics chains Al Borg and Al Mokhtabar) | Edita.
"Okay, so my company needs to put out a covid-19 statement, right?" No, as we suggested recently in a note to friends and clients, unless you're in a critical or regulated industry.
The other obvious exception: If you're closing shop for the duration or otherwise have an, uhm, adverse outcome to report. Just make sure you aim your communication directly at your core audience, whether that's investors or consumers, for example.
The German-Arab Chamber of Industry and Commerce did this when it told us that it has closed for an indefinite period due to ongoing events. The chamber's staff members are accessible via email.
---
Air freight costs have more than doubled since the suspension of air traffic at Egypt's airports, an industry official is quoted as saying by the local press reports. Both Emirates and EgyptAir have had to hike prices.
Farmers receive debt relief: The Central Bank of Egypt has agreed to postpone loan repayments for farmers and breeders for six months, the Agriculture Minister El Sayed El Qusair said yesterday. This after the central bank last week extended the tenor of all bank loans by six months to provide relief to businesses.
Afreximbank has announced a USD 3 bn package to assist member countries, including Egypt, manage the economic and health impacts of the covid-19 outbreak, Al Mal reports. It will support member states and other financial institutions in meeting their commercial loan obligations, as well as support foreign exchange reserves in the states' central banks.
FOOD FOR THOUGHT- What the global pandemic means for Egypt's informal economy: A side effect of the covid-19 pandemic is that it may push the government to reconsider its view of informal labor — be it seasonal labor, self-employed workers, or household enterprises that depend on daily transactions, Amr Adly writes for Bloomberg Opinion. Some 30% of labor in Egypt is informal, making it a major obstacle in imposing curfews or self-isolation given the lack of communication channels. It's also a chance for the government to improve its regulation of the informal economy — and give incentives to the informal economy to go legit to capitalize on formal safety nets. The draft SMEs Act, which is currently making its way through the House of Representatives, will introduce tax and non-tax incentives to encourage informal businesses to join the formal economy.
ON THE GLOBAL FRONT-
G7 officials pledge to do whatever it takes to save the global economy: G7 finance minister and central bank governors yesterday vowed to ramp up emergency fiscal and monetary stimulus measures as long as the global economy is threatened by the covid-19 pandemic. "We will do whatever is necessary to restore confidence and economic growth and to protect jobs, businesses, and the resilience of the financial system. We also pledge to promote global trade and investment to underpin prosperity," the group said in a statement.
Is the US the next epicenter of corona? The World Health Organization suggested yesterday that the US could become the next epicenter as the country sees a "very large acceleration" of cases, Reuters reports.
India has imposed a nationwide lockdown for 21 days to prevent the spread of covid-19, reports Reuters. It has reported 482 cases and 10 deaths so far, but the world's second most populous country could see over a mn cases by May, health researchers warn.
The UAE is unblocking apps that use voice over IP, including Microsoft Teams, Skype for Business, Google Hangout, Zoom, and Blackboard to help employees work remotely, according to Bloomberg.
The 2020 Summer Olympics have been postponed until 2021, the International Olympic Committee confirmed, according to the Associated Press.
---
US presidential hopeful Joe Biden's campaign is struggling to capture attention and funds amid the covid-19 crisis, pushing what would normally be a presidential campaign in full gear to relative obscurity, Reuters reports. Heightened restrictions and the economic fallout of the covid-19 outbreak are challenging the campaign's fundraising effort and large public events are effectively off limits, meaning no campaign events. Meanwhile, big ticket donors are more focused on corona-related support — simply staying afloat.
---
Oh, and the rest of the world is getting a taste of Egyptian internet as Microsoft, Zoom, Google and other work-from-home tool providers struggle to keep up with demand — and as Youtube moves the whole world today to standard definition (480p) video by default. Google says the Youtube downshift will last a month. Regulators in Europe had already asked Netflix and Amazon Prime Video to do the same, Bloomberg notes. Use the time to watch Metallica in concert as the band releases a concert a week for the world to watch without charge.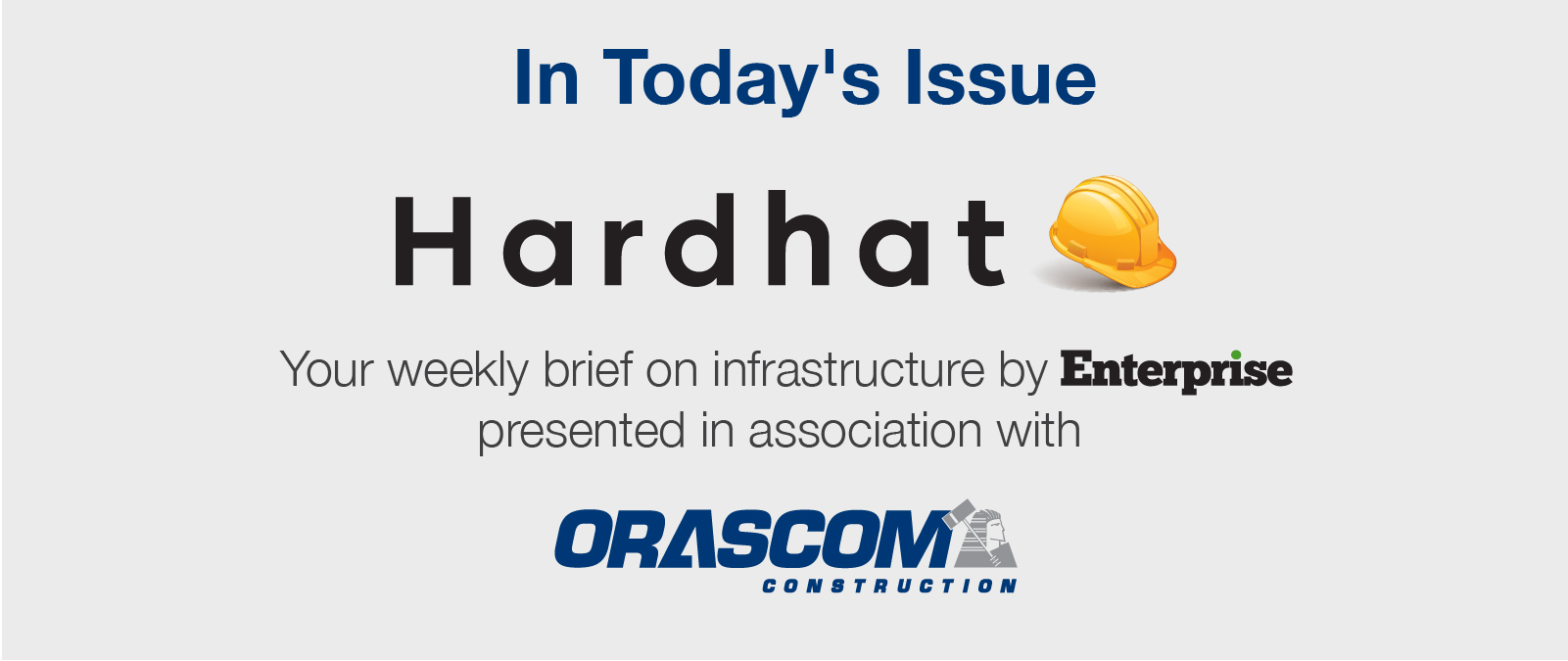 *** It's Hardhat day — your weekly briefing of all things infrastructure in Egypt: Enterprise's industry vertical focuses each Wednesday on infrastructure, covering everything from energy, water, transportation, urban development and even social infrastructure such as health and education.
In today's issue: Our exclusive sitdown with Osama Bishai, CEO of Orascom Construction, the first in a two-part series on how the construction industry is managing the covid-19 crisis. Bishai spoke with us on the state of the sector during covid today, what can we expect on the long term, and what lessons or positive outcomes we can draw in a post-covid-19 world. Part two next week features a sit-down with Hassan Allam Holding co-CEOs Amr and Hassan Allam.