Monday, 11 November 2019
What we're tracking on 11 November 2019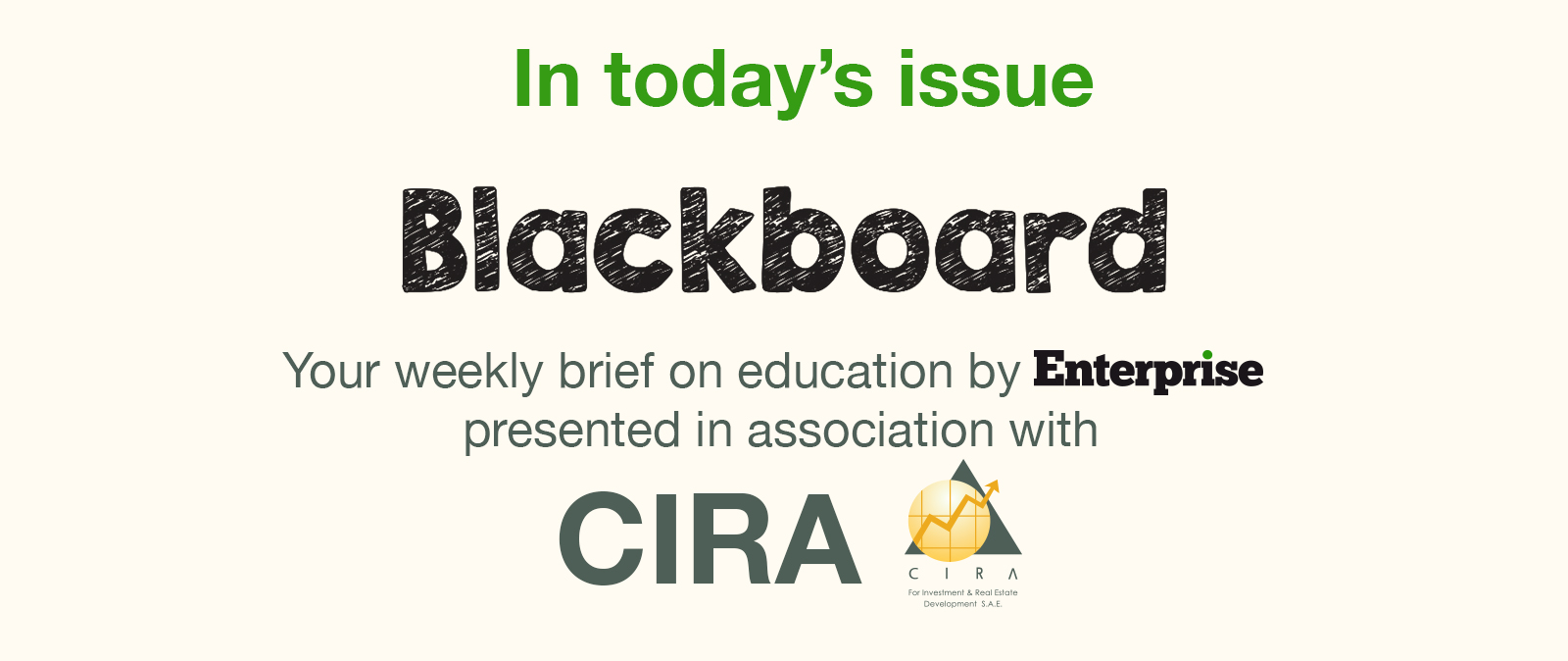 *** We're very proud to announce this morning our first Enterprise vertical: Blackboard. We live and breathe financial, economic and business news in Egypt. We love it so much, in fact, that we're launching a series of specialized editions of Enterprise focusing on specific industries.
Blackboard will run every Monday, appearing in Enterprise after Egypt in the News in the place of our traditional industry news roundups. Its focus: The business of education in Egypt, from pre-K through the highest reaches of higher ed.
Each edition of Blackboard will mix news, deep dives, analysis, raw data (plus context) and a touch of humor with the goal of making industry players think — and of getting non-experts up to speed. Our goal: To give you the inside track, whether you're an investor or operator in the field or just passingly interested in the topic.
Why start with education? Because in a nation of 100 mn people, one of the most consistent complaints of business leaders at all levels of seniority is the mismatch between the needs of the business world and the skills of new entrants to the labor force. A solution to that problem, and many others, starts with education.
With the generous financial support of our friends at CIRA, we'll bring you analysis pieces, explainers, interviews, and reports every Monday.
In today's issue: Blackboard looks at the ramifications of the Education Ministry's 20% cap on foreign ownership in Egyptian private schools — and it could have ramifications beyond education.
---
This week's edition of Blackboard begins right after Egypt in the News, below.
Somabay is home to five luxury resorts, a lively marina, and outlets for premium entertainment and relaxation. Somabay caters to diverse tastes with a common thread of well-being,
relaxation, and sheer enjoyment of life that is reflected in all its hotels & facilities
It's interest rate week, ladies and gentlemen: The Central Bank of Egypt's Monetary Policy Committee will meet to review interest rates for the penultimate time this year on Thursday, 14 November. Our poll of economists last week showed had five out of the six calling either a half-point or a 100 bps cut. The CBE cut rates by 250 bps during the past two meetings, bringing the overnight deposit rate down to 13.25% and the lending rate to 14.25%. The main operation and deposit rates currently stand at 13.75%.
The CBE is selling EUR 695 mn-worth of one-year EUR-denominated treasury bills today, according to official data. Yields fell in the last auction of EUR 610 mn to an average of 1.49% in August.
A delegation from Chinese government's influential consultative body is in town for three days to discuss Egypt's participation in the Belt and Road Initiative, the local press reports. The visit will conclude tomorrow, but it remains unclear who the delegation is meeting and what's on their agenda.
The first iteration of the Egypt Economic Summit gets underway tomorrow at the Four Seasons Nile Plaza, according to a press release (pdf). The one-day summit will focus on the domestic economy — with panels looking at banking and finance, ICT, industry, investment, and real estate in the wake of the Sisi administration's economic reform program. There will be five keynote speeches — including by Hany Sarie Eldin, who will inaugurate the summit as this year's honorary chair and prominent businessman Mohamed Aboul Enein, who will talk about the outlook for the manufacturing sector. CIB's Hisham Ezz El Arab will also take part as the head of the Federation of Egyptian Banks.
---
In international news worth knowing this morning:
Saudi Aramco will allocate up to 0.5% of its shares to individual investors when it begins the IPO process later this month, according to a preliminary prospectus (pdf) released over the weekend, CNBC reports. The offering had been expected to be priced next Sunday, 17 November, but that date has been pushed to 4 December, when the bookbuilding process concludes, the Wall Street Journal says. The share subscription deadline for retail investors will be on 28 November.
But we're still none the wiser on the total size of the offering. The company said the size of the stake sale and its value will depend on investor interest during the bookbuilding process, and will not be disclosed until early December.
Drone attacks hit profits in 3Q, bringing investment risks into focus: Aramco announced a sharp drop in profit in the third quarter due to the attacks on its facilities in September, "highlighting the risks to investors ahead of what could be the world's largest initial public offering," the WSJ says.
---
America's uber rich are freaking out about the prospect of President Warren. The ascendancy of Democratic presidential contender Elizabeth Warren to frontrunner status has many of America's 0.001% increasingly fearful for their bns. Warren's pledge to introduce a wealth tax to fund ambitious social programs such as Medicare for All would see the government take six cents of every greenback in assets held by multi-mn'aires — every year.
It sounds pretty meager, but over time it adds up. The New York Times crunches the numbers and finds that if a wealth tax had been in place since 1982, Bill Gates would be worth roughly USD 14 bn now, instead of USD 97 bn, and Michael Bloomberg would have seen his personal fortune amount to USD 12.3 bn instead of almost USD 60 bn.
Bill Gates last week became the most high-profile bn'aire to come out against Warren's tax plans, arguing that it could impede economic growth and discourage investment. As for Bloomberg, he's seriously considering taking the matter into his own hands and launching a rival bid for the Democratic nomination.
Also from the US of A:
Let's not get ahead of ourselves on US-China trade: The Donald at the weekend quashed rumors circulating last week that his administration had agreed to lift some of the tariffs on Chinese goods. "I haven't agreed to anything," the Financial Times quotes him as saying. "China would like to get somewhat of a rollback, [but] not a complete rollback because they know I won't do it."
First Trump impeachment hearings to take place this week: The first public hearings in the impeachment investigation into Trump will take place on Wednesday and Friday this week, when a former US ambassador to Ukraine and two diplomats testify to the House. CNBC has more.
Other international headlines worth knowing about:
SoftBank founder makes WeWork mea culpa: Founder and CEO of SoftBank Masayoshi Son has admitted that he turned a "blind eye" to the failings of WeWork and pledged to resurrect the troubled office-space company, the Financial Times reports. SoftBank was forced to bail out the company to the tune of USD 9.5 bn last month after its valuation plummeted more than 80% to just USD 8 bn following a failed IPO attempt.
Uber shares fell to new lows lows last week after the lock-up period for early investors expired, according to the FT.
Xerox is contemplating making a cash-and-stock takeover offer for HP, which has a market value of roughly USD 27 bn, in what the Wall Street Journal terms "an audacious move that would unite two fading stars of technology."
PSA- Perhaps the news with the widest appeal to our readers this morning: Inveterate SMS spammers Sherket Almaneya just too it in the teeth, it seems. We have the rundown in this morning's roundup of last night's talk shows.