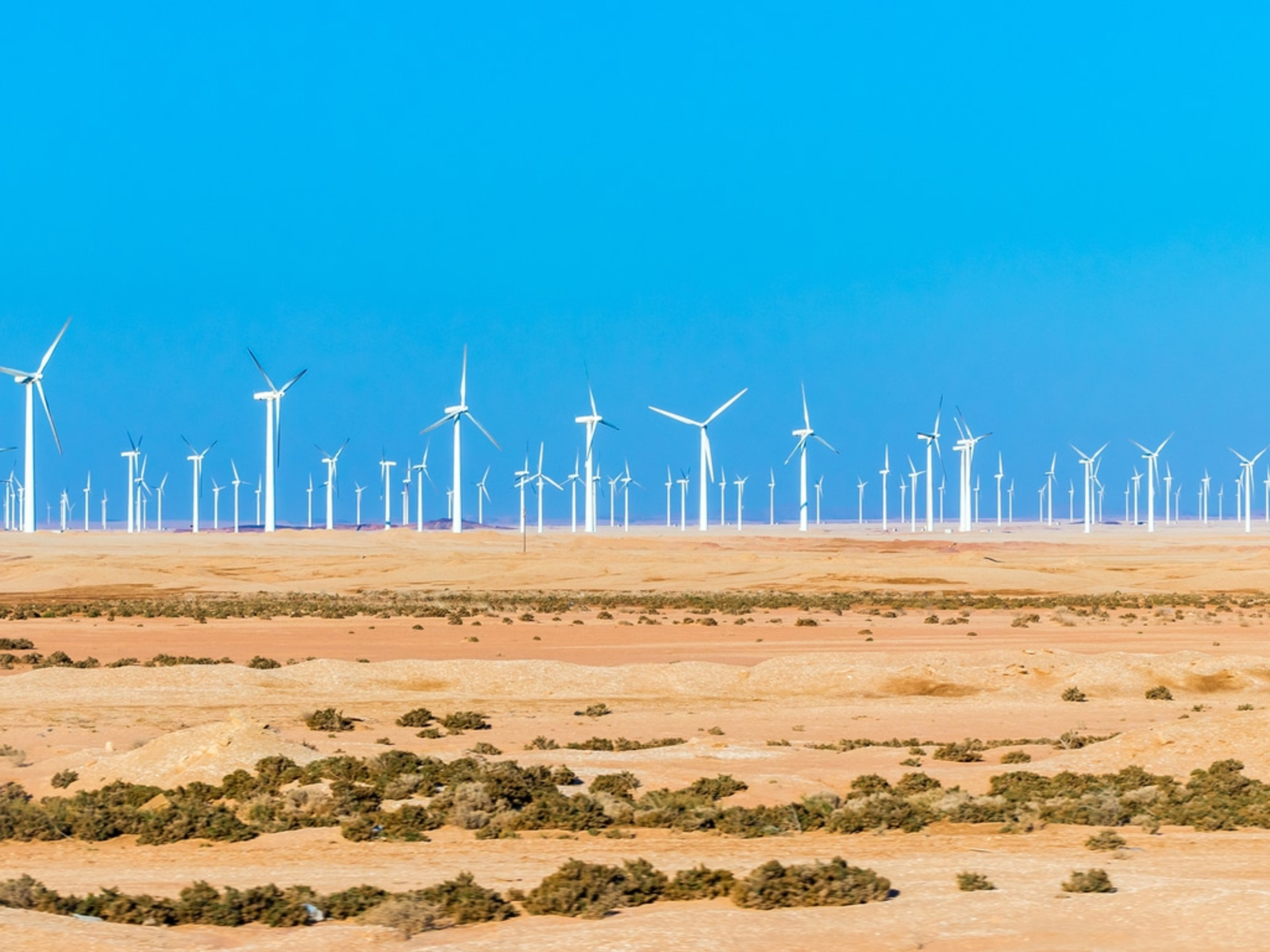 We have the details of Egypt's updated emissions targets for 2030: Earlier this month, Egypt submitted its updated nationally determined contributions (NDCs) committing to new emissions targets by 2030, President Abdel Fattah El Sisi said at a climate dialogue in Germany. The new NDCs — an update to our first-ever report, submitted back in 2015 — comes ahead of us hosting COP27 in Sharm El Sheikh in November, which Egypt hopes will lead to turning climate pledges into tangible measures and actions towards crucial climate financing for developing countries.
Energy, oil + gas, transport in focus: These targets include fresh commitments to reduce emissions in the energy and transport sectors — two of the most polluting industries in Egypt — and will also look to scale back emissions from transport, Environment Minister Yasmine Fouad said at a presser last week, according to a statement. We break down the new targets — and how we plan to reach these goals by 2030 — as outlined in the government's updated NDC report (pdf).
More ambitious renewables goals to slash energy emissions: The government wants to slash emissions from the energy sector to 33% of the business as usual (BAU) scenario — i.e. what emissions would be without any mitigation plans — by 2030 by ramping up its renewable energy targets, the report shows. Officials had previously set an (already ambitious) goal of having renewables account for 20% of our power generation by 2022 and 42% by 2035, but Egypt is now looking to have renewable energy account for 40% of our energy mix by 2030 and will keep its 2035 target unchanged.
Let's repeat that BAU bit for those of you at the back of the class: This isn't about cutting current emissions by 33% — the target is to make emissions 33% of what they would be without mitigation.
How we plan to get there: The plan is to accelerate "the scale-up of on-grid renewable energy by reducing coal capacity in the generation mix," including expanding residential renewables generation with more rooftop PV panels and encouraging the use of LED lighting. The government is also looking to expand regional interconnection projects and shift to a smart grid using new tech such as smart metering, the report says, without providing specific targets. A shift to smart grids "will contribute significantly to improve electricity efficiency, reduce carbon emissions, and reduce the investment required for infrastructure for electrical networks." Outdated power plants will also be either taken offline or maintained and upgraded to improve their efficiency. Upping efficiency of the country's transmission and distribution networks, including extra-high voltage substations and control centers, are also in the plan.
The oil and gas industry is also up for an efficiency overhaul: The updated NDCs target cutting emissions from the oil and gas industry to 65% of what it would be in the BAU scenario. The target is to reduce emissions from the oil and gas industry to 1,682 Gigagrams (Gg) of CO2 equivalent by the end of the decade by increasing gas recovery at oil fields and raising energy efficiency.
How we're going to do it: Egypt primarily wants to focus on making use of the recovery of associated gases generated from crude oil fields, the report says, with the program including 17 implemented projects and 36 others planned until 2030. "Instead of flaring, the associated gases will instead be directed to gas processing facilities to produce liquified petroleum gas (LPG), natural gas, and condensates," according to the report. The plans also include implementing "low-investment energy efficiency measures in petroleum companies" designed to cut 5% of the sector's energy consumption. The report also says the government plans to conduct energy efficiency audits on a petrochemical plant and two upstream oil and gas facilities, without naming any of the three facilities.
We're also doubling down on green fuels + waste-to-energy: Under the strategy, Egypt will extract 350k tons of algae oil annually for use in the production of biofuels and generate 100k tons of bioethanol annually, the report shows. The government also has a planned product to convert plastic waste to oil as an intermediary product to produce 30k tons of polyethylene.
Transport emissions are up for the biggest reduction relative to the BAU trajectory: The government's plan will see Egypt's transport sector emissions fall to 7% of what they would be in the BAU scenario by 2030. "Road transport is by far the largest [greenhouse gases] contributor in the transport sector in Egypt," which means the strategy will focus on encouraging a "low carbon modal shift" towards mass transit options, the report notes.
How we're going to get there: Changes to the transport sector's emissions rely on three main prongs: Developing mass transit services, improving road infrastructure for better fuel efficiency, and bringing greener fuel to mass transport modes. The report takes note of mass transport development projects, including expanding the Cairo Metro network, the rehabilitation of the Alexandria Raml Tram, the USD 4.5 bn monorail lines, and the 103.3 km light rail train project. The government is also working to upgrade road infrastructure to "improve interconnections between cities and decrease commuting time and fuel consumption for road vehicles," the report notes. Finally, the government is working to switch passenger buses to run on "cleaner fuels" and will introduce a 2% biofuel quota to airplanes' energy consumption, the report says, without providing further details.
The manufacturing industry isn't going unnoticed, either: A decarbonized industrial sector is also in the government's plan, although the report does not include specific emissions reductions targets. The plan includes improving energy efficiency across all industries, with an eye to cut average thermal energy consumption in iron and steel, fertilizers, and ceramic tiles industries (which are energy-intensive) by 10%, the report says. Fertilizers, for example, will see a transition to low-carbon nitrogen fertilizer production by replacing feedstock with green hydrogen and green ammonia. The government has signed some USD 14 bn worth of preliminary agreements for green hydro and green ammonia projects over the past several months.
Cement is a major component of the decarbonized industry target, with the government looking to enforce a low carbon roadmap that will improve energy efficiency, introduce a partial shift to alternative fuels, and lowering clinker content in cement by as much as 80%. The main pollutant in cement is the production of clinker, which releases CO2. Construction material manufacturing — including cement, red brick, paint, and steel — are major contributors to pollution, as we've noted previously.
Also in the plan: The government's strategy touches on adopting low carbon targets in other sectors, including:
Solid waste management: Improving waste collection efficiency to 95% from 55% currently by 2025 through attracting more investments in developing solid waste management infrastructure nationwide.
Urban planning: Promoting green buildings and developing 16.9k buildings under the scheme by 2030, as well as implementing energy efficiency codes for new buildings and the renovation of existing buildings.
Tourism: Encouraging the use of renewable energy sources, including rooftop PV panels; implementing energy-efficient HVAC systems and water pumping systems; and encouraging hotel guests to be more energy-conscious.
Irrigation: Raising the efficiency of current agricultural water use by 20% through using modern irrigation techniques and reducing leakages across 4 mn feddans.
How much is this all going to cost? The updated NDC could cost no less than USD 246 bn, according to the report. Mitigation will account for most of the spend at USD 196 bn, while adaptation will cost USD 50 bn. "The actual implementation of these mitigation and adaptation measures are conditional on the provision of adequate, appropriate international finance through highly concessional finance and grants as appropriate," it said. Financing — particularly innovative financing tools, such as concessional lending — will be a core theme at COP27, International Cooperation Minister Rania Al Mashat has said.
---
Your top green economy stories for the week:
World Bank weighs in on Egypt's Climate + Development Report: International Cooperation Minister Rania Al Mashat met with the World Bank's operations manager in the Middle East and North Africa, Robert Bou Jaoude, to discuss Egypt's preparations ahead of the submission of its Country Climate and Development Report.
Saudi German Hospitals Group wants to make its hospitals in Egypt green: The Saudi German Hospital is working on applying new "green" measures to its newest hospital in Alexandria, as part of a wider strategy to establish an environmentally-friendly model for its facilities in Egypt.
Emaar Misr under fire for environmental damage: The Environment Ministry has ordered all dredging work happening near the north coast cities of Marassi and Stella to stop after a number of people took to social media to complain about environmental damage.