Wednesday, 29 June 2022
THIS MORNING: Enjoy the long weekend — we'll see you next fiscal year
Good morning, lovely people. We've so nearly made it to the long weekend, and we hope you're as excited about it as we are.
The EGX is closed tomorrow: Following the Madbouly Cabinet and central bank's announcements that tomorrow is off for both public and private sector workers and banks, the EGX announced yesterday that it too will be closed in observance of the 30 June Revolution.
REMINDER- EnterprisePM is off today as we take a publication holiday to work on our upcoming editorial calendar. We'll be back to our usual 6am / 3:30pm CLT publication schedule on Sunday.
That means that next time we write to you, it's going to be a new month — and a new fiscal year. With the start of the new month come the usual suspects on our news calendar:
PMI: Purchasing managers' index figures for June will be released on Wednesday, 6 July. Data for Saudi Arabia and the UAE data will be out one day earlier, on Tuesday, 5 July;
Foreign reserves figures for June should be announced sometime next week;
Inflation figures for June are due out on Sunday, 10 July.
The central bank won't meet to discuss interest rates in July. Its next meeting is on Thursday, 18 August.
PSA- ATM and other banking fees could be back by the time we next land in your inbox. Covid-era measures waiving fees on inter-bank EGP transfers, ATM withdrawals, point-of-sale transactions, contactless payment cards, mobile wallets, e-payments, and more will lapse at the end of June, unless the Central Bank of Egypt decides to extend them once again, Masrawy reports. The measures were introduced during the first wave of the pandemic in March 2020 and have been periodically extended ever since, most recently at the end of 2021.
THE BIG STORY here at home is the shake-up in competition law currently making its way through the House. We're taking advantage of a somewhat slower newsflow this morning to bring you the details so far on amendments to the Competition Act that would give the Egyptian Competition Authority (ECA) more power to regulate M&A.
Elsewhere, passenger car sales are down for a third month running; B Healthcare has closed its acquisition of Egyptian IVF Center; and BP has landed fresh gas exploration rights in the Med.
HAPPENING TODAY-
Deadlines for offers in state grain buyer GASC's latest international tender close today. The General Authority for Supply Commodities (GASC) is seeking an unspecified amount of wheat on a free-on-board (FOB) basis to be shipped between August and October. If successful, this will be only GASC's third purchase since war broke out in Ukraine, sending international wheat prices sky-high.
OPEC+ meets today and tomorrow — but don't expect any changes to the schedule, as industry watchers expect the cartel to proceed with a pre-agreed modest production increase in August, Bloomberg reports. The August ramp-up would complete the two-year reversal of output cuts that were made during the onset of covid-19 in 2020.
The big question will be what happens after August: The alliance faces pressure to intervene and bring down soaring oil prices — which have breached USD 110 per barrel — by upping its supplies to fill the Russian-oil sized gap in the energy market, while still keeping in mind the effect on their dwindling reserves, Bloomberg notes.
Another big question: Does OPEC have the capacity to up supply? The cartel has supplied more than 500 mn fewer barrels of oil since its covid-era supply agreement began, Bloomberg reports, citing data from OPEC's Joint Technical Committee. A lack of investment and ongoing supply chain snarls have had many members struggling to keep up with production increases.
Caught on camera: French President Emmanuel Macron telling US President Joe Biden at the G7 that Saudi Arabia and the UAE are approaching their maximum oil pumping capacity — which would contradict official data. Reuters TV picked up Macron's comments without his knowledge, according to Bloomberg. UAE Energy Minister Suhail Al Mazrouei suggested in a tweet that Macron had been referring to OPEC production limits.
How did OPEC do in 2021? The cartel's oil revenue surged 77% last year on the back of rising prices and post-covid demand to hit USD 561 bn, according to its annual statistical bulletin (pdf), which was released yesterday. That said, the number of active oil rigs rose by only a modest 11% to 489, while the number of completed new wells declined. "These figures are worrying and indicate a reduction in OPEC spare capacity in the near term," an unnamed OPEC source told Reuters.
FOR TOMORROW-
NDP HQ revamp deadline: Tomorrow is the deadline for companies to submit bids for the redevelopment of the National Democratic Party headquarters.
THE BIG STORY ABROAD is that Finland and Sweden have managed to assuage Turkish concerns over their bid to join Nato, bringing the two nations a step closer to being welcomed into the fold of the Western military alliance. They signed an agreement with Ankara yesterday agreeing "to address Turkey's legitimate security concerns," a statement by NATO read, paving the way for Nato members to invite the two countries to join. Ankara got pledges on sticking points including the two countries' alleged support of Kurdish groups that Turkey deems terrorists. Finland and Sweden will still have to get the sign-off of all 30 NATO members to join. The Financial Times, Reuters, the Wall Street Journal, and the Associated Press all have coverage.
MEANWHILE- China takes another big step toward removing covid-19 restrictions. The country cut quarantine requirements for overseas travelers to seven days in centralized quarantine followed by three days of home isolation, down from 14-21 days in centralized quarantine, CNBC reports. China has been working to ease years-long restrictions that have taken a toll on its economy, exacerbated global supply bottlenecks, and curtailed citizens' freedoms.
DATA POINT- US car sales are projected to plunge 17.3% this year to their lowest level in a decade amid supply chain constraints and component shortages, Bloomberg reported, citing data from researcher Cox Automotive. "We don't think a recession is inevitable," Cox Chief Economist Jonathan Smoke said. "We still have pent-up demand in retail. There are people who can't get what they want."
Sound familiar? Auto sales here at home have been dropping as economic headwinds and import restrictions continue to impact the sector. Sales of passenger vehicles dropped for a third consecutive month in May, down 22% y-o-y. Catch the full story in our Automotive section, below.
MARKET WATCH-
The ECB is going to get tough on inflation: The European Central Bank (ECB) will act in a "determined and sustained manner" to fight Eurozone inflation, ECB head Christine Lagarde said during the bank's annual forum yesterday, the Financial Times reports. "Inflation in the euro area is undesirably high and it is projected to stay that way for some time to come," she said. Earlier this month, the ECB held an emergency meeting, after which it signaled that it will begin raising interest rates in July to curb soaring inflation, triggering fresh concerns over debt levels in the euro area.
Soft landing is still possible, Fed insists: US Federal Reserve officials talked down recession worries for the economy even as they mull another aggressive 50 or 75 basis-point rate hike for July, Bloomberg reports. "I see us tapping on the brakes to slow to a more sustainable pace, rather than slamming on the brakes, going over the handlebars and having the proverbial recession," said San Francisco's Fed President Mary Daly at an online event, while New York Fed President John Williams told CNBC that "recession is not my base case right now."Tht said, both predict an economic slowdown, with growth dipping below 2%.
CIRCLE YOUR CALENDAR-
The government's fuel pricing committee will likely meet to review fuel prices as part of its quarterly review sometime next week.
The national dialogue to set Egypt's political and economic roadmap will also kick off next week. President Abdel Fattah El Sisi had called for the dialogue in April. Check out our explainer on the dialogue, its agenda, participants, and targeted outcomes here.
Public consultations on the state's privatization plans will resume next Sunday, 3 July. Every Sunday and Tuesday sees workshops on how privatization plans will affect specific industries. Sunday's session will cover the transport sector, covering maritime, river, and land transport. You can find more details on the schedule of the meetings here.
WANT TO CATCH UP ON THE CONSULTATIONS? In this week's Inside Industry, we talked to FMCG business leaders about what they think of the state's plans to privatize the sector. They also discuss with us what else needs to happen in the food sector for the privatization push to play out well.
Check out our full calendar on the web for a comprehensive listing of upcoming news events, national holidays and news triggers.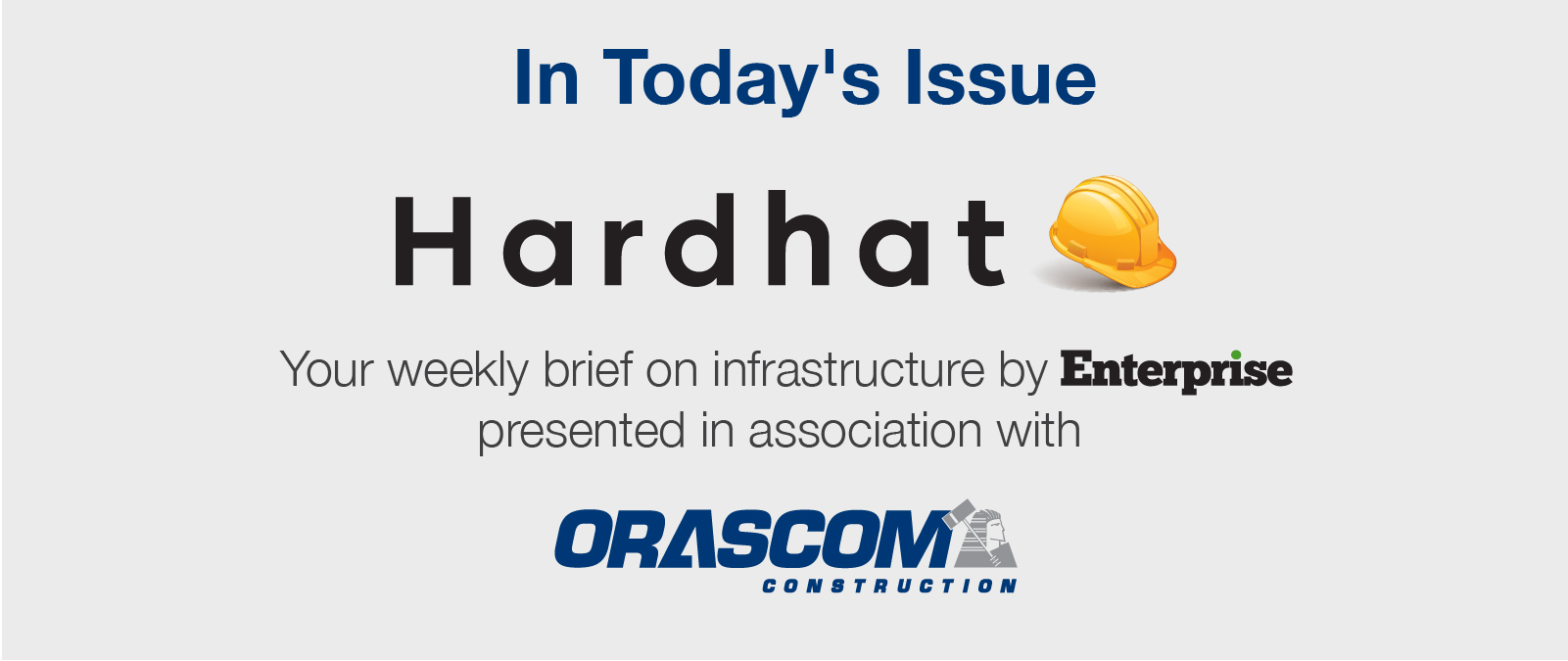 *** It's Hardhat day — your weekly briefing of all things infrastructure in Egypt: Enterprise's industry vertical focuses each Wednesday on infrastructure, covering everything from energy, water, transportation, and urban development, as well as social infrastructure such as health and education.
In today's issue: Amid the government's infrastructure diplomacy push, Egyptian contractors and construction companies are keen to export their services to African and Arab countries. They're calling on local banks and international financial institutions to help them access financing, which industry players say is the biggest obstacle to their regional expansion ambitions.