Sunday, 5 June 2022
THIS MORNING: Of climate finance + commodities + It's getting hot
Good morning, wonderful people. It's all about commodities and climate as we start the first full workweek of June.
THE BIG STORY here at home: Egypt lined up a potential USD 3.5 bn in fresh financing at the Islamic Development Bank's annual meeting in Sharm El Sheikh this past weekend. That includes USD 3 bn in additional funding for food and energy imports with the International Islamic Trade Finance Corporation (ITFC) and a potential USD 500 mn program with the World Bank to buy, store and grow more wheat.
The Madbouly government is also in talks with India on a potential wheat-for-fertilizer swap.
PLUS- The UAE investment train keeps on rolling this morning:
Our friends at Infinity are reported to be working with the UAE's Masdar to acquire Actis' 60% stake in renewables player Lekela;
Al Futtaim Group could invest another USD 1 bn here through 2025 and is looking to bring more of its foreign partners to invest in Egypt, the group's CEO says.
The commodity and financing news came out of Sharm El Sheikh, where we attended the Islamic Development Bank's (IsDB) annual meetings this weekend. "COP Lite," as we've taken to thinking of the gathering, brought together a who's who of Egyptian and global leaders including CEOs of multinationals, ministers from IsDB member countries, policymakers, NGOs, and startup founders. The meeting featured a strong showing from top Egyptian officials, where the driving narrative foreshadows their agenda for this fall's COP27: How to turn the policy direction of COP26 from empty platitudes to real implementation.
The meetings also gave policymakers a chance to have frank discussions. And we mean it when we say frank: Hard and uncomfortable truths were said and acknowledged in panel discussions — we have a recap below, at the end of this morning's news well.
ON A RELATED NOTE- The bank has a new HQ in Omm El Donia: The IsDB officially launched its new regional headquarters in Cairo, with bank President Muhammad Al Jasser saying in a statement (pdf) that the move was part of its "keenness to reinforce cooperation and coordination with development partners, as well as to establish strong partnerships with private sector [institutions]."
We'd like to thank Planning Minister Hala El Said — who played host to the meetings — and her team for inviting us to be flies on the wall during the discussions, which left us feeling that these meetings are a harbinger of what's to come in COP27.
---
PSA- We have a warm week in store: The Egyptian Meteorological Authority (EMA) is warning of an "extremely hot" week ahead, with highs in the capital of 35-37°C, through Friday. Our favorite weather app, meanwhile, is predicting that the mercury could tip as high as 42°C by the end of the workweek.
WHAT'S HAPPENING TODAY-
It's PMI day: Purchasing managers' index figures for Egypt and Saudi Arabia will be released this morning at 06:15 CLT. Egypt's non-oil private sector contracted for the 17th consecutive month in April as rising inflation hit demand and output.
Capmas' monthly bulletin covering the price of key building materials is also due out today.
Expect healthcare to be in the headlines over the coming days: Africa Health ExCon starts today and runs through to Tuesday, 7 June, at Al Manara International Conference Center, Egypt International Exhibitions Center, and the St. Regis Almasa Hotel in the new administrative capital.
CIRCLE YOUR CALENDAR-
IN THE HOUSE THIS WEEK- Industrial investment, tackling pollution + mud tax. The House of Representatives is holding plenary sessions today through at least Tuesday. On the docket:
Trade and Industry Minister Nevine Gamea will today answer MPs' questions on government plans boost investment in industry, improve the business environment for manufacturers, and localize certain sectors including the automobile industry .
Environment Minister Yasmine Fouad is in the House on Monday to talk tackling pollution in our waterways, beaches, and natural reserves.
Mud tax talks: Tuesday will see discussion of reports on potentially extending the suspension of a 14% tax on agricultural land for an additional year to July 2023.
ALSO THIS MONTH- Gas agreement with the EU this month? Egypt and Israel will sign an agreement with the EU this month to increase LNG exports as the bloc scrambles to find new suppliers and unwind its dependence on Russian gas, according to a draft document seen by Bloomberg. The two countries are expected to come to an agreement when European Commission President Ursula von der Leyen visits Egypt this month, the business newswire said. Bloomberg reported last month that the plan would see Israel increase natural gas exports to Egypt's LNG facilities, from which the gas would be shipped to Europe.
One problem: Lack of capacity. With only two liquefaction plants, Egypt doesn't currently have the requisite capacity to supply Europe with the volumes of gas that it needs. Oil Minister Tarek El Molla said recently that it might be another two or three years until Egypt is able to increase its exports across the Mediterranean.
The Madbouly government is well aware: New LNG terminals and pipelines are in the government's infrastructure plans as it looks to position itself as a critical gas supplier to Europe in the coming years.
NOT HAPPENING THIS MONTH- Our maiden sovereign sukuk issuance. Egypt has pushed the issuance of its sovereign sukuk to FY 2022-2023, Finance Minister Mohamed Maait told Ahram Online. With the executive regulations of the Sovereign Sukuk Act not yet published and market conditions still see-sawing over Russia's invasion of Ukraine, Maait's confirmation that our first sovereign sukuk issuance will not be taking place by the end of this fiscal year as was hoped should come as no surprise.
NEWS TRIGGERS you'll want to keep an eye on as the new month gets underway:
Foreign reserves figures for May should be announced sometime this week;
Inflation figures for May are due out on Saturday, 9 June (from state statistics agency Capmas) and Sunday, 12 June (central bank figures);
The Central Bank of Egypt holds its policy meeting on Thursday, 23 June.
Technology conference Tech Invest 4 will take place on Tuesday, 7 June at the Grand Nile Hotel in Cairo.
NEXT MONTH- Follow-up on the Egypt-UAE-Jordan industrial partnership: Egypt, the UAE and Jordan will meet in Cairo in July to follow up on the industrial partnership agreed last week in Abu Dhabi, the Egyptian Trade Ministry said in a statement Friday. Bolstered by USD 10 bn in investment from ADQ, the initiative will look to support sustainable economic growth and increase industrial production by channeling finance into industrial projects in the three countries.
Check out our full calendar on the web for a comprehensive listing of upcoming news events, national holidays and news triggers.
THE BIG STORY ABROAD-
The global business press is still bemoaning the state of markets around the world as inflationary pressures mount on asset classes everywhere and the R-word is bandied about with increasing abandon (see: Bloomberg on how all equities traders care about now is macro and why easy money is dead.)
Welcome to the party, Elon: The Tesla boss has a "super bad feeling" about the economy — and told execs at the EV-maker they'd be laying off 10% of the workforce as a result — before apparently backtracking on the comments a day later, Reuters reports. While they try and figure out whether or not they could in fact be let go, Tesla employees are unlikely to be comforted by Musk's recent analysis welcoming a recession since "it's been raining money on fools for too long."
And there's bickering in the US over who exactly failed to predict decades-high inflation: US Treasury Secretary Janet Yellen is insisting that she didn't forewarn Joe Biden that pumping USD bns of stimulus into the economy could help stoke price hikes, as a new book claims she did.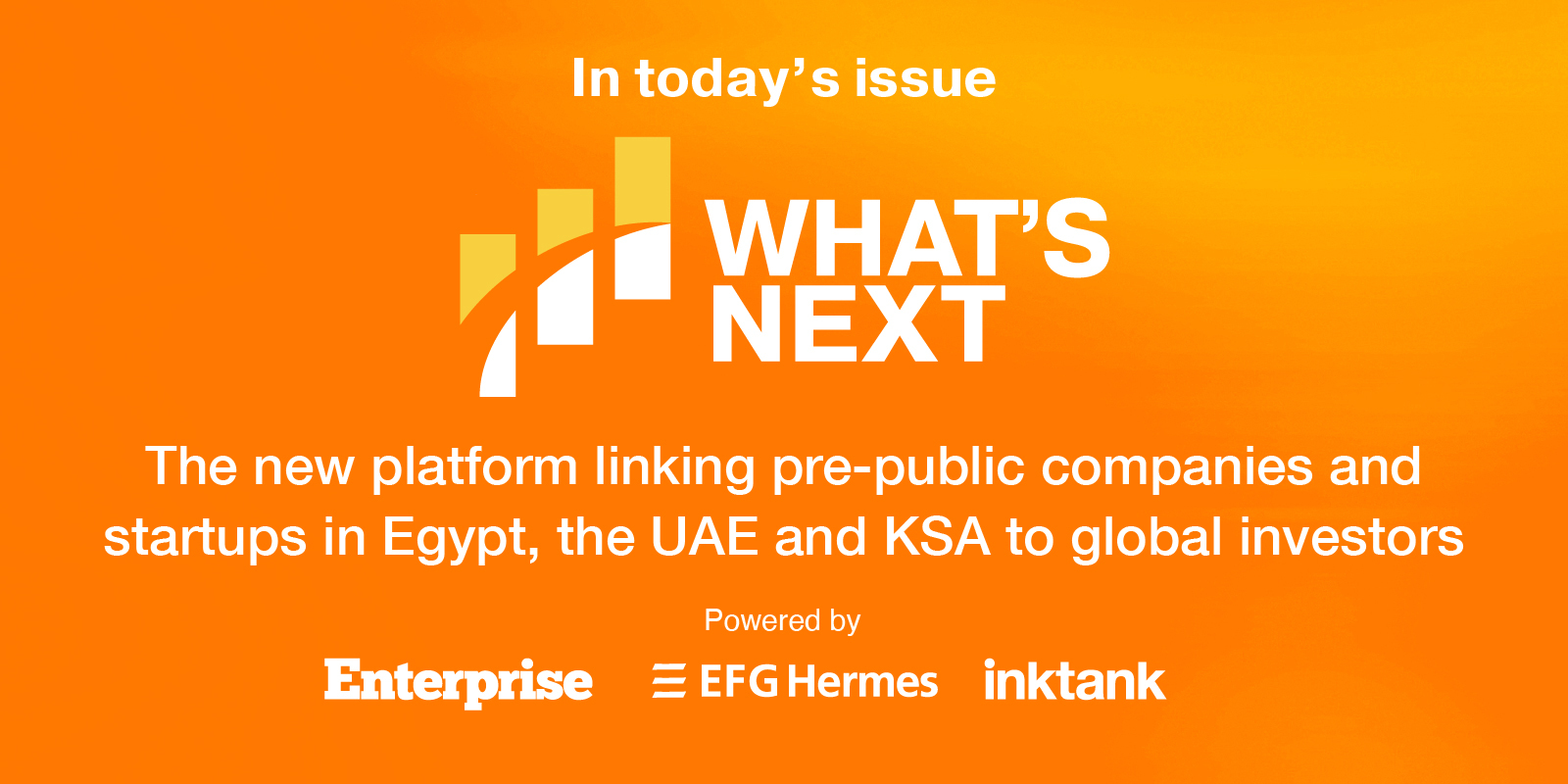 *** It's What's Next day: We have our weekly deep-dive into what makes and shapes pre-listed companies and startups in Egypt, the UAE and KSA, touching on investment trends, future sector insights and growth journeys.
In today's issue: What's next for Nigeria's startup ecosystem — and how can Egyptian startups expand there? We continue to disseminate all the knowledge gleaned from our recent trip to Lagos and the discussions we were lucky enough to have with some of the brightest lights in Nigeria's entrepreneurial scene. This week, we look at how the Nigerian startup scene will develop, what challenges companies face, and how Egyptian startups can expand into the country.