Monday, 11 April 2022
THIS MORNING: What could a new IMF program look like? + No more paper covid travel forms
Good morning, nice people, and happy Monday to you all. We're going to start with some quick announcements:
Do you have a promotion or new hire you'd like the rest of the community to know about? Drop us a line at editorial@enterprise.press with the details (and a LinkedIn link, if available) and we'll have a look at it for our MOVES- column.
Looking for something to distract you in the final hour before iftar? May we suggest:
Our podcast on What's Next in fintech, which dropped in our feed yesterday. Listen here on Apple Podcasts (or use the player at the foot of our website here) or read a summary here instead.
Read about Shift EV, the hot startup that's using proprietary, made-in-Egypt battery tech to turn minivans, pickup trucks, microbuses and tricycles into electric vehicles right here in Cairo (well, October, but you get the point). We had coffee (metaphorically speaking) with CEO Aly Eltayeb last week.
Are you enjoying the good weather? We're looking at temps in the 26-32°C band from today through the weekend.
---
SMART POLICY- Travelers arriving to Egyptian airports need to go online to fill in paperwork on their covid status and upload their vaccination records. Travelers will no longer be asked to hand in a paper health declaration form on arrival. Instead, they'll need to submit the paperwork at least two days ahead of travel through the recently launched Visit Egypt website (which wasn't loading for us as of dispatch time), and will be sent a QR code by authorities allowing them entry. The move is aimed at reducing waiting lines at airports, and we're all for it.
Also: Aircraft will no longer get the full pandemic-era deep clean treatment: Planes will no longer be disinfected after every flight as cleaning routines return to normal, according to a domestic press report.
MEANWHILE- What could an IMF program look like? Egypt could be looking for as much as USD 3.5 bn from the International Monetary Fund under a "precautionary and liquidity line" or PLL, BNP Paribas Middle East and North Africa economist Mohamed Abdelmeguid writes in a post for clients that cites House Planning and Budget Committee head Fakhry El-Fiky. The PLL "could be supplemented by an extended fund facility that could take another three to six months to negotiate" with the IMF, the note suggests. BNP Paribas expects inflows from some USD 17 bn in investment pledges from KSA, the UAE and Qatar to start in 2Q and 3Q of this year. Abdelmeguid also sees the CBE going for up to 300 bps in rate hikes in the same period "as Egypt transitions to a year-long period of double digit inflation (starting from March)."
THE WAR ON WHEAT- Could Indian grain help us bridge our supply gap? A delegation is soon heading to India to look into importing Indian wheat, Al Shorouk reports, citing head of the Agriculture Ministry's quarantine authority Ahmed Al Attar. More than 80% of our imported wheat is usually supplied by Russia and Ukraine — a statistic regular readers will no doubt have memorized by this point.
LEGISLATION WATCH- The Senate has sent a proposal on tackling population growth to President Abdel Fattah El Sisi for review, according to Ahram Gate. The proposal, discussed by the Senate during its plenary session yesterday, would see a new authority — dubbed the National Authority for Population and Family Development — established to lead policy on the issue. The authority would replace the existing National Population Council and would work under direct presidential oversight, (hopefully) lending it fresh impetus to push policy measures as a result.
The Senate is in session again today, reconvening for plenary session in which we could see discussion of a report on the draft Unified Ins. Act and a proposal to restructure the Egyptian Supreme Council of Energy — both of which were on yesterday's agenda, according to Youm7.
*** SO, WHEN DO WE EAT? You'll be breaking your fast at 6:20pm CLT this evening in the capital city, and fajr prayers are at 4:03am.
---
THE BIG STORY ABROAD- The international business press would very much like you to worry about at least three things this morning:
A growing number of economists see the US economy tipping into recession sometime in the next 12 months, the Wall Street Journal writes, saying its poll of economists "put the probability of the economy being in recession sometime in the next 12 months at 28%, up from 18% in January and just 13% a year ago."
The global shortage of everything is going to get worse — particularly if the "thing" you want to buy has a chip in it. You can thank the Shanghai covid lockdown, the Financial Times suggests.
The war in Ukraine is going to get bigger and nastier in the east, with the prospect of larger-scale artillery and tank duels. The news leads the front pages of everyone from the New York Times to Reuters, the Globe and Mail and Bloomberg.
Speaking of the war in Ukraine:
AND IN FRANCE- Macron + Le Pen to face off in tightly contested presidential run-offs: French President Emmanuel Macron came out on top in yesterday's first-round presidential vote with a 26.7% share — but the final outcome is anything but assured, as far-right National Rally candidate Marine Le Pen joined him in advancing to the final round with 23% of votes, France24 reports. More than a quarter of people sat out the ballot — a dismal turnout for a country of usually enthusiastic voters. The final vote set to take place on 24 April.
MARKET WATCH-
Economists see the European Central Bank (ECB) pressing ahead with its first interest rate hikes in over a decade starting December, despite the economic fallout resulting from the Russia-Ukraine war, according to a survey conducted by Bloomberg. Markets — and banks including Goldman Sachs and Danske Bank — are pricing in an even earlier quarter-point hike in September, as the ECB is seen battling the threat of a recession, driven by the possibility of an embargo on Russian oil that would stoke further price pressures. Expect more hints on the bank's plans at its monetary policy meeting this Thursday.
CIRCLE YOUR CALENDAR-
Companies have just ten days to file their first quarterly ESG compliance report: Listed firms and non-bank financial services companies need to submit their first quarterly ESG report by 20 April, the Financial Regulatory Authority (FRA) announced last week. The regulator is making it mandatory for corporates to publicly disclose their performance on key environmental, social and governance metrics each year when they submit their annual financial statements, starting 2023. Reach out to Moustafa Taalab at InkankIR, our parent company, if you need some help.
Check out our full calendar on the web for a comprehensive listing of upcoming news events, national holidays and news triggers.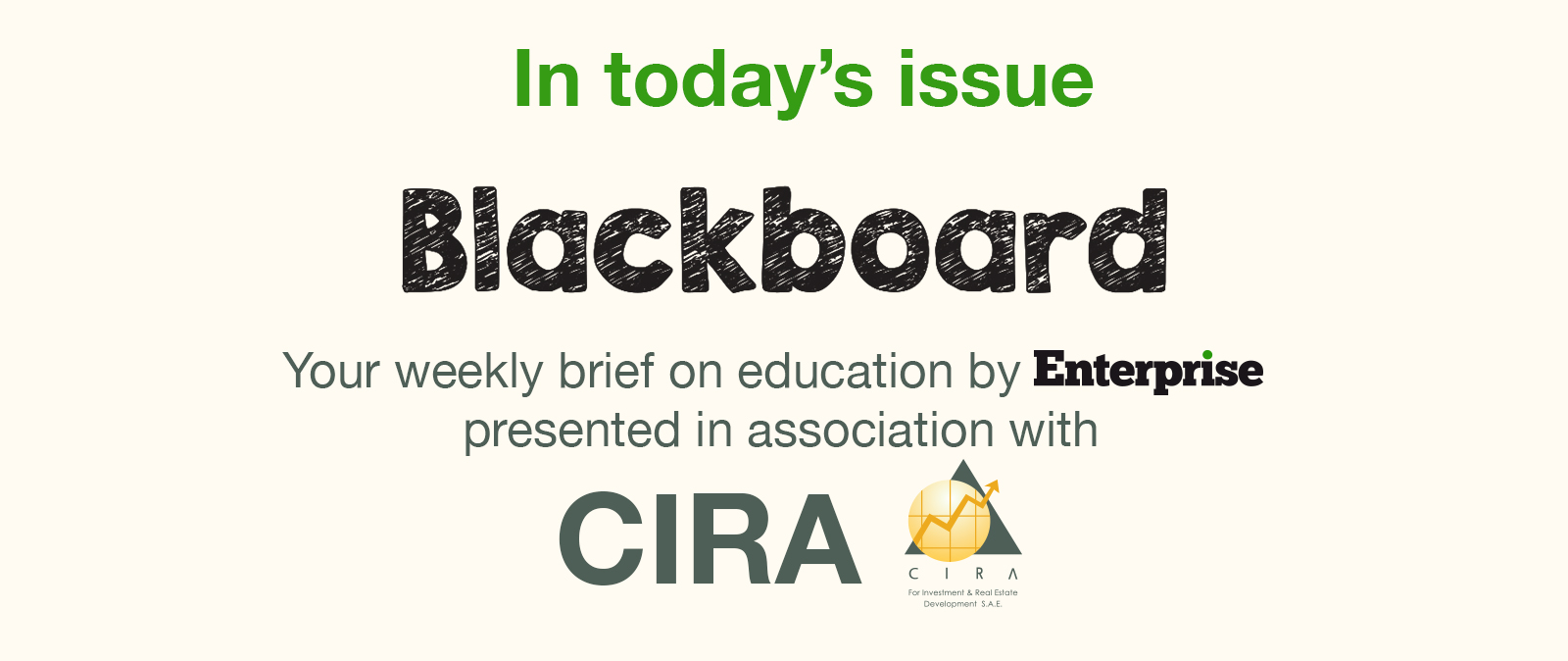 *** It's Blackboard day: We have our weekly look at the business of education in Egypt, from pre-K through the highest reaches of higher ed. Blackboard appears every Monday in Enterprise in the place of our traditional industry news roundups.
In today's issue: Local appetite for foreign degrees never went away —but pandemic-related restrictions made study abroad harder to pursue for Egyptian students. As restrictions are lifted and embassies reopen, there are indicators that the outflow of local students to universities abroad is picking up — and higher education institutes are working hard to lure international students back in a bid to offset pandemic-era losses.