Sunday, 20 March 2022
THIS MORNING: It's interest rate week — and Egypt is reportedly in talks about what a new assistance plan with the IMF could look like
Good morning, friends, and welcome to a very busy news day. With so much going on, we're going to jump straight in:
THE BIG STORY OF THE MORNING here at home: Another sign that we may be in early talks with the IMF on what a new assistance program could look like. Bloomberg's Mirette Magdy and Eric Martin report that we could be interested in either a precautionary and liquidity line (think: money on tap in case we need it) or a non-financial policy coordination instrument. "Egyptian officials are still in talks with the Washington-based lender over what may be the best option given the challenging global environment," the story says.
IT'S SMART POLICY to know what your options are in a storm, and there's no question that Egypt is uniquely impacted by the fallout from Russia's war in Ukraine, as we've been writing since before the conflict broke out. The Madbouly government has so far shown a deft hand at managing the crisis, with ministers including Mohamed Maait, Tarek El Molla, Aly El Moselhy and Hala El Said taking the lead in clearly explaining to the public what's going on — and the PM also holding an epic presser that dealt with the issue head-on. Their policy management has been on point.
NOT UNRELATED- It's interest rate week. The Central Bank of Egypt will hold its policy meeting this Thursday, 24 March, and six of the nine analysts we've spoken with are expecting policymakers to hike interest rates in response to rising inflation and global monetary tightening. We have chapter and verse on this in our customary interest rate poll in this morning's news well, below.
AND- Expect the price cap on unsubsidized baladi bread to be announced within the next 48 hours, Abdel Moneim Khalil, head of internal trade at the Supply Ministry, said in a televised interview yesterday. An official meeting will be held tomorrow by ministry officials to determine the price, weight, quality and specifications of the unsubsidized loaf of bread, he told Taht Al Shams's Moataz Abdelfattah in a phone-in (watch, runtime 5:06). This comes after President Abdel Fattah El Sisi last week instructed the government to introduce price controls on bread in response to rapid inflation on the back of the conflict in Ukraine.
What to expect: Prices could be set between EGP 0.75-1.00 per loaf of baladi bread, said head of the bakeries division at the Cairo Chamber of Commerce, Attia Hamad, in a phone-in with Al Hayah Al Youm's Lobna Assal last night (watch, runtime 6:16). The final price will be determined in an upcoming meeting with the Supply Ministry, he added. Deputy Supply Minister Ibrahim Ashmawy told Kelma Akhira that he doesn't expect the price per loaf to exceed EGP 1.00 (watch, runtime 3:49).
PSA #1- Enjoy what our favourite weather app is suggesting might be the last week of cool weather this spring. Look for daytime highs on 17-19°C all week and overnight lows in the 6-9°C range, warming to the mid-to-high 20s next week.
PSA #2- There are 13 days left until Ramadan, and the long range forecast suggests the weather on the first day of fasting will be a warm 32°C.
SIGN OF THE TIMES- The UK has lifted all covid-related travel restrictions: Travelers arriving to the UK from abroad no longer need to take any covid tests, quarantine on arrival or fill out a passenger locator form, the government announced in a statement. This applies to all travelers, regardless of their vaccination status or the country from which they're arriving. Canada is also dropping travel restrictions, saying fully vaccinated folks do not need to take a test before flying to the Great White North effective 1 April.
GOOD NEWS FOR TOURISM HERE IN EGYPT- The British government no longer advises against all but essential travel to South Sinai and Fayoum, the government announced Thursday. "It's now easier than ever for the 100s of 1000s of Brits who visit Egypt yearly to see more of this amazing country," UK's ambassador to Egypt, Gareth Bayley, wrote in a tweet. The UK continues to advise against all travel to North Sinai province, and all but essential travel to parts of South Sinai and the Western Desert.
COVID WATCH- Egypt saw an average of 788 new covid-19 infections per day last week, and a daily average of 12 covid-related deaths, according to Health Ministry figures released yesterday. Almost 31.6 mn people are now fully vaccinated, while 1.7 mn people have now received their booster shots. With the incidence of new covid cases declining rapidly after the omicron peak, we decided two weeks ago to only report covid-19 figures weekly in Enterprise — one week before the Health Ministry decided the same.
WHAT'S HAPPENING TODAY-
BUILDING A FINTECH STARTUP? Today is the deadline to apply for Visa's global startup competition, the Visa Everywhere Initiative, which is running in Egypt in partnership with the Central Bank of Egypt. Find out more here.
Aspire HR Consultants kicked off their women's mentorship program with the Cairo edition of the Global Mentoring Walk, an event that takes place in 60 countries around the world in the month of March in celebration of International Women's Day. The program is for Egyptian women at various stages in their careers and focuses on five specific programs: women on boards and in leadership positions, women returning to work, female entrepreneurs, fresh grads, and giving back to the community. You can apply here to become a mentor or if your company is interested in designing its own mentoring program.
The three-day maritime logistics conference Marlog starts today at the Hilton Green Plaza hotel in Alexandria.
THIS WEEK-
Foreign Minister Sameh Shoukry is on a tour of Asia that will take him to Singapore and Pakistan later this week. The minister has in recent days made whistle stops in Indonesia and Malaysia.
The Egyptian German Green Energy Forum will take place at the Intercontinental Cairo Semiramis hotel on Tuesday 22 March at 5:30pm. The event is hosted by the German-Arab Chamber of Industry.
CIRCLE YOUR CALENDAR-
Catalyst Partners will launch what it is calling the MENA region's first impact investing fund on Tuesday 22 March, the firm said in a statement (pdf) last week. The fund was founded by the Ins. Holding Company, Misr Ins., Misr Life, Misr Finance and Investment Fund, Banque du Caire, Post For Investments, and Attijariwafa Bank, and aims to deploy EGP 1 bn in local SMEs over the next five years.
EV-charging bid deadline extended: The Public Enterprises Ministry has extended the deadline for sending in expressions of interest for experienced companies that would like to manage the soon-to-be-established EV charging stations company, the cabinet announced in a statement. Interested companies have until Thursday, 24 March to send in their letters. Three companies have told the government they want to take part in the project so far, according to the statement.
Check out our full calendar on the web for a comprehensive listing of upcoming news events, national holidays and news triggers.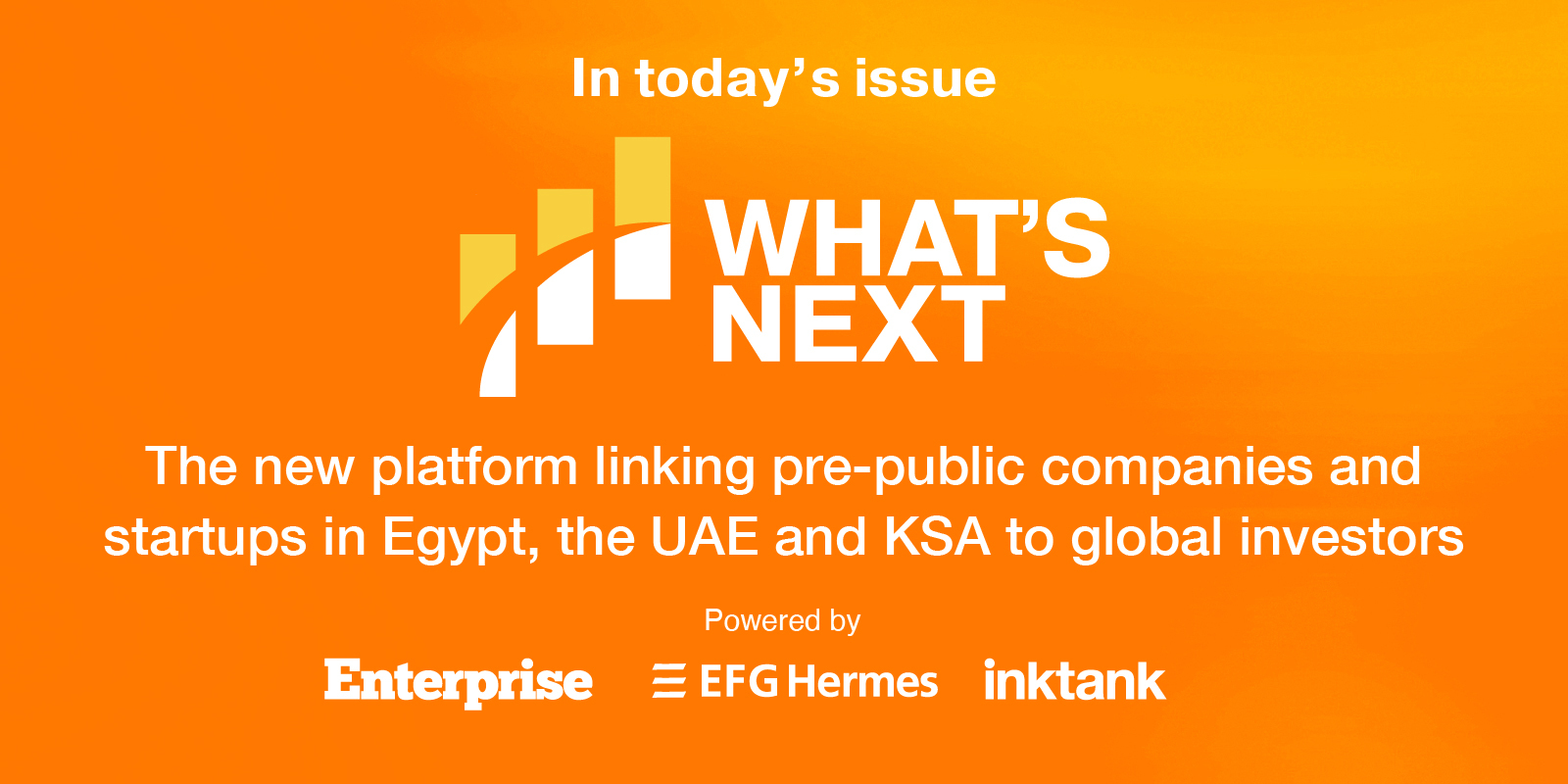 *** It's What's Next day: We have our weekly deep-dive into what makes and shapes pre-listed companies and startups in Egypt, the UAE and KSA, touching on investment trends, future sector insights and growth journeys.
In today's issue: Artificial intelligence is expected to contribute 7.7% to Egypt's GDP by 2030, according to the Cabinet's Information and Decision Support Center. We spoke with the CIT Minister's advisor on AI, Sally Golestan Radwan, who has spearheaded the country's national AI strategy, about what the strategy is built on, what has so far been implemented, and what still needs to be done for AI to achieve its full potential in Egypt.