Sunday, 13 March 2022
THIS MORNING: The IMF is talking with the Madbouly government about the impact of war in Ukraine — and will likely downgrade its global growth forecast
Good morning, friends, and welcome to a new week. It's another one of those "drinking from a fire hose" mornings here at Enterprise World Headquarters, so let's jump right in:
Is the IMF in talks with the Madbouly government on how to cushion us from fallout from Russia's invasion of Ukraine? "I worry for Egypt. If we have sustained high food and energy prices, how this is going to impact people in Egypt," International Monetary Fund (IMF) boss Kristalina Georgieva said on Thursday during a media roundtable on the war in Ukraine. "We are already engaged in discussion with Egypt on how to target vulnerable populations and vulnerable businesses."
What does that mean? Georgieva didn't unpack the remarks, but also noted in the discussion that our tourism industry will be sharply hit by the collapse of the Ukrainian and Russian markets. She did not make clear whether the IMF could offer further financial support to Egypt and didn't elaborate on the measures it is currently discussing with the government. Analysts at JPMorgan last week wrote that there is a "reasonable probability" we could open official talks with the IMF for more support in the event that "market conditions continue to deteriorate."
We have worked with the lender twice in the past six years. Once in 2016 when we took out a USD 12 bn facility to back an ambitious program of economic reforms coinciding with the float of the EGP — and again after the onset of the covid-19 pandemic, when we borrowed USD 8 bn to cushion the economic impact of the outbreak.
MEANWHILE, AT THE EBRD- Maait calls on lenders for emergency support: International lenders should offer support to developing countries to help navigate the rise in food and energy prices, Finance Minister Mohamed Maait during talks with the European Bank for Reconstruction and Development (EBRD) on Friday, according a ministry statement. Maait said that economic reforms have made Egypt more resilient to turmoil in the global markets, but called for further support to help it manage the associated risks.
---
IT'S A BIT UGLY OUT THERE- The IMF will likely downgrade its growth outlook for the global economy due to the conflict in Ukraine when it publishes its World Economic Outlook next month, Georgieva also said on Thursday. The shock in the commodities markets and the resulting inflation is causing global trade to contract and consumer and business confidence to dip, she said, warning that central banks may respond to accelerating inflation by raising interest rates more aggressively.
The Fund has already revised downwards its 2022 growth projections once this year, cutting its forecast by 0.5 percentage points to 4.4% in January due to continued supply chain disruptions, rising inflation and tightening monetary conditions.
Analysts are starting to price in a US recession: "Over time, the three biggest factors that tend to drive the U.S. economy into a recession are an inverted yield curve, some kind of commodity price shock or Fed tightening," one strategist told Bloomberg. "Right now, there appears to be potential for all three to happen at the same time."
How will the Fed respond? The Federal Reserve will meet to review interest rates on Tuesday and Wednesday and is expected to still go ahead with its first rate hike in almost four years despite the ongoing market turmoil. Fed watchers aren't anticipating the central bank to go through with the half-point hike predicted prior to the conflict, suggesting instead it will raise rates by 25 bps as it tries to balance curbing inflation with tempering the increasing uncertainty in the markets.
Pressure on the Fed to act intensified last week after fresh data showed that inflation hit a new 40-year high in February. Consumer price inflation reached 7.9% last month, up from 7.5% in January, the highest level since 1982.
---
PSA #1- Egypt will report covid numbers weekly, instead of daily: The Health Ministry will no longer release covid data every day and will instead publish weekly updates every Saturday, it announced in a statement yesterday. The decision was made due to the declining infection and hospitalization rates, the ministry said.
We made that very same decision last week here at Enterprise HQ: We discontinued our two-year-old daily Covid Watch section after coming to the conclusion that the peak of this omicron-led wave is now well behind us. With about 50% of those eligible now vaccinated, we're thrilled to see Egypt making progress on jabs that was unimaginable a year ago.
PSA #2- Get your coat on: It's going to be a windy, cold week — especially early in the morning and late at night — according to the Egyptian Meteorological Authority's latest forecast. Expect highs of 19°C and lows of 9°C over the next five days in the capital and Alexandria.
PSA #3- We have 20 days left until the start of Ramadan, ladies and gentlemen.
WHAT'S HAPPENING TODAY-
The Customs Authority won't accept paper manifests from the middle of this month: Shipping companies will no longer be able to submit paper manifests to the Customs Authority from mid-March, and will instead need to submit the documents digitally via the Nafeza customs platform, according to a circular picked up by Al Mal.
Isn't it mid-March now? Yup, though the Customs Authority doesn't appear to have provided a specific date on which the decision will take effect.
The Senate is set to continue debating the Unified Ins. Act today and tomorrow after a two week recess, Ahram Online reports. The bill, which has been at least three years in the making, will make the Financial Regulatory Authority the primary regulator for the sector and make ins. compulsory for SMEs and freelancers, among other things.
Aramco could soon be the world's most valuable company: Saudi Aramco is fast closing the gap with Apple to be crowned the world's most valuable company, Bloomberg reports. Aramco's shares have risen 15% in less than three weeks as oil prices surge to their highest in more than a decade, while the iPhone maker's stock has sunk 9% this year on the back of a wider selloff in the tech market. Aramco — which last held the top market spot for a brief period in September 2020 — is now valued at some USD 2.2 tn, while Apple currently has a market cap of USD 2.5 tn.
CIRCLE YOUR CALENDAR-
AUC will hold its annual Business Forum from tomorrow, 14 March, to Thursday, 17 March. The virtual forum will see founders, business players and policymakers from Egypt, Africa and other parts of the world discuss investing in tech startups, corporate learning and development, and the role of multi-stakeholder collaboration in fueling inclusive sustainable development, among other topics. Keynote speakers will include Planning Minister Hala El Said, and American economist and Nobel Prize Winner Abhijit Banerjee. You can register here.
Green energy forum: The German Arab Chamber of Industry and Commerce is hosting the Egyptian German Green Energy Forum on Tuesday, 22 March. Planning Minister Hala El Said, Vice Minister of Finance Ahmed Kouchouk, and German Ambassador Frank Hartmann are among those slated to attend. The event runs 5:30-9pm CLT at the InterContinental Cairo Semiramis.
Interest rates: The Central Bank of Egypt will hold its next monetary policy meeting on Thursday, 24 March.
Check out our full calendar on the web for a comprehensive listing of upcoming news events, national holidays and news triggers.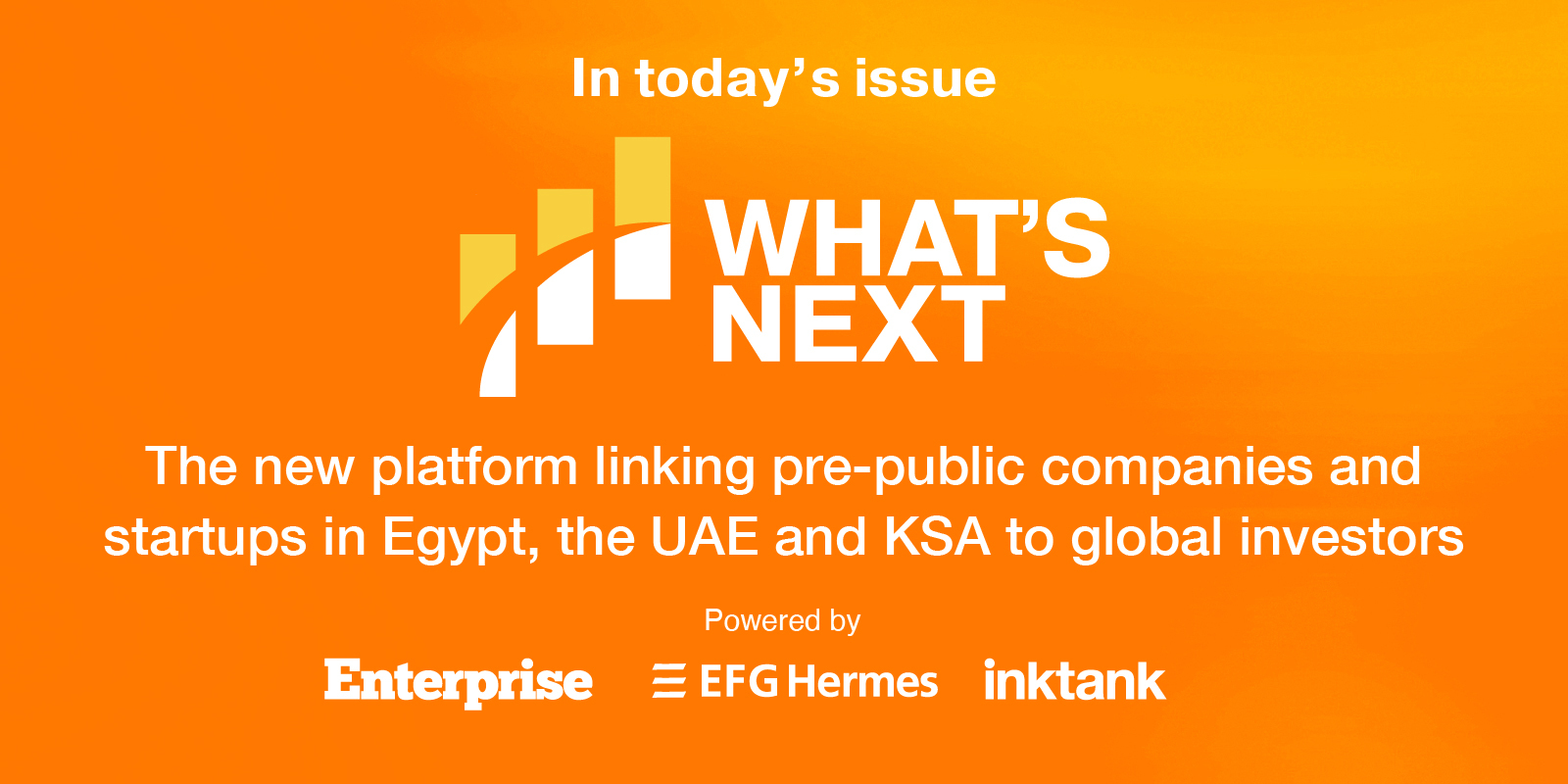 *** It's What's Next day: We have our weekly deep-dive into what makes and shapes pre-listed companies and startups in Egypt, the UAE and KSA, touching on investment trends, future sector insights and growth journeys.
In today's issue: How could digital labor platforms impact Egypt's informal sector? A new report finds that digital labor platforms could offer Egypt's informal workers the chance to receive better working conditions — but there are also plenty of wrinkles still to be ironed out.