Tuesday, 8 February 2022
THIS MORNING: It's finally getting warmer + Zooba among MENA's 50 best restaurants
Good morning, friends. It's hump day, and our reward is pleasantly busy news morning — a relief after something like 12 days of drinking from a fire hose. We've got something for everyone this morning, from fintech to the restaurant business by way of solar power and pharma.
PSA #1- Say goodbye to single-digit weather. Cairo is finally warming up a bit as winter seems set to draw to a close. The national weather service is predicting warmer days and nights to come. Expect highs to reach up to 22°C through to Sunday, and lows of around 10-11°C at night. There's no rain in the forecast before Friday, 18 February — a long way out and plenty of time for the forecast to change.
SMART POLICY- Dubai moves to outlaw plastic bags: Dubai will introduce a tariff on single-use plastic bags with a view to banning them completely within two years as the emirate looks to reduce plastic waste, Emirati state-owned news agency WAM reports. From 1 July, businesses will charge customers AED 0.25 for each bag in the initiative's first phase.
Abu Dhabi could follow suit: The emirate could impose a ban on single-use plastic bags by the end of the year, an official from Abu Dhabi's environment agency told the National last month. A similar tax on single-use plastics has been adopted in more than 30 other countries, and a partial or total ban has been enforced in 90 nations, according to WAM. The news comes barely a month after the UAE moved to a 4.5 day, Monday-Friday workweek, getting in step with the business in Europe and North America.
SPEAKING OF THE EMIRATES- Our friends at Zooba have made the inaugural edition of the Middle East and North Africa's 50 Best Restaurants ranking, putting the spotlight on a homegrown brand that has gone from one restaurant in Zamalek a decade ago to eight branches in Egypt and international locations in New York and Riyadh. Founders Chris Khalifa (My Morning Routine) and chef Moustafa El Refaey were recognized an event in Abu Dhabi last night, where Zooba's ranking at #38 was announced in front of an international audience of chefs, culinary experts, food critics and restauranteurs.
Zooba was one of four Egyptian restaurants included on the list. Izakaya, the popular Japanese-Peruvian fusion restaurant and bar in Sheikh Zayed, was ranked at #48. Restauranteur Ayman Baki's Japanese restaurant and bar Kazoku took #19, and his flagship restaurant Sachi came in at #5 on the list, earning the title of Egypt's best restaurant for 2022.
#1 on the list is Dubai's uncharacteristically unflashy, reasonably priced (by UAE standards) homegrown restaurant, 3 Fils, known for its superior food and casual, friendly atmosphere. The list also included 6 restaurants in Israel. Tap or click here for the full ranking and profiles of the restaurants and founders.
---
MORNING MUST-READ- Janet Heckman, the former Egypt and regional boss at EBRD, responds to FT democracy criticism: Heckman, a former managing director of the European Bank for Reconstruction and Development (EBRD), isn't impressed with criticism by an article in the Financial Times last month (which we picked up in What We're Tracking Today). The piece called out the bank for working with governments in Africa and Asia that it said have lackluster democracy credentials. In a letter to the FT, Heckman (My Morning Routine) defended the lender's "outstanding" work to increase private sector involvement and transparency in the region, highlighting among other things its involvement in our Metro projects, which she indirectly supervised.
PSA #2- International flights to and from Morocco resumed yesterday, ending a two-month ban on all flights into the country that came into effect after the emergence of the omicron variant.
IN THE HOUSE TODAY- The House of Representatives is meeting in plenary session. It reconvened on Sunday, but the big-ticket items appear to have been saved for today's final session. They include:
Changes to the Real Estate Registry Act that aim to simplify property registration procedures, which received the green light from the House's Legislative Committee last week.
An overhauled Tourism and Hotels Act, which is set to simplify licensing rules for hotels and tourism companies and earned preliminary approval from the House at the end of January.
Amendments to the Education Act that would see an EGP 500-1k fine imposed on parents whose children miss school without sufficient reason. The House will discuss a report from its Education Committee on why it struck down the amendments last week.
THE BIG STORY ABROAD on this fine late-winter morning- No single story has captured the imagination of the international business press. The collapse of SoftBank's USD 66 bn sale of its chipmaking business Arm to Nvidia leads at the Financial Times, while both Reuters and the Wall Street Journal are running with US President Joe Biden's promise to shut down the Nord Stream 2 pipeline linking Russia to Germany. (Nevermind the small issue that it's under German control and that Chancellor Olaf Sholz gave the idea tepid support — at best.) Bloomberg, meanwhile, has news that Bahrain may offer permanent residence to some foreigners while CNBC notes that Meta is promising to turn off Facebook and Instagram ads in Europe over a data-sharing dispute.
OVER IN BEIJING- Russia, Canada and China top the medal table in the Winter Olympics by total volume of hardware their athletes have so far won. The Netherlands and Italy round out the top five.
CIRCLE YOUR CALENDAR-
TODAY is your last day to apply to join the Fortune Global Women's Mentoring Program, which will take place from 8-28 May 2022. The program aims to bring emerging women leaders from around the world to the US to meet and learn from the Fortune Most Powerful Women community, which includes executive women mentors from companies such as Accenture, Johnson & Johnson, and Aetna. The deadline to apply for the program is 8 February. You can begin your application by signing up here via our friends at the US Embassy in Egypt.
Inflation figures are due out this Thursday, 10 February. Annual urban inflation rose to 5.9% in December from 5.6% in November. While analysts we spoke with expect prices to continue rising, they don't see them going outside the central bank's target range of 7% (±2%) by 4Q2022.
The Finance Ministry has begun holding public consultations on the draft budget for next fiscal year with the next round due to take place on Thursday, 10 February at 5pm CLT.
German Foreign Minister Annalena Baerbock will be in town this Friday, 11 February for a two-day visit that will see her meet with Foreign Minister Sameh Shoukry and other officials for bilateral talks, the German Embassy in Cairo said in a statement. Baerbock is also expected to discuss potential collaboration between the two countries on the COP27 climate summit in Sharm El Sheikh this November.
Egypt will host the Arab League's Arab Sustainable Development Week from Sunday, 13 February to Tuesday, 15 February. Held at Arab League headquarters in Tahrir Square and the Nile Ritz-Carlton, the forum will bring together ministers, senior officials, policymakers and private sector players from across the region to discuss ways to strengthen sustainable development. Arab League Secretary General Ahmed Aboul Gheit, Planning Minister Hala El Said, and IMF Executive Director Mahmoud Mohieldin are among those set to speak at the conference.
MARKET WATCH-
Oil yesterday finally took a breather from a seven-week rally that saw it reach eight-year highs, Bloomberg reports, as the market reacted to the resumption of talks on the 2015 Iran nuclear agreement in Vienna later today. Brent crude fell 0.6% yesterday to settle under USD 93 per barrel.
The talks could ultimately see Iranian supply restored to global markets after years of sanctions. Motivation to pull that off has likely never been higher in the West, as a supply crunch and rising geopolitical tensions with Russia — a major producer — over Ukraine drive a search for alternative energy suppliers. The US last week restored sanctions waivers to Iran to allow international nuclear cooperation projects, a positive sign as the talks enter their final phase.
Crypto might not be so wintery after all: BTC gained 5.7% to break USD 44k as of midnight on Monday, while Bloomberg reports that riskier memecoins made even bigger gains, led by dog-inspired Shiba Inu, which surged by around 50%. The fifth consecutive day of gains for BTC marks its longest rally since September, as traders seemingly stage a partial return to high-risk digital assets following a Fed-induced selloff that saw BTC drop by as much as 50% from its November peak of nearly USD 69k.
Check out our full calendar on the web for a comprehensive listing of upcoming news events, national holidays and news triggers.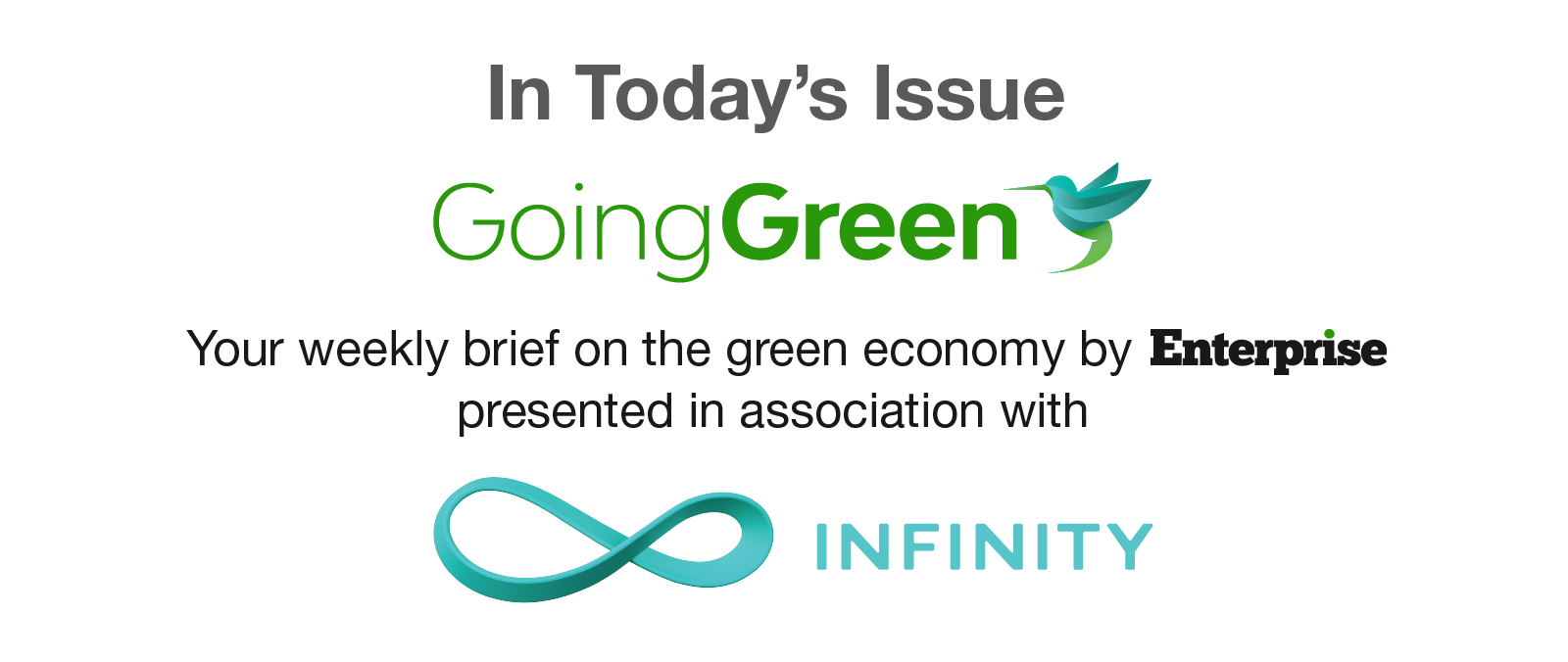 *** It's Going Green day — your weekly briefing of all things green in Egypt: Enterprise's green economy vertical focuses each Tuesday on the business of renewable energy and sustainable practices in Egypt, everything from solar and wind energy through to water, waste management, sustainable building practices and how you can make your business greener, whatever the sector.
In today's issue: Investing in solar plant construction in strategic locations in Egypt should be a priority for investors wanting to boost Africa's decarbonization efforts, according to a new continent-wide study conducted by Oxford University's Environmental Change Institute and published last month. Constructing solar farms, rather than fossil fuel alternatives, would reduce emissions, improve energy security, and bring financial benefits, the study shows.