Monday, 29 November 2021
THIS MORNING: It's going to be harder for the un-vaxed to access banks, post offices + gov't facilities from 1 Dec; Switzerland imposes travel restrictions on travellers from Egypt as Omicron fallout continues.
Good morning, wonderful people, and welcome to an exceptionally busy news day, where covid once again dominates our top three stories. On deck: 12-15 year-olds are going to get jabbed, you're going to need to be vaccinated (or have a negative PCR test) to get into a bank starting this Wednesday, and we've been hit our first omicron-related travel restriction. We have more on all of these stories below.
Before we get started: THANK YOU to everyone who wrote in / called / messaged or otherwise reached out yesterday to discuss What's Next, our new platform to identify the next generation of great businesses in Egypt and beyond. What's Next will give participating companies the visibility, advice and access to capital and ideas that they need to grow their businesses. We're interested in meeting startups with proven products all the way through big businesses looking to grow and stand the test of time. What's Next will also give venture capital, private equity and public market investors a look at the companies whose people, ideas, technologies, products and markets will literally be What's Next.
*** Are you a What's Next company? An investor who wants to join us for our flagship event in 2022? Reach out to us on whatsnext@enterprise.press — we would love to hear from you.
PSA #1- You won't be able to get into a bank and post office branch from Wednesday onward without proof of vaccination or a negative PCR test. Local Development Ministry spokesperson Khaled Qassem announced on El Hekaya last night that the Madbouly government would extend its no-vax no-go policy to include banks and post offices from Wednesday (watch, runtime: 5:02).
What you will need to do: Members of the public will need to display proof that they've received at least one dose of a vaccine (either with a paper certificate or the Health Ministry's digital covid passport) or a negative PCR test. Qassem did not say how recent PCR tests would need to be if they're to be accepted.
Need to get the app up and running? Here's how.
Where is this going to apply? Qassem didn't specify whether the rules would apply to all banks or only to state-owned institutions. It is also unclear how the government is planning on equipping bank and post office branches across the country with the tech necessary to scan QR codes or whether they would simply be looking for the green "vaccinated" logo in the top right corner of the app's homepage.
REMINDER- You're also unable to access government facilities without proof of vaccination / a negative PCR test from Wednesday under rules announced earlier this month. Unvaccinated public sector workers have already been prevented from entering their workplaces and this will be extended to the wider public the day after tomorrow.
PSA #2- The heat wave continues today, with the mercury headed for 33°C before it eases a bit to 29°C tomorrow. We're due to return to a more seasonally appropriate 22°C by Wednesday, which should carry us through the weekend.
---
We don't need to tell you what the big story abroad is this morning: Omicron is still plastered across the world's front pages, as more countries detect cases of the latest mutation of the coronavirus. The World Health Organization yesterday called for calm after South African experts suggested that the symptoms associated with the strain are mild. The organization also said that understanding the risks would "take days to several weeks."
That didn't stop countries taking pre-emptive action, with a growing number of countries reimposing border restrictions and mandatory quarantines as the variant spread. See: Reuters | Financial Times | WSJ | Bloomberg.
Among them: Switzerland, which will now require all travelers (vaccinated and unvaccinated) from Egypt to present a negative covid test and quarantine for 10 days as the European country tightens restrictions on travelers visiting from countries with "variants of concern." The restrictions will also apply to travelers from the UK, the Czech Republic, Malawi and the Netherlands, Israel, Hong Kong, and Belgium.
Morocco has gone full 2020 with a two-week ban on flights into the country — and the WHO is scolding governments that have imposed flight bans on southern African countries.
G7 to hold emergency Omicron meeting today: The UK has called an emergency meeting of G7 health ministers today to discuss the Omicron variant, it said yesterday.
Friday's sell-off in western markets made its way to MENA in a big way yesterday as investors reacted to the Omicron developments and volatility in the oil markets. The Dubai Financial Market experienced it's biggest single-day loss since March 2020, losing 5.2% of its value, while the Tadawul fell 4.2%, the most since October 2020. The EGX was comparatively unscathed, ending the session 1.3% in the red.
Asian markets are just slightly in the red this morning, and futures suggest that Wall Street could open in the green later today after Friday's big selloff.
Where markets go from here will heavily depend on what we learn about the risks posed by omicron — and it could be weeks until scientists have the answers. "At a minimum, volatility will be higher the next two weeks," one strategist told Bloomberg.
EFG Hermes' head of macro research Mohamed Abu Basha echoed the same point last night, telling Kelma Akhira's Lamees El Hadidi that there remain a lot of unknowns about the new variant and that we can expert more losses in the markets as countries close their borders and halt flights (watch, runtime: 3:02).
Emerging markets will likely be hit hardest if omicron is (a) aggressive or if (b) the new restrictions are widely imposed and left in place for an extended period. Already facing pressure from the Fed taper and the strengthening greenback, emerging-market currencies — particularly those exposed to energy and tourism — could come under further pressure should the global health situation continue to deteriorate, analysts tell Bloomberg. The MSCI EM currency index is now down YTD after investors fled risk assets on Friday, and with the USD now at its highest since July 2020, even countries that have aggressively hiked interest rates are struggling to prevent currency losses.
The one saving grace (if you can call it that): A serious market shock would almost certainly push the Federal Reserve to back down on its taper and turn more dovish, easing some pressure on emerging markets.
Oil prices seem to have found some support: Brent prices had rebounded from Friday's 11% plunge in a big way in early trading this morning, and were up 5.3% as of dispatch time.
HAPPENING TODAY
Sudanese military leaders met yesterday to discuss escalating tensions with Ethiopia in the disputed Al Fashaga region after Sudan said on Saturday that six of its soldiers were killed in an attack by Ethiopian forces.
Diplomats have low expectations for Iran's nuclear talks today, Reuters reports, which aim to salvage a 2015 nuclear accord.
WHAT'S HAPPENING TODAY-
Young professionals can now apply for the recently-launched McKinsey Forward program which focuses on leadership, business, and the transition to digital, McKinsey announced in a press release (pdf). The six-month program aims to teach participants how their business can combat challenges and use them to their advantage, integrate tech, and be adaptable and resilient during times of change. Forward will be available without charge to those eligible to apply, and one of the requirements is having less than five years of work experience. You can apply via this link before the 12 December deadline.
The Egypt Defense Expo (EDEX) will kick off today and run until this Thursday, 2 December. Some 400 international manufacturers and suppliers are set to showcase military equipment and defense technologies at New Cairo's International Exhibition Center, with live firepower demonstrations planned for the five days.
The Creative Industry Summit continues today at the Nile Ritz-Carlton, running through Wednesday.
The Cairo International Film Festival continues its 10-day run after kicking off on Friday. The festival wraps next Sunday, 5 December.
FOR TOMORROW-
KfW Development Bank is launching its open call for green project proposals in Egypt as part of their Investing for Employment facility (pdf) tomorrow. The facility will give grants to projects that drive job creation. You can find out more about the facility and the application process here.
CIRCLE YOUR CALENDAR-
A new month is around the corner. The key news triggers to keep your eye on as we approach December:
PMI: Purchasing managers' index figures for November for Egypt, Saudi Arabia, and Qatar will be released on Sunday, 5 December. Figures for the UAE, which normally come out on the same day as Egypt and Saudi, will be released two days later on Tuesday, 7 December.
Foreign reserves: November's foreign reserves figures will be released during the first week of the month.
Inflation: Inflation figures for November will be released on Thursday, 9 December. Data for inflation typically appears on the 10th of every month, but is moved up one day if that falls on a Friday.
Interest rates: The Central Bank of Egypt's Monetary Policy Committee will hold its final meeting for the year to review interest rates on Thursday, 16 December.
The new round of Silicon Waha's Startup Factory will kick off on 10 December at the Assiut Technology Zone. The program will offer marketing tips and tricks for startup founders, who can apply here.
Check out our full calendar on the web for a comprehensive listing of upcoming news events, national holidays and news triggers.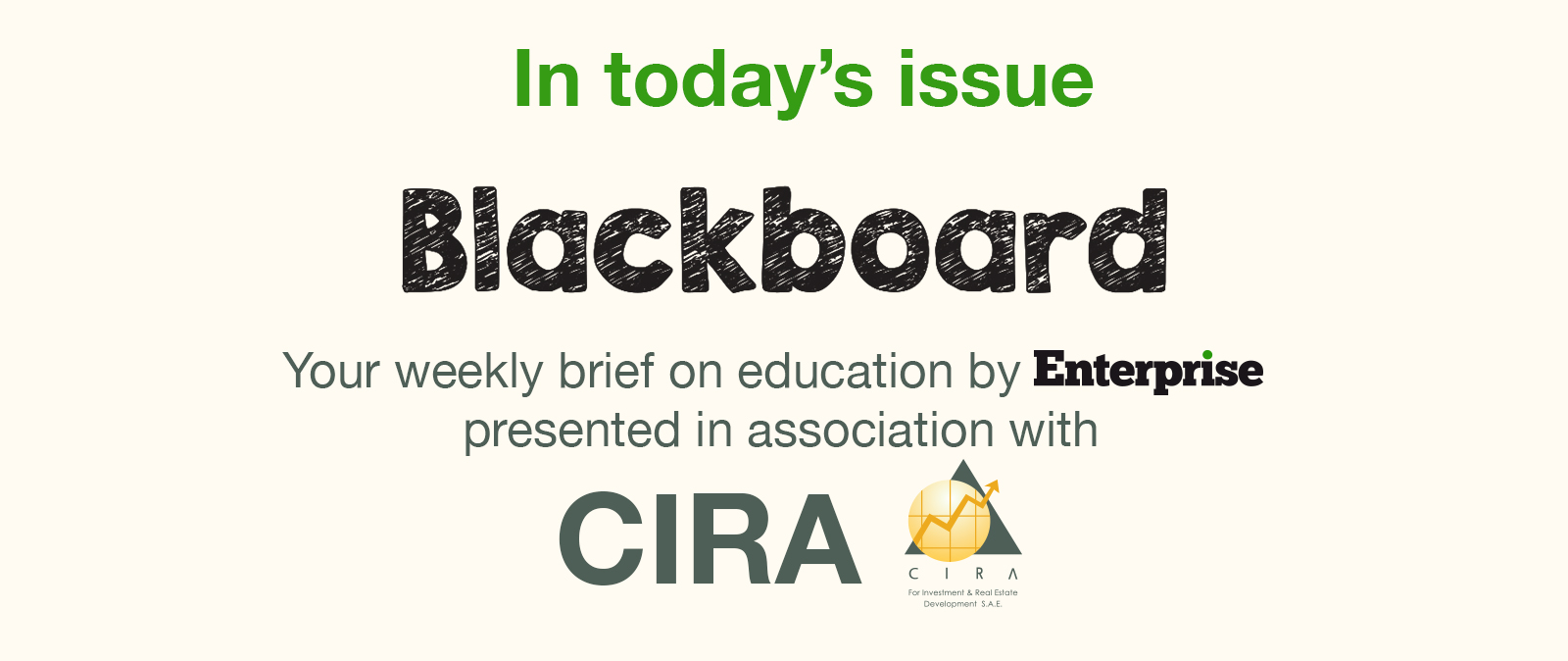 *** It's Blackboard day: We have our weekly look at the business of education in Egypt, from pre-K through the highest reaches of higher ed. Blackboard appears every Monday in Enterprise in the place of our traditional industry news roundups.
In today's issue: Egypt is currently suffering from a classroom shortage of over 300k classrooms across the country — more than the state's education budget can realistically solve anytime soon. As an alternative, the Education Ministry has proceeded to introduce modular classrooms equipped with the latest in smartboard technology. Today, we dive deeper into the program, explore where it is at right now, why we need it and how it can help solve the classroom shortage problem.