Wednesday, 26 January 2022
THIS MORNING: Fed rate decision today; Markets resume sell-off; Afcon: Egypt v Ivory Coast; What happens if Russia turns off the gas?
Well, friends, we've made it through another workweek together and our reward is … cold weather as far as the eye can see. That's the latest prognosis from the national weather service, which doesn't see daytime temperatures in the capital rising above 17°C until well into February. The mercury will fall as low as 6°C overnight tonight and tomorrow. Here in the capital city, you can expect 2-4 mm of rain this morning, according to our favorite weather app, with the wind picking up substantially in the afternoon.
School kids and public sector workers in Alexandria will have an extra day off this weekend after the governor announced that government offices and schools will close in anticipation of bad weather — though exams will still go ahead. Alexandria is expected to see medium to heavy rain and thunder tomorrow, according to the latest forecast.
NEWSFLOW IS HEAVY TODAY, with the wonderful Hala El Said making big news on the privatization and investment fronts, Egypt bucking the trend as the IMF downgrades slightly its global growth projections — and there's a metric ton of legislative news from the House of Representatives. We have all of this and more in this morning's news well, below.
THE BIG STORY ABROAD- What happens when Gazprom turns off the taps? That's the question being asked by the Western media this morning as the US tries to find alternative sources of natural gas for Europe in the event conflict in Ukraine disrupts fuel supplies. Europe imports roughly a third of its gas and oil from Russia, potentially spelling dire consequences for the continent should Russia turn off the taps in a hypothetical conflict in Ukraine. The White House is reportedly in talks with suppliers in the Middle East and Asia, though Qatar — one of the world's biggest producers — apparently won't be able to step in. Everyone from the Washington Post and the New York Times to CNBC and Bloomberg have coverage.
It's not like we mention this often, but: Egypt has gas. And our neighbors to the east have gas — and a pipeline through which to ship it to us. And we have pretty nifty liquefaction infrastructure, too…
---
*** DID YOU MISS THE RESULTS OF OUR 2021 ENTERPRISE READER SURVEY? The emergence of the delta and omicron variants, supply chain issues, and surging commodity prices did little to put a damper on business, with the vast majority of you saying 2021 was a good year. Optimism is the prevailing sentiment as we push ahead with 2022, with most respondents signaling plans to increase investments this year and suggesting they see their companies faring better than the competition. Tap / click here to see the full results.
We'll be announcing next week the names of eight readers who we're inviting to breakfast when this current wave of the pandemic eases.
---
WHAT'S HAPPENING TODAY-
It's the big day in DC: How hawkish is the Fed going to be? The Federal Reserve is widely expected to confirm that it will begin raising interest rates in March at the end of its two-day policy meeting today. The markets are currently pricing in four 0.25-percentage-point interest rate hikes this year, in what would be the bank's most aggressive tightening cycle in decades as it tries to get a hold on inflation.
The catch: Markets are not happy. Chairman Jay Powell will face the cameras today with the unenviable task of maintaining the Fed's credibility and talking tough on inflation while at the same time trying to temper rising volatility in the markets, which are balking at the prospect of higher interest rates. Don't be surprised to hear some slightly more dovish notes from the chairman about the Fed's plans post-March.
US shares resume downwards slide as interest rates, Ukraine tensions loom: For a while, it looked like US shares were going to pull off another incredible afternoon reversal after suffering heavy losses in early trading for the second day running. It wasn't to be: weak tech earnings combined with investor nerves surrounding rising interest rates to send indexes falling deeper into the red late in the session. The S&P 500 finished down 1.2%, the Nasdaq lost 2.3%, and the Dow Jones ended marginally in the red, down 0.2%. (Bloomberg | Reuters)
Asian markets are mixed in early trading this morning, while futures suggest we have re-entered the dip-buying zone, with US and European indices in the green across the board as the markets seesaw ahead of the Fed's announcement.
A fresh crypto winter? BTC fell to its lowest level since July when it dipped below USD 33k earlier this week, CNBC reports, before staging a recovery on Tuesday to bring it back past the USD 36k mark. Despite the comeback, some investors fear that the cryptocurrency could be heading into bear market territory. Ethereum and Solana have also fallen significantly from their record highs in November, leading some analysts to warn Bloomberg that we could see a repeat of the Great Crypto Winter of 2018, when the market went down hard — and stayed there for months.
---
⚽️ AFCON- It's the Pharaohs' turn to fight for a place in the quarter-finals of Afcon 2021 tonight. Egypt and Ivory Coast will meet for the first time in 14 years tonight in the penultimate last-16 game of the round. Having only scored two goals in their three group games, Egypt are going to need to find their shooting boots if they're going to get past the Ivorians, who scored six in an arguably tougher group.
Kick off: 6:00pm CLT.
Who will Egypt / Ivory Coast face in the quarters? Beating Ivory Coast will set up a quarter-final tie with Morocco, who beat Malawi 2-1 last night to secure their place in the last eight.
Eight dead in stadium stampede: At least eight people have died and 38 were injured trying to watch Cameroon's last-16 tie against Comoros yesterday, after a stampede occurred while spectators were entering the stadium, the Associated Press reports.
PSA #2- Fully vaccinated tourists can, in fact, visit Abu Dhabi without getting a booster shot, according to the newly updated Abu Dhabi tourism website. Only residents and citizens are required to have received a booster shot to enter the UAE's capital city, the emirate said, after previously signaling that a booster would be required for anyone visiting.
FROM THE REGION-
Israeli President Isaac Herzog will pay an official visit to the UAE next week for talks with Abu Dhabi Crown Prince Mohammed bin Zayed Al Nahyan, marking the first-ever visit to the country by an Israeli head of state, Bloomberg reports.
CIRCLE YOUR CALENDAR-
Startups have until next Sunday, 30 January to apply for the spring 2022 cycle of EGBank's Mint Incubator. The incubator offers two tracks: A sector-agnostic track for startups at the MVP stage, and a fintech track that accepts early-stage startups both at the ideation and MVP stages. Main founders must be between 16-35 years old. You can apply here.
The Cairo International Book Fair starts this Thursday at the Egypt International Exhibition Center. Members of the public will be allowed to enter without providing proof of vaccination, the Culture Ministry said last week. The two-week event runs through to 7 February.
Catch an art exhibition for a good cause: The Sawiris Foundation for Social Development and AlexBank are organizing the first art exhibition by marginalized children in partnership with Townhouse Gallery, Al Ismaelia for Real Estate Investment, and Ubuntu Art Gallery, according to a press release (pdf). The exhibition will showcase work from art workshops attended by 250 children from institutions such as Banati Foundation, Samusocial International, Association for the Protection of the Environment, Educate Me Foundation, the UNHCR, and Save the Children International. The opening of the exhibition is slated for 13 February before opening its doors to the public at Townhouse Gallery from 14-19 February.
Check out our full calendar on the web for a comprehensive listing of upcoming news events, national holidays and news triggers.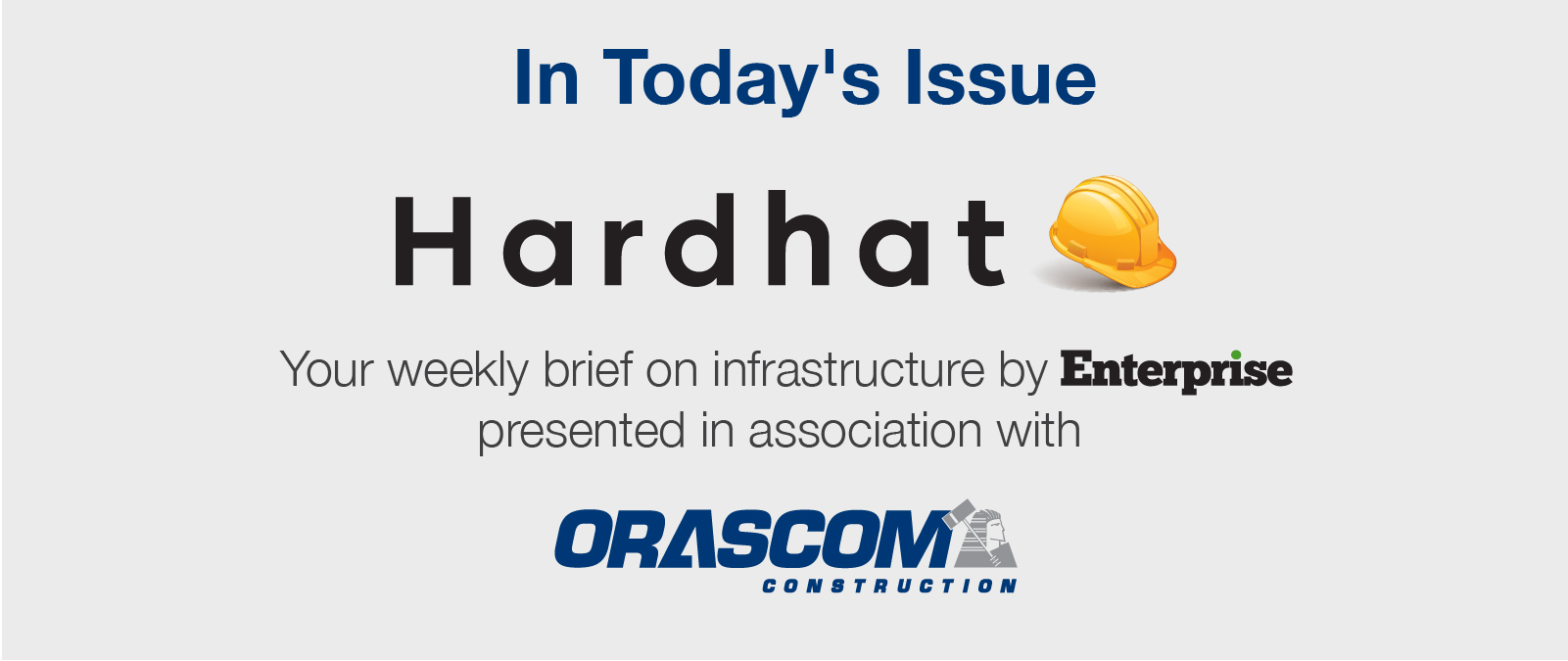 *** It's Hardhat day — your weekly briefing of all things infrastructure in Egypt: Enterprise's industry vertical focuses each Wednesday on infrastructure, covering everything from energy, water, transportation, and urban development, as well as social infrastructure such as health and education.
In today's issue: Threats to Egypt's water security from GERD to climate change and population growth have kept water projects high on the government's agenda in the past few years. The government budget for FY2021-2022 earmarks some EGP 21 bn to costly — albeit necessary — projects on water-saving, seawater desalination, and canal lining. But one project recently launched by the Irrigation Ministry could offer a more cost-effective solution to combat water scarcity threats: managing and rationing groundwater collection through the use of auto-control devices.