Monday, 10 January 2022
THIS MORNING: It's inflation day + covid-19 claims both a trailblazing judge and a leading TV personality
Good morning, friends, and welcome to a pleasantly brisk news morning. Brace yourselves for a possible sand storm — and do everyone a favor: Wear a mask for the next little while if you're doing face-to-face meetings. Anecdotal evidence suggests it is getting a bit hairy on the covid-19 front. We have more on both stories in this section, below.
It's inflation day: The Central Bank of Egypt (CBE) and Capmas will release inflation figures for December later today. Annual urban inflation slowed for the second month running in November, dipping to its lowest since July as pressure on food prices continued to ease.
What now? With an unfavorable base effect heading into 2022, don't be surprised to see inflation rise in the coming months, particularly if global commodity prices continue their upwards trajectory. Analysts were split over the medium-term outlook following the central bank's final policy meeting last year, with Capital Economics forecasting below-target range inflation by the middle of 2022, while HC Securities expects it to average 8% through the year. The CBE is targeting inflation of 7% (±2%) by 4Q2022.
The World Youth Forum gets underway in Sharm El Sheikh today. The forum will run for four days, wrapping on Thursday, 13 January. Palestinian President Mahmoud Abbas arrived in Sharm yesterday for a meeting with President Abdel Fattah El Sisi ahead of his participation in the forum, Palestinian news agency WAFA reported. Jordan's Crown Prince Hussein is also set to attend, according to MENA.
SMART POLICY- You may soon be able to renew your car license on-the-go. Around 40 tech-equipped mobile traffic vans will soon be roaming the country to issue licenses and inspect vehicles, under a protocol the Planning Ministry signed with traffic authorities yesterday.
PSA- There is a chance of high winds and a dust storm today, according to the national weather service. Our favorite weather app is forecasting a high today of 18°C in the capital city.
---
Journalist Wael Elebrashy has died at age 58 due to complications caused by covid-19, Masaa DMC (watch, runtime: 1:24) and Al Hayah Al Youm (watch, runtime: 6:54) reported. The veteran reporter spent decades in the industry, writing for Rose El Youssef newspaper and presenting several talk shows. News of Elebrashy's death came on the same day that Tahani El Gibali, Egypt's first female judge, passed away, also due to complications from covid-19.
Local and international media are reporting this morning that Foreign Minister Sameh Shoukry has contracted covid-19. Al Masry Al Youm and Masrawy are reporting that the minister is not suffering severe symptoms and is currently working remotely, citing sources familiar with the matter. Bloomberg Asharq and Sputnik are also reporting the story.
If the report about Shoukry is confirmed, he would be the latest of a number of public figures to have contracted the virus in recent days, including talk show hosts Lamees El Hadidi and Amr Adib and at least eight players and staff members of the Egyptian national football team.
The Health Ministry reported 912 new covid-19 infections yesterday, up from 830 the day before. Egypt has now disclosed a total of 392,857 confirmed cases of covid-19. The ministry also reported 26 new deaths, bringing the country's total death toll to 21,964.
---
THE BIG STORIES ABROAD- Little sign of compromise as the US and Russia gear up for high-stakes talks in Geneva: US, Russia and Nato officials are going into today's talks, nominally aimed at reducing tensions over Ukraine, by ramping up the rhetoric and downplaying the chances of a breakthrough. Russia said it would refuse to compromise under pressure from Washington, US Secretary of State Anthony Blinken accused Moscow of holding "a gun to the head" of Ukraine, while Nato chief Jens Stoltenberg threatened "a new armed conflict in Europe" if Moscow refuses to play ball. The build-up to the talks is getting coverage in the Financial Times, Reuters and the Associated Press, among others.
The UAE is on track to see growth double to 4.2% in 2022, according to its central bank's quarterly economic review (pdf), as its economy rebounds from the pandemic. The bank's forecast came in higher than the IMF's prediction of 3% GDP growth for the year. The strong forecast comes as the UAE's non-oil private sector registered another month of solid growth in December, thanks partially to Expo 2020 and easing travel restrictions, according to the latest PMI survey (pdf).
ALSO- Turkey sells more USD: Turkey's central bank sold a record amount of USD from its reserves to support its state gas company Botas in December, adding to what looked like aggressive intervention to prop up its crashing currency, Bloomberg reported.
Getting wide coverage in the US press: A fire in a New York apartment building has killed at least 19 people, including nine children. The cause? A space heater, it seems. The story is everywhere from the Washington Post and New York Times to the Wall Street Journal.
MARKET WATCH- US earnings season kicks off this week, giving investors their first insight into how companies performed in the final quarter of 2021, the Wall Street Journal reports. Analysts expect the financial industry to post record annual earnings, which will be put to the test later this week when JPMorgan Chase, Citigroup, and Wells Fargo declare earnings. Delta Air Lines will post its results on Thursday, providing an indication of how the travel industry responded to omicron and the tightening of border restrictions.
REMINDER- We still have six weeks to wait for Egyptian companies to report 4Q earnings, which should start rolling in around the beginning of March. EGX-listed companies have 90 days from the end of their fiscal year to report their full-year results.
THE MARKETS TODAY- Asian shares are down in early trading this morning. Shares in Shanghai, South Korea and Australia are in the red and the Nikkei is treading water as traders await inflation data out of the US this week. Shares in the US and Europe are on course to open lower according to the futures markets.
CIRCLE YOUR CALENDAR-
First interest day of 2022 next month: The Central Bank of Egypt (CBE)'s monetary policy committee will hold its first policy meeting of 2022 on Thursday, 3 February.
Check out our full calendar on the web for a comprehensive listing of upcoming news events, national holidays and news triggers.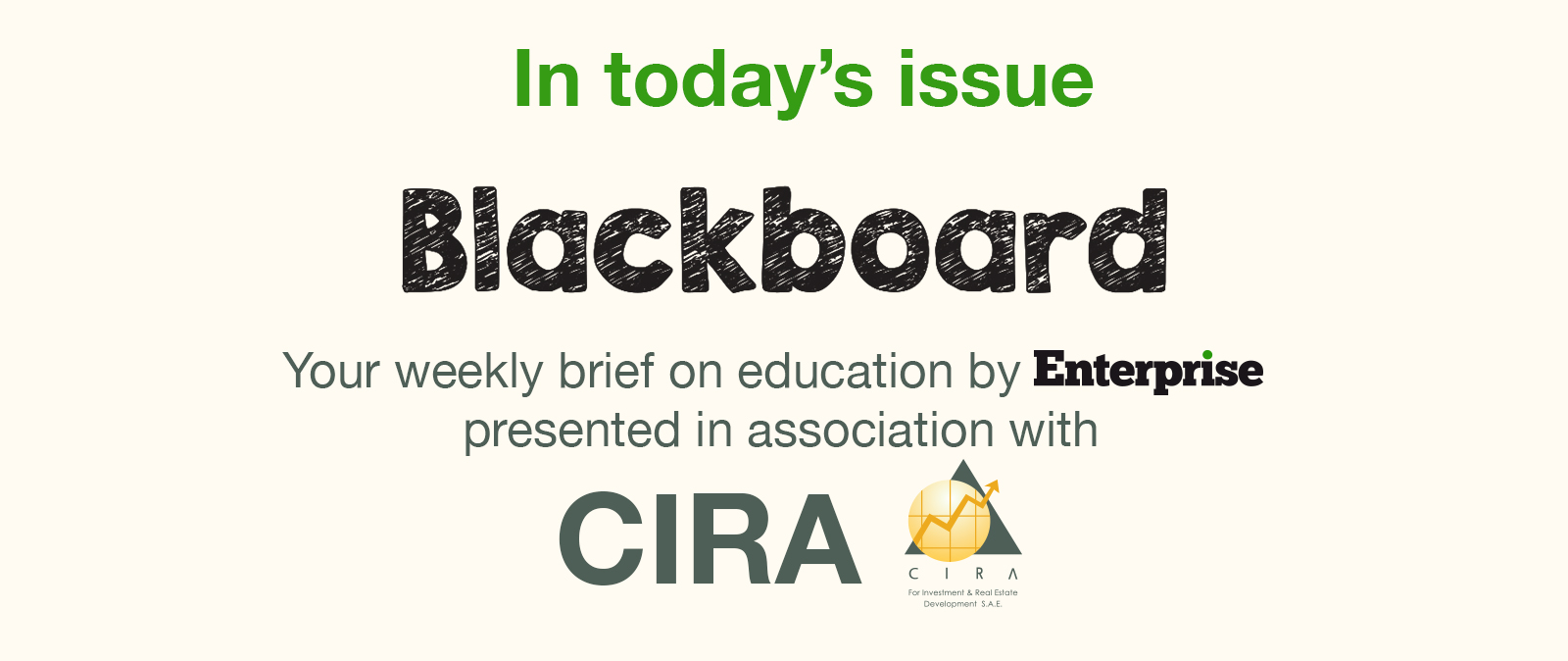 *** It's Blackboard day: We have our weekly look at the business of education in Egypt, from pre-K through the highest reaches of higher ed. Blackboard appears every Monday in Enterprise in the place of our traditional industry news roundups.
In today's issue: Egypt's academic research landscape has been improving in recent years, with our academics making more significant contributions to research. The push to improve our research output has also received policy backing. Today, we look at the current landscape for academic research.