Sunday, 9 January 2022
THIS MORNING: Mobile wallet use up 27% in Egypt in 2021; IMF delays outlook due to covid; Afcon starts today; The UAE has shifted to a Monday-Friday week
Good morning, friends, and welcome to your first full-length workweek of 2022. News flow this morning is dominated by the House of Representatives (habemus fintech law) and government policymakers (an outlook on the next budget). With the lawmakers pushing hard on multiple fronts, we expect more regulatory and policy news in the weeks to come even as corporates return from winter break and get back into the swing of things.
SIGN OF THE TIMES #1- Mobile wallet use rose again in 2021, with the number of mobile wallets surging 27% y-o-y to 25 mn in 2021, the Central Bank of Egypt (CBE) said in a press release (pdf). Users executed some 227 mn mobile wallet transactions last year — double the number of transactions made in 2020 — with the total value rising 160% y-o-y to EGP 233 bn.
You can now manage your mobile wallet subscription without needing to visit a provider's physical branch through a new platform the Central Bank of Egypt (CBE) has launched, the CBE press release added. The without-charge Meeza wallet management platform allows users to check if their phone number is linked to a mobile wallet, cancel their mobile wallet subscription, and inquire about service options.
ALSO- Over 31k companies have so far registered on the government's electronic invoicing platform for B2B transactions, Egyptian eInvoicing, the Tax Authority said (pdf) last week. The authority is currently processing more than 650k invoices daily and that figure to rise to 1 mn daily by the end of March.
---
THE BIG STORY ABROAD- US offers (limited) compromise ahead of Russia talks: The US looks set to offer some concessions over its military presence in Europe ahead of direct talks with Russia in Geneva tomorrow, which are aimed at defusing tensions over Ukraine. Everyone in the US and Russian media is talking about it this morning from the Wall Street Journal, the AP and the Washington Post to Sputnik, RT and Tass. The Journal says this is "the most dangerous moment for Eastern Europe in decades," while the New York Times makes clear the Biden administration is preparing a range of possible sanctions ahead of the talks.
SMART POLICY- The UAE experienced its first working Friday as the country officially shifted to a Monday-Friday work week — though the dreaded rush hour never materialized, according to the National, suggesting that many continue to work and study from home as part of the country's bid to quell covid-19. The UAE is the first country to implement a 4.5-day work week, with public sector workers and schools ending the last day of the week no later than 12:30pm.
SIGN OF THE TIMES #2- IMF delays its global forecast to factor in latest covid disruptions. The International Monetary Fund will release its updated World Economic Outlook on 25 January, a week later than planned, to give it time to incorporate the latest omicron-related developments, Reuters reported. IMF chief Kristalina Georgieva last month primed us to expect further downgrades to global growth projections thanks to omicron's arrival.
SIGN OF THE TIMES #3- No jab, no job: Citigroup will fire unvaccinated US employees. The Bulge Bracket bank will fire workers who have not been vaccinated by the end of this month unless they have been granted a religious or medical exemption, the Financial Times reports.
---
WHAT'S HAPPENING TODAY-
It's the first day of Afcon: The football tournament gets underway at 6pm this evening, when hosts Cameroon play their opening game against Burkina Faso. Keep an eye out for the Pharaoh's first match of the championship against Nigeria at 6pm on Tuesday.
Our national team is heading to Afcon more than a few men short, after eight covid cases were confirmed among staff and players, including goalkeeper Mohamed Abou Gabal, goalkeeping coach Essam el-Hadary, and Ibrahim Adel, one of three players put on the reserves list for precautionary measures. All those who tested positive were forced to stay behind in Cairo. It's unclear if they will miss the whole tournament, which runs until Sunday, 6 February, or will be able to join the team later.
FOR TOMORROW-
Inflation figures for December are due out tomorrow. Annual urban inflation slowed for the second month running in November and dipped to its lowest since July as pressure on food prices continued to ease, but some analysts have flagged a potential acceleration in inflation figures.
The World Youth Forum kicks off in Sharm El Sheikh tomorrow and runs until Thursday, 13 January.
MARKET WATCH-
It could be a rocky few weeks for global equities: Som pundits are calling an end to the historic tech equity bull run as bond yields rise in response to the Federal Reserve's hawkish turn. The yield on US 10-years rose to its highest level since January 2020 and stocks sold off last week after a weak US jobs report had traders anticipating that the Fed could hike rates in March. Higher returns in the bond market could see investors increasingly rotate out of tech stocks, indicated last week by the Nasdaq 100 which suffered its worst week in almost a year as the attractiveness of growth stocks dimmed. (Bloomberg)
Inflation, interest rates and the Federal Reserve will continue to dominate the conversation this week as US inflation figures are released and Fed chair Jay Powell appears before a Senate panel. (CNBC)
US earnings season is also upon us: US banks are expected to announce record annual earnings this week and the next thanks to huge investment banking fees. Citi and JPMorgan are up first this coming Friday, Goldman Sachs reports on 18 January, and Bank of America and Morgan Stanley are on 19 January. (Financial Times)
---
CIRCLE YOUR CALENDAR-
SODIC shareholders will vote on the company's new board of directors at an extraordinary general meeting on Sunday, 16 January. The formation of the new board comes after an Emirati consortium of real estate giant Aldar Properties and Abu Dhabi sovereign wealth fund ADQ in December acquired 85.5% of SODIC in an all-cash, EGP 6.1 bn transaction.
Bringing home Egyptians stranded in Morocco: National flag carrier EgyptAir will operate one flight from Casablanca to Cairo on 19 January, to bring home Egyptians stuck in Morocco following border closures, the Egyptian Embassy in Morocco said in a statement. Moroccan authorities have twice extended the suspension of all passenger flights in and out of the country first introduced at the end of November amid the emergence of omicron, with the flight ban now set to last until at least the end of January.
First interest day of 2022 is set: The Central Bank of Egypt (CBE)'s monetary policy committee will hold its first policy meeting of 2022 on Thursday, 3 February.
Check out our full calendar on the web for a comprehensive listing of upcoming news events, national holidays and news triggers.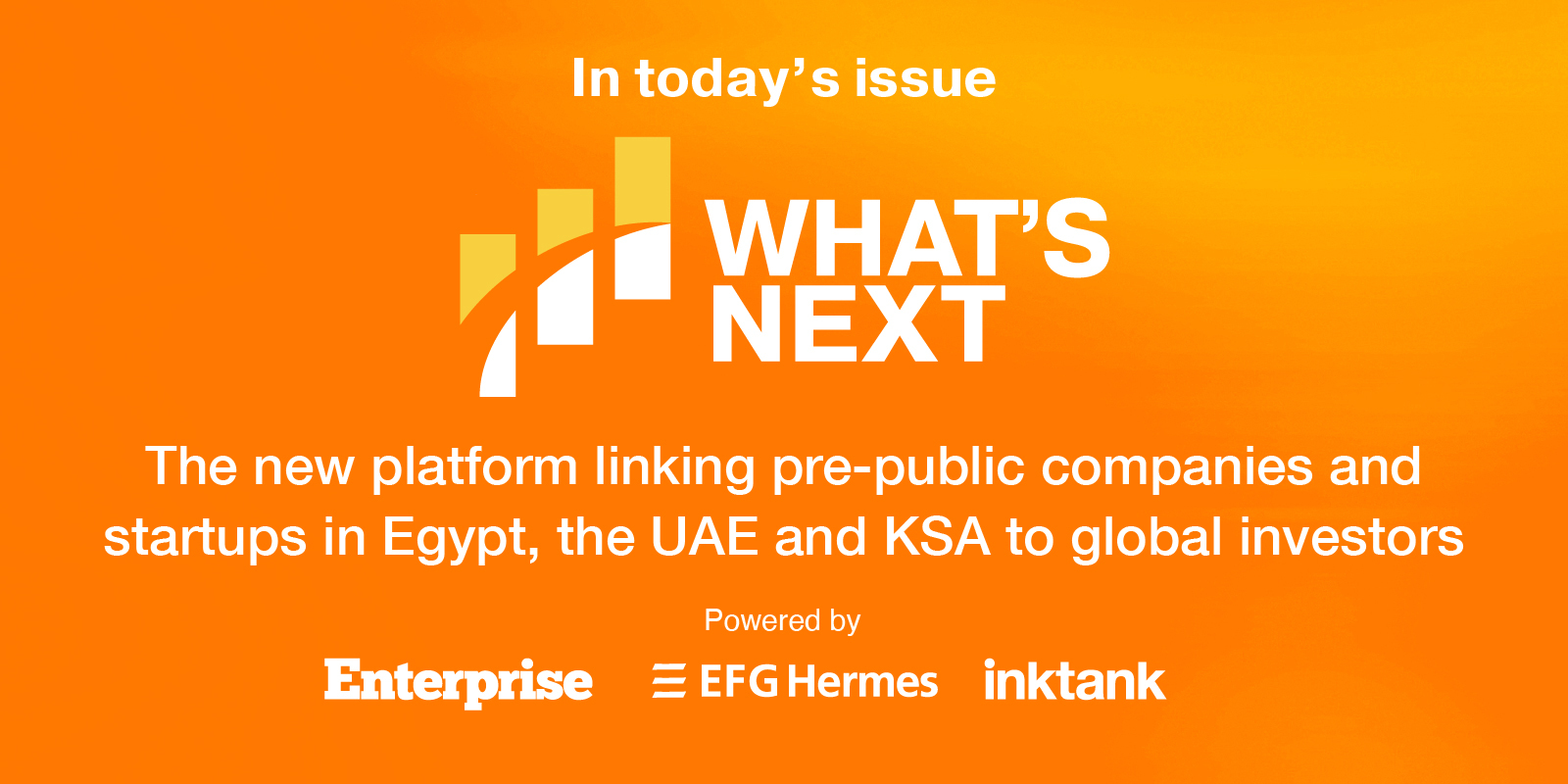 *** It's What's Next day: We have our weekly deep-dive into what makes and shapes pre-listed companies and startups in Egypt, the UAE and KSA, touching on investment trends, future sector insights and growth journeys.
In today's issue: In Part 2 of our Year-in-Review series, we look at what it was like to be an investor in Egypt last year, which we think we can safely dub the year of investor adaptation. Investors are moving away from the typical models as they look to adapt to market needs and fill the gaps they've identified along the way.