Wednesday, 8 December 2021
THIS MORNING: More COP27 announcements + schools are closed again in Alexandria due to bad weather
Good morning, nice people, and happy almost-THURSDAY. It's another busy news day (as it so often is at this time of year), so let's jump right in:
WHAT'S HAPPENING TODAY-
School's out in Alexandria, Matrouh for the second time this week: All schools across Alexandria and Matrouh will be closed today and fourth grade exams will be pushed to next week in anticipation of stormy weather forecasted by the Meteorological Authority, the two governorates announced yesterday. Alexandria University also followed suit, shutting the doors to its campus today and moving its classes online, Youm7 reported.
Alex Governor Mohamed El Sherif hit the talkshows last night to discuss the closure (watch, runtime: 10:13). The governorate closed schools on Sunday to cut down on traffic so vacuum trucks could clear flooded streets.
Expect a high today of just 19°C and heavy winds in the capital city, with the winds picking up substantially from mid-morning until late afternoon. There's no significant chance of rain in Cairo today.
FOR TOMORROW-
Inflation figures for November will be released. Data for inflation typically appears on the 10th of every month, but is moved up one day if that falls on a Friday.
THE BIG STORY ABROAD– No single story is dominating the international press this morning. The UAE's switch to a Saturday-Sunday weekend is getting front-page play from Bloomberg, the Financial Times is leading with the US' threat to cut off Russia's Nord Stream 2 pipeline if Russia invades Ukraine, and the WSJ's top story is a look at what Amazon means to local US labour markets. Reuters, meanwhile, writes that up to 1 mn doses of covid-19 vaccines expired in Nigeria last month.
Auf wiedersehen, Angela: Germany waved goodbye to its leader of 16 years yesterday as Angela Merkel stepped down as the country's chancellor to make way for successor Olaf Scholz, who is set to be sworn in today. Widely regarded as a steady hand at the tiller both for Germany and the EU, Merkel's no-nonsense approach saw her become something of a figurehead for democratic stability and centrist compromise. At home, Merkel's departure heralds a wider changing of the guard, after her Christian Democrat party suffered heavy losses in September's national elections, leaving Scholz's Social Democrats to govern in a three-party coalition. The story is everywhere from the AP to the BBC and the New York Times.
MEANWHILE-
FinMin goes green: The government will introduce next March a stimulus package to aid Egypt's transition to a green economy, Vice Minister of Finance Ahmed Kouchouk is quoted as having told Al Mal. The package of measures will be announced during budget season ahead of the new fiscal year and will offer targeted financial incentives to encourage sustainable and carbon emission-reducing projects, Kouchouk said, without providing further details.
This is the latest in a string of announcements to boost the government's green credentials before global leaders descend on Sharm El Sheikh for the COP27 climate summit, which is due to take place next November. The government is already lining up a carbon capture agreement with Eni to be announced at the summit, and has ordered construction of the country's first green hydrogen plant to be accelerated so it can be showcased during the event. The cabinet also wants all cars and buses in Sharm and Hurghada to either be converted to run on natural gas or be swapped out for EVs by the time COP27 rolls around.
ALSO- Pre-ordering cars could become (once again) a thing in Egypt: The Consumer Protection Agency is currently working on a pre-order form to allow consumers to reserve a new car before it's on the market. Anybody else remember the days pre-devaluation when receipts for cars that had been paid for, but not yet delivered, were nearly a form of currency?
FROM THE DEPARTMENT OF THE OBVIOUS- The shift to electric vehicles will come at a cost. The EU's plans to ban combustion-engine vehicles by 2035 and shift towards EVs will put up to 500k jobs at risk, according to a poll of European auto suppliers. Job creation in the EV sector will partly offset this though by less than half, according to a separate study by PwC. (Financial Times)
CIRCLE YOUR CALENDAR-
The Cairo Woodshow kicks off on Thursday at the Cairo International Convention Center
Booster shot registration: The Health Ministry will begin allowing senior citizens with chronic medical conditions, as well as all medical staff, to register for a booster covid-19 vaccine as of next Sunday, 12 December.
Interest rates: The Central Bank of Egypt's Monetary Policy Committee will hold its final meeting for the year to review interest rates on Thursday, 16 December.
Check out our full calendar on the web for a comprehensive listing of upcoming news events, national holidays and news triggers.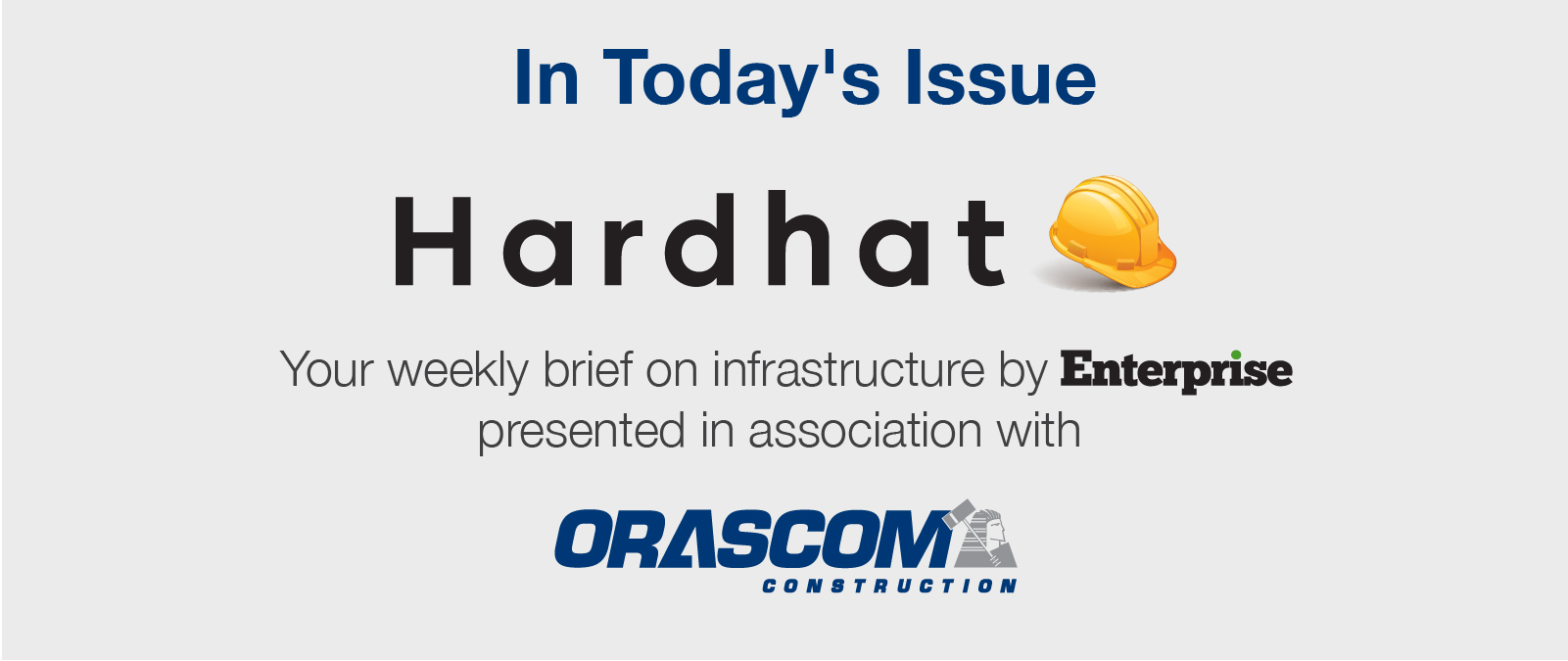 *** It's Hardhat day — your weekly briefing of all things infrastructure in Egypt: Enterprise's industry vertical focuses each Wednesday on infrastructure, covering everything from energy, water, transportation, urban development and social infrastructure such as health and education.
In today's issue: Two months after the Finance Ministry's digital customs system, Nafeza, was rolled out, there doesn't appear to be any major sources of trouble with the system, even as it is imposed on a largely digitally illiterate demographic. The system is being rolled out in phases, with an eye to have a fully-digital process by mid-next year. Today, we look at the factors to watch over the next several months to gauge how successful the system is.