Tuesday, 12 October 2021
THIS MORNING: New real estate industry regs in the works? Plus: IMF's Kristina Georgieva gets a reprieve.
Good morning, wonderful people, and welcome to hump day. We had crazy thunder and lightning overnight, accompanied by light rain. There's still rumbling in all four corners of the capital city as we slide toward dispatch time, and the air outside is as thick as pea soup, with humidity at 85%.
Our favourite weather app shows there's a chance of more thunder, lightning and light rain until about 8am, after which we'll see sunny skies and a high of 34°C.
It's probably a good idea to throw your work / school / whatever address into Maps this morning and see whether you want to leave a few minutes early to beat traffic.
BIG NEWS HERE AT HOME- EFG Hermes has met all regulatory conditions necessary to complete its acquisition of a 76% stake in the Arab Investment Bank in partnership with the Sovereign Fund of Egypt (SFE), according to a statement (pdf) from EFG. The next step: EFG and the SFE will take possession of newly issued capital increase shares in AIB. This comes shortly after the two institutions received cabinet approval for the transaction. The two institutions will acquire the shares via an EGP 3.8 bn capital increase, which will raise the bank's capital to EGP 5 bn and give EFG a 51% stake and SFE 25% once executed.
Are new real estate industry regulations on the works? Prime Minister Moustafa Madbouly and top officials including the housing minister held a meeting with several unnamed real estate investors and developers yesterday to discuss potential new regulations for the sector. While there was nothing concrete on what those regs would entail, a cabinet statement noted they could cover what developers can and can't do with so-called maintenance payments collected from homebuyers and nationwide standards on payment plans and construction timelines, among other things we're yet to hear more on. Housing ministry officials had last month floated the prospect that developers could soon come under new regulations designed to mitigate risk in the sector, while parliamentarians are currently considering sweeping regulatory changes to the sector.
HAPPENING TODAY-
The IMF's updated World Economic Outlook is set to be released this morning as the IMF / World Bank Fall Meetings enter their second day. You can find the report on its landing page here once it's released at c. 3pm CLT.
A little bit of foreshadowing? Goldman Sachs has cut its forecast for US growth in 2021 and 2022, "blaming a delayed recovery in consumer spending." The analysts "now expect growth of 5.6% on an annual basis in 2021 versus their previous estimate of 5.7%, and 4% next year, down from 4.4%," Bloomberg reports.
IT'S A BIG DAY FOR- Embattled IMF director Kristalina Georgieva, who now looks set to serve out her term in office after the IMF's executive board issued a lengthy statement that says it has "full confidence" in Georgieva's "leadership and ability to continue to effectively carry out her duties. The board trusts in the managing director's commitment to maintaining the highest standards of governance and integrity in the IMF," it added.
The background: Georgieva has been being dogged by allegations she pressured staff to fudge data and boost China's ranking in the now-defunct Doing Business report. Leading European members of the board were pushing for Georgieva to finish her full term in office, while the US and Japan are apparently leading a faction of countries that want her tenure cut short. Her five-year appointment would normally expire in fall 2024. Reuters has more on the story.
---
THE BIG STORY ABROAD- It's the energy crisis, which dominates headlines in the global business press and beyond this morning.
US crude hit a fresh seven-year high (breaking the USD 80 / barrel mark) and Brent, the international benchmark, looks set to hit USD 85 even as there are signs that consumption is dropping because of rising prices. The price of oil is up more than 16% since the start of September, driven by global economic growth, a shortage of natural gas, and careful management by OPEC+.
The story leads the front pages of the Financial Times, the WSJ and Bloomberg.
The natural gas shortage and rising prices are hitting industrial and household consumers in Europe, where natural gas consumption is now 12% lower than before the pandemic, Bloomberg reports. This comes as falling temperatures are about to start driving fresh demand.
Supply to Europe is continuing to get worse, as Algeria yesterday officially announced it will no longer be pumping gas into Spain via a pipeline that cuts through Morocco due to long standing political tensions, and will instead ship LNG on board vessels, Algeria's official press agency said.
The world's largest natgas exporter, Qatar, also says it can't do anything about the record prices and has no supplies left for export, even as steelmakers in Britain and Spain and large factories in China say they're quickly running out of energy, Reuters reported yesterday.
The shortage of natural gas and rising oil prices are not going to be good for the environment: India said over the weekend that it has locked in plenty of coal to fire its power plants, while coal futures in China have hit an all-time high as severe floods compounded the country's energy crisis, the FT reports.
SIGN OF THE TIMES- JP Morgan's Jamie Dimon continues to wage jihad against BTC, blasting cryptocurrencies as "worthless" and saying the burgeoning industry will inevitably be regulated by governments.
***CATCH UP QUICK with the top stories from yesterday's edition of EnterprisePM:
Pioneers Holding is now Aspire Capital Holding: The EGX Listing Committee approved Pioneer Holding's rebranding to Aspire Holding, after splitting into a real estate investment arm and another that will house its manufacturing investments.
Supply chain woes and the energy crisis are still top-of-mind in the global press, with aluminum prices soaring and shipping delays leaving US shoppers without Halloween decorations.
Playtime's over? In the wake of China's new restrictions on video game play for minors, we take a look at how the rise of gaming disorders is affecting players and the industry.
CIRCLE YOUR CALENDAR-
Our next long weekend is coming up: ​​​​The Prophet Muhammad's birthday falls on Monday, 18 October. We expect a three-day weekend starting Thursday, 21 October. Look for confirmation from the cabinet toward the end of the week.
Conference season ratchets up this month, with a number of exhibitions and business events here and throughout the region taking place this week, including:
The Turathna Exhibition at the Egypt International Exhibition Center, Cairo, which will run until Friday, 15 October.
The International Conference on Climate Change in the Eastern Mediterranean and the Middle East kicks off in Nicosia this Wednesday. The conference brings together 65 of leading policymakers, scientists and diplomats from Egypt, Israel, Jordan, Iraq and Greece to advocate for a move away from fossils toward renewables in the region. You can check out its website here.
Further down the road: The Middle East Angel Investment Network is hosting its Angel Oasis in El Gouna on 27-29 October, with separate pricing for in-person and virtual attendance.
Check out our full calendar on the web for a comprehensive listing of upcoming news events, national holidays and news triggers.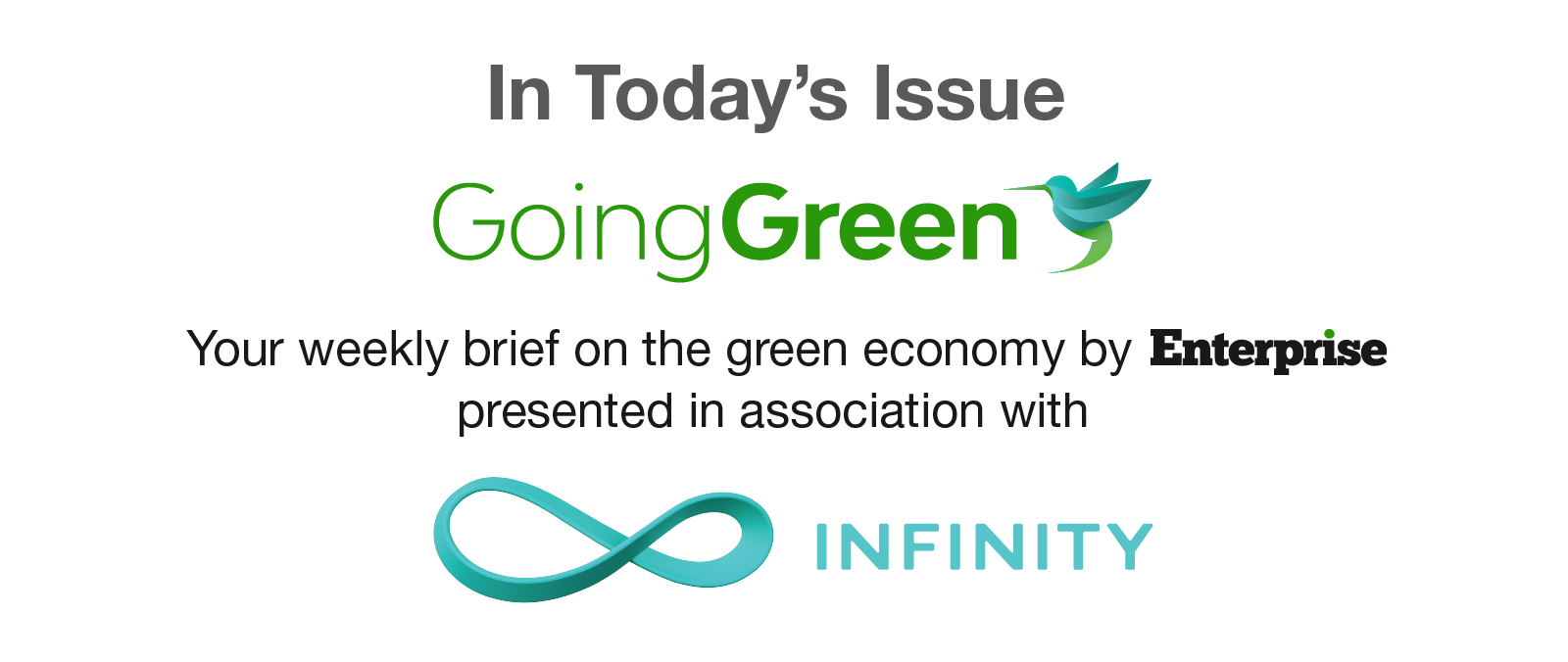 *** It's Going Green day — your weekly briefing of all things green in Egypt: Enterprise's green economy vertical focuses each Tuesday on the business of renewable energy and sustainable practices in Egypt, everything from solar and wind energy through to water, waste management, sustainable building practices and how you can make your business greener, whatever the sector.
In today's issue: Part II of our look into the new ESG reporting requirements is out today with a poll that included IR professionals from Edita, Cleopatra Hospital, and ElSewedy Electric. The three EGX-listed firms, which already issue sustainability reports, gave us the rundown on what it takes to begin implementing the new requirements, what challenges they faced, and whether it helped boost investments from foreign institutions.