Monday, 14 June 2021
THIS MORNING: Netanyahu no more; G7 wraps.
Good morning, wonderful people, and welcome to the Good News Edition of Enterprise. From investment and the nation's IPO pipeline to our deepening partnership with France, it's bright blue skies for nearly as far as the eye can see this morning here at home. We have the full rundown in this morning's news well, below. Meanwhile:
***CATCH UP QUICK on the top stories from yesterday's edition of EnterprisePM:
France wants to be among our top trading partners, French Finance Minister Bruno Le Maire told us in an exclusive sitdown as Cairo and Paris yesterday signed almost EUR 4 bn in bilateral agreements and contracts covering transport, social security and development.
Could we see a USD 3-4 bn green hydrogen initiative soon? Studies for one of several planned green hydrogen plants are expected to be finalized and presented to the Sovereign Fund of Egypt and other state bodies including the oil and environment ministries as early as next week.
Tobacco monopoly Eastern Company isn't selling securitized bonds: CEO Hany Aman told us that issuing securitized bonds isn't in the company's plans, denying a report by Al Shorouk we noted in yesterday's EnterpriseAM.
THE BIG STORY ABROAD #1- Netanyahu is outta here: The Israeli parliament narrowly gave its blessing to a new coalition government last night, finally unseating Prime Minister Benjamin Netanyahu after 12 years in office. The vote brings to power a fragile group of disparate political parties — including the far right, Islamists and liberals — and brings to an end two years of paralysis that produced four indecisive elections.
So, who is the new man in charge? The Wall Street Journal has the rundown on far-right darling Naftali Bennett, who will serve as Israel's prime minister for the next two years (if the coalition lasts that long…) before making way for liberal leader and coalition partner Yair Lapid.
The story is everywhere in the global press this morning from Reuters and the AP to the New York Times and the Washington Post.
THE BIG STORY ABROAD #2– The G7 wraps: The final day of the G7 Summit finished in Cornwall, the UK, yesterday. Here are the highlights from the final communique (pdf):
Tax: Leaders reiterated their commitment to last month's global tax pact and pledged to negotiate a solid agreement that will introduce a minimum 15% global corporate tax rate.
Climate: Nations agreed to commit to "a set of concrete actions" to end state financing for unabated coal power by year-end and to "mostly decarbonize" electricity supplies in the 2030s.
Covid vaccines: G7 countries will pay for 1 bn covid vaccines and share at least 870 mn more, half of which will be delivered by the end of the year.
China: Leaders denounced China over human rights abuses in Xinjiang and called for a new investigation into the origins of covid-19, but held back from harshly criticizing its trade policies.
Not everyone's happy: "This G-7 summit will live on in infamy," the Associated Press quotes Max Lawson, the head of inequality policy at the international aid group Oxfam, as saying. "Faced with the biggest health emergency in a century and a climate catastrophe that is destroying our planet, they have completely failed to meet the challenges of our times."
The global press is mainly focusing on divisions in the group about how to respond to China: Reuters | Bloomberg | FT.
HAPPENING TODAY-
Fintech bill to get committee approval today? The House's CIT Committee yesterday greenlit yesterday five articles of the draft fintech bill and will continue discussing the remaining articles in a session today, according to Al Mal. The 30-article bill, which got the Committee's preliminary nod last month, would regulate the use of technology to deliver non-banking financial services and grant the Financial Regulatory Authority (FRA) the power to license and regulate fintech businesses. The FRA had drafted and approved the bill last year, before earning the Cabinet's sign-off in April.
Saudi Commerce Minister Majid Al Qasabi is in town for trade talks with Prime Minister Moustafa Madbouly and to attend a meeting of the Egyptian-Saudi Joint Business Council, the Trade Ministry said in a statement.
The Green Economy Forum takes place today at the Intercontinental Citystars in Heliopolis.
On the agenda: sustainable finance, waste management and supply chain risk. Look for participants to include speakers from multilateral lenders and global institutions, local and multinational businesses and investors, and Egyptian government officials. Check out the full event brochure here (pdf).
The first forum of the heads of African investment promotion agencies wraps up in Sharm El Sheikh today. Ministers, heads of investment agencies from 34 African countries and representatives of major financial institutions are in attendance.
HAPPENING THIS WEEK-
The Arab League will meet in Doha tomorrow for "emergency" GERD talks at the request of Egypt and Sudan. Foreign Minister Sameh Shoukry headed to the Qatari capital yesterday evening ahead of the meeting, carrying a letter from President Abdel Fattah El Sisi to Qatari Emir Tamim bin Hamad Al Thani on the latest "positive" developments in Egyptian-Qatari relations since the Al Ula declaration was signed earlier this year.
The Central Bank of Egypt will meet on Thursday, 17 June to review rates. All 11 analysts and economists surveyed in our poll are calling another hold as inflation hit its highest level all year in May as the global commodities boom began to hit the domestic economy.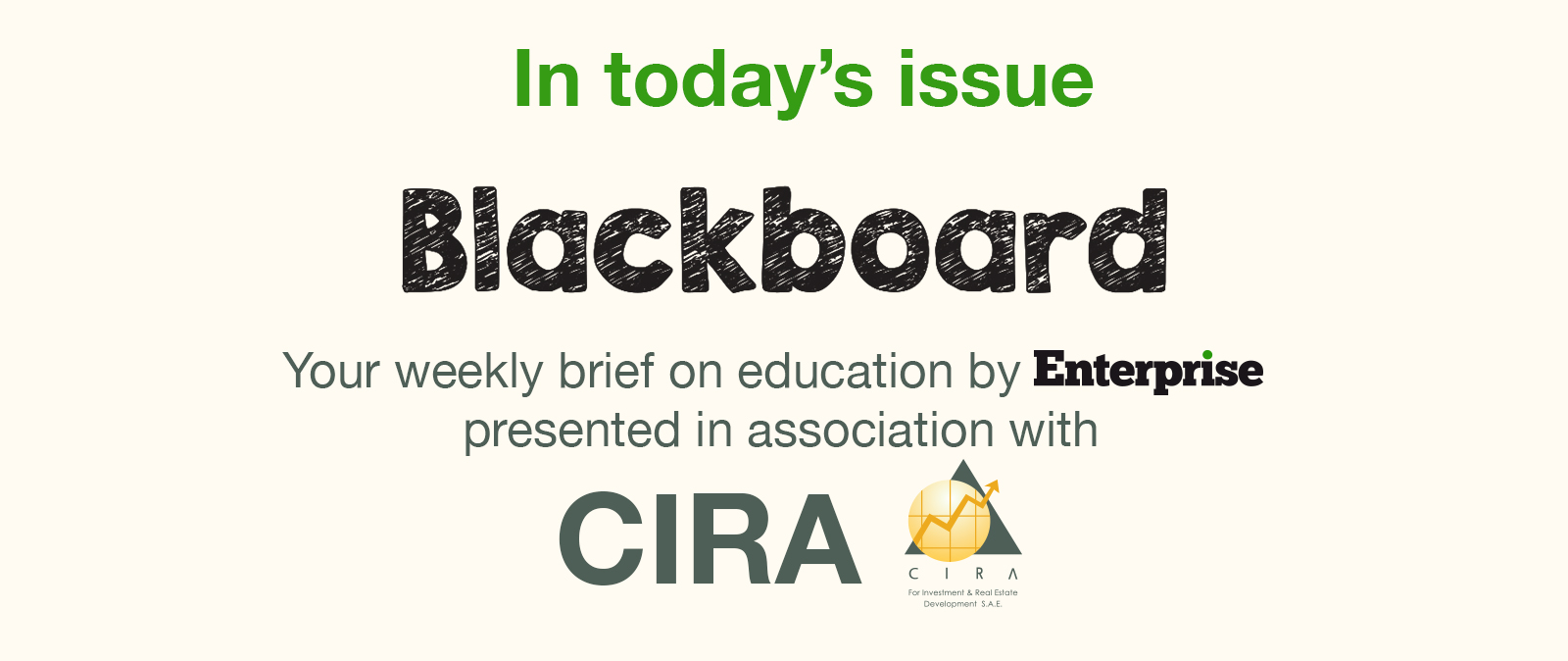 *** It's Blackboard day: We have our weekly look at the business of education in Egypt, from pre-K through the highest reaches of higher ed. Blackboard appears every Monday in Enterprise in the place of our traditional industry news roundups.
In today's issue: Egypt is working hard to boost its science, technology, engineering and mathematics (STEM) education, an area where women are globally underrepresented. We're doing better than average when it comes to women studying STEM, with almost equal numbers of male-female STEM university graduates. But this isn't reflected in the workplace, where men far outnumber women in STEM careers. The discrepancy has nothing to do with academic ability, and everything to do with workplace inaccessibility and gender bias, the data shows. To change it, we need better policy implementation, funding and more flexible working conditions.