Monday, 24 May 2021
THIS MORNING: Budget debate at home, potential sell-off in global markets dominate a slow news day
Good morning, friends. Longtime readers know that Mondays are often slow news days — and today is slower than our grandma's joints move on a cold winter morning.
There's no big story dominating the news cycle here at home or abroad. That may change today as the House of Representatives gets serious about about the 2021-2022 budget (we have more below), while abroad you have your choice of stories about the unusual arrest of an opposition journalist flying through Belarusian airspace, the debate over whether the world will ever hit herd immunity, and the idea that SPACs are losing their (very brief) allure.
Lab leak hypothesis is back. Oh, and as we report in Covid Watch, below, we're all going to be back to arguing over whether covid escaped from a lab in Wuhan.
THE BIG QUESTION THIS WEEK: Are we going to see a sell-off in global markets? Stocks in Shanghai, Hong Kong and Seoul are down this morning. Meanwhile, futures are mixed on how Wall Street will open, the outlook is sunny for markets in much of Europe, and BTC is sliding again. Speculation is rife that "stocks could be volatile in week ahead amid turbulence from cryptocurrency," where some investors are now turning on cryptohead Elon Musk, resenting the fact that he has become what the WSJ calls "crypto's biggest influencer." BTC has resumed its selloff and Nobel prize economist "Robert Shiller is worried a bubble is forming in some of the market's hottest trades," including US shares, crypto and housing, where he sees a "wild west mentality" among many investors.
Either way: Expect crypto volatility to stick around for a while and continue spreading to other asset classes through "informal contagion channels," markets sage Mohamed El Erian writes for Bloomberg Opinion. While crypto and traditional asset classes typically "live in their own ecosystems," there is a growing contagion risk, particularly with skimpy yields on US government bonds that has led investors into crypto as a way to diversify their portfolios. These cross-holdings increase the risk of contagion, "especially when trades are levered, as quite a few are now, and the operational infrastructure supporting crypto trading comes under pressure, as it did last week," El Erian says.
***CATCH UP QUICK on the top stories from yesterday's edition of EnterprisePM:
Former CI Capital bosses Hazem Badran and Tarek Tantawi are setting up a new PE firm, Valor Capital Partners, with an initial focus on investing in the consumer goods, education, health and real estate sectors.
There will be no more subsidies to cover upgrades to the state's water companies starting FY2021-2022.
Flat6Labs has completed the second close of its Egypt-focused Flat6Labs Accelerator Company, quadrupling the fund's size to over EGP 200 mn.
WHAT'S HAPPENING TODAY-
Foreign Minister Sameh Shoukry is in Amman today to discuss cooperating on a strategy for long-term stability and peace in Palestine with his Jordanian counterpart Ayman El Safadi, according to a Foreign Ministry statement. Shoukry landed in Jordan yesterday ahead of US Secretary of State Antony Blinken's planned trip to Egypt, Jordan, Israel, and Palestine later this week.
An Egyptian delegation arrived in Gaza yesterday to reinforce a ceasefire between Hamas and Israel that went into effect early Friday, a Hamas source told German news agency DPA, Al Shorouk reports. The delegation will discuss with Hamas the group's conditions for a continued ceasefire, which include Israel halting aggression at the Al Aqsa mosque complex, suspending its efforts to displace the residents of Sheikh Jarrah, and allowing essential aid into the besieged strip. The delegation will also lay out reconstruction plans for Gaza. This is the Egyptian delegation's second visit to the territory in two days, following a meeting with Palestinian President Mahmoud Abbas on Saturday. Egypt had played a central role in brokering the ceasefire agreement, a move that is expected to bolster its diplomatic credentials and thaw US-Egypt relations.
CIRCLE YOUR CALENDAR-
Foreign Minister Sameh Shoukry is due to hold meetings in Athens next month with counterparts from Greece, Cyprus, and France, Cypriot Foreign Minister Nikos Christodoulides said in a statement picked up by Cyprus Mail. The announcement followed discussions between President Abdel Fattah El Sisi and Christodoulides on Egypt-Cyprus trade, investment, defense, and education ties, as well as extending the tripartite cooperation with Greece to include France. The EU could be looking to participate in the East Mediterranean Gas Forum and will send in a request soon, Christodoulides suggested. The Palestine-Israel conflict was also a topic of discussion, with Christodoulides lauding Egypt's mediation efforts, according to an Ittihadiya statement.
Egypt's Green Economy Forum will be held on 14 June, according to a statement (pdf). Among the speakers: CIB Chief Sustainability Officer Dalia Abdel Kader, CDC Group's Egypt Coverage Director Sherine Shohdy, and Mayada Magdy, chief program officer of Japan International Cooperation Agency in Egypt.
Check out our full calendar on the web for a comprehensive listing of upcoming news events, national holidays and news triggers.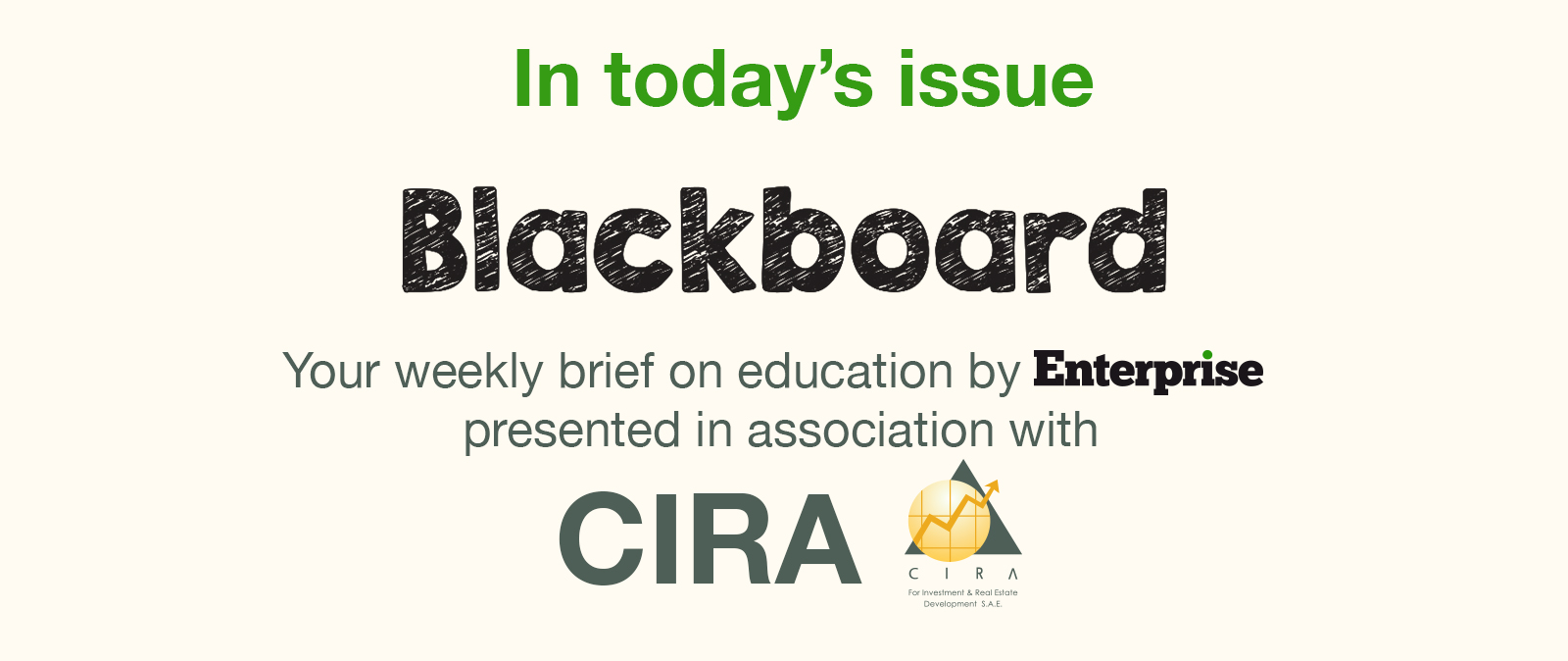 *** It's Blackboard day: We have our weekly look at the business of education in Egypt, from pre-K through the highest reaches of higher ed. Blackboard appears every Monday.
In today's issue: Education is generally counted as a highly automation-resistant sector. But for Egypt's international schools, automation is becoming essential in managing core processes like admissions, registration, and admin reminders — and increasingly important for some forms of communication and data analysis. We look at the automation software these schools are using, and how it's making educational processes more efficient.