Wednesday, 28 April 2021
THIS MORNING: It's interest rate day; when are we returning to work?
Good morning, wonderful people, and welcome to the final workday of the week. Is there anything in the world better than a long weekend?
The country is on holiday tomorrow in observance of Sinai Liberation Day, which fell on Sunday, 25 April. Enterprise will also be taking the day off.
When will we be back in your inboxes? We still don't know. Officials have yet to make clear whether Sunday (Coptic Easter) is a bank holiday, nor have they announced when we will observe Sham El Nessim, which falls on Monday. Expect an announcement over the coming days.
Oh, and Saturday is Labor Day, so abandon all hope if you had plans to get government paperwork done this weekend.
WHAT'S HAPPENING TODAY-
IT'S INTEREST RATE DAY: The Central Bank of Egypt will meet later today to review rates. The Monetary Policy Committee typically meets on Thursdays, but moved the meeting due to the holiday tomorrow. Our poll of 14 economists and analysts suggests the committee will leave rates where they are.
The Federal Reserve will also be announcing whether it will make changes to its policy rate and emergency bond-buying programme when it finishes its two-day meeting later today. Fed chair Jay Powell is expected to announce a continuation of ultra-loose policy, with interest rates staying super low and the USD 120 bn a month QE programme remaining in place and untapered.
The UN's special coordinator for the Middle East peace process (we still have one of those?) is in Cairo for a three-day visit, Ahram Gate reports. Tor Wennesland will meet with Foreign Minister Sameh Shoukry and Arab League Secretary-General Ahmed Aboul Gheit to discuss recent events in Palestine. Tensions between right-wing Israelis and Palestinians have risen in Jerusalem in recent days after anti-Arab violence by Israeli extremists kicked off several nights of clashes between protesters and Israeli police.
What's at stake? Wennesland's visit comes as plans for the first Palestinian elections in 15 years, brokered by Egypt and Jordan earlier this year, are on the verge of collapsing as Israel refuses to allow voting in East Jerusalem. More on this in this morning's Around the World, below.
South Korea's Hyundai Rotem and the National Egyptian Railway Industries Company will sign today a memorandum of understanding to assemble railcars in Egypt, Al Masry Al Youm reports. President Abdel Fattah El Sisi yesterday discussed locally producing railcars and signalling equipment with the CEO of the company.
---
ALSO MAKING NEWS-
US President Joe Biden will address a joint session of Congress today to outline his legislative priorities and take a victory lap after his first 100 days. PBS has the story and Axios has a rundown on the behind-the-scenes politics over who gets an invite.
JP Morgan is going back to the office in the US on a "rotational" basis starting in July, the Financial Times writes.
WATCH THIS SPACE- Our biggest wheat supplier is ramping up exports again: Exports of Russian wheat, of which Egypt is the main buyer, rose for a third consecutive week on the back of higher prices in Chicago and Paris due to supply concerns, despite expectations that Russia's "wheat tax" introduced earlier this year would slow exports.
*** CATCH UP QUICK with the top stories from yesterday's edition of EnterprisePM:
PSA #1- So, when do we eat? On the 16th day of Ramadan, we'll break our fasts at 6:30pm. Get your fill of water, food, and caffeine before 3:40am.
PSA #2- We're heading into a weeklong heat wave. Look for the mercury to rise from 33°C today to 39°C by Friday and peak at 40°C on Monday and Tuesday, according to our favourite weather app.
** Can you help us out? If you're reading us using Gmail and we went to your Promotions or any other "bad" tab, it would be super-helpful if you could drag us to your inbox to make sure you (and everyone else) sees you each morning.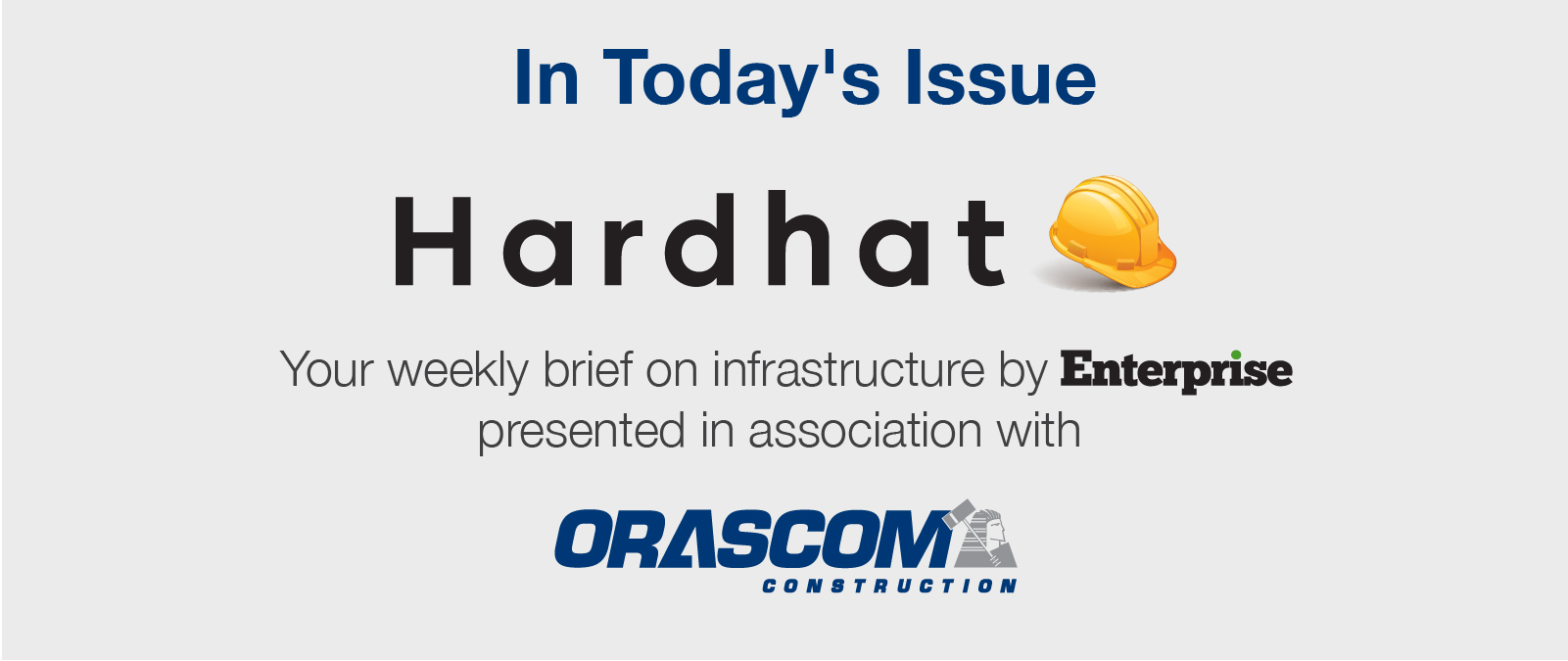 *** It's Hardhat day — your weekly briefing of all things infrastructure in Egypt: Enterprise's industry vertical focuses each Wednesday on infrastructure, covering everything from energy, water, transportation, urban development and as well as social infrastructure such as health and education.
In today's issue: The Planning Ministry's sustainable development plan, which Minister Hala El Said unveiled a few days ago, lays out the government's infrastructure investment plans for the upcoming fiscal year. While the strategy covers several sectors and areas for infrastructure development, we see greater focus and priority being given to healthcare infrastructure, while transport continues to account for the lion's share of the government's investment budget.