Monday, 5 April 2021
What we're tracking on 5 April 2021
Good morning, nice people. We have lots of stuff going on today as we speed toward the first day of Ramadan — those who observe will start fasting one week from tomorrow, so look for the coming week to be a busy one.
THE BIG STORY OF THE DAY here at home: We could be facing new restrictions designed to tamp down the amplitude of the third wave of covid-19 if we don't all start playing ball now. We have chapter and verse in this morning's news well, below.
It's PMI day: Figures measuring business activity in Egypt's non-oil private sector in March will land here at 6:15 am CLT. The recovery stalled in December and business activity continued to contract in February, albeit at a slower pace than it did the previous month.
The Spring Meetings of the IMF and the World Bank Group begin today and run through Sunday, 11 April. This year's virtual meetings will bring together central bankers, ministers of finance and development, private sector executives, representatives from civil society organizations and academics.
Look for the meeting to dominate business and economy news this week, with the Wall Street Journal writing, "The world's top economic officials plan to focus … on the prospect of new Covid-19 variants and shutdowns undermining the global rebound, while weighing measures to prevent lasting damage to the poorest and most vulnerable populations." Some events will be open to the public and can be streamed live from the World Bank's platform.
GERD talks wrap today: Three days of talks between Egypt, Ethiopia and Sudan in a bid to get negotiations on the Grand Ethiopian Renaissance Dam (GERD) back on track are wrapping up today in Kinshasa, Democratic Republic of the Congo. The foreign and irrigation ministers from each country are trying to agree on how to restart negotiations. Positions remain entrenched on the issue, with Egypt and Sudan calling for bringing in new international mediators and Ethiopia preferring to stick with the African Union-led process.
This is the "last chance" to reach an agreement, Foreign Minister Sameh Shoukry said in a statement last night. "These negotiations represent the final chance the three countries must seize in order to reach an agreement to fill and operate the GERD … before the upcoming floods season," he said. Ethiopia is planning to push ahead with the second filling of the dam in July and August this year with or without an agreement — an act President Abdel Fattah El Sisi last called a "red line" for the Egyptian government.
It's Unesco director-general Audrey Azoula's final day in Egypt. She heads to Aswan today after attending the inauguration of the Museum of Egyptian Civilizations in Fustat on Saturday night and holding talks with President Abdel Fattah El Sisi yesterday. She also visited a number of sites around Cairo yesterday including Saqqara, the Pyramids of Giza and Islamic Old Cairo.
THE BIG STORY IN THE REGION- Jordan has accused King Abdullah II's half-brother, former Crown Prince Hamza Bin Hussein, of plotting to destabilize the kingdom in concert with foreign entities, Deputy Prime Minister Ayman Safadi said yesterday. "The investigations had monitored interferences and communications with foreign parties over the right timing to destabilise Jordan," he said, claiming that a foreign intelligence agency had planned to evacuate Prince Hamza and his wife from the country. The Jordanian government on Saturday arrested 16 people to protect the "security and stability" of the country. Hamza has denied being a part of a foreign conspiracy. Bloomberg and Reuters have full coverage of the story.
President Abdel Fattah El Sisi spoke to King Abdullah via phone yesterday and reiterated Egypt's support for the stability of the kingdom, according to an Ittihadiya statement.
** CATCH UP QUICK on the top stories from yesterday's edition of EnterprisePM:
IPO WATCH I: State-owned e-payments firm e-Finance could pull the trigger on its IPO during the second half of the year.
IPO WATCH II: Integrated Diagnostics Holdings (IDH) has announced plans to add 30-35 new branches in Egypt, Jordan, and Sudan this year. IDH is gearing up for a technical listing on the EGX which it hopes to complete this month.
INVESTMENT WATCH: Catalyst Partners and the UNDP have launched a EGP 500 mn fund to support Egyptian SMEs.
MARKET WATCH-
Strengthening US economy raises alarms for emerging markets: Investors in EM stocks and bonds are preparing for more losses in April amid expectations that US bond yields will continue to creep up and the greenback will continue strengthening, Bloomberg reports. Traders are now pricing in a Fed rate hike earlier than expected following strong US jobs data on Friday — a move that could precipitate large-scale outflows from risky EM assets. Demand for EM assets dwindled in March, with flows to equity funds falling to less than a third of their peak in February, while bonds and currencies saw net quarterly outflows for the first time in a year.
There's more pain still to come, according to Morgan Stanley and Citigroup. Morgan Stanley is staying out of EM currencies, citing growth concerns stemming from the delayed vaccine rollout. And Citi thinks that rising US yields and a stronger greenback will continue to heap pressure on the asset class.
European markets will remain closed today for Easter Monday while exchanges in the US reopen for trading.
HAPPENING THIS WEEK-
Egyptian Iron and Steel's mining spinoff should be going live on the EGX sometime this week as the parent company prepares to go into liquidation. Sources told the local press last week that a liquidator will also be appointed this week to kick off the process which is expected to take up to two years.
Amendments to the VAT act will be in the spotlight when Finance Minister Mohamed Maait meets this week with the House Planning and Budgeting Committee, committee head Fakhry El Fekky told Al Mal. The committee has a raft of amendments to the law to discuss, including applying the 14% tax to the rent and purchase of commercial and administrative properties, imposing VAT on crackers and some sweets, and removing the tax on imports of strategic commodities.
CIRCLE YOUR CALENDAR-
The Sovereign Fund of Egypt will issue the conditions booklet for the contract to develop the Mogamma El Tahrir this month, CEO Ayman Soliman said yesterday, according to the local press. Foreign and local investors will be able to bid for the contract, which will likely see the Mogamma transformed into a multi-purpose building, with a portion turned into an apartment hotel and others used for commercial purposes.
Inflation data for March will be out on or around Saturday, 10 April.
The French Chamber of Commerce and Industry is hosting a webinar that will take a deep dive into the Madbouly government's program to create a national ID for all residential and commercial properties and to digitalize the country's building permit system. The gathering runs Tuesday, 6 April from 4pm to 5:30pm and you can sign up here.
Russian Foreign Minister Sergey Lavrov is due in town on 12 April to discuss the latest developments on the Grand Ethiopian Renaissance Dam, signaling Russia could be looking to play an active role in mediating the impasse, according to TenTV's Al Mashhad (watch, runtime: 1:28). Lavrov's planned trip comes after expectations that Russian President Vladimir Putin would visit Egypt sometime in March did not materialize.
"Summer hours" will come into effect for retail stores and restaurants as of 17 April. This means retail shops can close at 11 pm (instead of 10 pm during the winter), while cafes and restaurants can stay open until 1 am (instead of midnight currently). We have more details on the winter vs. summer hours here.
The Central Bank of Egypt will meet to discuss interest rates on Thursday, 29 April.
Check out our full calendar on the web for a comprehensive listing of upcoming news events, national holidays and news triggers.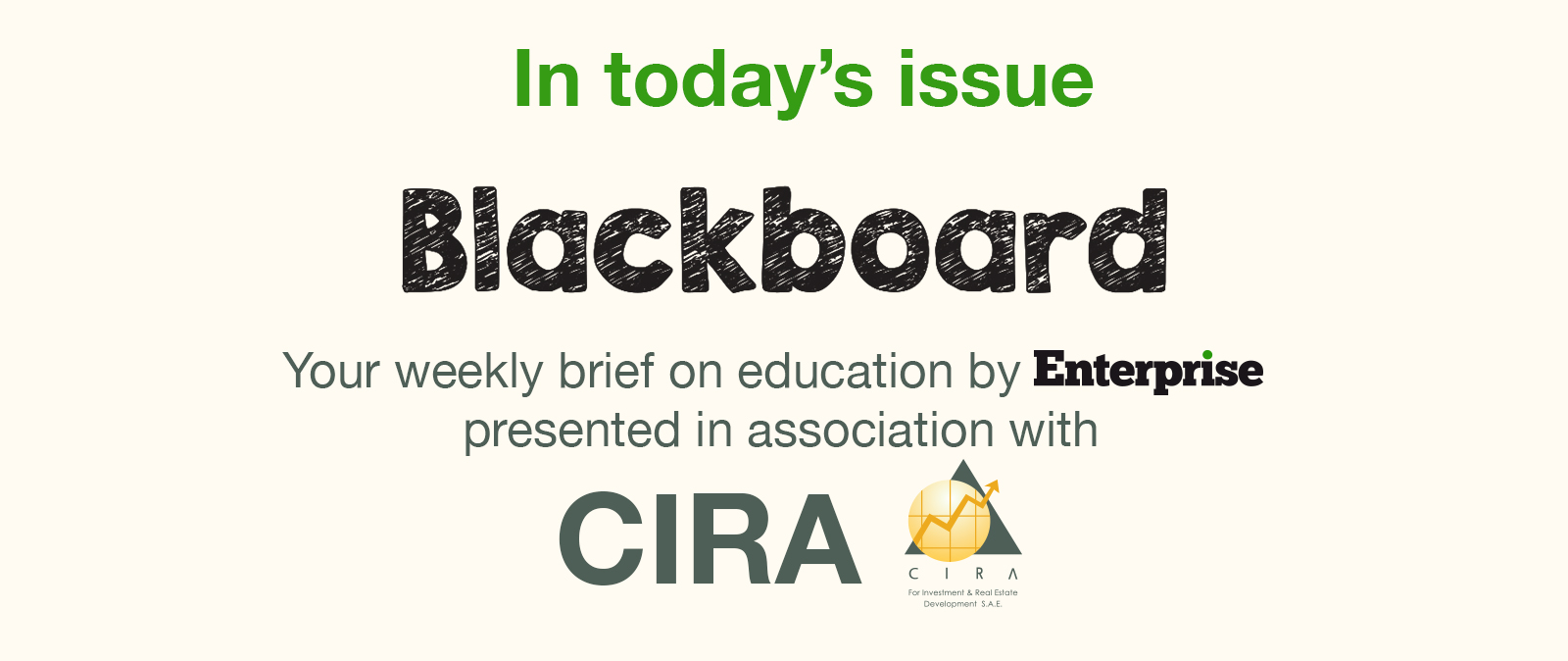 *** It's Blackboard day: We have our weekly look at the business of education in Egypt, from pre-K through the highest reaches of higher ed. Blackboard appears every Monday in Enterprise in the place of our traditional industry news roundups.
In today's issue: A EUR 100 mn partnership between Right to Dream (RTD) — which gives young football talent an education and trains them in football — and Man Capital, the Mansour Group's UK-based investment arm, will see a EUR 30 mn RTD Egypt academy open its doors in 2022. We speak to RTD's CEO Tom Vernon and RTD Egypt's new MD Mohammed Wasfy to discuss the organization's approach to education and football, its business model, and plans for expansion in Egypt and beyond.